In the aftermath of the Alabama Senate Race, Democratic Assemblywoman Yuh-Line Niou, like many netizens, took to social media to post her thoughts on the matter — specifically, the trending statistics that showed Black men and women overwhelmingly voted for Doug Jones in the controversial vote for the Alabama Senate.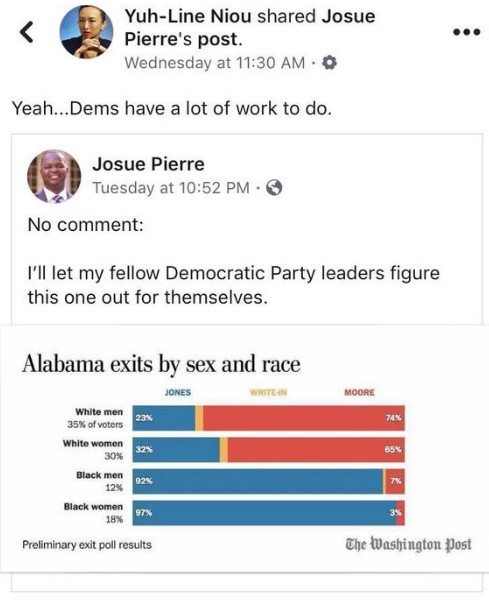 Unfortunately, so did Warren Chan, member of Democratic New York City Councilman Justin Brannan's transition team, who left an incendiary comment on her update. Chan, the founder of the Chinese Political Club of Brooklyn and, as of 2016, the executive director of the Asian Community United Society, according to Bklyner.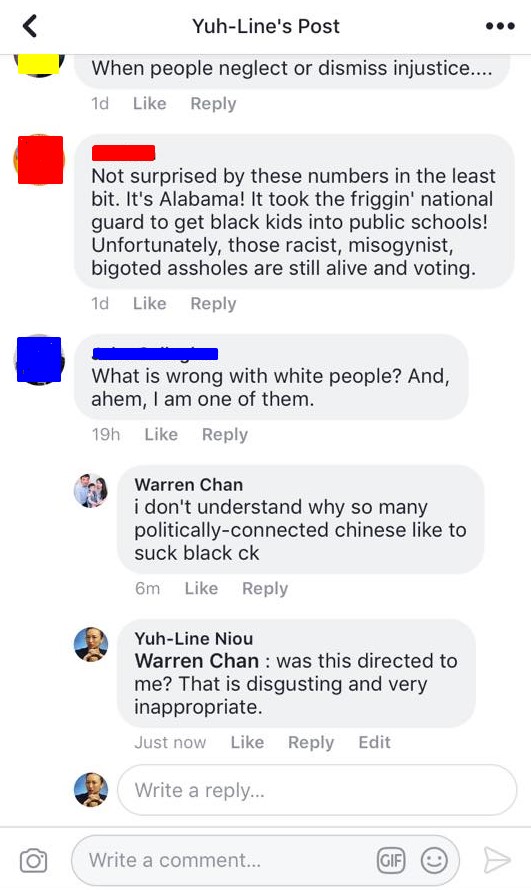 Niou was so shocked by Chan's comments that she took a screenshot of the exchange and reposted it to her FaceBook page, calling out his offensive words.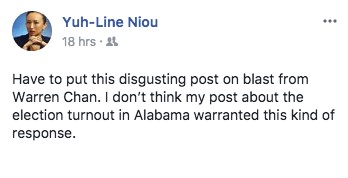 "Bigotry and racism are never acceptable, and it is critical that we call out hatred and prejudice when we see it," Niou stayed in a statement to NextShark. "I resent the attempt by a member of our Asian community to undercut the unity between our Asian American and Black communities. As minorities we face many different challenges but also have a lot in common when it comes to a history of oppression in America."
After public outcry reached Brannan, he promptly booted Chan from his organization. "Warren's comments are reprehensible and vile," said Brannan. "We have removed him from the transition committee effective immediately."
Chan later emailed an apology to King's County Politics. "I want to apologize to everyone that was offended by my recent social media comment 'in language only,'" wrote Chan. "I want to re-emphasize the social media post is my opinion and statement only."
Niou believes that banding together is the only way to prevail. "We cannot allow small-mindedness, racism, and prejudice to divide us and further fuel oppression," she said. "Now more than ever, we must embrace our commonalities and prevent hatred from crippling our message of hope and unity."
Featured Image via FaceBook / (Left): Warren Chan | (Right): Yuh-Line Niou