A 23-year-old woman from Singapore surprised her grandparents with a wedding ceremony for their 54th anniversary.
The heartwarming celebration was held at Sky Garden Sentosa in Singapore on September 7.
The woman surprised her grandparents by telling them that they would go to the island resort to spend time together and go shopping, according to China Press via World Buzz.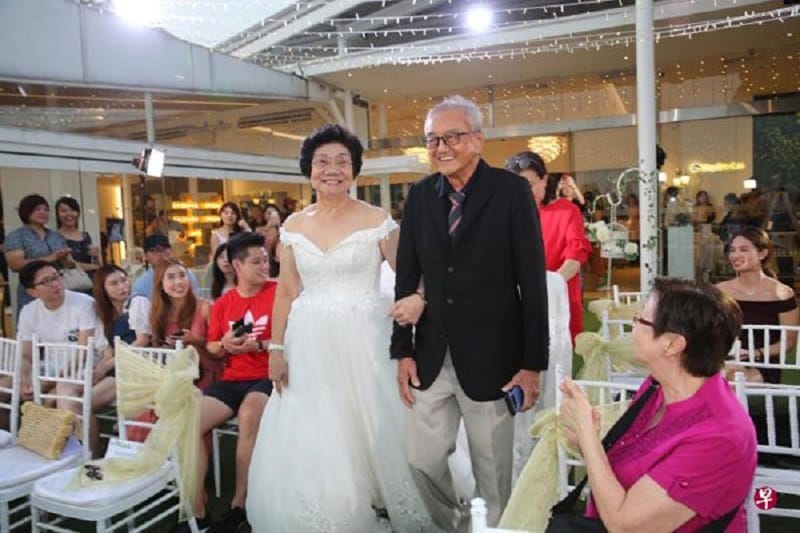 However, they were completely caught off guard when they headed to an outdoor terrace filled with romantic decorations. Relatives were also invited to witness the heartwarming moment.
Dressed in a wedding gown and suit prepared for them beforehand, the elderly couple walked down the aisle holding hands. Guests also witnessed the two exchange their vows during the ceremony.
The couple met when the 74-year-old woman, Teo Soh Bee, was introduced to the 80-year-old Ong Soh Lim by her brother. They officially tied the knot on Sept. 6, 1965.
"Thank you for being with me all these years, I'll walk with you till the end of time," the elderly woman said during their exchange of vows, AsiaOne reported.
The husband then replied before sealing his vow with a kiss, "Thank you for staying by my side and taking care of me."
Despite being together for 54 years, the couple was reportedly not very big on celebrating their wedding anniversaries.
"My parents are always really low-profile, and they rarely celebrated their wedding anniversaries, that's why we wanted to have a grand celebration this time," one of their children, Anthea Ong, who is a Singaporean Nominated Member of Parliament, said.
Featured Image via China Press