Another major American celebrity publication is being criticized for misidentifying several Asian American actors in its published photos.
In an earlier report, People magazine was called out by "Crazy Rich Asians" actor and "Daily Show" correspondent, Ronny Chieng, for misidentifying him and his wife, Hannah Pham, as Randall Park and Jae W. Suh, respectively. Tan Kheng Hua was also mistaken as Michelle Yeoh.
.@people Jae W Suh is not in this photo. I'm not Randall Park. And that's Tan Kheng Hua not Michelle Yeoh. pic.twitter.com/vwSBvdnhIl

— Ronny Chieng (@ronnychieng) January 29, 2019
When you fail to recognise our faces, when you consistently misattribute our names as though any asian performer is interchangeable, you erase our identities & you erase our humanity. You negate our achievements & talents with your ignorance. We're not going to take it. Do better

— Remy Hii (@RemyHii) January 28, 2019
As it turns out, netizens are also criticizing Vogue for similar errors. In a tweet, Muslim American journalist, Noor Tagouri, pointed out that Vogue has also mistaken Tan Kheng Ha for Michelle Yeoh. In Crazy Rich Asians, the 55-year-old Tan played Rachel Chu's supportive mother while Yeoh played Nick Young's mom, Eleanor Sung-Young.
hi @voguemagazine –

Both of these women have been misidentified on your site tonight.

Tan Kheng Hua NOT Michelle Yeoh.

Gemma Chan NOT Liv Lo. #SAGAwards pic.twitter.com/nUao4euV9Z

— Noor (@NTagouri) January 28, 2019
Tagouri also faulted Vogue for mistaking Gemma Chan (Astrid Leong in Crazy Rich Asians) for Liv Lo, Henry Golding's wife in real life.
As with the People Magazine blunder, netizens expressed their frustration on social media, urging Vogue to "do better."
While both publications have made corrections in their captions, neither publication has publicly acknowledged the errors nor have they responded to the tweets.
Instagram fashion account Diet Prada pointed out that it was just two weeks ago when Vogue issued an apology for misidentifying Noor Tagouri as Noor Bukhari in its February 2019 print issue.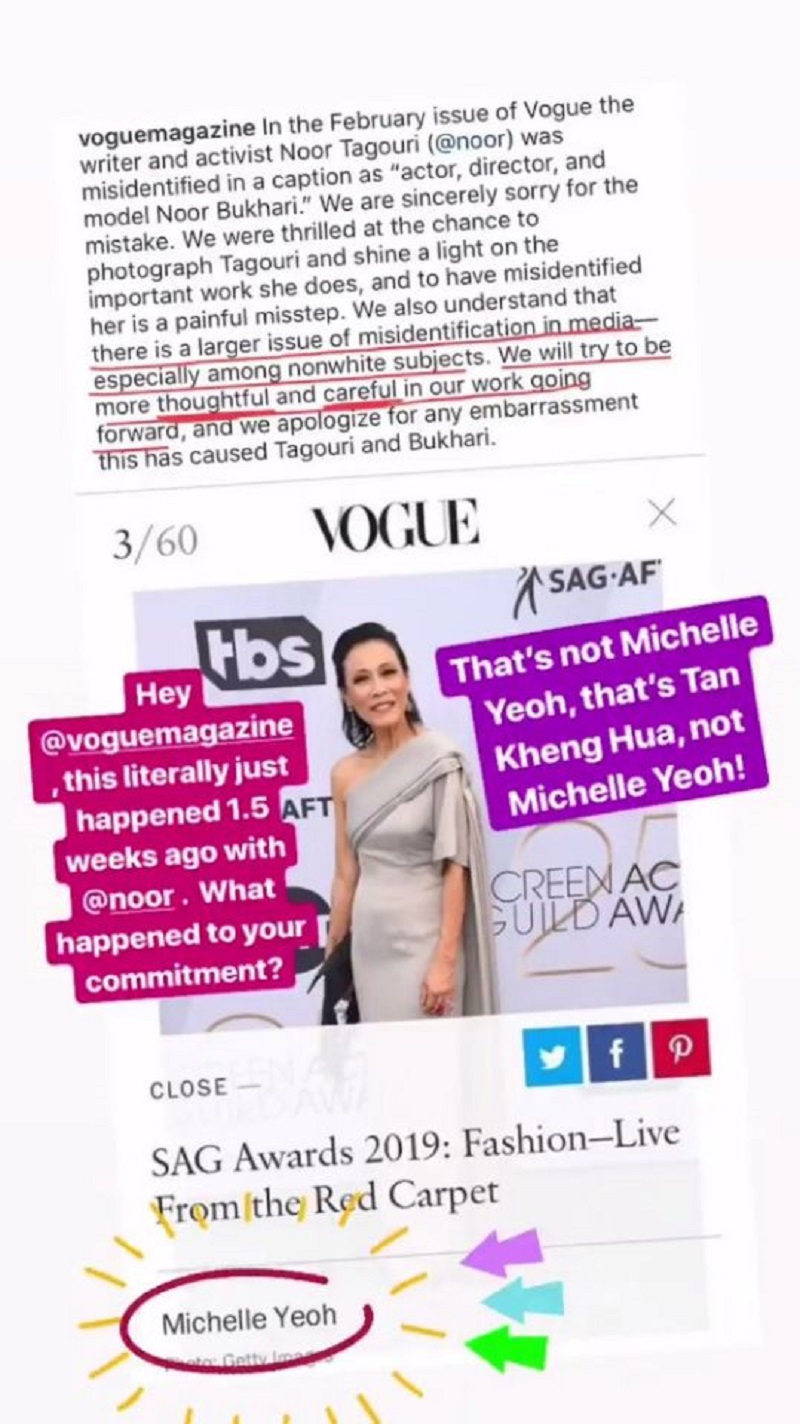 The account highlighted a part of the magazine's apology, which read, "We also understand that there is a larger issue of misidentification in the media — especially among nonwhite subjects. We will try to be more thoughtful and careful in our work going forward…"
Noor Tagouri is a journalist and activist while Noor Bukhari is a Pakistani actress, director, and model.
In an Instagram post, Tagouri expressed how "heartbroken and devastated" she was at the error:
"I have been misrepresented and misidentified MULTIPLE times in media publications — to the point of putting my life in danger. I never, EVER expected this from a publication I respect SO much and have read since I was a child. Misrepresentation and misidentification is a constant problem if you are Muslim in America. And as much as I work to fight this, there are moments like this where I feel defeated."
Featured image via Twitter / NTagouri