Chinese mixed martial arts (MMA) fighter Zhang Weili defended her title after winning a close fight against her Polish opponent Joanna Jedrzejczyk at the UFC 248 in Las Vegas.
The 30-year-old Chinese fighter took the win via a split decision from the judges. According to Yahoo, one of the judges scored 48-47 to the 32-year-old Polish fighter, while two others scored Weili with the winning 48-47 total.
Arguably the GREATEST fight in women's mixed martial arts history! 👏

Only ONE can be champion. SCORECARDS BELOW. ⬇️ #UFC248 pic.twitter.com/Gjl0SR8aUZ

— UFC (@ufc) March 8, 2020
"You see my swellness, I felt this. She did great. There was something missing, but I felt all the punches you know," said Jedrzejczyk, who was unrecognizable after the match. "From the third round the swellness was bothering me and I felt it was just getting more and more swollen and my head was like going on and off. But all good, congrats Zhang and I'm very happy we gave you a good fight."
Joanna end of round 1 vs Joanna end of round 5 #UFC248 #joannajedrzejczyk #zhangweili pic.twitter.com/SiLTIUzYeT

— The Koncrete Jungle (@TheKJungle) March 8, 2020
Before their match, Jedrzejczyk was embroiled in a controversy after posting an edited picture of herself wearing a gas mask, standing behind Zhang during the height of the 2019 novel coronavirus (COVID-19) outbreak.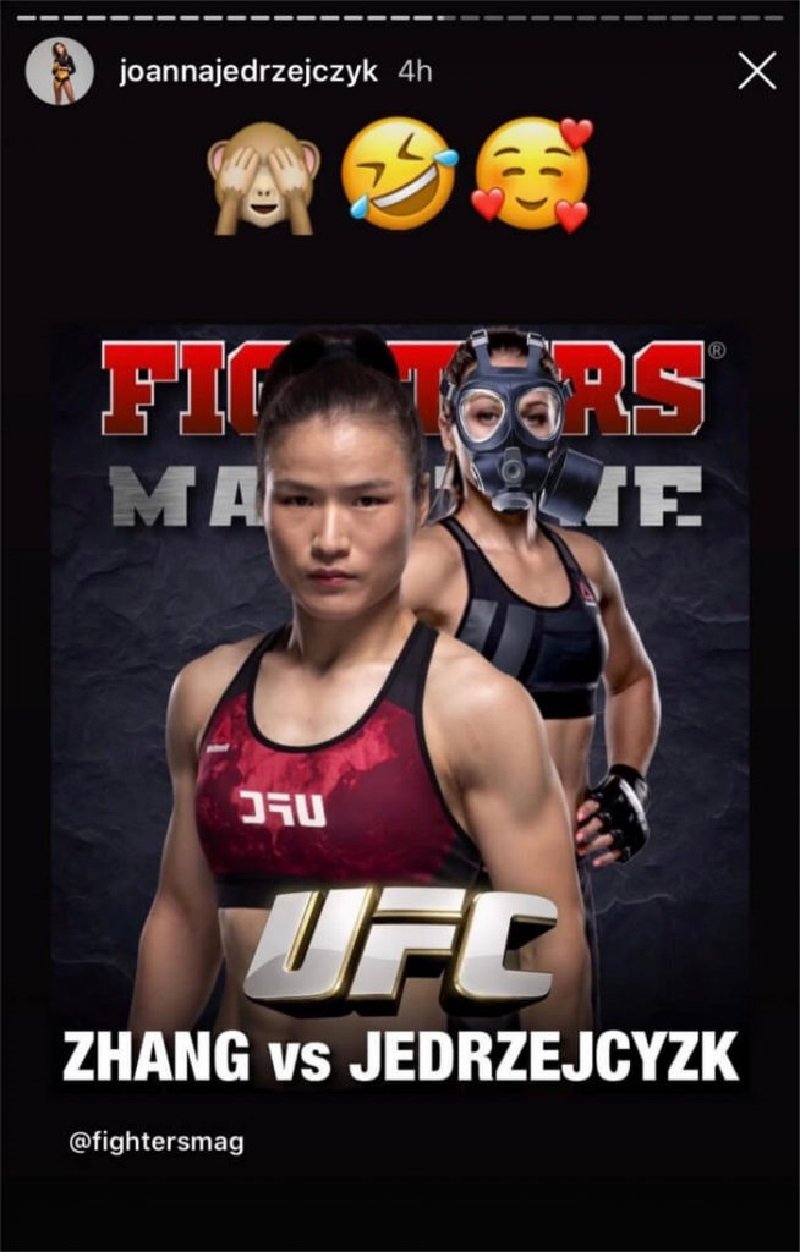 After the post gained attention online, Zhang said Jedrzejczyk's actions were criticized for being disrespectful to the Chinese people as well as to China.
During the media face-off on Thursday, Jedrzejczyk continued to disrespect her opponent by trash-talking in front of Zhang. Instead of giving in to her opponent's behavior, Zhang played it cool.
After their match, which is being hailed as an early contender for the UFC fight of the year, the two fighters immediately went to the hospital to get their injuries checked out.
UFC President Dana White said that the two fighters need to tend to their injuries first before thinking about having a rematch.
"Did you see what those two girls looked like after that fight? They're both in the hospital right now," White said. "They did not go to a press conference, they did not talk to press, they both went straight to the hospital. They need to go home, take time to heal up and everything else before I even mention a fight with either one of them again."
Feature Image Screenshot via UFC – Ultimate Fighting Championship