Riot police were called in to Barcelona's Placa Reial after drunken Liverpool fans assaulted several people in the area, with some requiring medical attention, after a Champions League match on Wednesday night.
One particular incident of Liverpool fans assaulting an elderly Asian tourist has sparked outrage after video of the incident went viral on Twitter. One man dressed in a navy blue pull over and blue jeans can be seen pushing an elderly Asian tourist posing for a photograph into the fountain's shallow pool.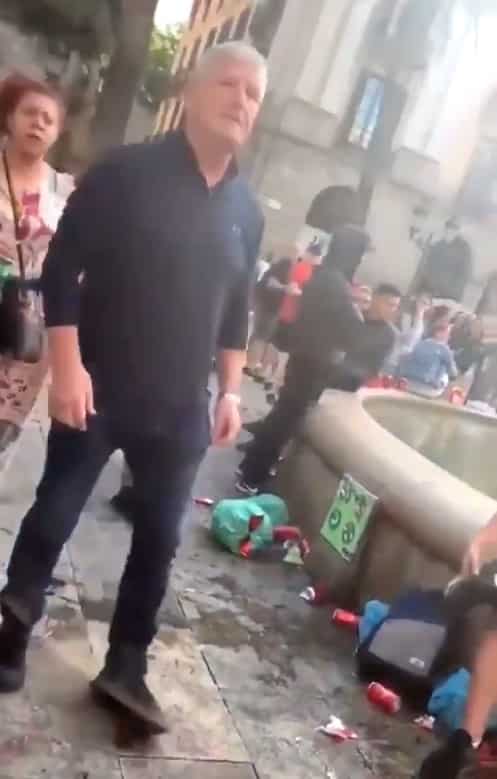 The man runs away after as the Asian tourist climbs out of the fountain in a confused state attempting to see if his phone is still operable. Then, as the man is walking around presumably to find who pushed him, a crowd of laughing Liverpool fans racially abuses him by bowing and calling him "Mr. Miyagi."
Scumbags on tour pic.twitter.com/DhQKDVvuq4

— Terence coghlan (@TerenceCoghlan) April 30, 2019
The same man can be seen pushing another man into the fountain in a separate video.
Here's the "Liverpool fan" who tripped a Barcelona local into the fountain.

Vile behaviour and not what the club is about at all.

Think @LFC should attempt to take this further, he doesn't represent our fan base.

— Anfield Edition (@AnfieldEdition) April 30, 2019
According to Spanish newspaper Mundo Deportivo via SCMP, six Liverpool fans were arrested nearby after assaulting hotel workers who required medical attention afterwards.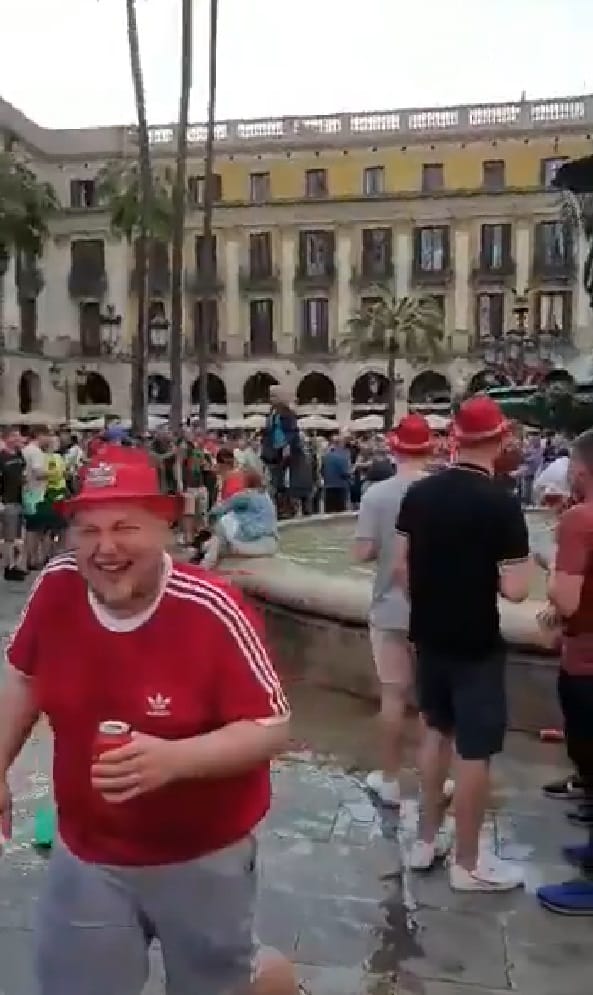 Riot police were called in to clear Placa Reial and push fans towards the city's larger tourist streets.
We proudly sing that we've conquered all of Europe. But let's treat this beautiful city with the respect that it deserves, and act in a manner that is befitting of LFC. By all means have a good time, but we are Liverpool, and as such,let's visit here with grace and humility.

— Peter Moore (@PeterMooreLFC) May 1, 2019
Some Liverpool fans, including Liverpool CEO Peter Moore, were quick to condemn the actions of the drunken men on Twitter claiming their actions don't represent their fan base, but failed to respond to calls to ban the men involved in the incidents of assault.