Editor's Note: This article has been updated to report that Tony Hsieh's death has been ruled an accident on Monday.
Tony Hsieh, the entrepreneur known for selling Zappos to Amazon for $1.2 billion in 2009, passed away at 46 on Friday as the result of injuries he sustained in a Connecticut house fire. Hsieh was surrounded by family when he passed peacefully on Friday, according to CNN.
Injured in a house fire: Hsieh was reportedly visiting family in New London, Connecticut when he was caught in a house fire in the early hours of November 18.
Firefighters were called to the house at approximately 3:30 am.

Hsieh was taken to a local hospital with serious injuries including "possible burns and smoke inhalation," according to

local newspaper The Day

.

He was later helicoptered to the Connecticut Burn Center at the Bridgeport Hospital.

One

person was killed

in the fire, but their identity was not released out of respect for the family, according to

Business Insider

. 

Initial reports revealed that a man had either barricaded himself inside or was trapped inside the home, The Day reported.
An emergency dispatcher repeatedly told fire officials "barricaded," but it has not been revealed whether the man really did barricade himself inside or was unable to get out. His death was ruled accidental.

The home Hsieh was visiting was reportedly purchased in August by a woman named Rachel brown, according to publicly available

property records

. 

Business Insider noted that Rachel Brown is also the name of one of

Zappos' earliest employees

.

The cause of the fire is unknown at this time and still under investigation.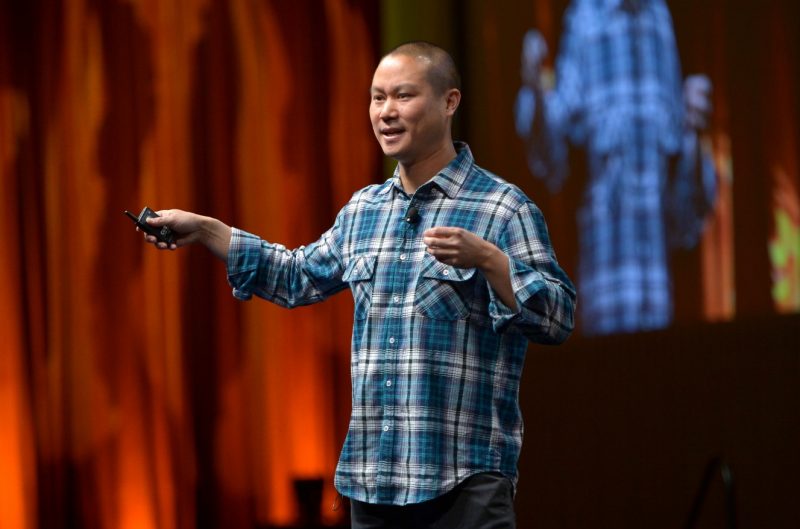 Visionary entrepreneur: Many in business and local communities paid tribute to Hsieh, the former CEO of Zappos and an iconic figure in the startup industry.
Hsieh's family released a statement via DTP Companies spokesperson Megan Fazio: "Tony's kindness and generosity touched the lives of everyone around him, and forever brightened the world. Instead of mourning his transition, we ask you to join us in celebrating his life."

DTP Companies

was formed in 2012 by Hsieh to redevelop and revitalize downtown Las Vegas with $350 million in funding, creating a hub for local entrepreneurs and tech workers.

Current Zappos

CEO, Kedar Deshpande, also released a statement:

"It is with very heavy hearts that we are sharing some very sad news with all of you, as we have learned that Tony passed away earlier today (11-27-20). Though Tony retired this past summer, we know what a tremendous impact he has had on both Zappos and on Zapponians, as he has dedicated the past 20 years focusing on the success of both the company and our employees."

Hsieh retired as Zappos' CEO in August after leading the company for 21 years, according to

Geekwire

.

Before Zappos, Hsieh co-founded advertising startup LinkExchange which sold to Microsoft for $265 million in 1998.