A group of Thai monks has gone viral after performing CPR on a severely injured motorcyclist whom they had come across with while returning to their temple from a first aid training.
The resuscitation took place along a road in the district of Wang Nam Khiao, also known as Thailand's Switzerland, in Nakhon Ratchasima Province on Tuesday.
In a video posted on Facebook, one of the monks is seen delivering compressions alternately with several paramedics.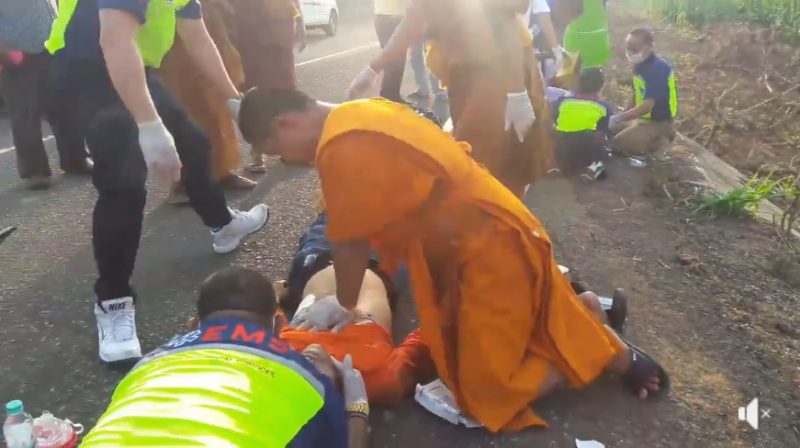 The other monks stood nearby in preparation to substitute.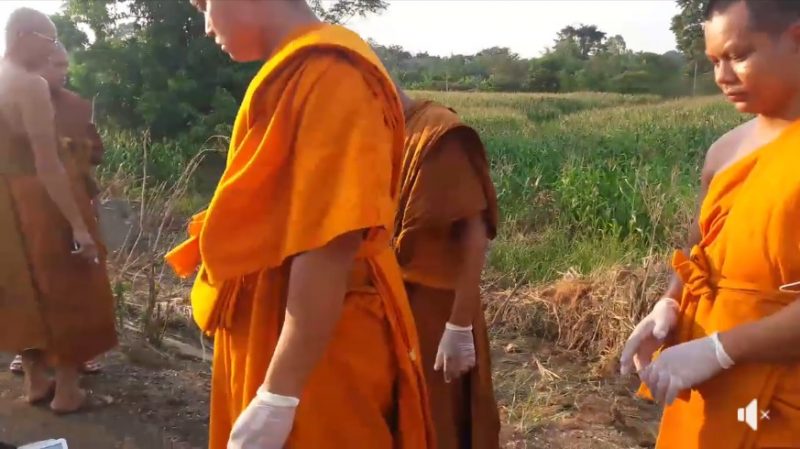 Coincidentally, the monks had just returned from a CPR training conducted by the Emergency Medical Foundation of Thailand earlier that day, Sanook reported.
"We were on our way back to the temple from our annual CPR and Automated External Defibrillators (AED) training, when we stumbled upon the accident," Phra Supachoke Apatcharo, abbot at the Boonmee Chai Wanaram temple, told Coconuts.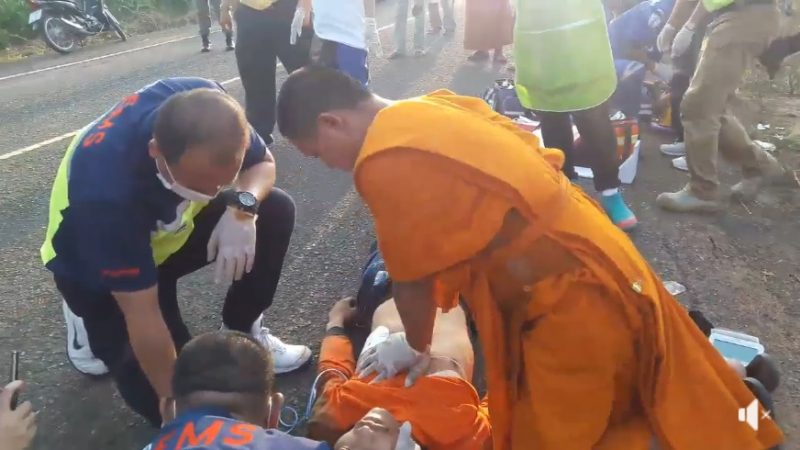 The annual training is part of an initiative aimed at increasing the role of monks in their local communities.
According to Supachoke, the paramedics had not arrived yet when they came across two victims, one of whom was severely injured.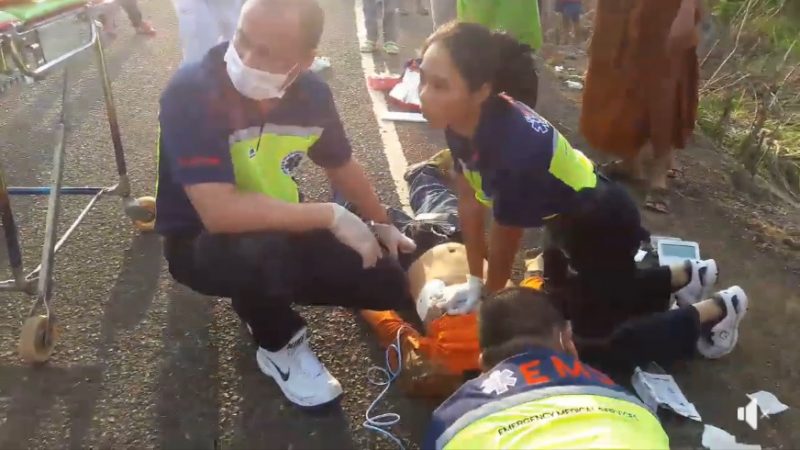 Villagers surrounded the scene when the group began taking action.
"The villagers suspected that he [the severely injured victim] was already dead, for he was lying face-up, unmoved for about 20 minutes," Supachoke said. "But I could feel a slight pulse, so I couldn't just give up on him."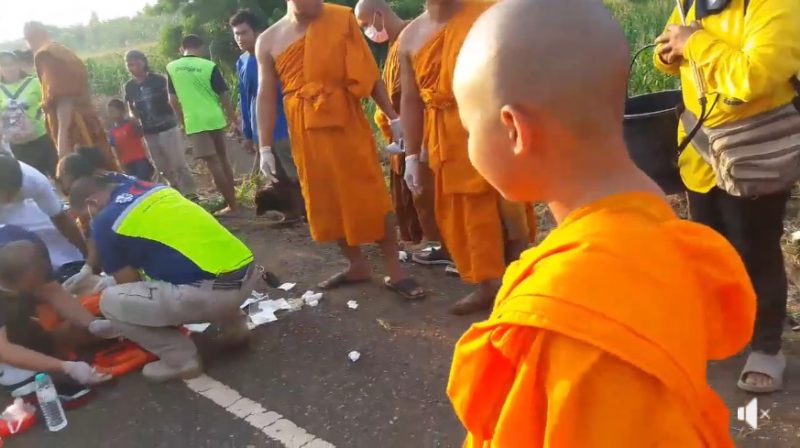 "We thought the sliver of a chance was worth enough of a shot."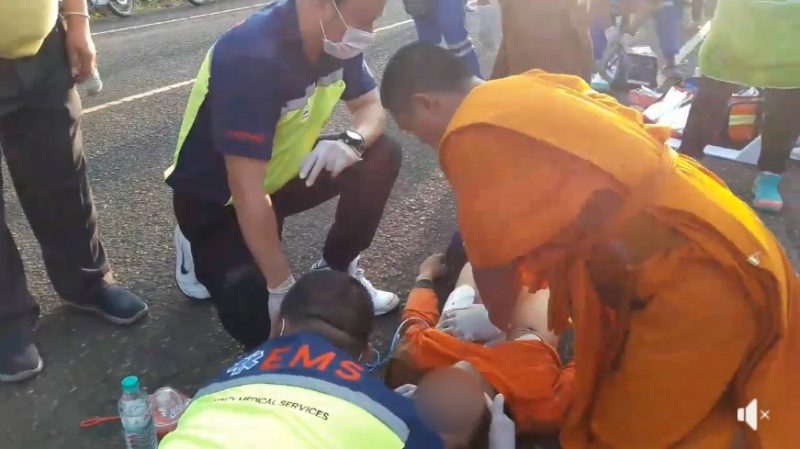 Supachoke said the group took turns in delivering breaths and compressions. Others massaged the victim's extremities to maintain blood circulation.
Unfortunately, the victim, who was found to have crashed into a roadside canal, failed to survive.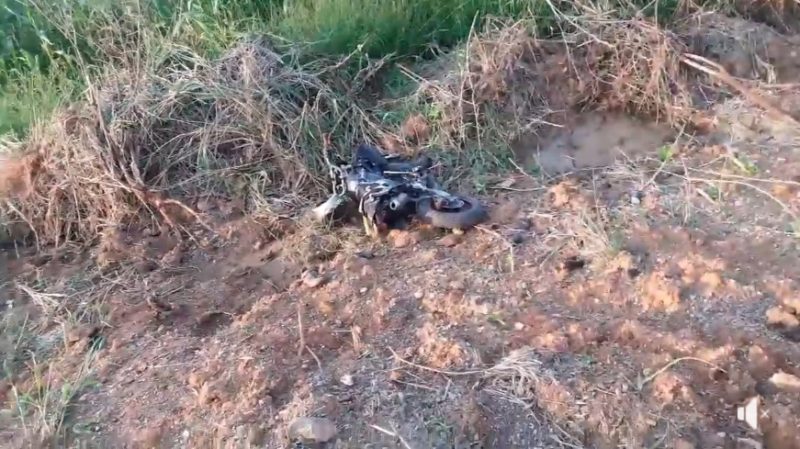 The monks expressed their condolences to the victim's family and warned the public to be careful.
Netizens praised the group for their heroic attempt:
"Kindness makes the world a lot better."
"This is a skill everyone ought to know."
"Thai monks have developed so much."
"Amen to that."
"No matter who you are, what you are, you can always be a good person for society. Let's cheer up for all the good people."
Images via Facebook / วัดบุญมีไชย วนาราม