NextShark and The Asian American Foundation (TAAF) are excited to announce our recent partnership to present the AAPI community with From Hate to Hope, a crucial conversation to unite us against hate streaming on September 30 at 2:00 p.m. EDT on Facebook Live.
Join Congresswoman Grace Meng, Dr. Thu Quach, Incoming President of Asian Health Services, Jo-Ann Yoo, Executive Director of the Asian American Federation, and TAAF Founding President Sonal Shah, and NextShark's very own founder and CEO Benny Luo for a free streaming event moderated by PBS NewsHour anchor Amna Nawaz.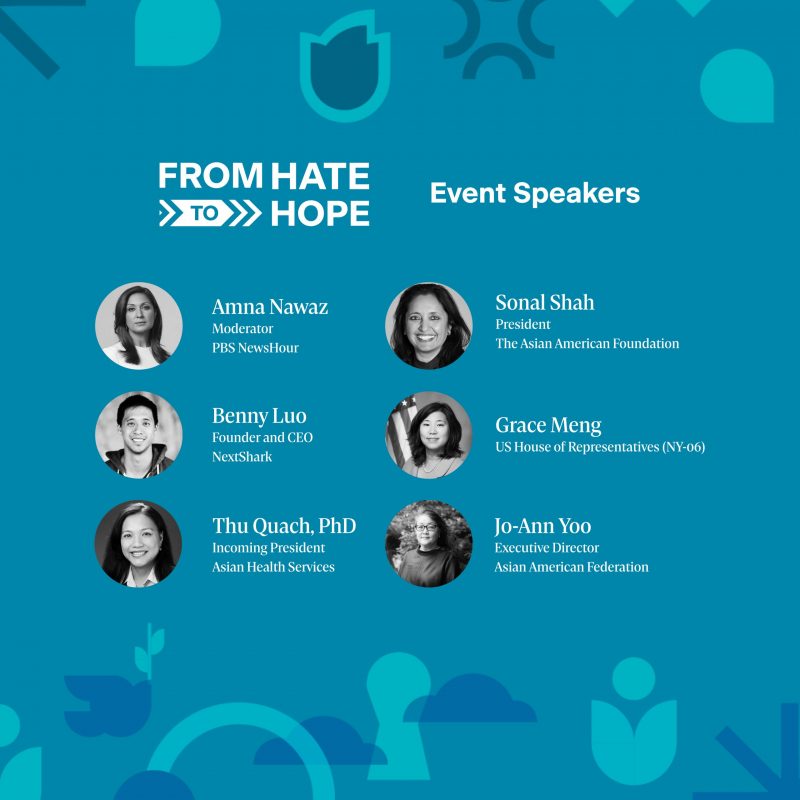 The COVID-19 pandemic brought with it a traumatic wave of racism and hate on Asian communities throughout America and around the world. As many rallied around "Stop Asian Hate," we are still left with questions on why this happened and how we can prevent it from happening again. From Hate to Hope seeks to find answers to the best ways to combat hate and build the sense of belonging in America that so many AAPIs have sought all their lives.
Register for free HERE and tune in on September 30 at 11:00 a.m. (PDT)/ 2:00 p.m. (EDT) to learn the latest on how Asian American organizations plan to help the community heal in the wake of the pandemic.
TAAF is also proud to announce its newly established Anti-Hate National Network, an extraordinary investment aiming to combat anti-AAPI hate and establish AAPI Action Centers to directly address hate in three pilot cities – Chicago, New York and Oakland.  Leaders from the NYC and Oakland Action Centers will be speaking at the event.
TAAF has also partnered with GoFundMe to launch the AAPI Emergency Relief Fund to aid victims of anti-AAPI hate and seeded the fund with an initial investment of $500,000. To donate, please visit TAAF's GoFundMe page. Visit TAAF's Anti-Hate Initiative site for more info on the Anti-Hate National Network and AAPI Action Centers.
About TAAF: The Asian American Foundation is an incubator and fund-raising organization committed to accelerating opportunity and prosperity for AAPI communities. TAAF was founded in 2021 to address the lack of resources provided to AAPI communities and has been working to solidify the sense of belonging for the 23 million AAPIs living in the US. TAAF has raised nearly $1.1 billion through its AAPI Giving Challenge and donations from its Board— the largest philanthropic commitment in history focused on supporting AAPI communities. For more about TAAF, visit www.taaf.org.
About NextShark: NextShark is a global leader in Asian and Asian American news reaching up to 15 million people each week through its platforms. NextShark publishes relevant news for the AAPI community and serves as the premiere platform celebrating Asian cultures, identities, issues and accomplishments. During the 2020 pandemic, NextShark was on the forefront of spotlighting stories about anti-Asian hate attacks, promoting the Stop Asian Hate movement and minority community solidarity. NextShark has been cited by major platforms such as The New York Times, The Washington Post, BBC, NBC, CNN, Fox News and The Guardian.
This post was created by NextShark with TAAF