While "Shang-Chi and the Legend of the 10 Rings" may not be released in China, Simu Liu is acknowledging the support of Chinese fans — as well as others from around the world — who have yet to see his blockbuster movie.
Alleged Chinese ban: Reports about the film's unlikely release in China made rounds last week after Liu's old comment deemed critical of the Chinese Communist Party (CCP) resurfaced online. As of this writing, the Marvel movie has not been given a Chinese release date.
Liu's controversial comment dates back to a 2017 interview with the Canadian Broadcasting Corporation (CBC). He reportedly referred to the China his parents grew up in as a "third-world country" and described his parents' desire to come to Canada as a "pipe dream," as per

Taiwan News

.

"When I was young, my parents would tell me these stories about growing up in communist China. They lived in the third world where you have people dying of starvation," Liu reportedly said, according to

The Straits Times

.

"Shang-Chi" has also faced controversy over the lead character's comic book history. When the comic series "Shang-Chi" first arrived in 1973, his father was

Fu Manchu

, a character considered to be a racist stereotype toward Asians which has been out of the Marvel universe for decades.

The film's unlikely release in China comes amid

an ongoing crackdown in the local entertainment industry

. "Eternals," which is also produced by Marvel, is facing the same fate because director Chloé Zhao said "lies are everywhere" in China during a 2013 interview with

Filmmaker Magazine

.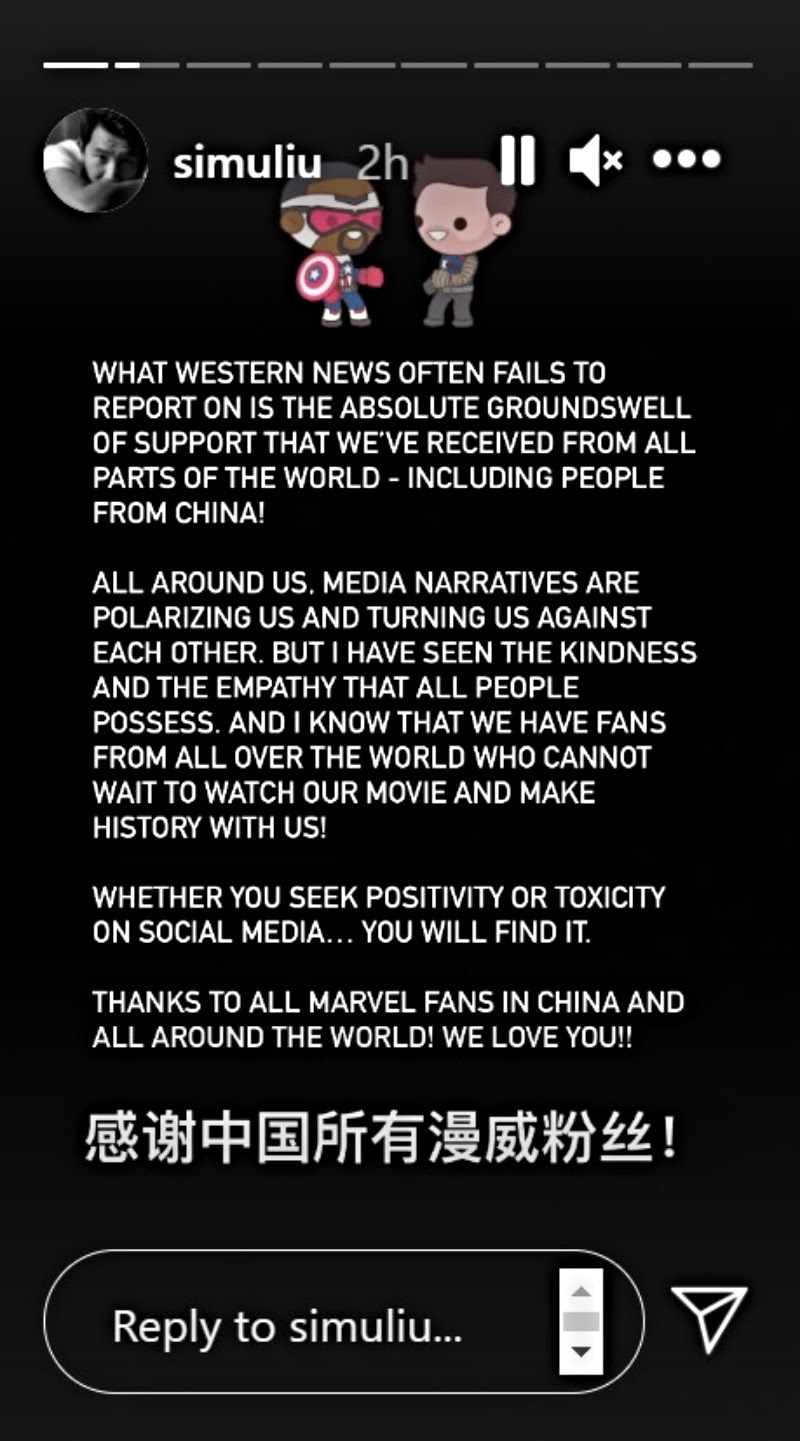 Chinese fans' support: Chinese fans have reportedly expressed their disappointment at the prospect of "Shang-Chi" being banned. The wave of support is especially strong from those overseas who have seen the movie. They stress that it has nothing "insulting" to say about China.
"This is a movie about a Chinese hero. Although the source material contained controversial characters, they were all removed from the film, which contains a lot of Mandarin dialogue and Chinese elements. It's a tragedy that this movie can't be released in China," one popular comment on Weibo said, according to

Newsweek

. "Where is the cultural confidence and tolerance we speak of?"

Others reportedly described censors as being "overly-sensitive" or absorbed with "self-pity." Meanwhile, some discouraged jumping to conclusions without watching the movie first.

Liu thanked fans from all over the world for supporting his movie in a new

Instagram

Story. He made a special mention of China while taking a jab at Western media for "polarizing us and turning us against each other."

"What Western news often fails to report on is the absolute groundswell of support that we've received from all parts of the world — including people from China," Liu wrote in part. "Thanks to all Marvel fans in China and all around the world!"

This is not the first time Liu expressed gratitude to Chinese "Shang-Chi" fans. In April, he thanked them for their

support and encouragement

despite there being critics rooting for the movie's failure.

After a

$35.8 million domestic haul,

"Shang-Chi" maintained its top spot in the box office in its second weekend,

The Hollywood Reporter

noted. As of Sunday, it has earned $257.6 million worldwide, according to the

Los Angeles Times

.
Featured Image via Marvel Entertainment