A retired military officer's daughter covered in the Deferred Action for Childhood Arrivals (DACA) program is facing deportation as the future of the Obama-era policy remains uncertain.
The program "expired" on March 5, a deadline set by President Donald Trump, but the Congress' failure to agree on a solution has kept "Dreamers" in limbo.
As such, nearly 800,000 enrollees could be deported, more than 16,000 of which are Asians.
One of them is Hyebin, a 20-year-old chemical engineering junior at the University of Kansas who was born in South Korea.
In 2013, Army Lt. Col. Patrick Schreiber and his wife, Soo Jin, decided to take her, their niece, as their own child.
At the time, Schreiber was about to deploy to Afghanistan as director of military intelligence for the 4th Infantry Division at RC-South. The assignment was scheduled for a year.
The family decided to put Hyebin's formal adoption on hold until he returned. When he did, the adoption was processed and resulted in Kansas issuing a birth certificate that named him and his wife as Hyebin's legal parents.
Hyebin was eventually placed under the Defense Enrollment Eligibility Reporting System (DEERS), a database of information on military sponsors and their family members. She also received a military ID.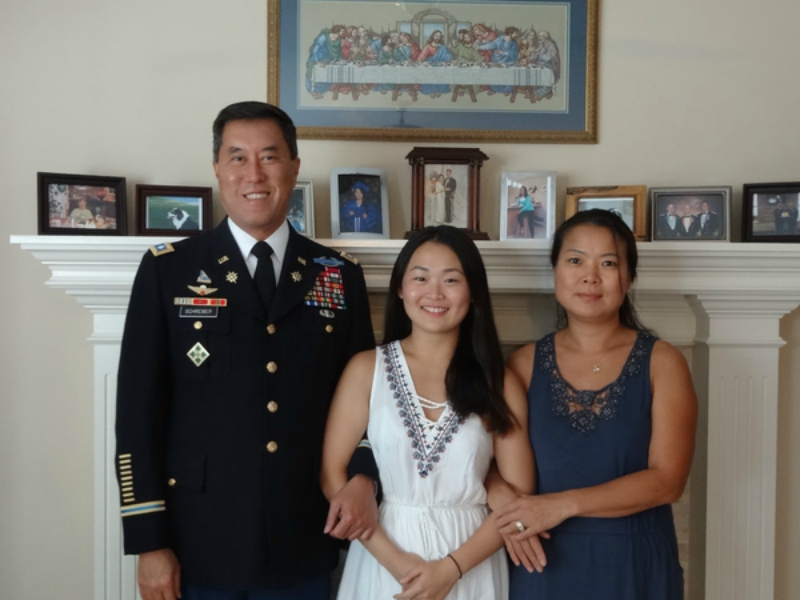 While the military seemed to welcome Hyebin, who just turned 17, things took a different turn at the Department of Homeland Security (DHS), which rejected her path to citizenship on the grounds that age 16 is the immigration cut-off.
"My greatest mistake in life is I didn't know that [U.S. Immigration and Customs Enforcement] had their own age policy," Schreiber told the Military Times. "I spent 27 years in the Army, always putting the Army ahead."
As it seems, it does not matter that this soldier — who retired in 2015 — spent all those years serving in Panama, Iraq and Afghanistan, to name a few places.
Hyebin, currently on a student visa, could be forced to return to South Korea after her graduation.
Schreiber worries that his daughter's deportation "would tear the family apart."
Featured Image via Patrick Schreiber