A team of 12 soccer players and their coach who were trapped in a cave in the northern part of Thailand have finally been found alive after 10 days of non-stop search efforts by dozens of rescuers.
The boys, aged 11-16, and their coach, 25, went missing after entering the flooded Tham Luang Nang Non cave in a national park in Chiang Rai on June 23, The Independent reports.

Over the past few days, the rescue team consisting of local and foreign divers, cave experts and military personnel, worked together to locate the team. Among them are Thai Navy SEAL divers, three British cave divers and a team of American pararescue and survival specialists from the U.S. Pacific Command.
However, heavy seasonal rains and rising muddy waters blocking access to the cave's inner chambers posed a difficult challenge for the rescuers.   
While some searched for alternative routes inside, others drilled a hole into a side of the cave in a bid to drain the water.
After all the efforts, two divers from the U.K. reportedly made the first contact with the trapped group at about 10:30 p.m. local time on Monday.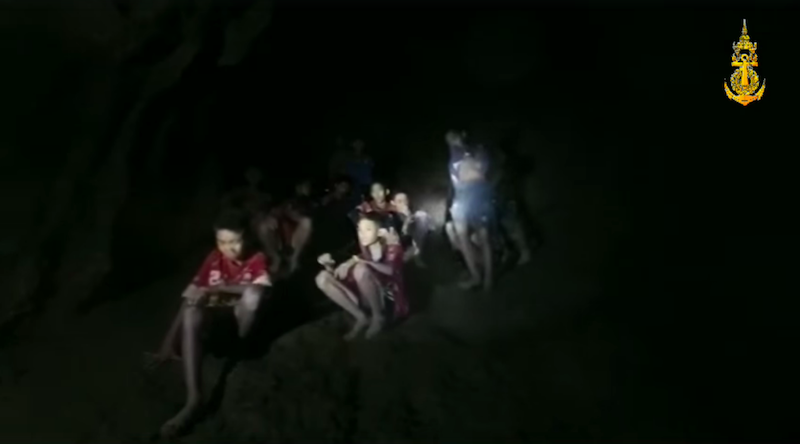 Thailand's Navy SEALs released a five-minute footage captured by one of the divers showing the group huddled together on a ledge above the floodwater inside the dark cave.
Speaking in English, some of them expressed their thanks to the divers.
"How many of you?" the diver can be heard as saying.

"Thirteen!" replied one of them.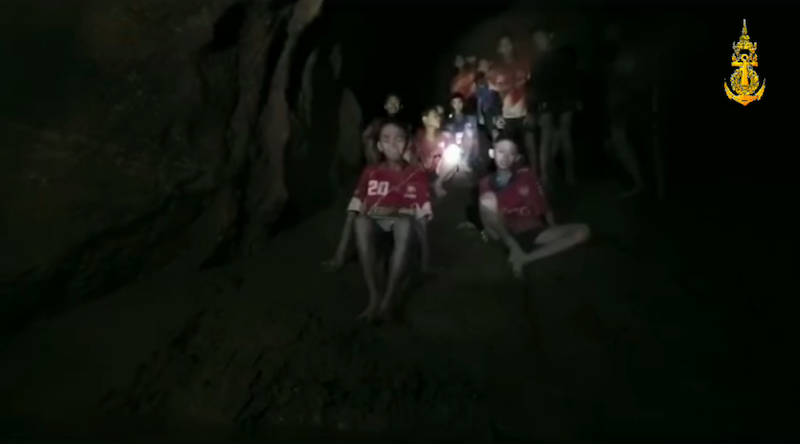 "Thirteen! Brilliant," the rescuer responded before assuring them that, "Many people are coming. We're the first."
According to Chiang Rai Governor Narongsak Osatanakorn, the rescuers are working on a way to safely get the team out of the cave.
"We will take care of them until they can move," he was quoted as saying. "We will bring food to them and a doctor who can dive. I'm not sure they can eat as they have not eaten for a while."
A doctor will reportedly spend the night with the group to determine the condition of the 13 individuals and if they are strong enough to be transported 2 miles out of the cave.
An Australian cave diving expert earlier warned that the boys and their soccer coach are likely to be stuck there for months due to the cave's structure and difficulty to traverse it. The boys' inability to swim was another challenge that could delay their rescue.
Featured Image via Facebook / Thai Navy Seal