In April 2015, San Jose residents Tina Lam and Michael Cheng bought the most prestigious street in San Francisco for just $90,000. 
The street, located in Presidio Terrace, has 38 mansions on it — with an average cost of $5.1 million per home. What's beautifully ironic about this whole ordeal is that the neighborhood was originally built in 1905 to keep Orientals out. In fact, only Caucasians were allowed to purchase property in the area until 1948, according to ads from the early 1900s.
"Baldwin & Howell advertisement pointed out that Japanese and Chinese had invaded the Western Addition, and residence districts were being ruined. They offered for sale lots in Presidio Terrace with restrictions against Orientals. The ad read, 'There is only one spot in San Francisco where only Caucasians are permitted to buy or lease real estate or where they may reside. That place is Presidio Terrace.'"
The couple discovered the listing browsing online two years ago. The homeowners' association had racked up $994 in upaid-back taxes due to bills being sent to an old address (the association had failed to update their mailing address over the years). The city put the street on auction shortly after when it was purchased by Cheng and Lam.
Residents were less than pleased when they found out they no longer owned their street, especially when they were contacted by the couple on whether they'd like to purchase their street back. Additionally, they revealed plans to charge for parking in the future.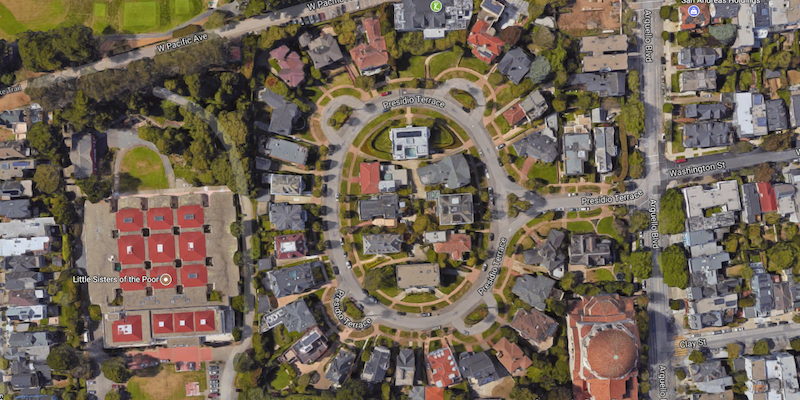 However, during a San Francisco Board of Supervisors meeting on Tuesday, Supervisor Mark Farrell, urged the board to reverse the sale. He argued that the homeowners' due process rights were violated when the tax collector sent tax bills to an outdated address.
"No one, regardless of who they are, should be deprived of their property without due process of the law," said Scott Emblidge, an attorney representing the homeowners' association.
Farrell also criticized the couple for trying to turn a profit on homeowners who didn't know they owed tax. Farrell also claimed the couple offered to sell the street back to the residents for $950,000 the day before the hearing.
Lam, an immigrant from Hong Kong, argued that she never meant to try and profit off the homeowners.
"I'm an engineer with a simple dream of owning a piece of San Francisco," Lam said before the San Francisco Board of Supervisors. "I'm not rich enough to live on that street, but I like to think that by owning it, I'm a San Franciscan in spirit."
Unfortunately for the couple, the Board of Supervisors voted 7-4 to reverse the sale of Presidio Terrace, prompting residents attending the hearing in the room to cheer.
Since the couple's story made headlines, many critics have asked whether city leaders would have spent as much time and attention to this case if the street was located in a lower-income neighborhood.
"Sadly, the seven members of the board who voted to rescind this sale have demonstrated that you get a different standard of government in San Francisco if you are rich and politically connected," Shepard Kopp, the attorney representing the couple, said in a statement.
However, the battle is not yet over — Chen and Lam remain vigilant and plan to fight for ownership, according to TIME.