Among the different racial and ethnic groups in the U.S., Asians are the most afraid of receiving verbal and physical attacks, a new survey from Pew Research Center revealed. 
Of the 5,109 U.S. adults who participated in the survey, 32% of Asian adults fear they'll be physically attacked or threatened. In comparison, 21% of Black adults, 16% of Hispanic adults and 8% of white adults expressed the same fear. 

Additionally, 81% of the 352 Asian adults surveyed think that violence against them continues to rise, while 56% of all the U.S. adults who were surveyed said the same.  
The survey was conducted from April 5 to 11, just weeks after four Asian women died during the mass shooting in Georgia on March 16.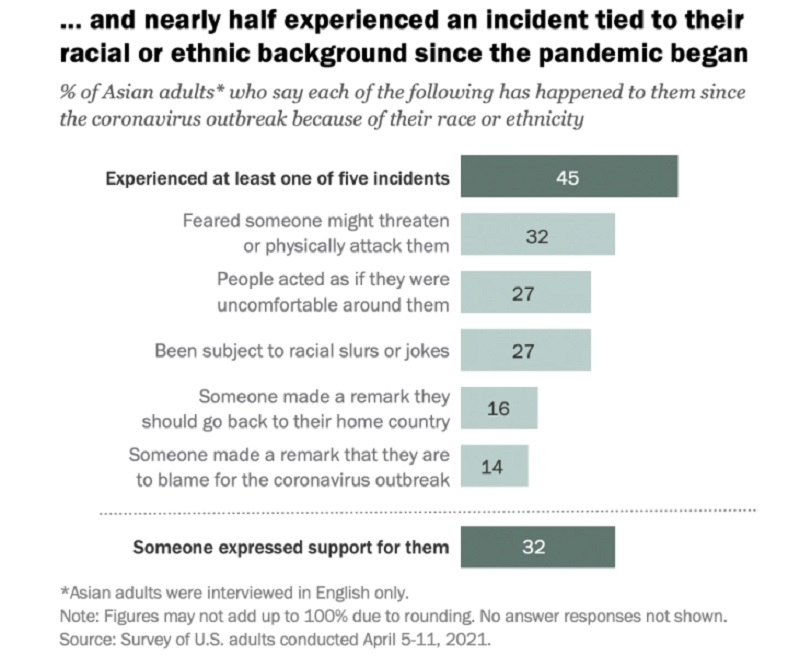 Pew Research Center specified five offensive incidents, including being "subject to racial slurs or jokes" and fearing that "someone might threaten or physically attack them." About 45% of the survey's Asian respondents said they had experienced at least one of these five incidents since the COVID-19 pandemic first began, while 32% shared that other people have shown them support since the beginning of the pandemic. 
Meanwhile, around 27% said that other people have "acted as if they were uncomfortable around them," and another 27% claimed that they have "been subject to racial slurs or jokes."
Lastly, 14% said that "someone made a remark that they are to blame for the coronavirus outbreak," while 16% claimed that they have been told to "go back to their home country." 
Around 20% of the Asian participants believe that the way former President Donald Trump labeled COVID-19 as "kung flu" or "Chinese flu," as well as his rhetoric about China and his bigoted remarks, are possible reasons behind the rise in anti-Asian discrimination.
"Four years of Trump has normalized racism and bullying. His continual example of blaming Asians for the coronavirus is allowing people to openly discriminate against Asian[s]," a female respondent, 40, said.
A March Pew Research Center survey found that 70% of U.S. adults see "a lot" or "some discrimination" against Asian people. 
Featured Image via Los Angeles Police Department