Asian celebrities are criticizing a casting call for a Chinese or Korean mother with a child or children who both/all must fit a set of criteria leaning on Western beauty standards.
The casting notice, which came from the New York City-based Paladino Casting, explicitly seeks talents who have "clean, white and pinky" skin with "no dots or circles," as well as eyes that "although almond-shaped," must not be "too down-turned" and not monolid.
Successful talents will star in a Kinder Joy commercial, which will start shooting on Oct. 17. The notice includes a slew of other physical requirements, as well as an active quarantine status.
The project will pay $500 "all-in" — including "fitting + one-day session + usage" — and a 10% agency fee. Possible renewals offer the same rate "per talent per each additional year all in."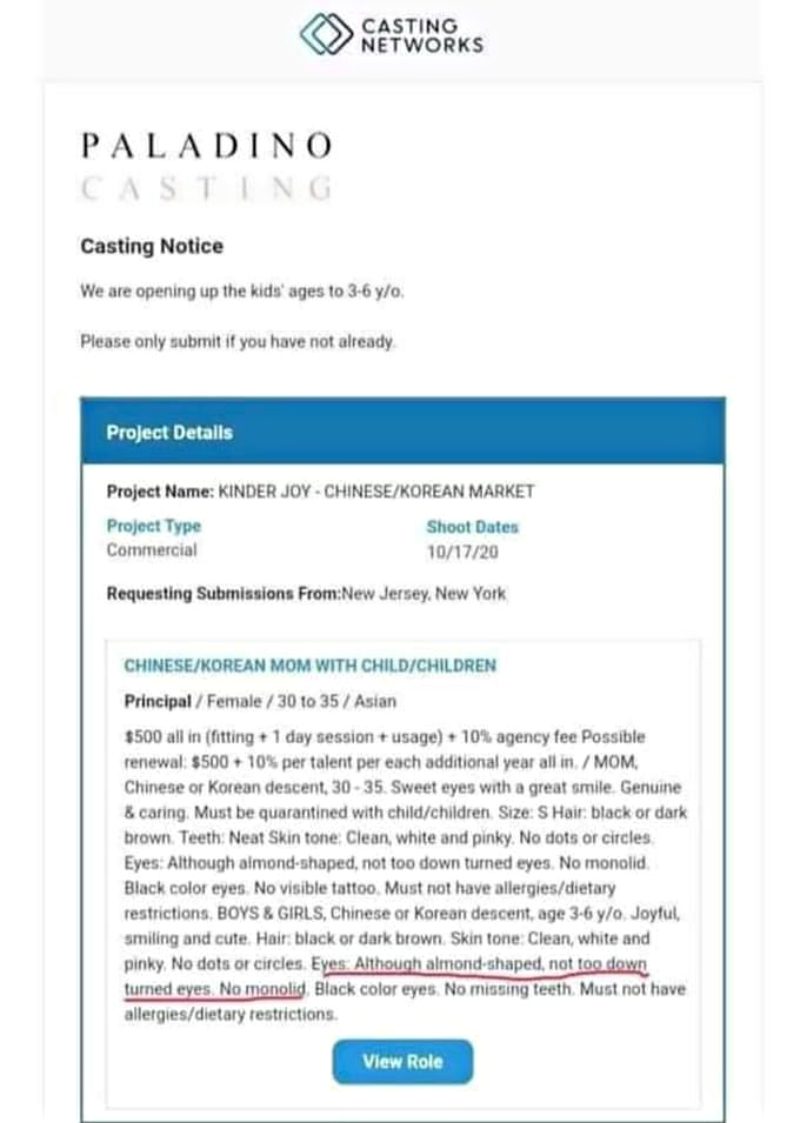 "Shang-Chi" star Simu Liu, who recently became an ambassador for UNICEF Canada, exposed the casting call on Friday and quickly drew support from other Asian actors.
"Dear Paladino Casting," the 31-year-old actor wrote. "F*ck you. Signed, A Proudly Monolidded Asian."
In his replies, Liu noted that he doesn't stand a chance with the "no dots or circles" requirement, which a user presumed must refer to "no scars, blemishes or birthmarks."
He added, "I've never heard Asians described as 'pinky' in my entire life."
Dear Paladino Casting,

F**k you.

Signed,
A Proudly-Monolidded Asian pic.twitter.com/x0ifCM2ptq

— Simu Liu (@SimuLiu) October 10, 2020
Asian actors Tamlyn Tomita, Leonard Wu, Lourdes Faberes and Rudy Martinez also called out Paladino Casting and Kinder Joy for the racist notice. Rodney To offered $500 to the successful talent to decline the project.
Hey! @PaladinoCasting ! Are you stupid or something else?

— Tamlyn Tomita (@thetamlyntomita) October 10, 2020
"No monolids."

Rarely do we see such an egregious slip up from those that many of us would automatically assume is an ally (read: Hollywood = liberal). I'm sure it was an honest mistake. An honest, insidious mistake.#PaladinoCasting, please apologize. And please. Do better. https://t.co/NsgGBf85DT

— Leonard Wu (@iamleonardwu) October 10, 2020
There are times when we ignore the ignorance. This is not one of them.

So, 1.7 BILLION mono-lidded Asians, they're telling us not to buy their product. Cool.

It's 2020. We don't have to put up with this bullshit. Do better, Paladino Casting.

Good on you, @SimuLiu. https://t.co/miTT3tWqjB

— Lourdes Faberes (@LourdesFaberes) October 12, 2020
Casting directors always give actors tips… but who gives them tips on anti-racism work? I see it all the time – a push for diversity but a preference for "bi-racial" which is usually code for lighter skin. This casting notice from @PaladinoCasting isn't even code though 🤨. https://t.co/nQEIQcnzIW

— Rudy Martinez (@RudyMartinezLA) October 8, 2020
To the woman they cast, I will pay u $500 to NOT do the gig. U and your children's integrity, self-worth and identity are invaluable. This breakdown is despicable. And to @PaladinoCasting, & the advertisers, did it taste good when this piece of shit came out of your mouth?!🖕🏽🖕🏽🖕🏽 pic.twitter.com/RshrSMd5mf

— Rodney To (@RodRedRod) October 10, 2020
The casting call also drew criticism from other Asian personalities.
oh HELLLLLL no

— Alyssa Wong 🌈💫 (@crashwong) October 10, 2020
Monolids are actually recessive genes. Our eyes are perfect!

— Nancy Wang Yuen 🎃👻 (@nancywyuen) October 10, 2020
Asterisks are an unnecessary courtesy in this instance

— Gene Luen Yang (@geneluenyang) October 10, 2020
Amid the backlash, Paladino Casting issued a statement acknowledging the racist notice and apologized to the acting community.
"Posting this as received without pushing back against the language it contained was an inexcusable oversight by all of us here," a spokesperson, presumably owner Kristen Paladino, wrote. "What we are seeing is that this highlights a larger issue within the entertainment industry. I sincerely apologize to our community of actors for the fact that this was released as it was received."
— Paladino Casting (@PaladinoCasting) October 10, 2020
As of this writing, Ferrero, which owns the Kinder brand, has not released a statement over the matter.
Feature Image via Ketut Subiyanto