Seemingly part of every dancer's upbringing and end-of-year routine, "The Nutcracker" is a ballet interpreted annually by local schools and esteemed companies across the globe. With its melting pot of a second act, there is perhaps no more iconic American Christmas tradition. Audiences are taken to a land of sweets where they are greeted by fantastical creatures, both imagined and "real" — from dancing flowers and a towering Mother Ginger to Chinese tea and Arabian coffee treats.
Ballet as an art form has existed for centuries and is frequently criticized in present-day for its outdated orientalist themes, including "Nutcracker"'s depiction of Asians and other exoticized ethnic groups. Final Bow for Yellowface is an organization of ballet lovers in its fifth year of consulting with major companies and artists to replace a historical reliance on racial stereotypes with multiculturalism, reminding us that every production is an active choice to either preserve or evolve a beloved holiday tradition.
View this post on Instagram
Introducing 'Final Bow'
Phil Chan, a 2020 New York Public Library fellow, and Georgina Pazcoguin, New York City Ballet's (NYCB) first Asian American soloist in its 70-year history, are both accomplished artists, writers and the co-founders of Final Bow. Their mission to eradicate yellowface from ballet began five years ago following a pivotal conversation with NYCB's director at the time, who was considering minor changes to the Chinese scene of Balanchine's meticulously preserved "Nutcracker." They went on to invite many other companies to sign a pledge to strive for inclusivity and diversity.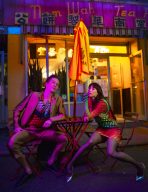 "We bought yellowface.org for $11, and we put up a pledge… centering it in our deep love as people inside the industry – not angry outsiders – but people desperately wanting it to succeed," Chan told NextShark. The pledge, now signed by all major American ballet companies, as well as several international ones, relies on the idea that in order for ballet to survive, artists and industry leaders must engage in "meaningful discussions and actions revolving around representing different cultures on our stages," according to Pazcoguin.
The organization has not only helped companies explore less offensive methods for depicting Asians in "Nutcracker" and other ballets, but has also evolved to take on several other projects, including the creation of new ballets, resources for Asian choreographers, virtual showcases and encouraging pledge-signers to take the next step in their development: hiring an Asian choreographer.
A history of yellowface
Chan, a history buff and author of "Final Bow For Yellowface: Dancing Between Intention and Impact," offers followers multiple opportunities to deep dive into the history of yellowface and its residual impacts across both the arts and contemporary Asian communities. He cites American political cartoons and early instigators of "Yellow Peril" fear throughout 19th and 20th century Russia (a significant cultural contributor to ballet as we know it today) as major influences on the development of Asian figures in ballet. These caricatures are often simplistically identified as Asian through exaggerated makeup, costumes, head bobbing and finger pointing — a head scratch inducing, exhausted choreographic choice that faintly hearkens back to the days Chinese ceramicists would display their talents by creating delicate statues with individually raised fingers, according to Chan.
View this post on Instagram
"Adopting a caricature of the Chinese in our cartoons, propaganda, and theatrical productions helped us justify treating these new immigrants as less than full Americans, or even less than human," their website reads. The organization advocates for a transition from a "Eurocentric" lens to a "multicultural" one and encourages companies that continue to rely on stereotypical depictions to consider the difference between caricature versus character. 
"Of course, with all of the Stop Asian Hate and the rise in Asian violence, our mission could not be clearer that how we portray each other on stage has an impact on how we treat each other off stage," Chan said. "If you don't see Asian people with nuance, as people in your community, as real people with dreams and hopes and fears and nuance, then it's really easy to spit on us or attack us on the street."
View this post on Instagram
"The opposite of cancel culture"
The ballet world can be notoriously slow to change, with aficionados often fearing that calls for evolution mean the loss of an art form whose origins can be traced back to 17th century France and Italy. But Chan insists, "'Multiracial' includes European history. It includes Shakespeare, Puccini, Mozart, Petipa, Balanchine… It's just bigger. We get more, because we're a bigger society." Final Bow's approach involves uniting fans behind a common love for the art form. It asks them to consider how ballet can include more people, as well as the extent to which loving ballet means preserving it versus nurturing it into the future as a living, breathing art form. "The opposite of cancel culture," as Chan calls it.
Both Chan and Pazcoguin stress the importance of having difficult conversations to distinguish "intention" from "impact." They ask artists and companies, and even young students, to more deeply interrogate where their traditions come from and how or why we represent racial groups the way we have: If this is the harm I experienced from your work, is that what you intended? What alternative aspects of an ethnic culture with centuries of history can be highlighted to move beyond the tropes of head bobbing and finger pointing? What elements of performance beyond makeup and costume are available for us to play with? In a world that frequently relies on pantomime to communicate with audiences, does a caricature punch up or down?
"We're supposed to be a creative field, this is creative problem-solving," said Chan, who exhibits a pressing desire for creative nuance through the development of his own works like the reimagining of the "Ballet des Porcelaines."
View this post on Instagram
The opposite of cancel culture also looks like collective accountability and encouraging a desire across our communities to do better. In a demonstration of this idea, Chan recalls the early days of Final Bow when a local Nevada news station reached out to ask if their local ballet theatre had signed their pledge. Not seeing it as his responsibility to police them, Chan encouraged the journalist to contact the company directly, immediately after which they began making adjustments to their own "Nutcracker."
"It was just that easy," Chan shared. And every year, as "Nutcracker" season rolls around, the traditional production leads more companies and artists to ask themselves what changes can be made. "The nature of our advocacy work has been passive and letting it ripple, just leading the conversation at key moments."
Ballet's ongoing battle between preservation and relevance
This instinct to preserve and the sense of awe for the histories of ballet are often ingrained in each new generation of dancers from an early age. And with the rigid power structures of most ballet companies, which are traditionally centered around a singular artistic director, the responsibilities of and impacts on the ballet dancers themselves, when it comes making changes, can be complicated.
For Pazcoguin, each day she shows up to work among such few other Asian dancers is a form of activism. She's encouraged that dancers seem to be finding "there is agency to be had," a notion she acknowledges is almost a "direct counter" to the image we have traditionally cultivated of the silently beautiful ballerina. On the other hand, however, she recalls the discomfort of growing up with the keen awareness that she did not look like the prima ballerinas decorating the walls of her school, of watching Asian cultures be reduced to a caricature each "Nutcracker" season, and, eventually, of not feeling she could voice her discomfort when it came time for her to perform the Chinese Tea role at 18 years old. Now as NYCB's soloist, she continues to seek opportunities that will grant her power to help bring about necessary change.
View this post on Instagram
"This is an ephemeral art form," says Pazcoguin of what makes ballet special. "The show I did last night is gone forever… Change is never easy, but it's not bad. At this point, it's essential." Audiences and students won't continue to show up for outdated racial caricatures, she adds.
Racial identity and representation in context
Both Pazcoguin and Chan are mixed race and familiar with the inconsistency of racial identity depending on context and the people around you. While they work with international companies and advocate for global efforts to eliminate offensive stereotypes, they also note that the harm of yellowface has a particular flavor in the United States.
In a Los Angeles Times op-ed, UC Irvine professor and "Nutcracker Nation" author Jennifer Fisher recalls a ballet history class she taught at the Beijing Dance Academy, wherein she showed multiple versions of "Nutcracker"'s Chinese dance. While some of her students eventually concluded that they were not fans of the interpretations, Fisher initially observed, "They weren't offended… because there was little reason for them to recognize injurious stereotyping by Westerners. They had never suffered from it, and they had little knowledge of the long history of insulting race-based caricatures in the U.S."
"The difference between being an Asian person in Asia [versus elsewhere] is your experience is centered," says Chan. "Any caricatures of your culture are self-generated, and the audience is for yourself."
What is perhaps unique about Final Bow's work is that neither Chan nor Pazcoguin discourage ballet companies from including Asians in their stagings of "Nutcracker" or other ballets. Rather, they encourage artists to do their due diligence when it comes to researching and seeking more respectful ways of including Asian communities. Thus, an essential aspect of their work involves helping them make honest assessments of who has power over the images produced, as well as who stands to gain from them. The best way to grant more power to authentic Asian representation on stages? Hiring Asian choreographers.
A new generation of Asian artists
Since Final Bow first set up its pledge, the organization has come a long way – with two books published, a forthcoming 1920s Hollywood remake of "La Bayadere," a partnership with Hubbard Street Dance to reimagine "Nutcracker"'s Chinese dance and professional development training for arts educators. Their efforts have now primarily turned to funding and connecting AAPI artists through matching commissions, virtual festivals and mentorship programs.
View this post on Instagram
A major supporter of Final Bow who stepped up to mentor the incoming generation of AAPI artists was the late Nai Ni Chen, who, by Chan's accounts, exemplified the warm understanding, bridge building and creative exploration that define the organization's mission. Chen was dedicated to building spaces in which young Asian dancers and choreographers could thrive by creating opportunities she wished had been available to her. 
It could not have been clearer than when Pazcoguin scrambled in between rehearsals during the thick of NYCB's "Nutcracker" season to take this interview that there is no shortage of work left to be done.
"I am not done telling stories," she declared. "I am seeking more autonomy over myself. I am seeking more agency… I think I'm just getting started."
Feature Image via Erin Baiano Photography (left), The Dances, Inc. (right)