The executive director of the non-profit Camden County Historical Society (CCHS) was recently blasted on social media for allegedly trying to intimidate an intern to do work well beyond her scope.
An intern wronged: A public Facebook post by user Nhu Tran shared how a "CS major interning at a nonprofit organization," who Tran called "Helen" for safety, was being bullied by her boss at work.
Helen's boss reportedly threatened to "withhold 8 weeks of her paycheck AND badmouth her to others" if she did not satisfy his expectations. 

Tran described Helen as a hard-working woman struggling during the pandemic. Her boss was allegedly trying to take advantage of her.

"He intimidated and threatened her thinking she'd never fight back," Tran wrote. "All women go through this. We can't sit back and just 'let it go' anymore."
Receipts published: Tran also shared screenshots of email exchanges between Helen, her employer Jack O'Byrne, and the organization O'Byrne belongs to.
The first image shows email exchanges in which O'Byrne questions the amount of work Helen put in during a specified period.  

After Helen explains the hours it took for her to do the project on her own, O'Byrne threatens to withhold parts of her pay and give negative feedback to a prospective employer.

Helen offers to complete the project, noting that while she was hired as an intern, she ended up working on the project by herself for two months.

She retracts the offer until her "payment is cleared" in a follow-up email dated Dec. 22, in which she enumerates the ways the boss and the organization were unfair to her.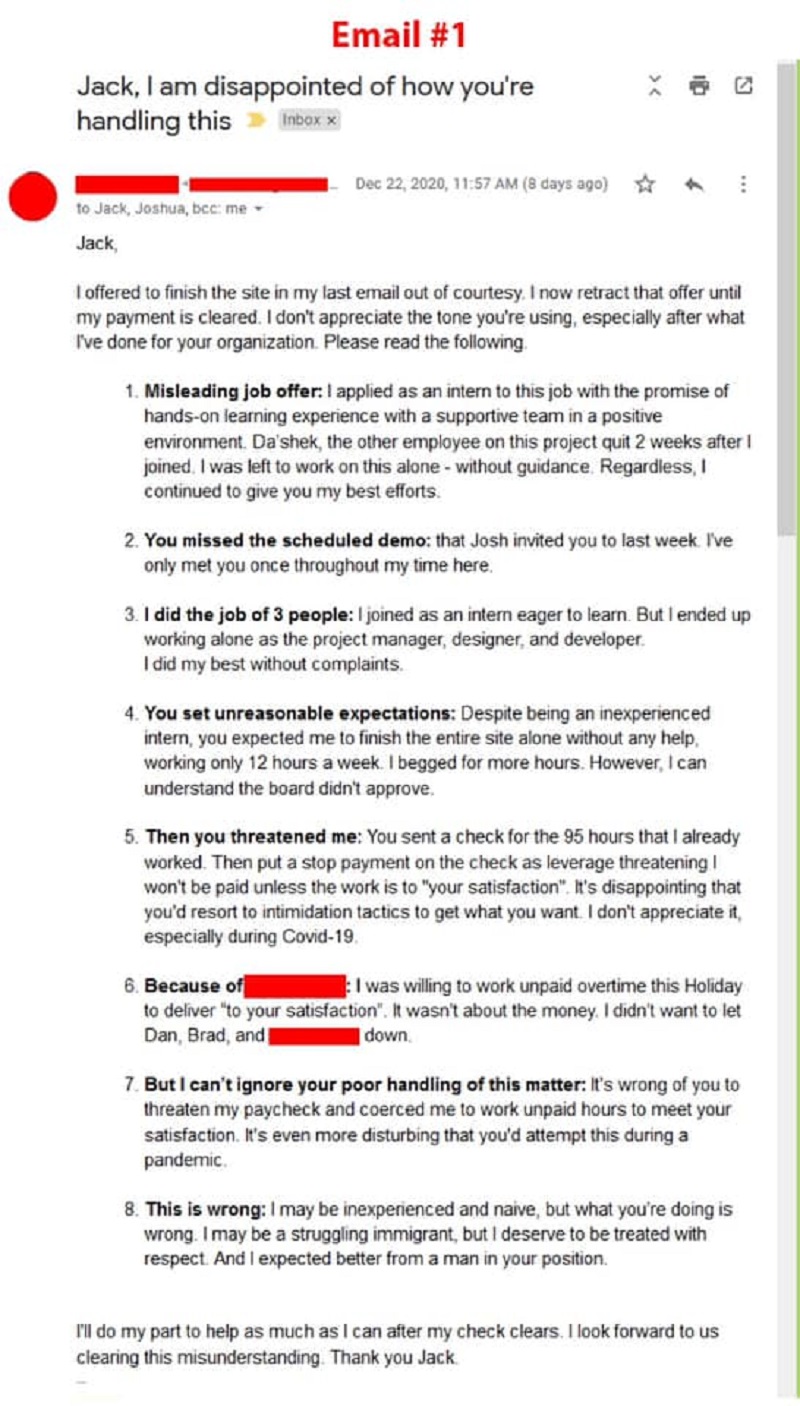 Instead of receiving a response from O'Byrne, Helen received an email from Collections and Preservation Director Joshua Lisowski, who apologized for the email exchange (with O'Byrne), recognized her work, and advised that she can now cash her check. He also committed to helping Helen moving forward.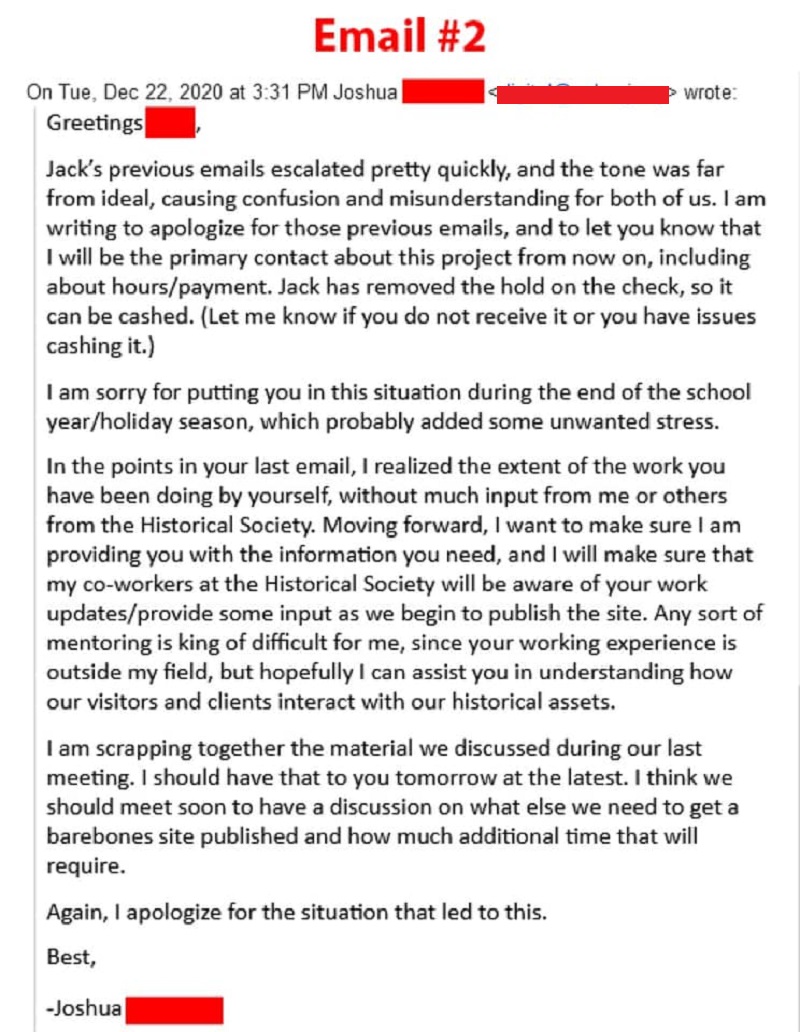 On Dec. 25, Helen responded with a fiery email, berating O'Byrne for having Lisowski respond for him.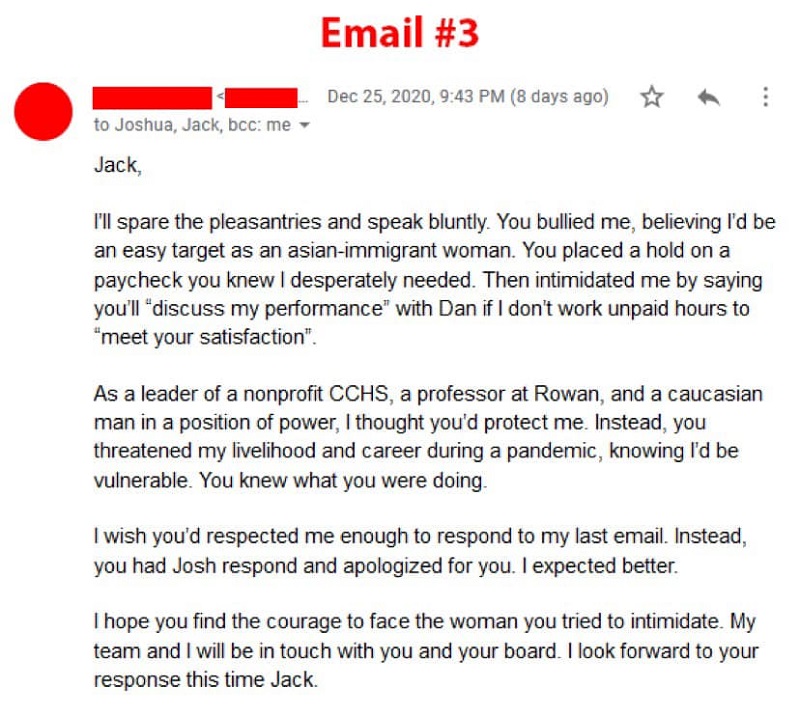 "As a leader of a nonprofit CCHS, a professor at Rowan, and a caucasian man in a position of power, I thought you'd protect me," Helen writes. "Instead you threatened my livelihood and career during a pandemic, knowing I'd be vulnerable. You knew what you were doing."
NextShark has reached out to both parties for comment and has received a response from O'Byrne, who said:
"The independent contractor had one duty which was to download a software program and transfer it to our computers. The person downloaded the program to their personal computer, refused to transfer the work product, and demanded payment. When the person agreed to migrate the program this was the December 26th response to email: 'Thank you for agreeing to migrate all your work to our local host. Without that we would have no result for your work. I believe that there is a balance of three weeks, 2 in October and 1 in December, that remains if that is the correct hours. The rate is $15 hr and no $12 hr. I will write the check and mail when I am back to work on Monday. I apologize if my request for the transfer of work was construed as more than a transaction of payment for services provided. Happy New Year and Tết Nguyên Đán.'"
O'Byrne claimed that CCHS was unable to provide guidance for the project because they did not have computer science expertise to understand the process.
"If the person had let us know that more help was required, we may have been able to provide more resources. I was unaware of any stress our project may have caused," he explained.
Featured Image via Google Maps