A Twitter user sparked a heated debate online after posting images of herself wearing a traditional Chinese dress to prom.
PROM pic.twitter.com/gsJ0LtsCmP

— Keziah (@daumkeziah) April 22, 2018
The woman wore the tight-fitting stylish dress known as Cheongsam or Qipao on her prom night and posted the images on her Twitter account @daumkeziah.
Her post soon became viral with thousands of likes and retweets, earning criticisms from netizens who found her choice of attire a form of cultural appropriation. Some Twitter users even went as far as labeling it as racism.
This isn't ok. I wouldn't wear traditional Korean, Japanese or any other traditional dress and I'm Asian. I wouldn't wear traditional Irish or Swedish or Greek dress either. There's a lot of history behind these clothes. Sad.

— Jeannie (@JeannieBeanie99) April 28, 2018
Was the theme of prom casual racism?

— .kate. (@holdyourbutts) April 27, 2018
Asian cultures are NOT an aesthetic you can just don for an evening. Your intentions are irrelevant, your poor judgment is cultural appropriation and contributes to the fetishization of Asian women and commercialization of our culture for white gain. Check your privilege.

— Cassandra Lam (@cassandthecity) April 29, 2018
She has since addressed the criticisms and dismissed the negative reactions by saying she was simply appreciating Chinese culture. She also found nothing wrong since she was merely wearing "a f***ing dress."
I don't see the big deal of me wearing a gorgeous dress I found for my last prom. If anything, I'm showing my appreciation to other cultures and I didn't intend to make anyone think that I'm trying to be racist. It's just a dress.❤️

— Keziah (@daumkeziah) April 28, 2018
I don't understand everyone's need or desire to cause so much hate. I'm simply showing my love for a beautiful culture and there is nothing wrong with that. Keep talking shit. I don't care. I have much respect for the Chinese culture ❤️

— Keziah (@daumkeziah) April 28, 2018
To everyone causing so much negativity: I mean no disrespect to the Chinese culture. I'm simply showing my appreciation to their culture. I'm not deleting my post because I've done nothing but show my love for the culture. It's a fucking dress. And it's beautiful.

— Keziah (@daumkeziah) April 28, 2018
To everyone who says I'm ignorant, I fully understand everyone's concerns and views on my dress. I mean no harm. I am in no way being discriminative or racist. I'm tired of all the backlash and hate when my only intent was to show my love.

— Keziah (@daumkeziah) April 28, 2018
I love and appreciate diversity and other cultures. I mean no hate. I love everyone ❤️

— Keziah (@daumkeziah) April 29, 2018
However, many have pointed out the problem in dismissing a country's cultural clothing as "just a dress".
—Chinese culture. she has ignored all criticism and called it "just a dress". it's not a just a dress. it's years of culture and meaning and she chose to disrespect it. she showed no sign of even being knowledgeable about Chinese tradition.

— danielle ha (@nahjoonah) April 29, 2018
And someone is informing you otherwise. As you're not Asian, maybe it's best to listen to people who actually are since you're all about "appreciating the culture"

— 👹ASIAN TOMI LAHREN👹 (@AsianTomiLahren) April 28, 2018
Some also took an issue with the pose she and her friends made:
Sis, you're literally mocking them with these poses 👋 pic.twitter.com/yCCWrnpI3z

— zaddy smith (@CarlyRaePrEPsen) April 28, 2018
There were also those who defended Daum's prom dress, pointing out that her critics were merely being sensitive about something that is, for them, a non-issue.
Y'all all need to relax. Wear the dress. Don't listen to these fucking sensitive morons. I'm as asian as it gets and nobody in China would give a fuck. You did nothing wrong.

— BEN BALLER™ (@BENBALLER) April 28, 2018
Am I the only Asian person that's NOT offended by this? And people are saying her namaste pose is racist. I'm pretty sure that's the pray hands pose that y'all been doing since the early 2000s. https://t.co/xHPcyh6YUd

— Gina 🍓 (@MissGinaDarling) April 28, 2018
I'm with you on this one. It's not like she's out there appropriating and making money off the culture. It's when someone like Katy Perry does this shit in her MV's that got me annoyed at times

— aj rafael (@ajRAFAEL) April 28, 2018
This on the other hand is a fckn face palm. Owned/founded by an Asn woman too. Smh, wtf was she thinking. Multiple locations too so it's actually doing well. Geezus pic.twitter.com/5h9TxLlKRU

— philipwang (@philipwang) April 28, 2018
You looked great Keziah. Thank you for appreciating and not appropriating a culture for an important life event.

— Jimmy (@jfwong) April 29, 2018
she had zero idea she was about to get hate from thousands of people over it. No need to call someone lazy when they're trying to enjoy prom & look pretty- just because they didn't address a racial issue is enough to recognize she may have not understood it either originally

— Jimmy (@jfwong) April 29, 2018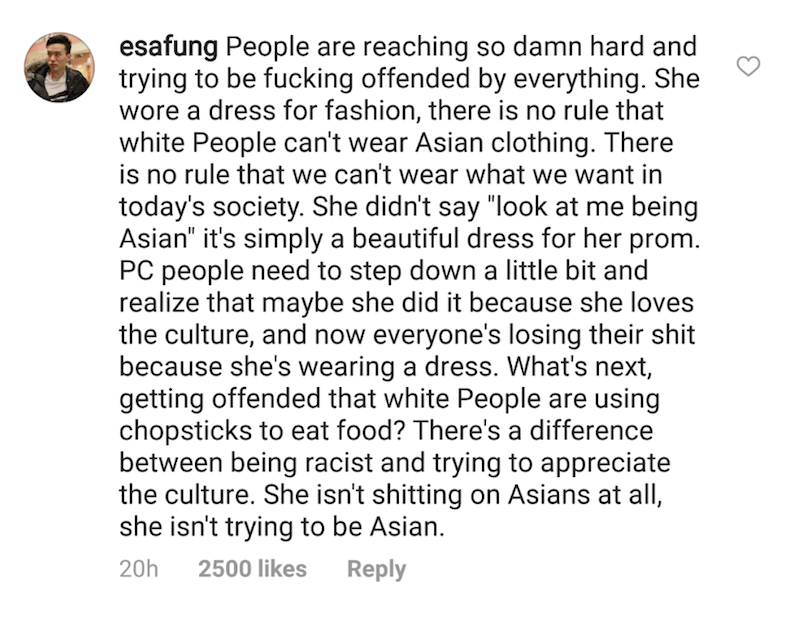 Popular Asian American YouTuber Gina Darling also weighed in on the issue on her Twitter account @MissGinaDarling, saying that instead of being offended, she appreciated that others find her culture beautiful.
However, Twitter user @asianpocunite disagreed.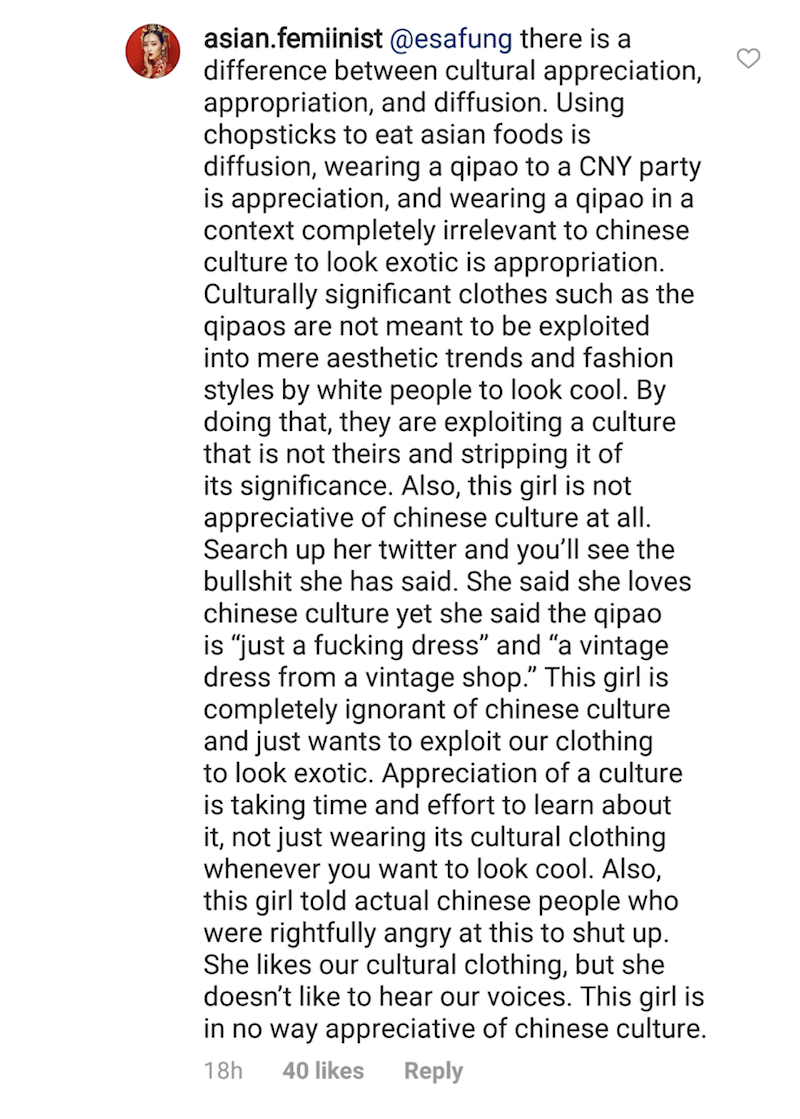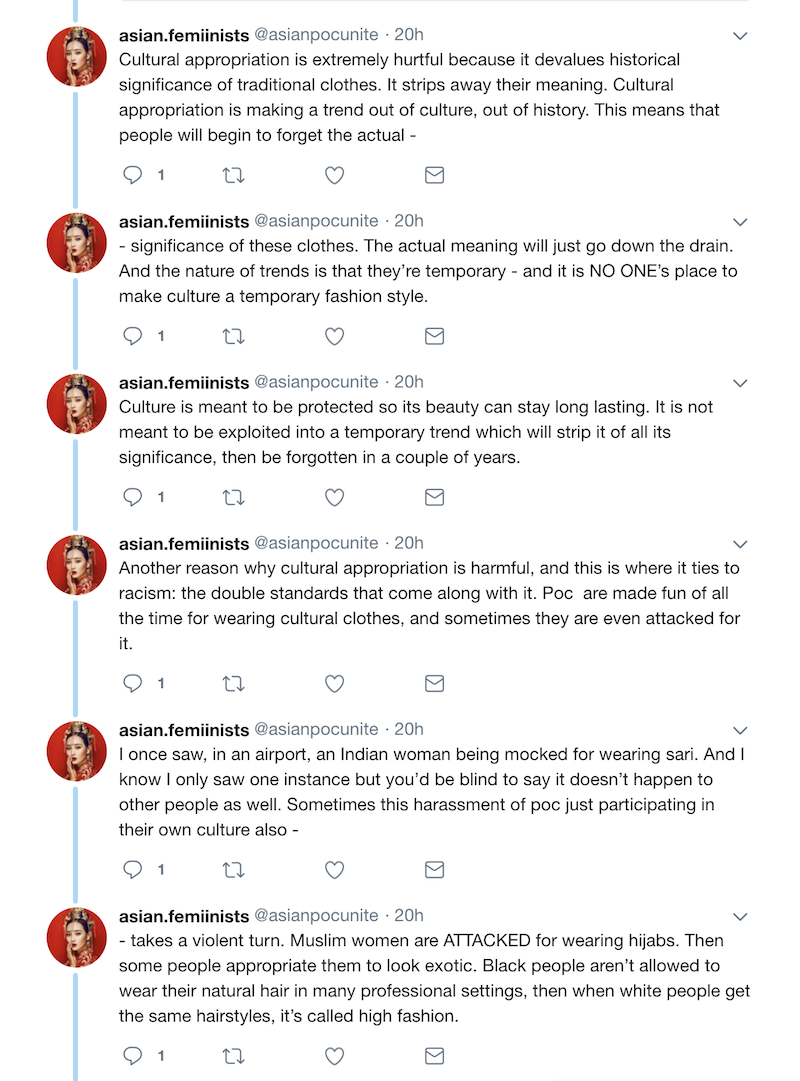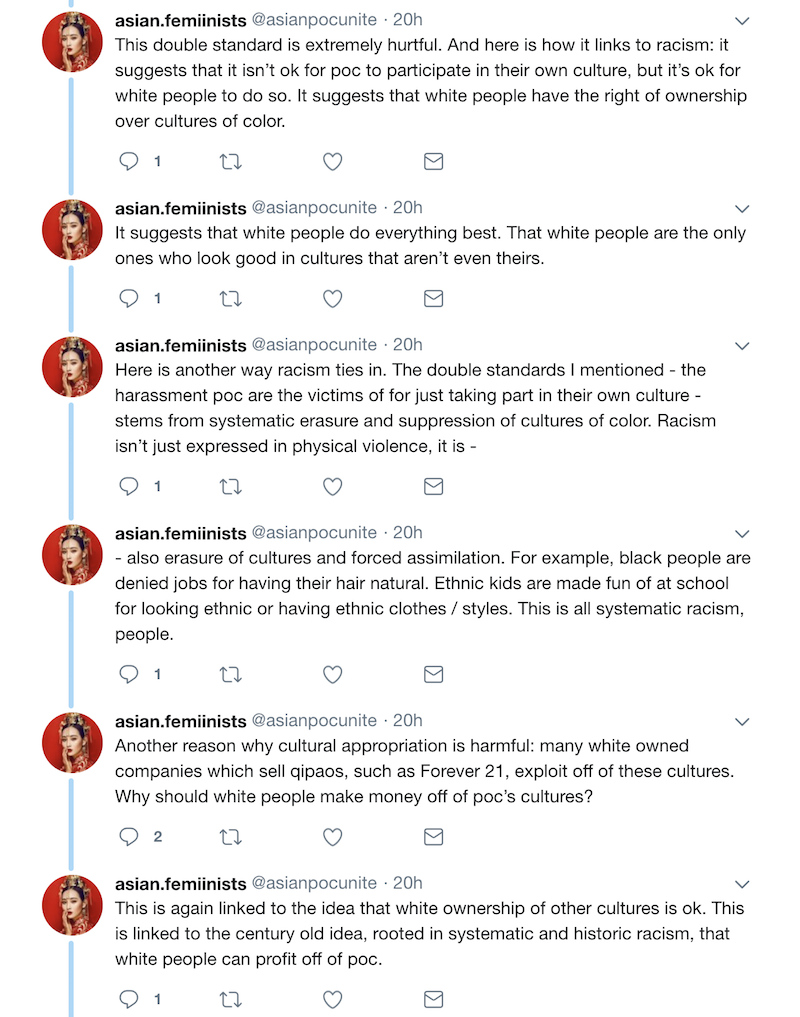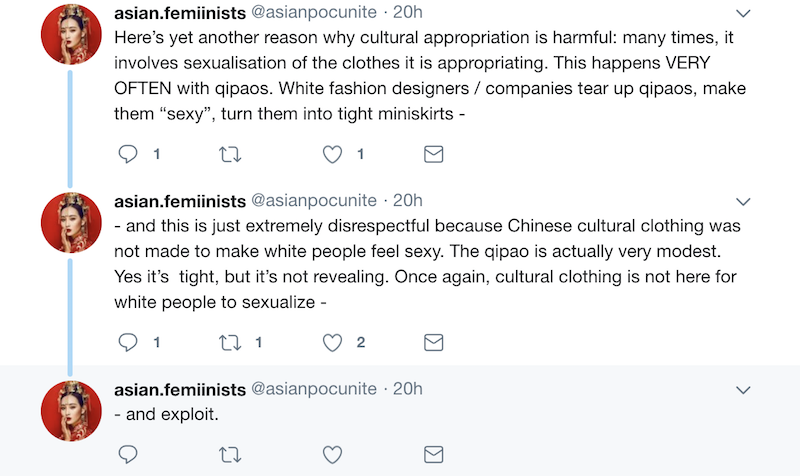 Meanwhile, Twitter user @patriciaah_1 explained how, despite having the noblest intentions, wearing "cultural" clothing can still be problematic: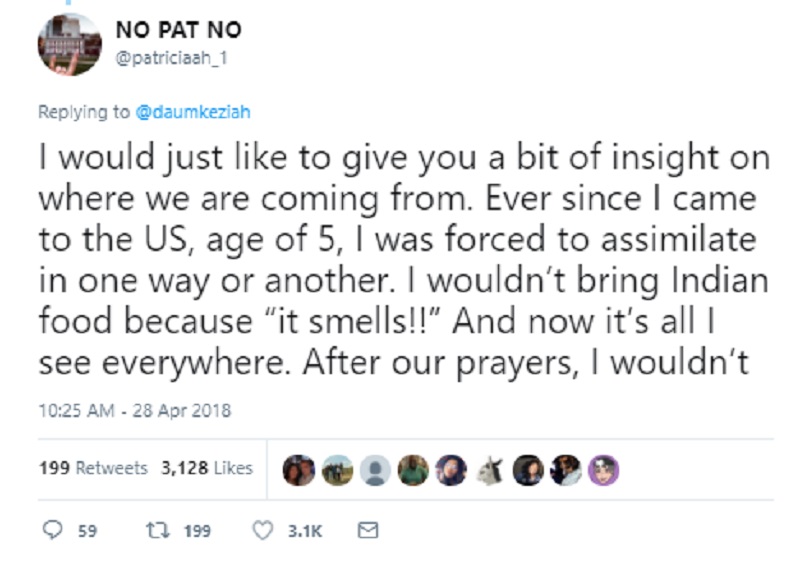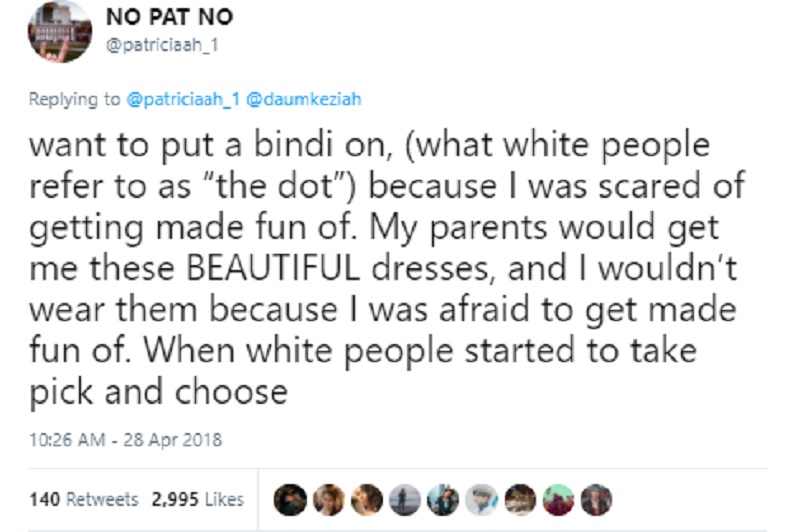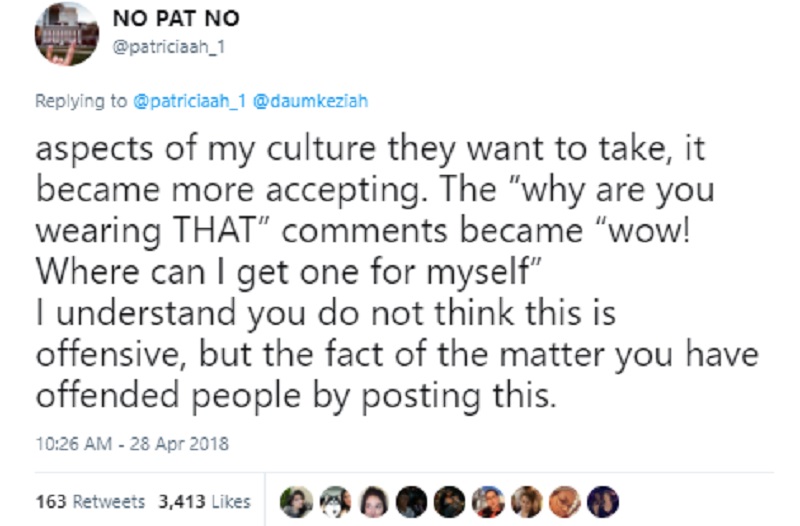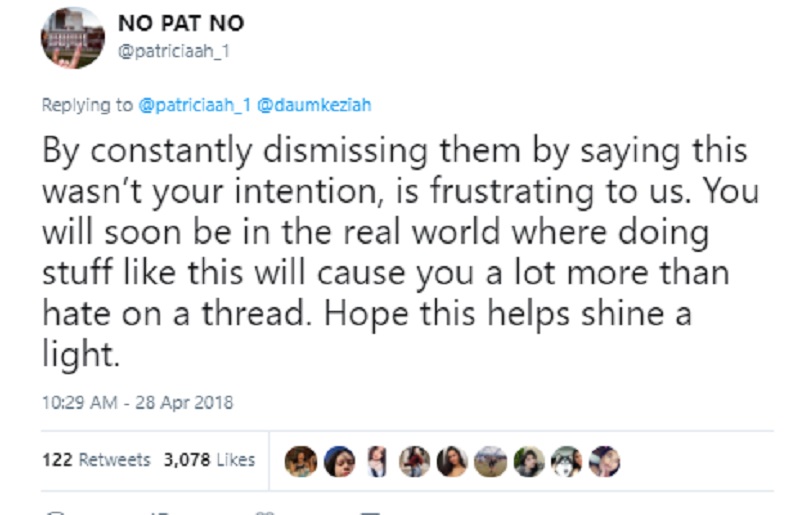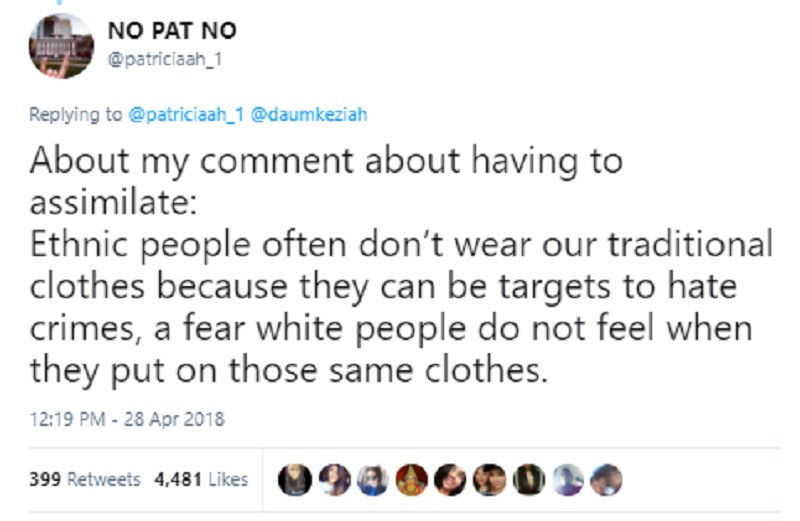 NextShark has reached out to the woman for comment and will update accordingly.