René Redzepi is a chef I've been curious about for a while. When Chef Jiro Ono, dubbed "The World's Best Sushi Chef," gave his last interview, Chef Redzepi was the one who received the honor. When I was binge-watching David Chang's critically acclaimed Netflix series "Ugly Delicious," Redzepi appeared on numerous episodes dropping valuable culinary knowledge, fueling my curiosity even more.
Chef Redzepi's influence in the culinary world is no fluke. After all, his Copenhagen restaurant Noma has been voted the "best restaurant in the world" four times in the World's 50 Best list along with being awarded two Michelin Stars. His accolades spread so far that some have even called him "the world's best chef."
Noma, which opened in 2003, took an unconventional approach to fine dining by focusing on ingredients from the Nordic region, especially those that were foraged and not bought at a market. After 12 years of ups and downs, with mostly huge successes, Redzepi closed his restaurant in 2015 to relocate to a new, custom-built location just 10 minutes away.
The new Noma, now called Noma 2.0, opened on February 15, 2018 and features a completely redefined menu using all local ingredients with a special focus on seasonality. In this case, wild game animals are served in the fall, seafood in the winter, and vegetables in the spring and summer.
Curious as to what an experience would be like at one of the world's best restaurants, which reportedly gets 100,000 reservation requests per month, I did the most logical thing: Fly to Copenhagen and try it for myself. Through good friends with great connections, I was able to get a last-minute reservation.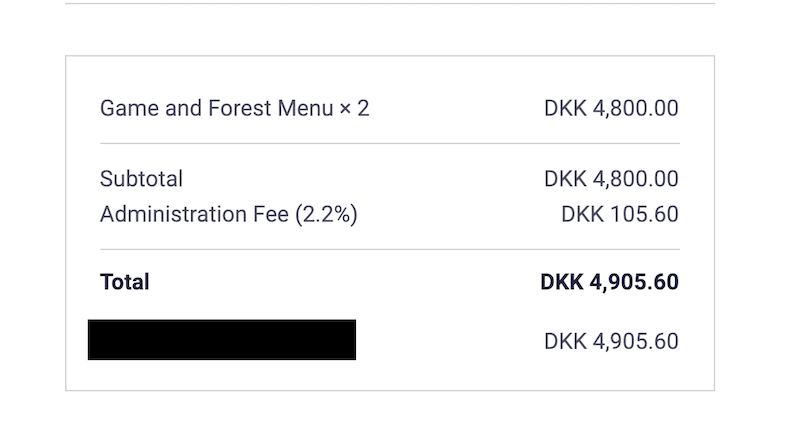 Dinner for one cost 2400 Danish Krone (roughly $365) before Denmark's astronomical 25% sales tax, admin fees, and drinks. Pricey, but coming from a guy who paid $329 for a bowl of Taiwanese beef noodles, I didn't feel as bad paying such an amount to have a meal I'll remember forever.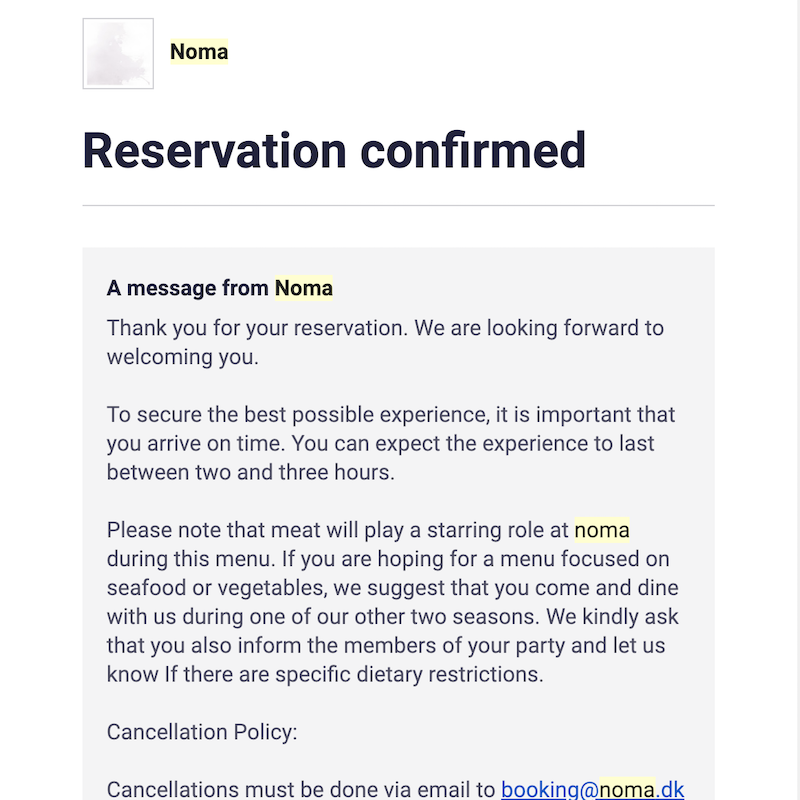 We arrived about 10 minutes late for our reservation because our Taxi driver accidentally took us to Noma's original location, which is now a restaurant known as Barr. When you arrive at the location, a host in front waits to check guests in before entering. Since it was a very cold night, the host was kind enough to let us wait inside one of their greenhouses where they grow some of the ingredients.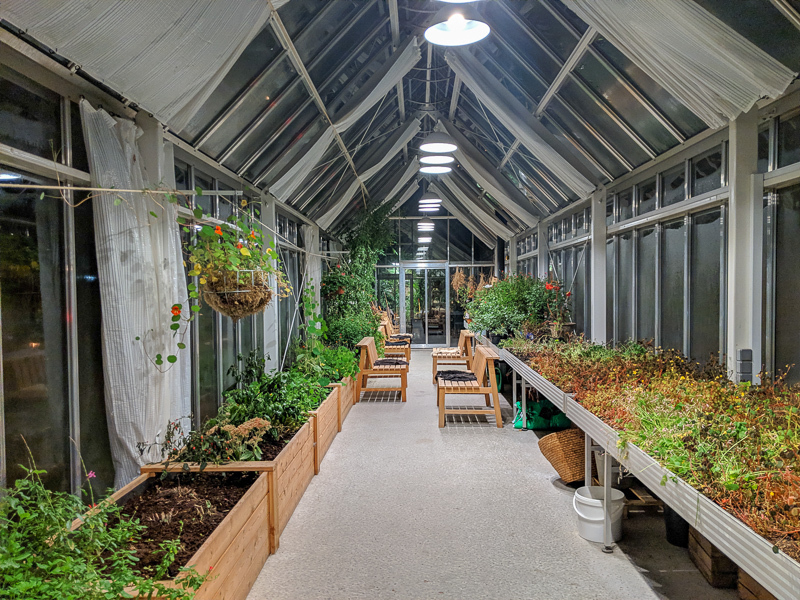 After a couple minutes, we were given the green light to go inside. The restaurant is unlike any other; you actually have to walk a bit before entering the actual restaurant.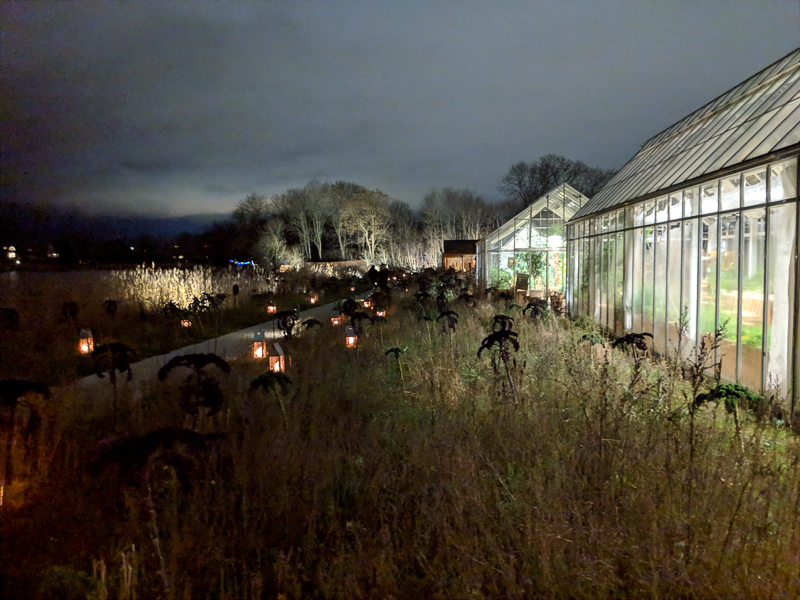 To my right were multiple greenhouses followed by test kitchens where the chefs work to concoct their next signature dish.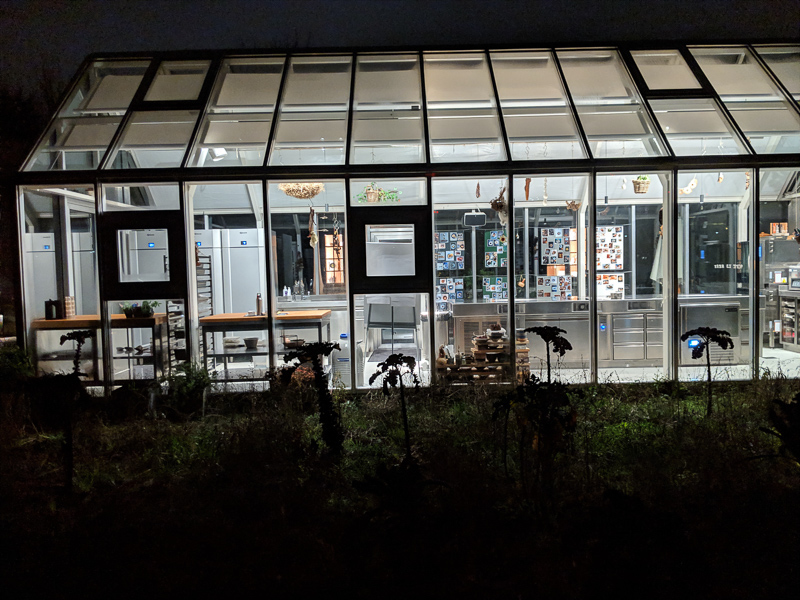 On my left was a lake with a waste plant across the water designed by the architectural firm Bjarke Ingels Group, which, coincidentally, also designed Noma's new location.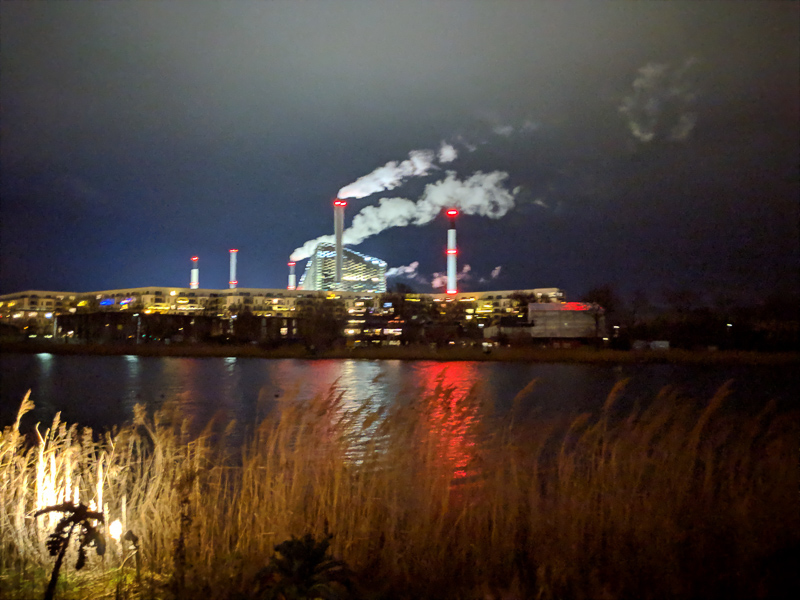 As we're walking up to the restaurant, we noticed from the outside this area where people seemed to be lounging around. I learned what that area was for after our meal.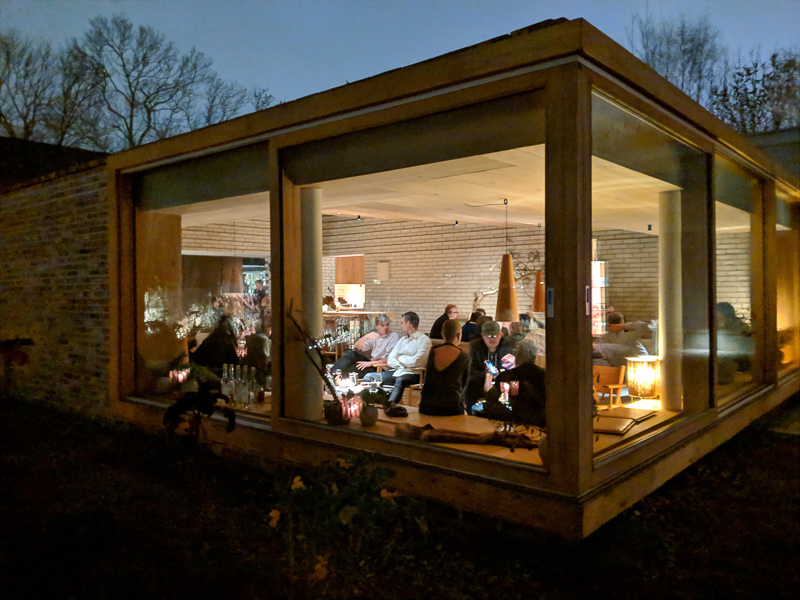 Almost at the entrance…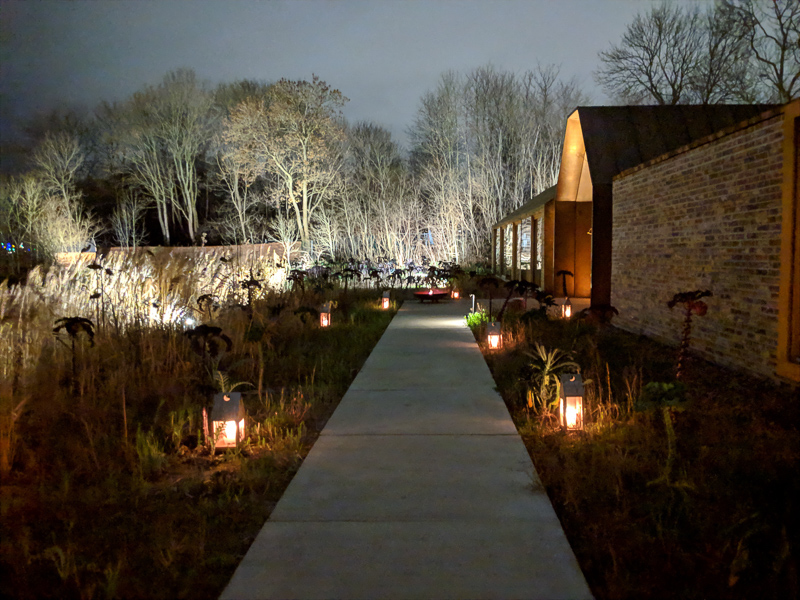 Upon walking in, we were greeted by most of the staff members, including our server Luca, who was awesome. Unfortunately, it didn't seem like Chef Redzepi was present when we went, but we were reminded that he's at the restaurant pretty much everyday. He lives only five minutes away from the restaurant and always bikes to work.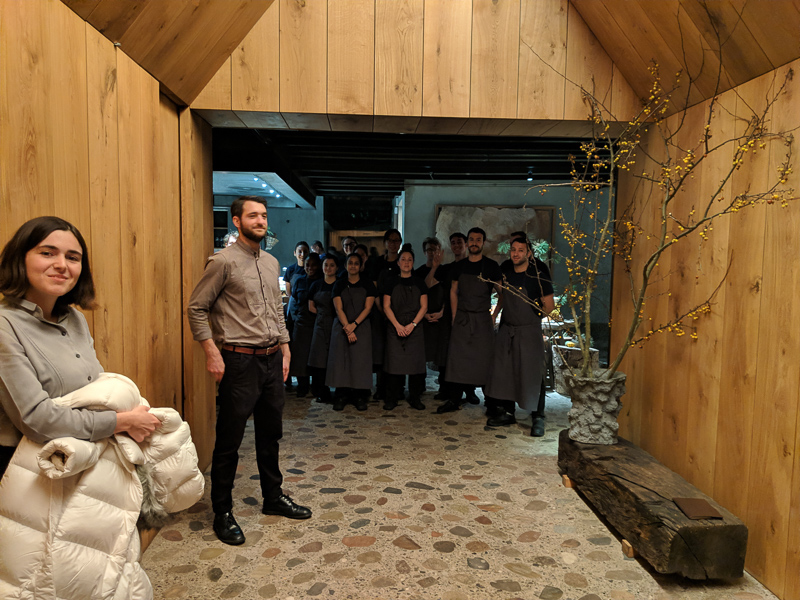 The first thing I noticed was that everyone in the kitchen wore the same outfits. I was later told that anyone who wears a blue t-shirt are chefs. There doesn't appear to be any sort of attire that labels someone as the "leader" in the kitchen. In fact, Chef Redzepi himself wears the same thing whenever he is in the kitchen.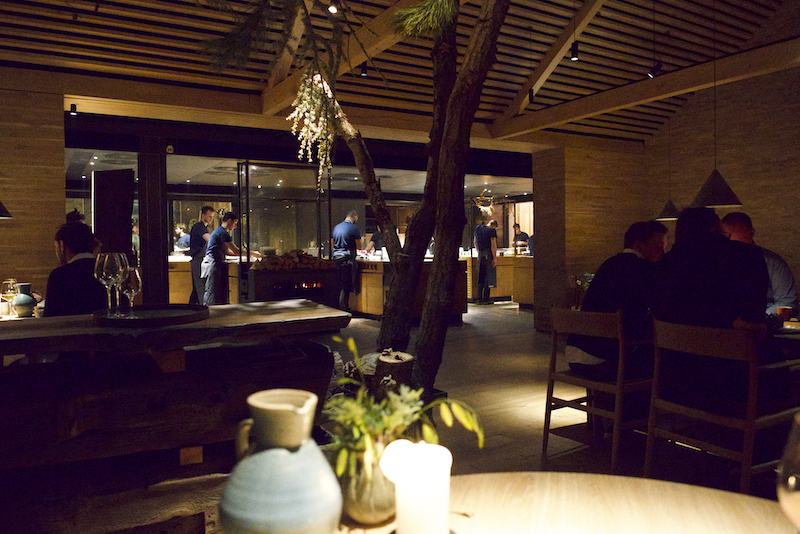 Each dish is served and presented by one of the chefs who explains what it is once he/she sets it down on the table. If a we are in the middle of a conversation with our waiter, the chef would simply set it down and simply walk away, then the waiter would explain. Everyone on staff has been educated on the menu beforehand.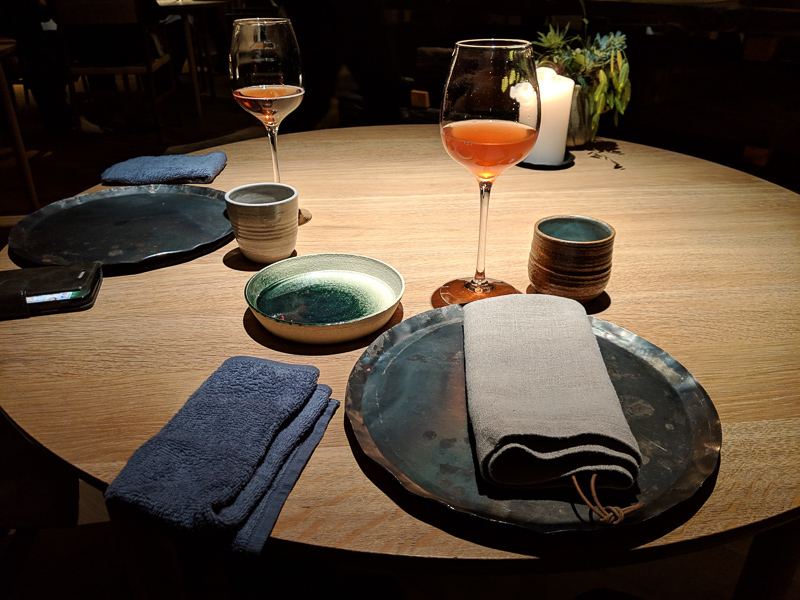 We were given hot towels to freshen up before our waiter asked whether we wanted the juice or wine. I chose juice since I'm not much of a drinker. From there, our crazy 20 course meal began.
Forest Broth & Squirrel Ferment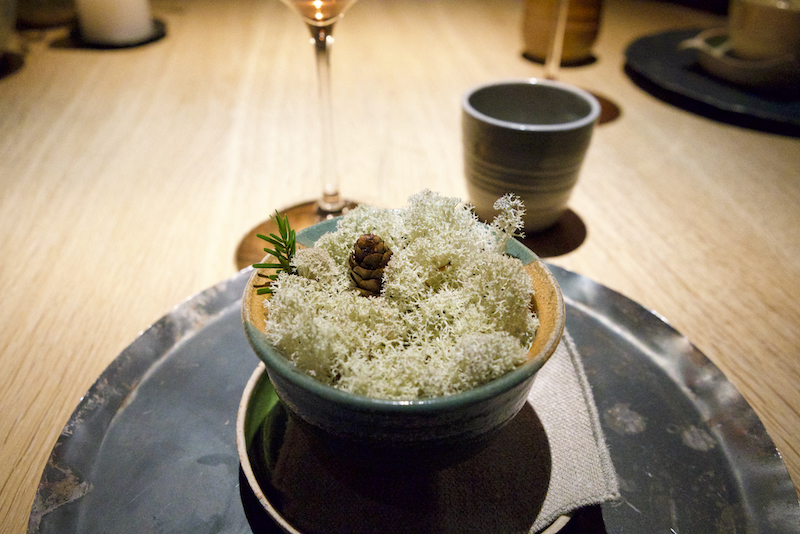 The chef told us that the moss and pine cone on top are not edible, so I took the bowl up to my face to have a quick whiff — it was like smelling a forest. Hidden at the bottom of all the moss was broth made from a variety of mushrooms that was so good I drank it all in one go. It tasted like the best mushroom soup ever, full of umami.
Reindeer Heart Tart & Egg Yolk Sauce Topped With Ants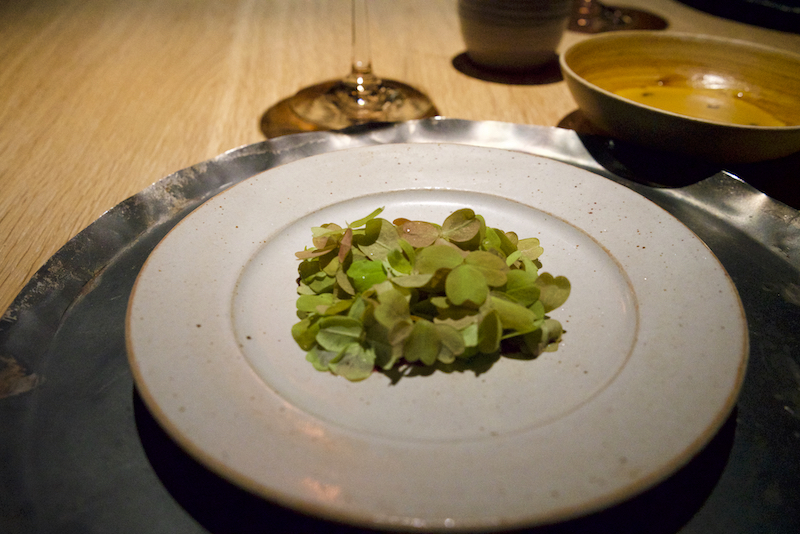 The first sequence was reindeer, starting with reindeer heart tartare covered in sorrel. We were told to pick it up in pieces and dip it this egg yolk sauce topped with ants.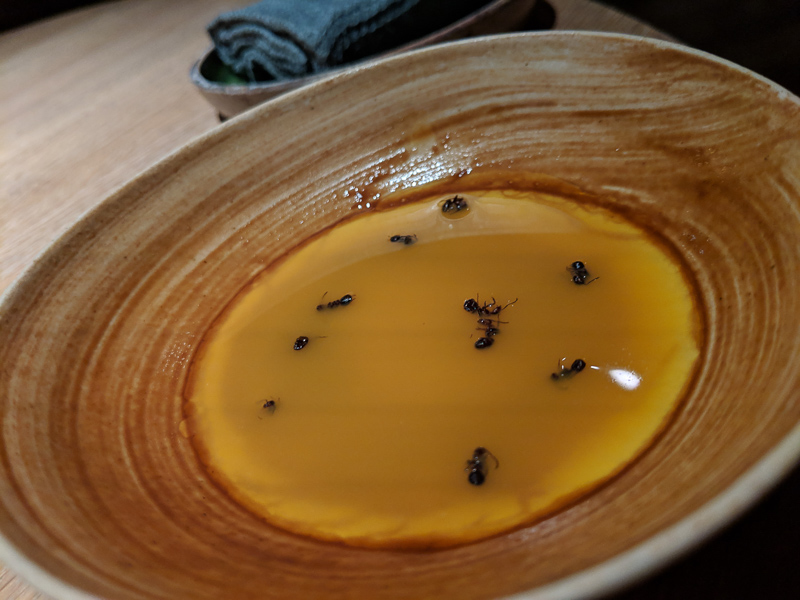 Instead of lemon and limes, they used ants since they have an acidic and citrus-like flavor to it.

The heart was delicious and packed with flavor. I would say that this dish reminded me of eating a fresh piece of tuna sashimi.
Sweetbreads in Reindeer Moss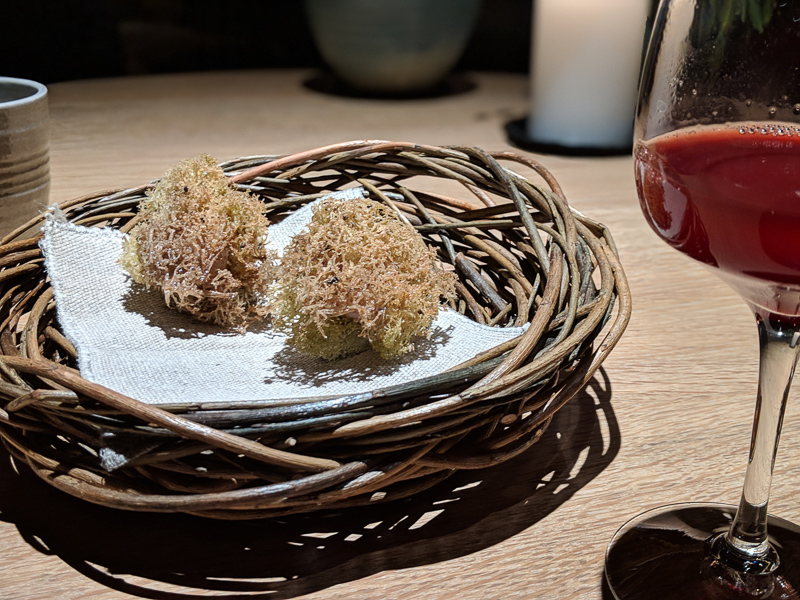 Next up were the reindeer sweetbreads, commonly made from the thymus, wrapped in moss. Crunchy on the outside and soft and tasty on the inside, the texture was almost buttery like fat.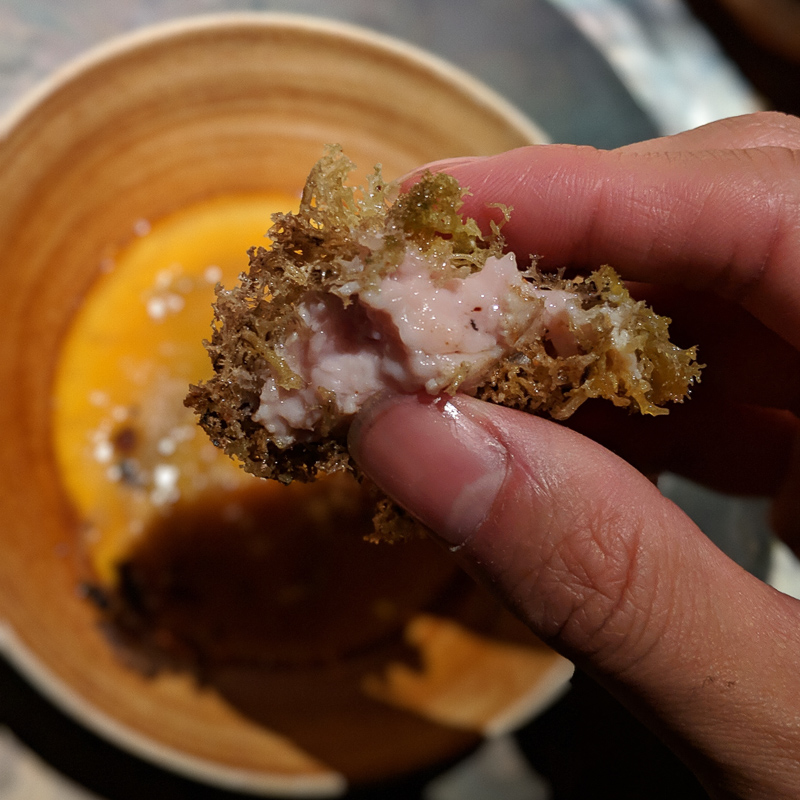 Reindeer Brain in Milk Skin Pie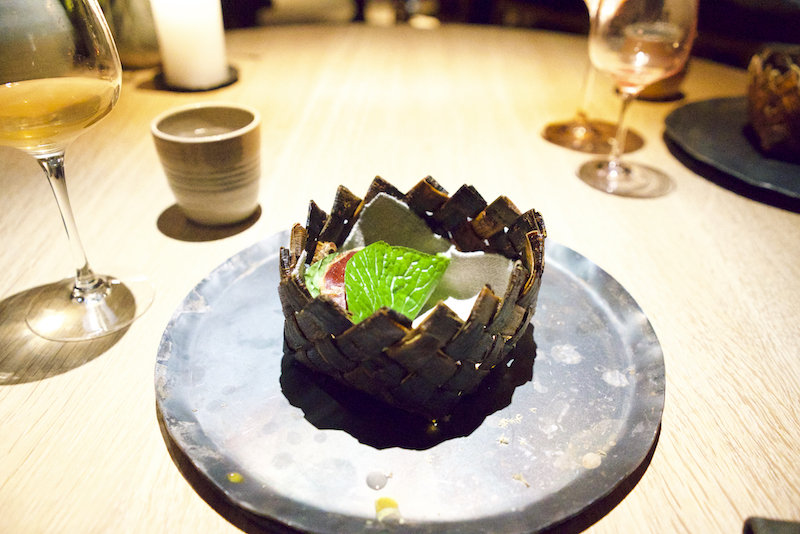 Oh man, THIS was amazing. I didn't think I would ever like eating brain. The milk pie skin was to die for and the texture of the brain inside was similar to reindeer moss in the last dish. This, along with a wasabi leaf (from the area, not Japan) to wrap it up really brought all the flavors together.
Reindeer Tongue Skewer & Pine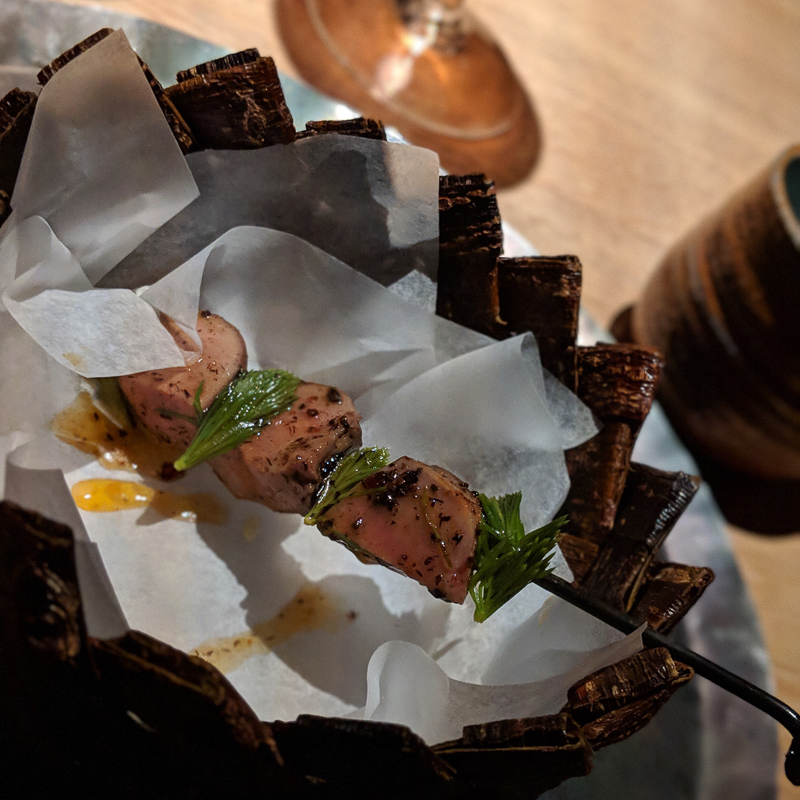 We finished off our reindeer sequence with a tongue skewer. The tongue has the most fat on a reindeer's body. Raw pieces of tongue are lightly seared before being seasoned with pine shoots and spices and then served on a skewer. The dish reminded me of Japanese Yakitori, but I have to admit that I wasn't absolutely in love with it. Still very tasty though!
Pheasant Broth with Caviar and Cream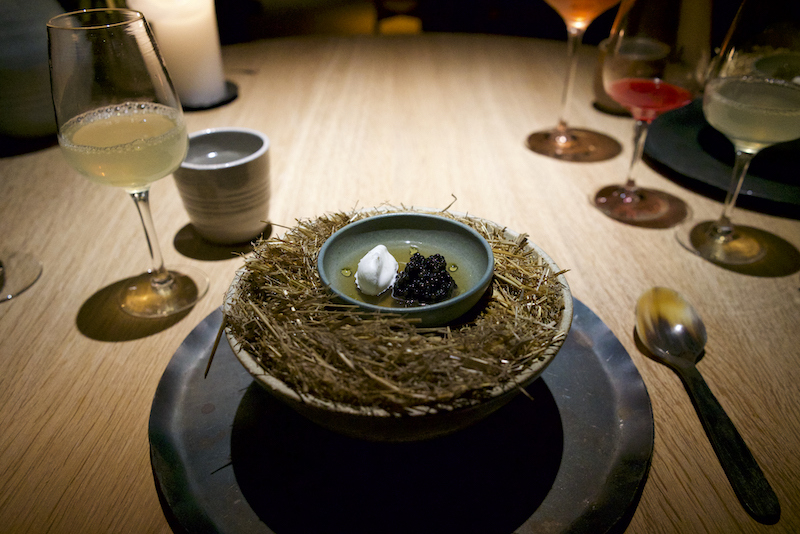 This was one of my favorites. The broth was served cold, so it was of a jello-like texture topped with Sturgeon caviar from Rossini and whipped cream. It was a blast of umami!
Pine Cone Salad, aka "Forest Ceviche"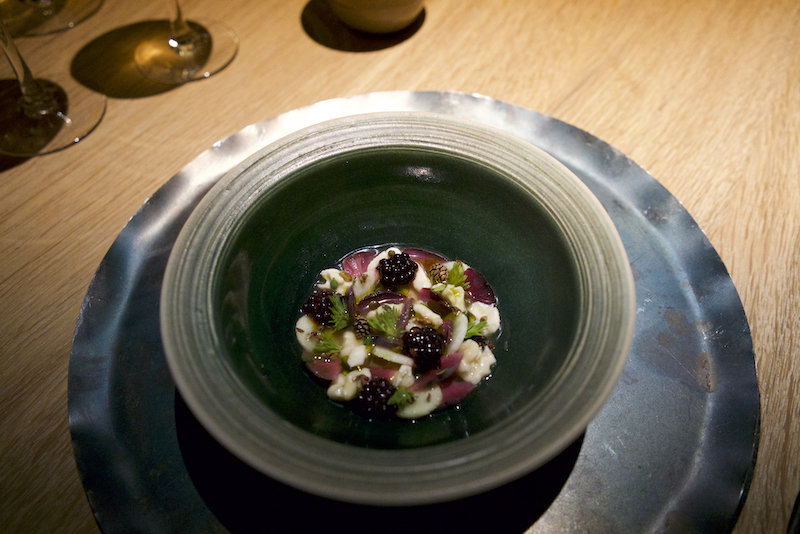 Almost immediately following the broth was a salad of pickled pine cones, pine shoots, blackberries, raw walnuts, and a few other items I honestly can't remember. Personally, I was expecting a taste that was similar to Latin American ceviche, but the juice here was made from mirabelle plums, which had a citrus-like taste I've never had before. It was sour, but didn't have that light sweet kick that I get from limes or lemons.
Beetle Made of Berry Leather & Black Garlic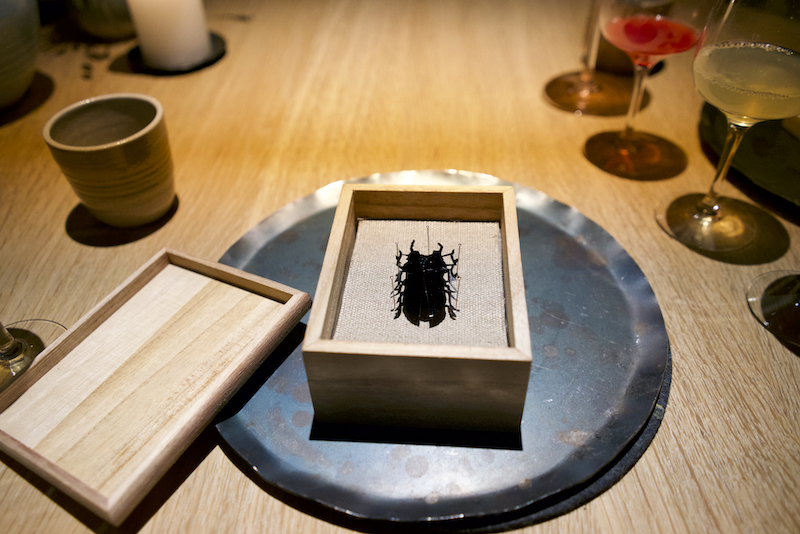 I was nervous at first thinking this was really a beetle. Thank god they just did a good job creating one using berries and black garlic to create a small and wonderful bite of umami.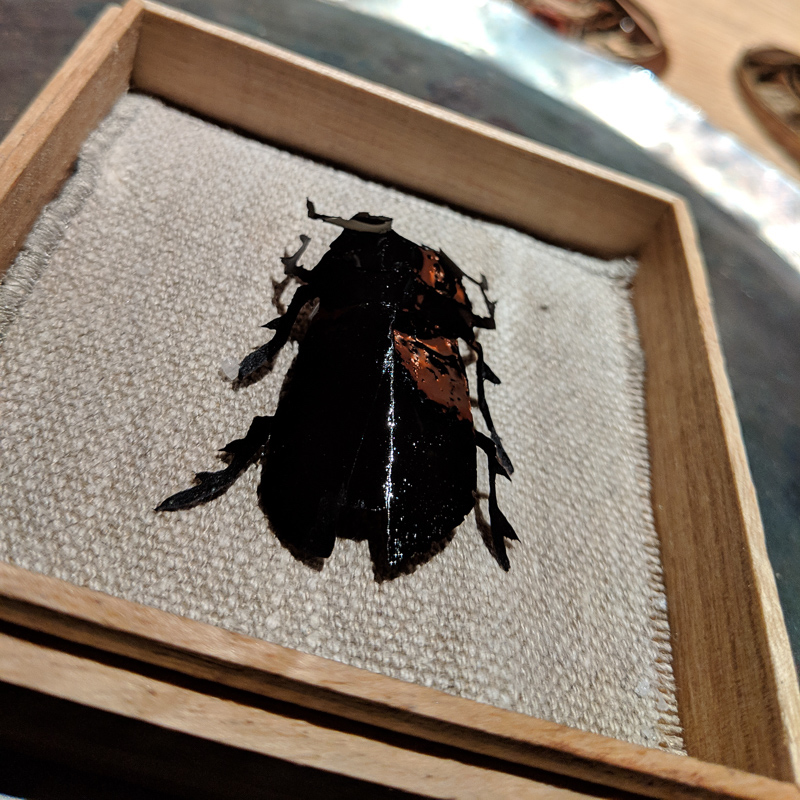 Rose Hip Berry & Quince with Dried Plum & Pheasant Heart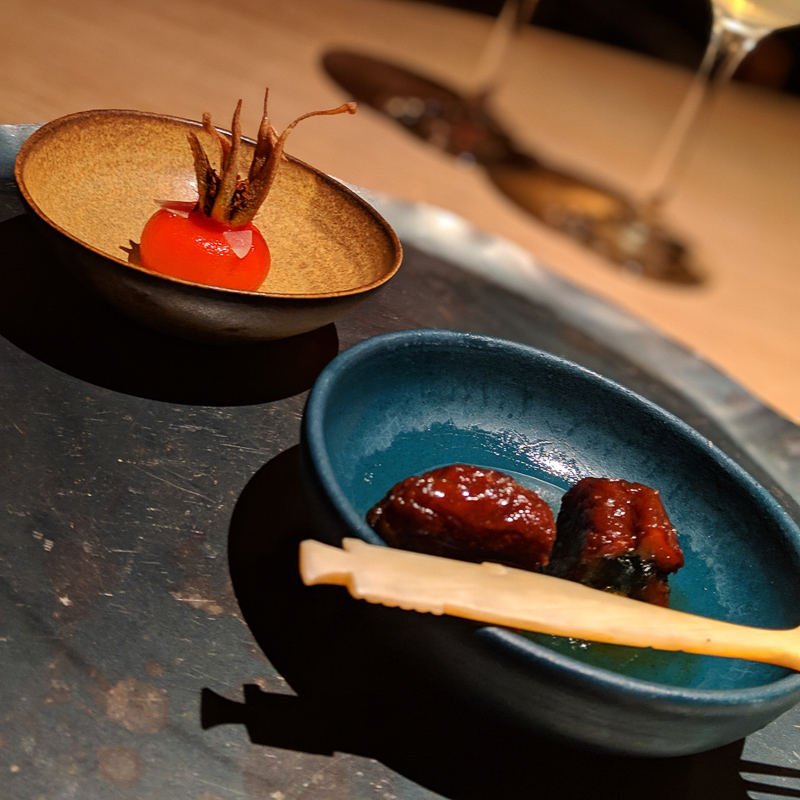 Pumkin & Morrels Cooked in Bea Pollen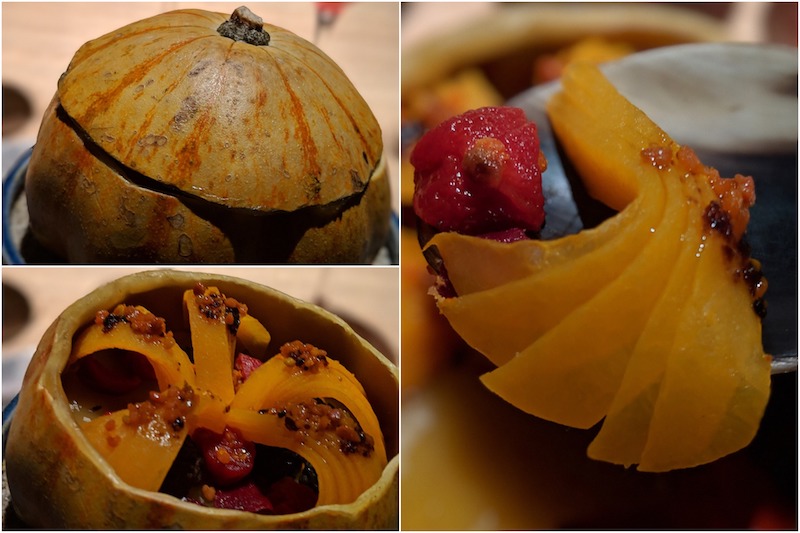 Next up was as pumpkin skin shell filled with pumpkin slices cooked in bees wax. The pumpkin was tender, cooked to perfection and seasoned with dried tomato and chili. Slightly spicy, but nothing I couldn't handle. You could see the bees wax caked in at the bottom for a glossy finish.
Wild Mushroom Hot Pot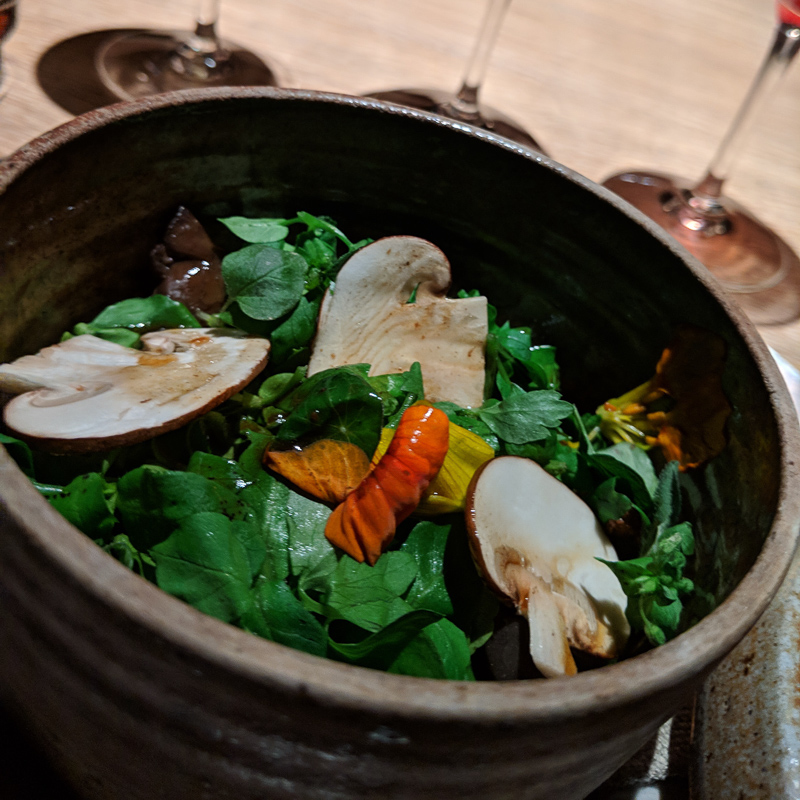 From there came a sizzling pot filled with a variety of mushrooms and greens. It was interesting because you couldn't really call it a salad because it was cooked, but not really sautéed vegetables either since it wasn't fully cooked. Regardless, it was delicious.
Truffle Feather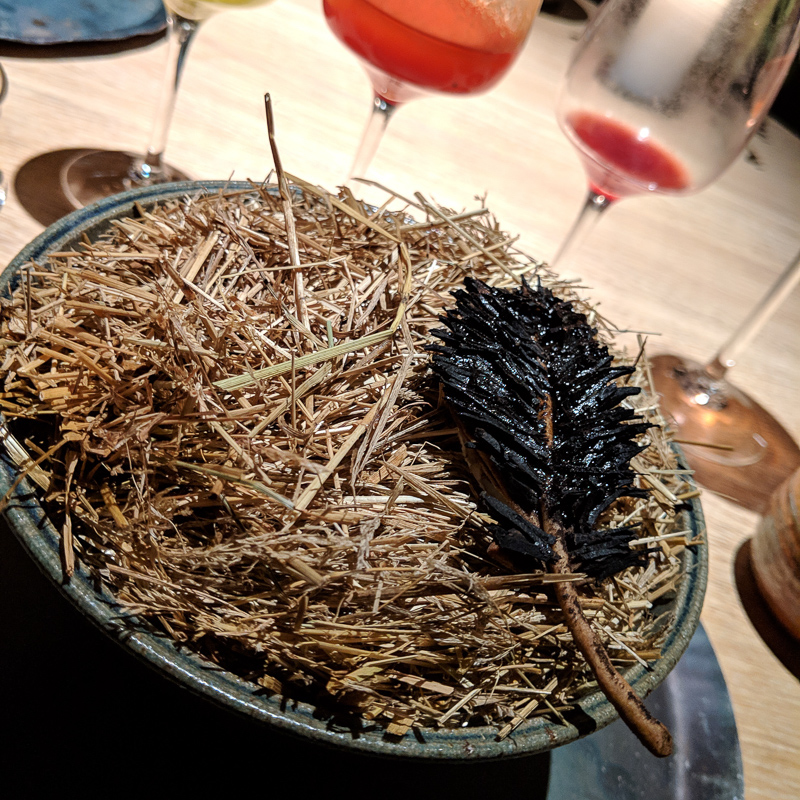 A cracker, the stem of the feather-like object, topped with cheese and then finished with a TON of dark truffle served on hay? How would this not be amazing?!
Glazed Mallard Duck Breast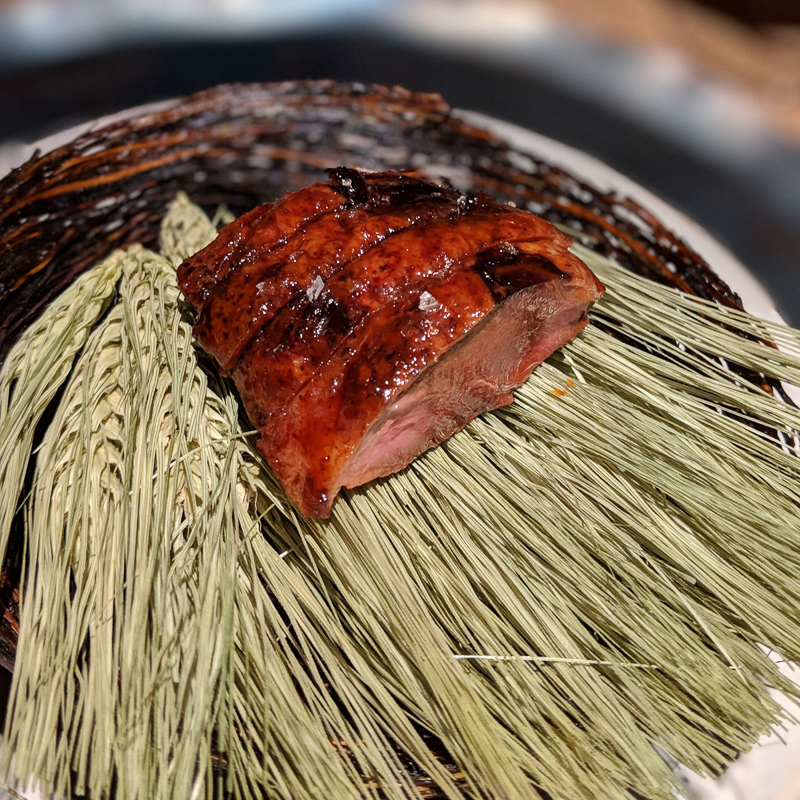 As the chef served this dish, he gave us a light warning that these ducks were shot recently. While the chances are not likely, they told us to be wary of pellets under the skin. The breasts cooked and then finished with a mushroom and Nordic quince glaze. Delicious!
Cured Duck Breast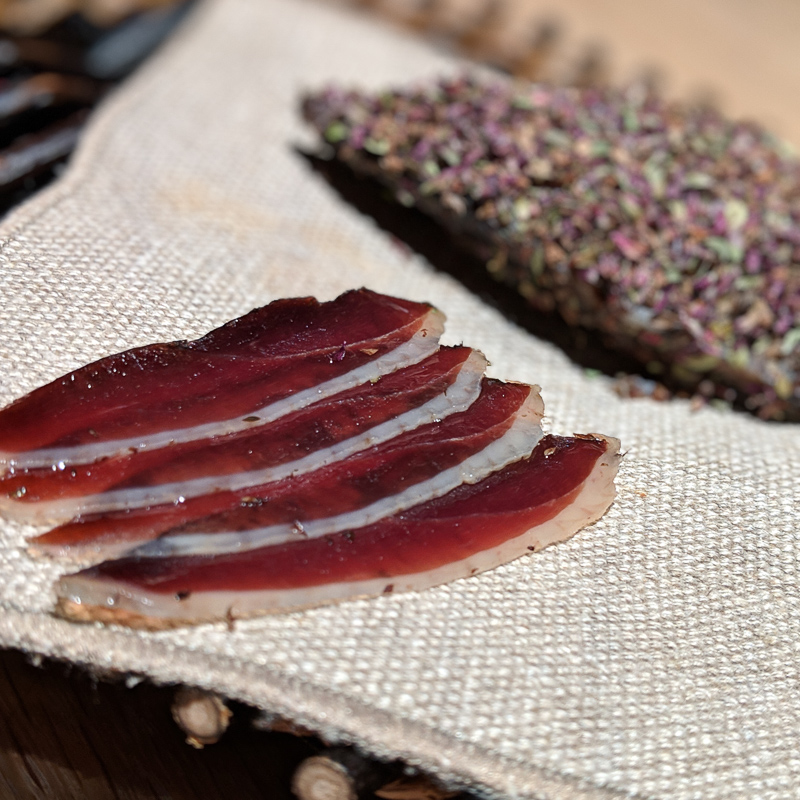 Next were these slices of cured breasts. It was like prosciutto, but MUCH leaner.
Duck Brains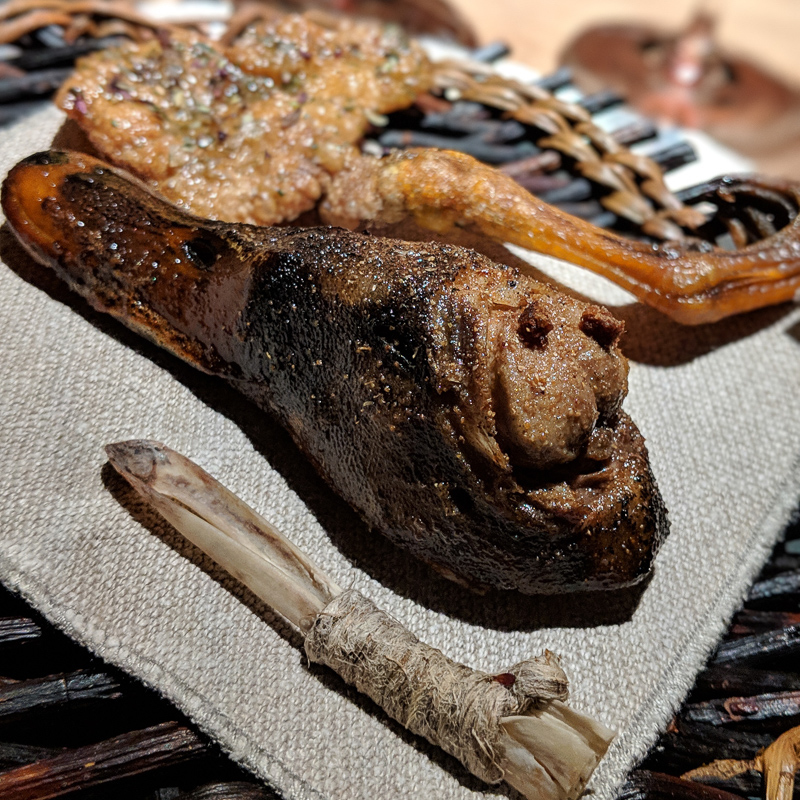 This could be what is known as a "controversial" dish. This is duck brain served in its own skull with the beak on the side to scoop up and spread the brain on its fried skin with one foot still attached.
"YUCK! GROSS! DISGUSTING! WHY ON EARTH WOULD YOU PLATE SOMETHING LIKE THIS" are some of the things some of you may be thinking.
I too wondered the same until I came across a 2016 interview with Chef René Redzepi and David Chang. Around the 16-minute mark, the pair get into a deep discussion on the epidemic of food waste. He said:
"We should teach [our children] what happens in the world of food — how seasons work. We should teach our kids how our meat enters the plate. They shouldn't grow up seeing this just an ingredient like a parsley leaf when they actually have a chicken breast. There's something happening there that is an animal that's being slaughtered — something is grown for you. I think this is one of the only ways that we can get rid of all this epidemic that is the food waste."
Redzepi may be onto something. Just in the U.S. alone, about 150,000 tons of food is tossed out in households each day, equal to one third of the daily calories that each American consumes. A 2014 Al Jazeera report says that 30% of the world's food is wasted, equal to 1.3 billion tons of food down the drain annually.
My interpretation of this dish (and the one following) is that Redzepi believes that the source of food waste is the lack of connection between us and the food we eat. It's so easy to purchase meat nicely packaged at the grocery store and forget that an animal was slaughtered for it. If you knew you have to hunt, kill, and slaughter your own meat every day, do you think you'd be eating as much as you are now? Would you think twice before throwing that piece of steak in the trash because you were full and couldn't finish?
Nonetheless, this dish was tasty. The brain was of a texture similar to foie gras and paired great with the crispy wing to spread it on.
Sun Flower Salad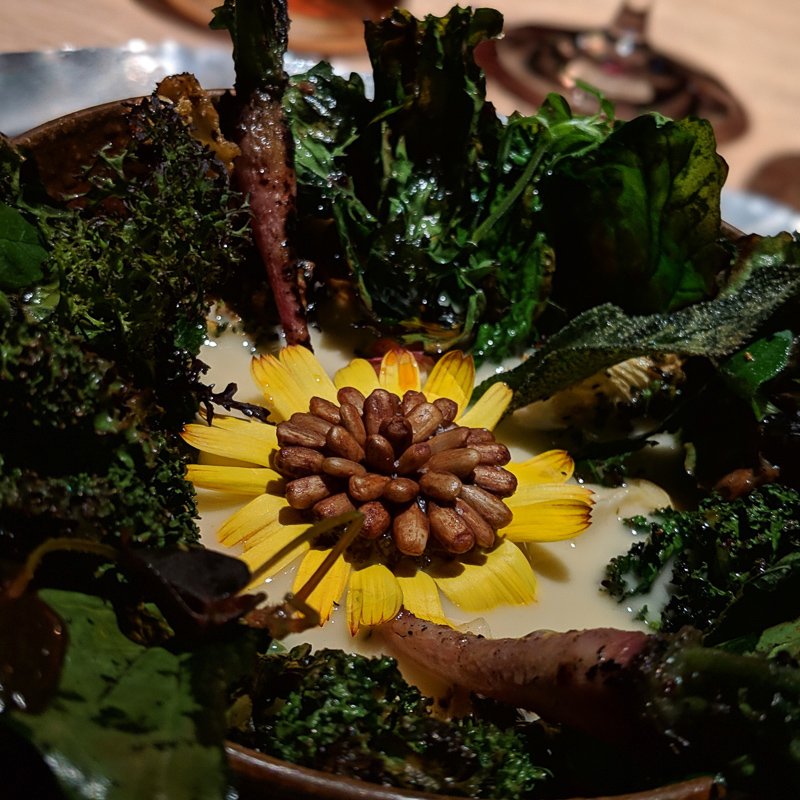 Crispy Duck Wing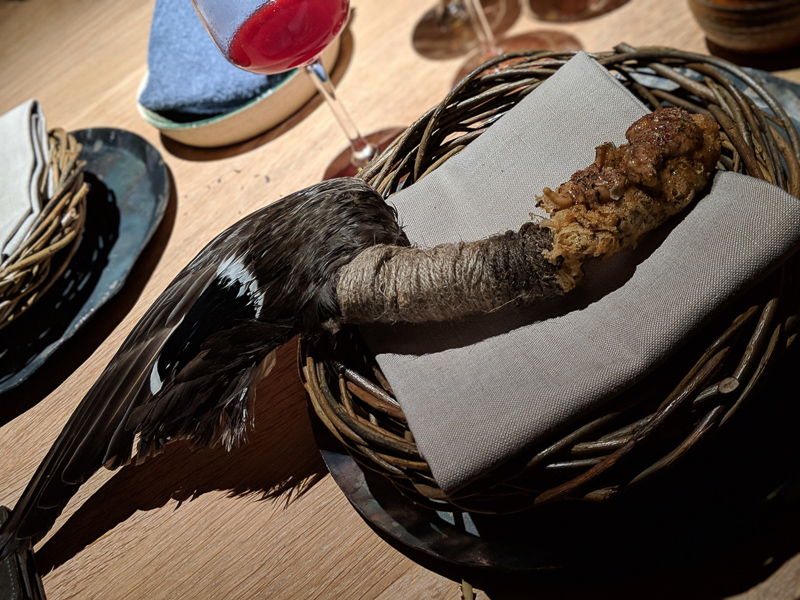 Just when I thought we were done, the chef brought our final dish before dessert: a small piece of breast meat, fried in a sourdough batter like tempura, with the wing still attached to it. My first reaction was to stroke the wing — it was very soft and slightly creeped me out because it was so fresh that I literally felt like I was still petting a living duck. I picked it up and ate it like the barbarian I am. It was juicy, tender, and full of flavor.
Blueberry & Walnuts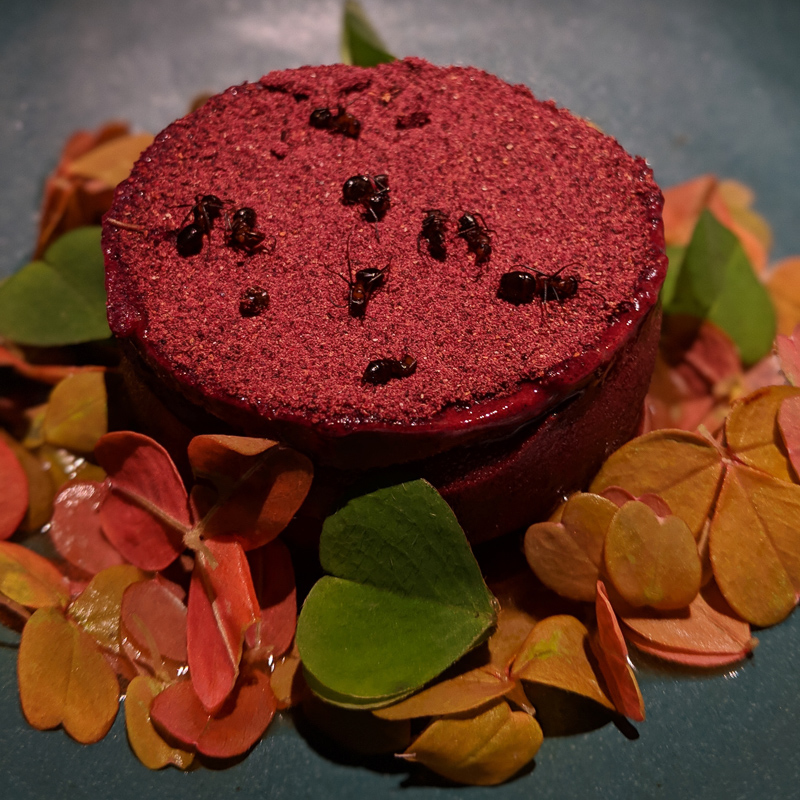 This was hands down one of the BEST dessert dishes I've EVER had. It was so good that I have fond memories of the experience to this day (it's only been 3 weeks). I never really liked blueberries, but Noma somehow made an extremely refreshing and tasty sorbet out of it. Chef Redzepi, if you're reading this, please hook me up with the recipe, I'm begging you. I can't afford to eat regularly at your restaurant.
Chocolate Reindeer Moss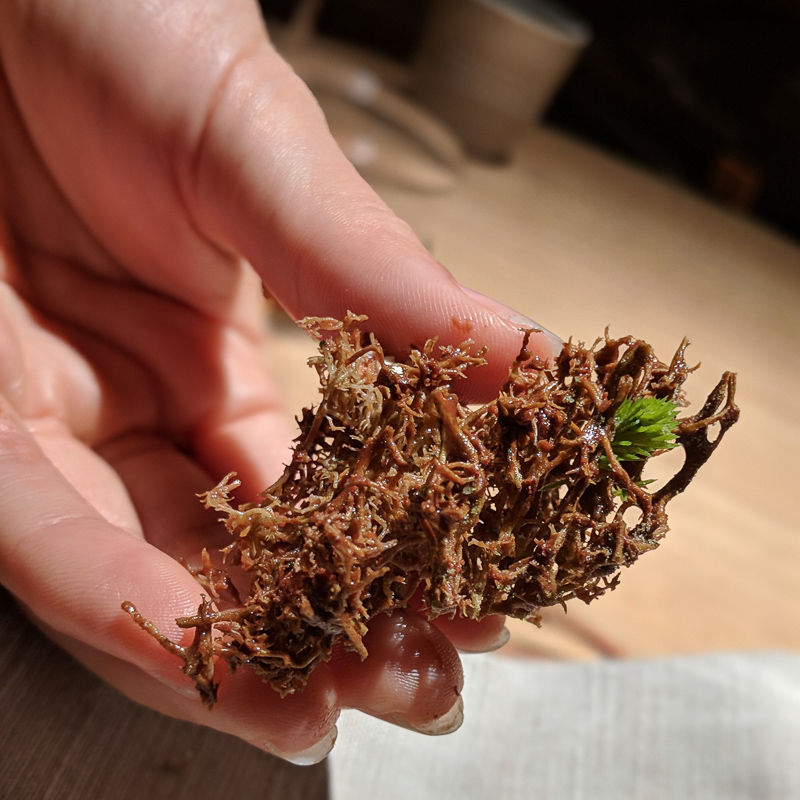 For the next course, I got so caught up with talking to one of the chefs that I realized I didn't take a photo until I was almost done with it. This is moss, dried, and then sprayed with chocolate. It was good, but I was hoping for more chocolate flavor. The earthiness of the moss sort of overpowered the chocolate in this case.
Duck Fat Caramels & Crab Apples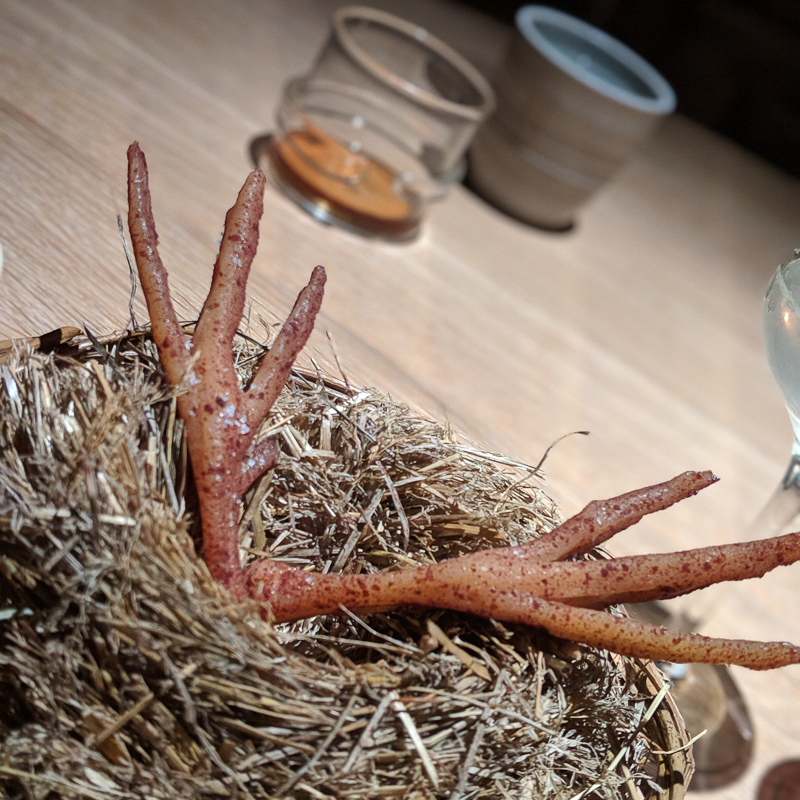 Towards the end, our waiter walked over and asked us if we were interested in some Tim Wendelboe coffee or pu'er tea. I opted for the pu'er tea since caffeine keeps me up at night. We were then served with these caramels made from duck fat and then put inside a chicken feet-shaped casing to get the shapes you see above. They were good and melted in my mouth immediately. The crab apples, however, were not very memorable. I don't remember liking them or particularly hating it either.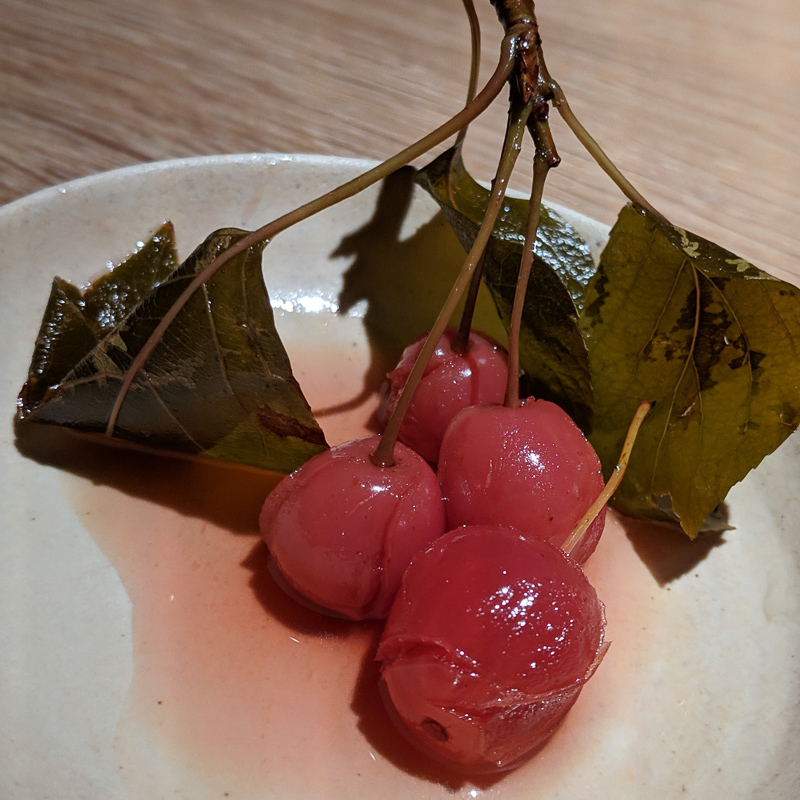 After we paid the bill, we were offered a tour of the facility which further blew my mind. If there was the "Google office" of restaurants, I feel like it'd be Noma 2.0.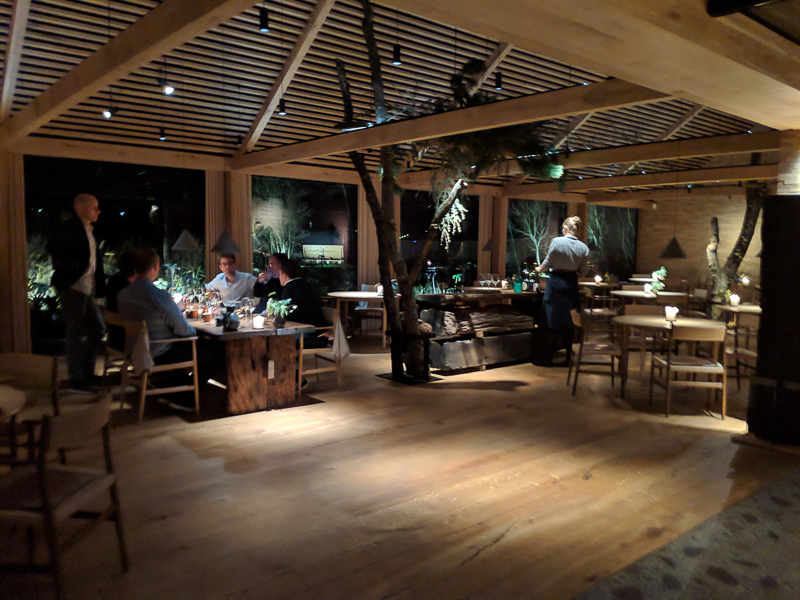 BTW, side note: The bathrooms are dope AF at Noma 2.0.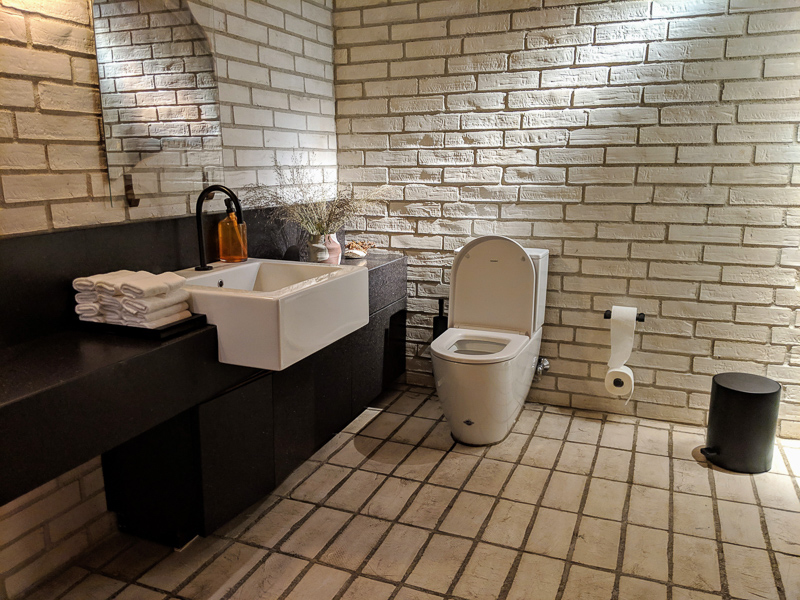 The Finishing Kitchen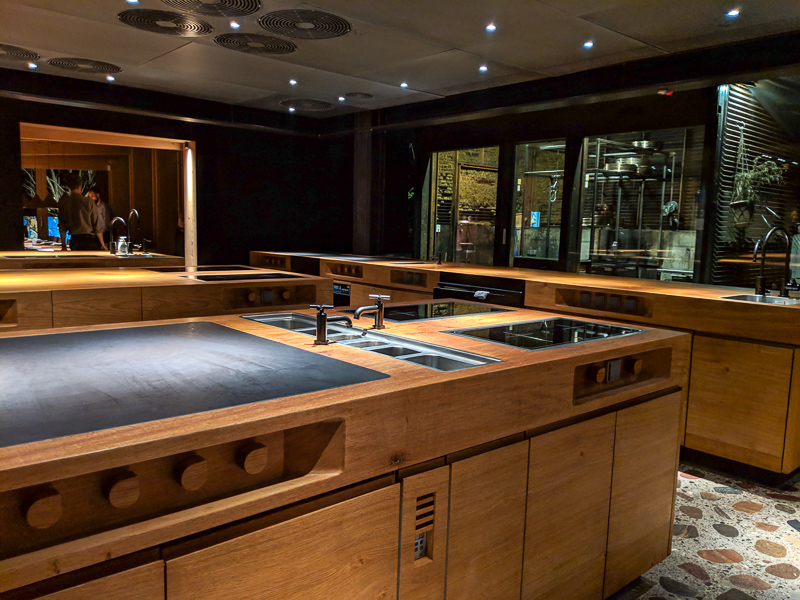 This is the area outside where chefs finish their dishes in preparation for serving after it comes out of the production kitchen.
Private Dining Room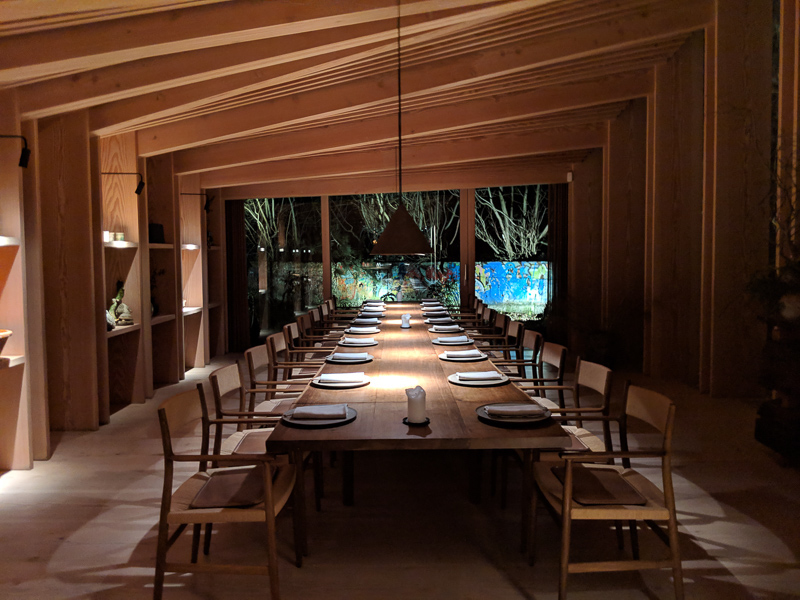 If you are an ultra-baller, or can find 20 friends willing to pay, this whole private dining room is available. It's also an easier way to get a reservation on the dates you want.
We were then led down this corridor that seemed to never end…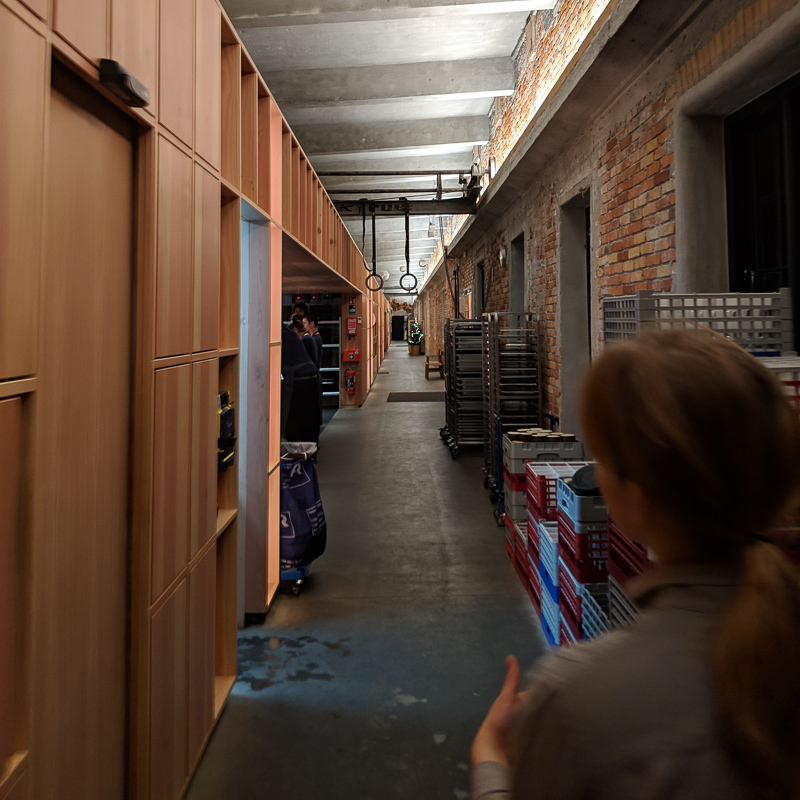 The Production Kitchen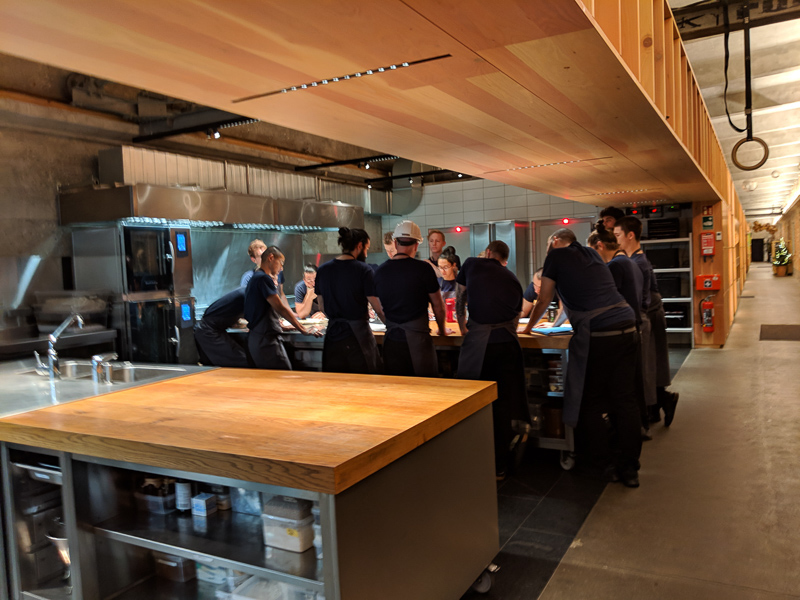 First on the left was the production kitchen where the whole staff was gathering for what I assume was a debrief. The production kitchen is where all the food gets prepared before it heads to the finishing kitchen. They were finishing up their meeting as we walked by and each of them thanked us.
The Wine Cellar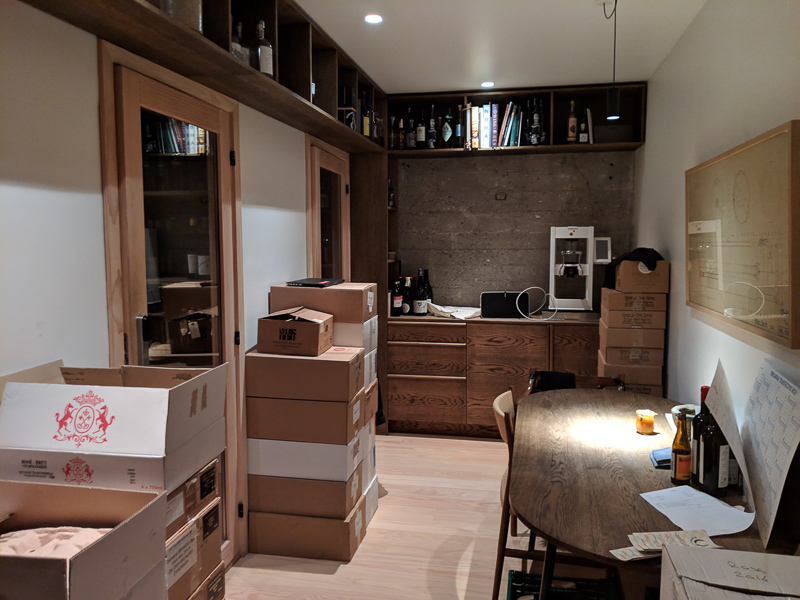 The Staff Kitchen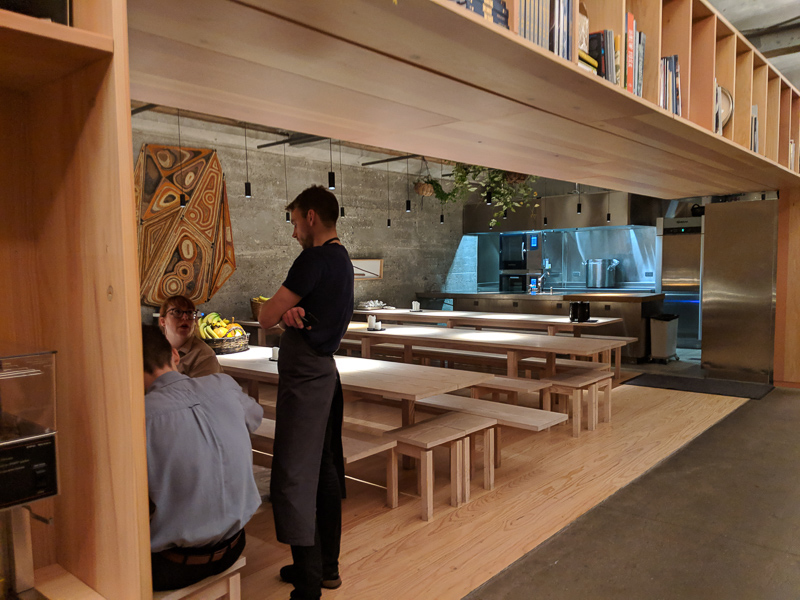 This area is where the staff eats. Our tour guide told us that they had roughly 50 chefs and interns. Every week, two people are selected to cook meals for the whole staff. They are encouraged to cook meals native to their home countries. One thing I really appreciated was the diversity of Redzepi's staff. I saw people from Asia, America, Germany, Australia, France, and more.
Test Kitchen (?)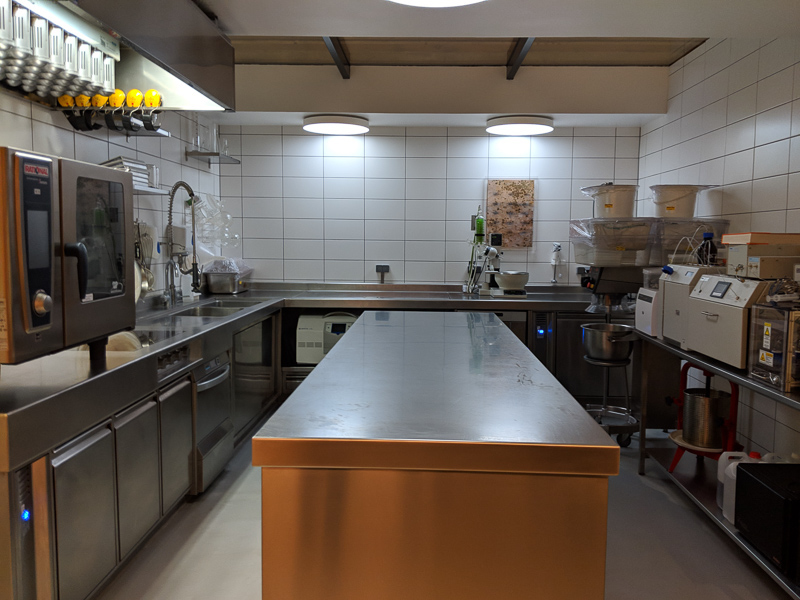 Unfortunately, I forgot the exact name of this kitchen, but I was told a lot of crazy food experiments happen here. Crazy mad scientist notes are also written on the glass.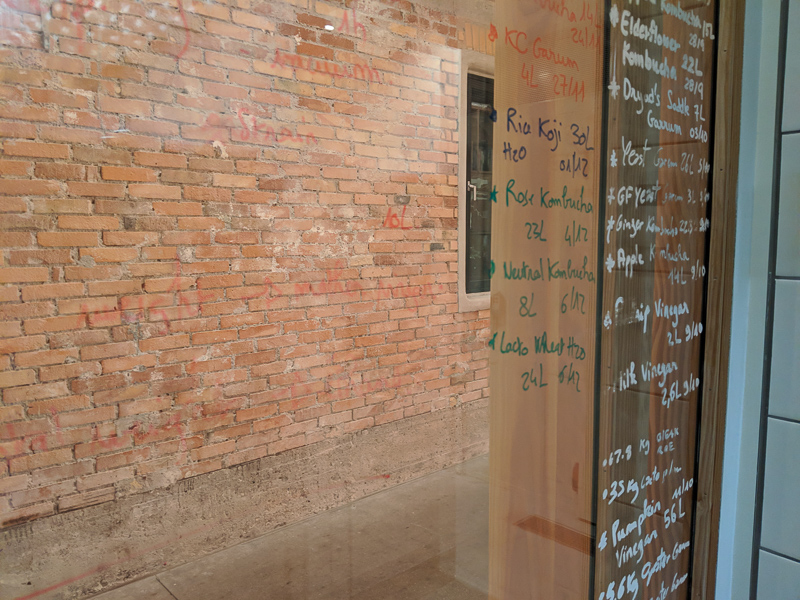 To the left and to the right are doors leading to Noma's famous fermentation rooms where they literally ferment random things to see if it works.
Fermentation Rooms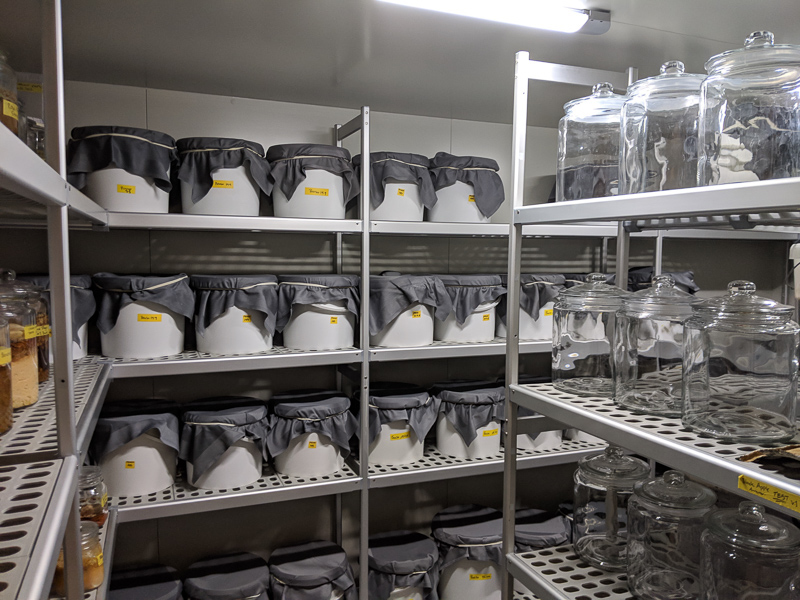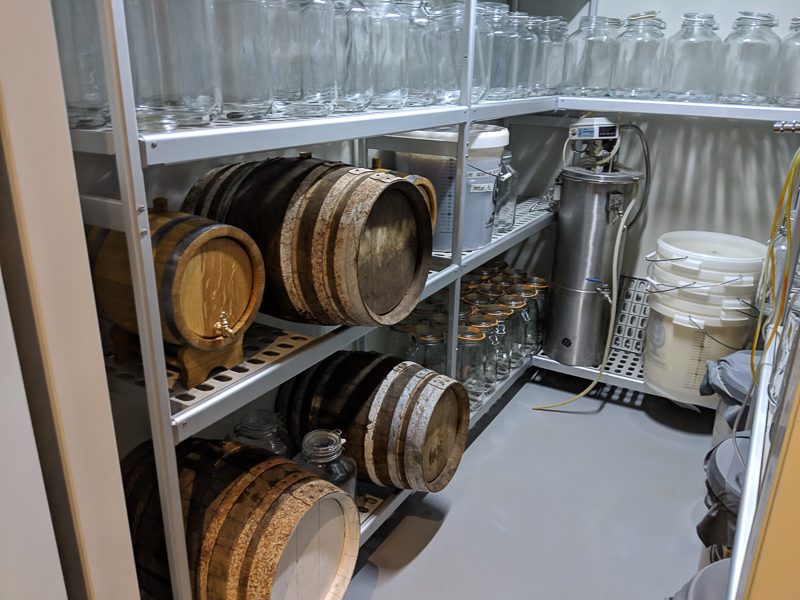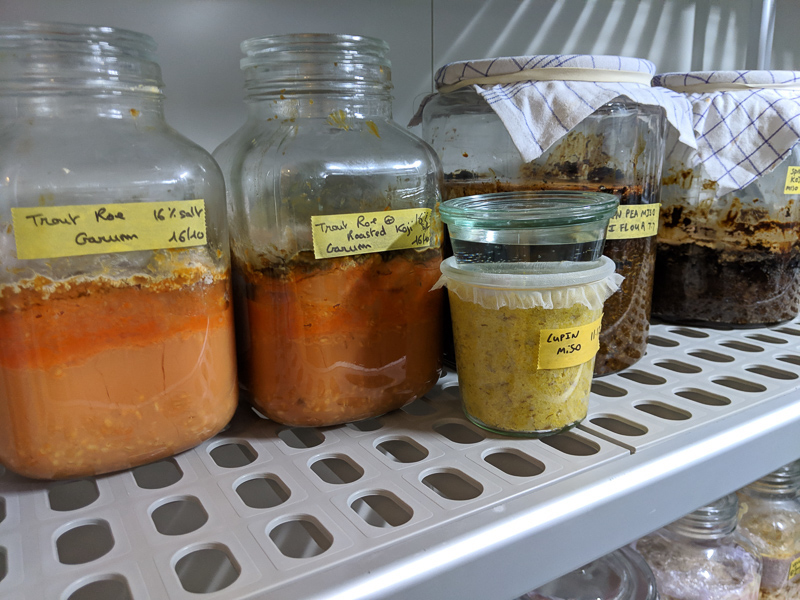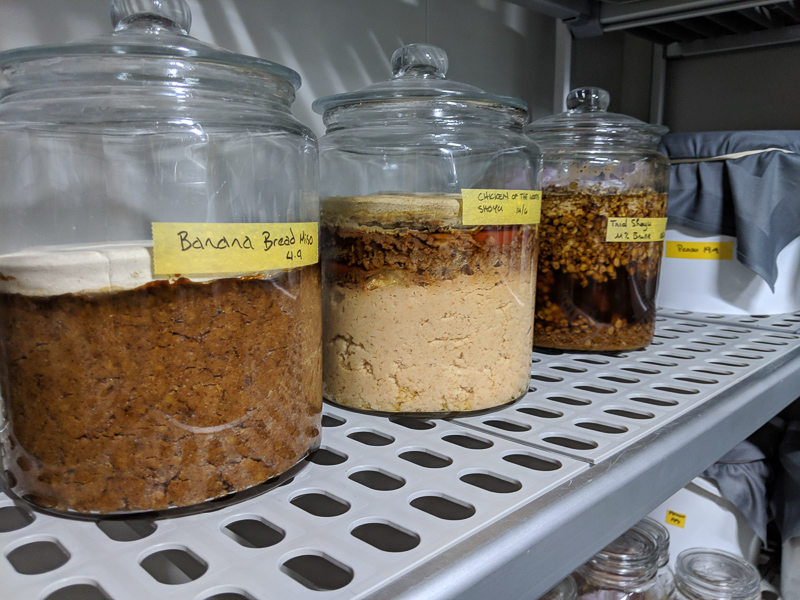 Fish tanks in preparation for the next season's menu: Seafood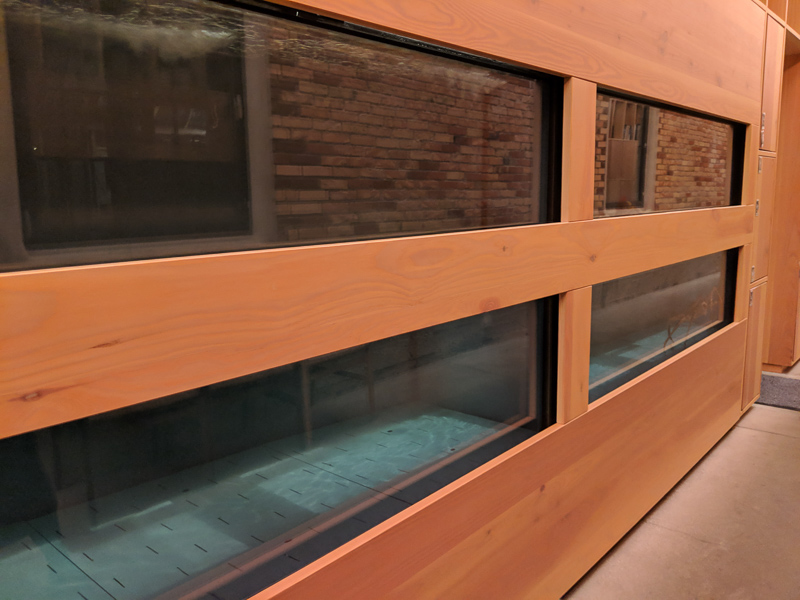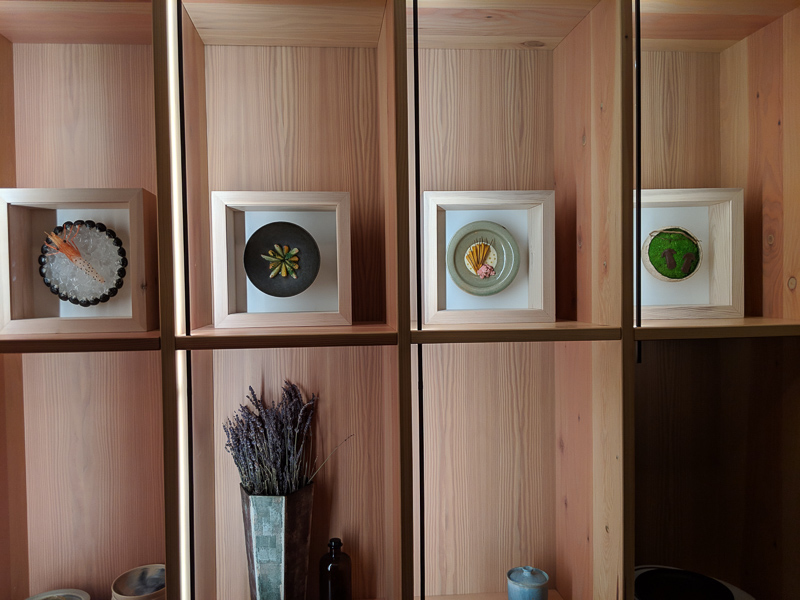 I also noticed these organs and seafood preserved in these jars. When I asked our guide what they were, she said it was probably something they tried to see if it could work in food, but either it didn't work out or they changed their minds.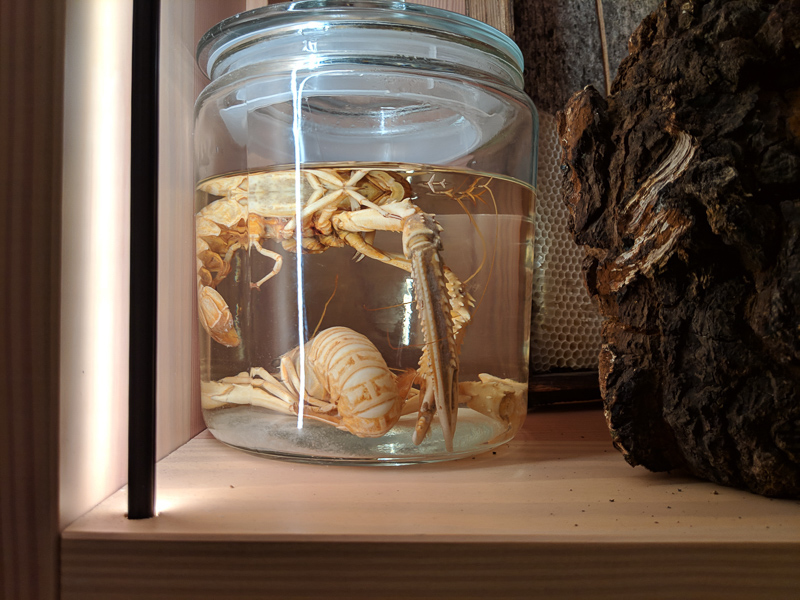 Would anyone here care to eat preserved deer brain?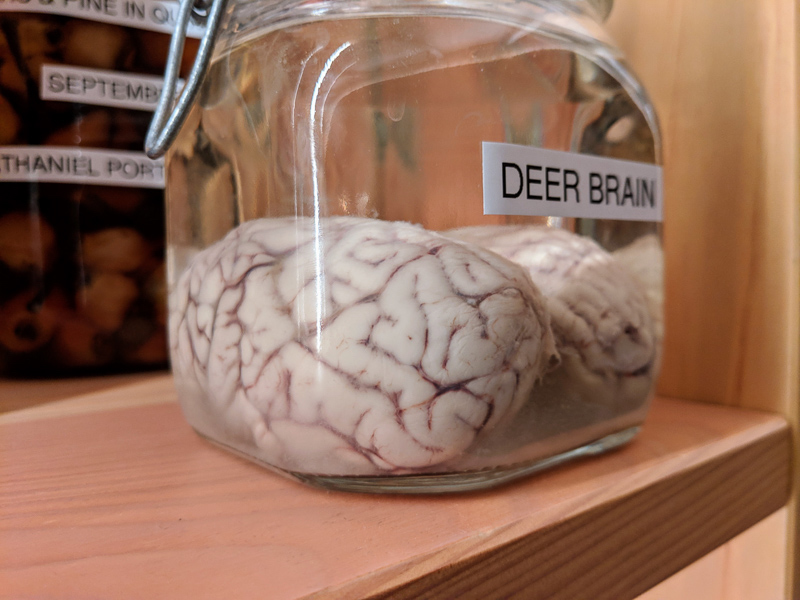 Finally, an ant farm. Fun fact: Ants are prepared in dishes by freezing them to death before serving.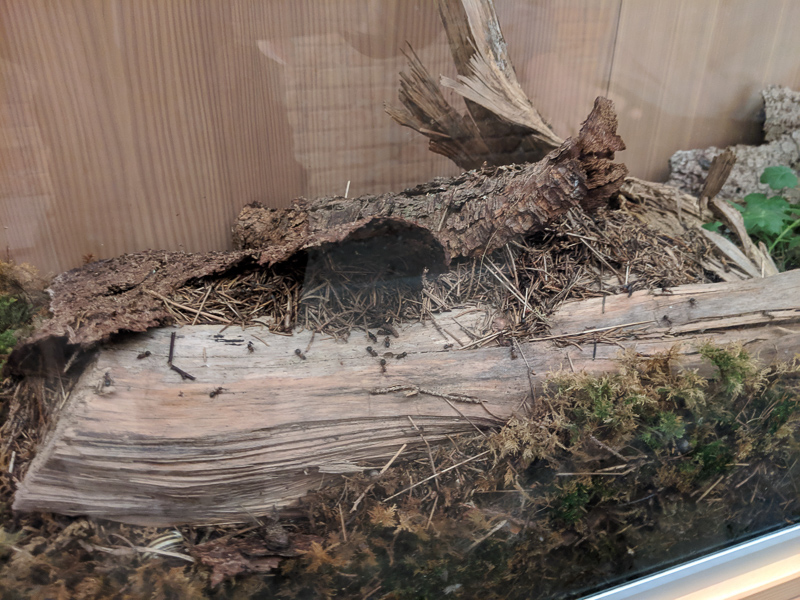 As I thanked our guide and we made our way to leave, I remembered that room we saw when we were walking in where people seemed to be lounging. I asked someone what it was and apparently, those who want to stick around and hang out after their meal can relax in this room. We declined to stay as we came in at 8:45 and was almost midnight by the time we were done. Yes, you heard that right, your experience at Noma could last over 3 hours.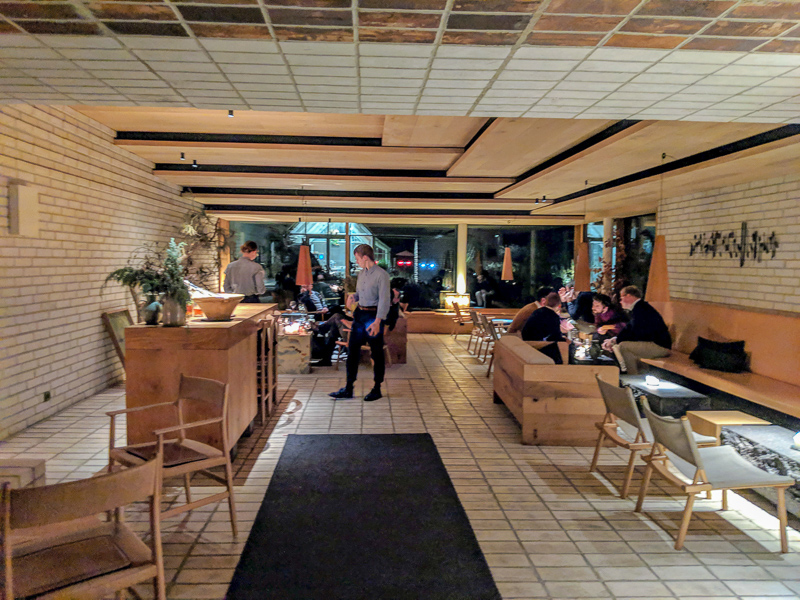 Final Thoughts
Overall, I had an incredible time at Noma 2.0. I thoroughly enjoyed not just the food, but also the messages Chef Redzepi and his team were trying to convey in each dish. Not only did I leave satisfied, but I felt educated and inspired with my own cooking at home. Oftentimes, I'd get frustrated when I didn't have all the ingredients for a dish I made. Now I practice using everything that's around me while being more creative. Having this deeper connection with the ingredients has made me appreciate and value food more.
As far as whether $350 price tag is worth it: 1,000,000,000% YES. You get an incredible 20 course meal, a 3-hour experience with amazing service, conversations with the staff, a tour, and a place to hang out at after you're done. I think that's a lot of value and they really make you feel like you got your money's worth.