"Mulan" star Liu Yifei has come under fire after allegedly expressing support for the Hong Kong police, whom activists accuse of using excessive force to quell ongoing protests.
This week, officers and demonstrators clashed at the Hong Kong International Airport and various other locations, resulting in what some describe as unprecedented violence in the semi-autonomous region.
In a new Weibo post, Liu shared a text photo from the Chinese state-run People's Daily, which reads, "I support Hong Kong's police, you can beat me up now" and "What a shame for Hong Kong."
The Chinese American actress also used the hashtag "#IalsosupportHongKongpolice," according to Newsweek.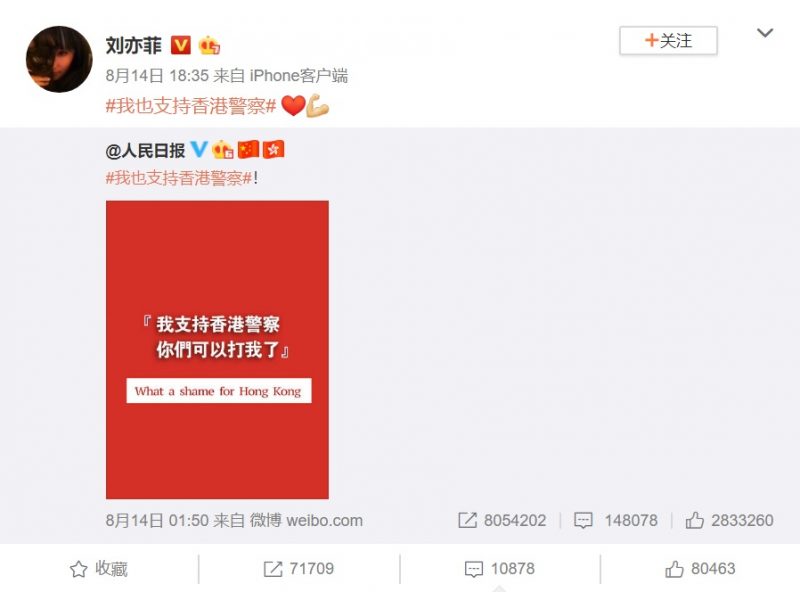 The protests, which began in late March but escalated in June, has evolved from opposition of a controversial extradition bill to a direct challenge against the ruling Chinese Communist Party.
Without immediate leaders or structure, activists participate independently or in small groups, making the movement difficult for authorities to target, according to Reuters.
Officers defended their use of force in what they described as violent and criminal behavior, adding that with 30,000 in uniform, they have the city well under control.
"If they don't use violence, we don't use force," a senior police officer told CNN.
View this post on Instagram
As it turned out, international social media users are displeased with Liu's support of the Hong Kong police, initiating the hashtag #BoycottMulan on Twitter.
One even called out Disney, writing, "Why does your company support a Chinese actress who openly supports a suppressive regime?"
#BoycottMulan how tone deaf do you have to be to support police brutality when you just filmed a character who is supposed to stand against oppression in its raw form? Pound sand. pic.twitter.com/Ug8pfh3JPN

— Tom S. Foolery (@foolery_s) August 16, 2019
i was fucking hyped for mulan but the actress just had to support hk brutality hUH #BoycottMulan

— bia (@bncmoreno) August 16, 2019
Disney's Mulan actress, Liu Yifei, supports police brutality and oppression in Hong Kong.

Real ironic for a naturalized American citizen to shit on people fighting for freedom and democracy.

Another L for commies #BoycottMulan pic.twitter.com/2cv7uH98lo

— doki (@dokidokilolixx) August 16, 2019
YiFei Liu totally destroyed one of my favorite @Disney characters. Sucks! She supports the brutality of Hong Kong Police for beating up ppl. #BoycottMulan

— Nardia Huang🇹🇼 (@NardiaHuang) August 16, 2019
Disney's Mulan actress Liu Yifei supports police brutality in Hong Kong.
(She said 'I support Hong Kong police, now you can punch me.')#BoycottMulan pic.twitter.com/cVXoQNbQZh

— Yan (@_lhyann) August 16, 2019
#boycottmulan @Disney why does your company support a Chinese actress who openly supports a suppressive regime?

— Mushy (@Mushytaco2016) August 15, 2019
Mulan lead actress Liu Yifei stands against the people of Hong Kong. #BoycottMulan pic.twitter.com/etB1y69K4P

— John Stone (@jnzst) August 15, 2019
#boycottmulan is now a thing. @yifei_cc is a HK police supporter, and I have no interest watching that shit anymore #StandwithHK

— Cherie Wong 王卓妍 🇭🇰🇨🇦 (@chercywong) August 15, 2019
Disney's Mulan actress, Liu Yifei, supports police brutality and oppression in Hong Kong.

Liu is a naturalized American citizen. it must be nice. meanwhile she pisses on people fighting for democracy.

retweet please. HK doesn't get enough support. #BoycottMulan @Disney pic.twitter.com/FpECIdutH2

— sean norton 🌹 (@sdnorton) August 15, 2019
What a hypocrite. She got herself a US citizenship and she tells people in #hongkong they should give up their rights. Why doesn't she give up her US citizenship then and go the hell back to China? #boycottmulan

— Eliza Lagan (@ElizaLagan) August 15, 2019
Featured Images via YouTube / Walt Disney Studios (Left) and Weibo / @liuyifeiofficial (Right)