Berlin. Tokyo. Moscow. Nairobi. Rio. Denver. Helsinki. Oslo. 
What might have looked like a bucket list of travel destinations some years ago is now familiar to many as TV's most sophisticated thieves from Netflix's hit Spanish series "La Casa Del Papel," or "Money Heist." 
These eight thieves carry out an elaborate heist coordinated by a mastermind known as the Professor, their identities obscured by the now-iconic red jumpsuits and Salvador Dali masks. 
Sitting at the No. 3 spot on Netflix's all-time most popular shows ranking, the series' impact has reached far beyond viewers' living rooms. Around the world, protesters taking a stand against real-life social injustices have been captured donning the characters' motifs to allude to the show's themes of resistance and revolution. 
On Friday, less than a year after the series' finale, a Korean adaptation titled "Money Heist: Korea – Joint Economic Area" premiered on Netflix.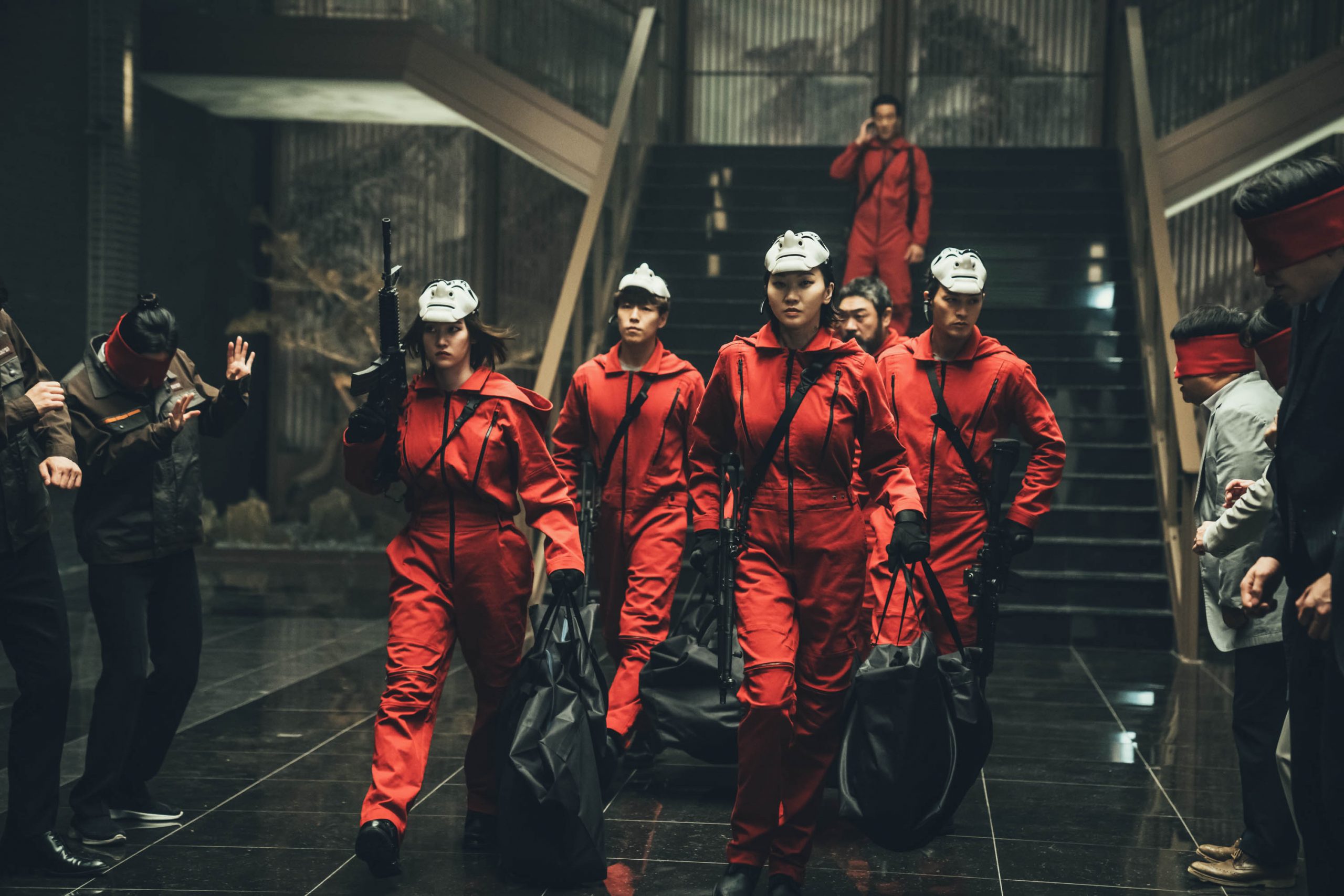 The new show preserves the essence of each of the original characters, only now they're played by some of South Korea's top talent. Would the adaptation live up to the hype, generated not only in the wake of an already successful series, but also amid heightened demand for Korean entertainment? 
Cast members Yoo Ji-tae, Park Hae-soo, Kim Yun-jin and Kim Ji-hun, along with director Kim Hong-sun, spoke with NextShark — via a translator, with the exception of Kim Yun-jin — ahead of the series' premiere on what it was like to tackle the new adaptation of a widely-beloved show. 
Director Hong-sun explains that he intended to bring depth to the show by highlighting the conversations between the individual characters, repeatedly emphasizing that "it's not a just a simple robbery storyline."
Hong-sun says the actors did their part by "leaning into their characters and trying to understand their headspaces," and all within a short timespan. 
While the decision to create the Korean adaptation was set years ago when only two seasons of the original series were released, filming only began several months ago. That sort of production timeline is unheard of in the U.S. but considered a standard within the Korean industry.
"I didn't really expect it to become this big," says Hong-sun. "As we were filming, it's over that process that it really blew up at the global level and became a really massive series. I didn't feel that much pressure in the beginning but by the time we wrapped, I started to feel a really big weight on my shoulders." 
The weight of the pressure was also distributed to the actors, with Kim Yun-jin stating that she did not continue watching the original show after she was cast as determined negotiator Seon Woo-jin. 
"Itziar Ituño, who played my character in the original, she did such an amazing job and I didn't want to add that extra pressure so I didn't go back to rewatch," Yun-jin admits.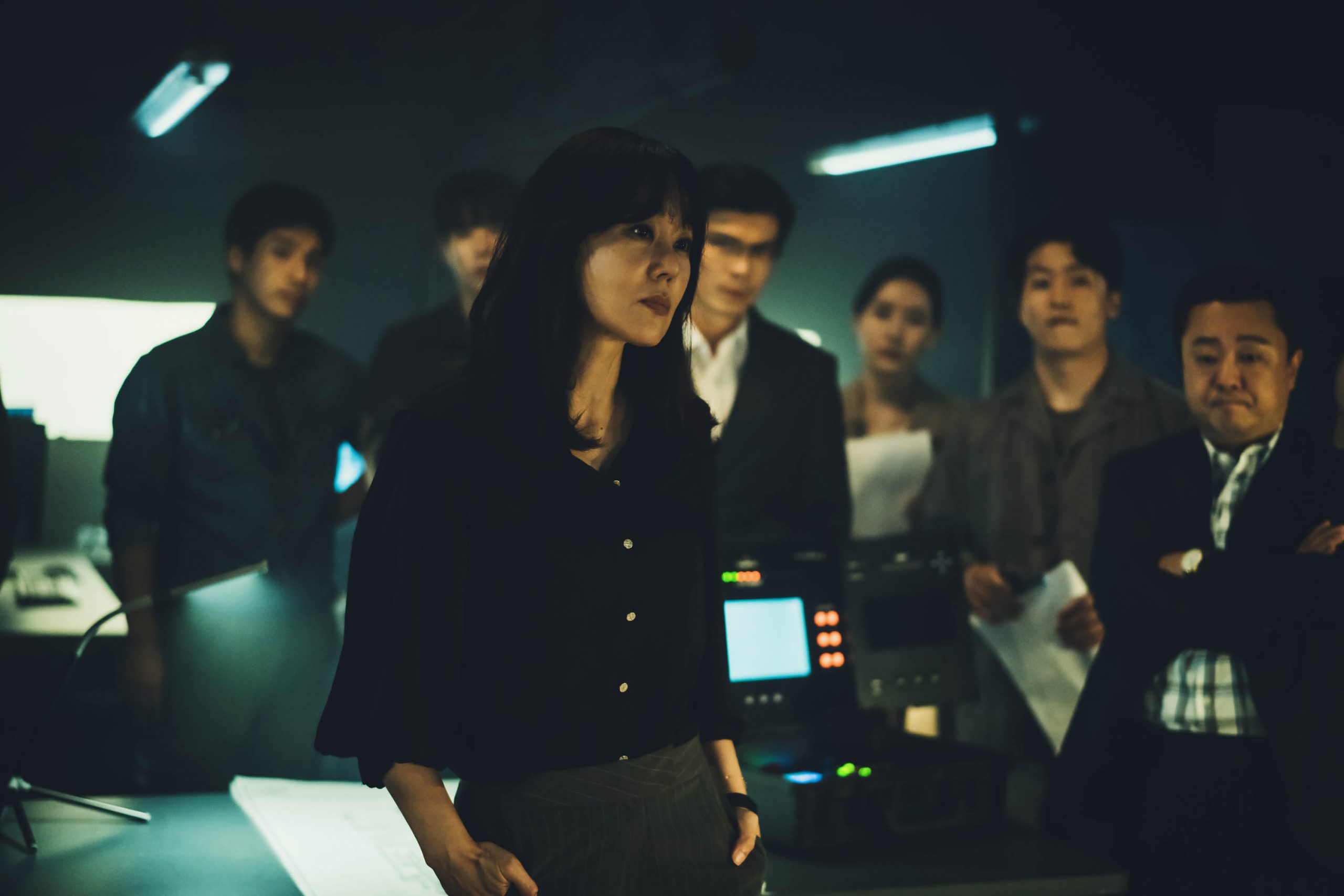 It was the same for Park Hae-soo, who says he was grateful but nervous to play the leader among the team of robbers, Berlin. The actor, who began filming just after being launched into global stardom as one of the leads in Netflix's "Squid Game," instead put himself straight to work. 
"I told myself instead of worrying I should really get to work on this, because this is a huge character that I had to pull off," he says. "I wanted to create my own Berlin with my own views and values, and I tried to really put myself in the shoes of Berlin."
It's only been months since "Squid Game" took off and changed his career, but Park says he still has the same mixed bag of emotions awaiting public receptions to his latest project: "I have fear, I have anxiety, I'm nervous. I have all of these feelings mixed together."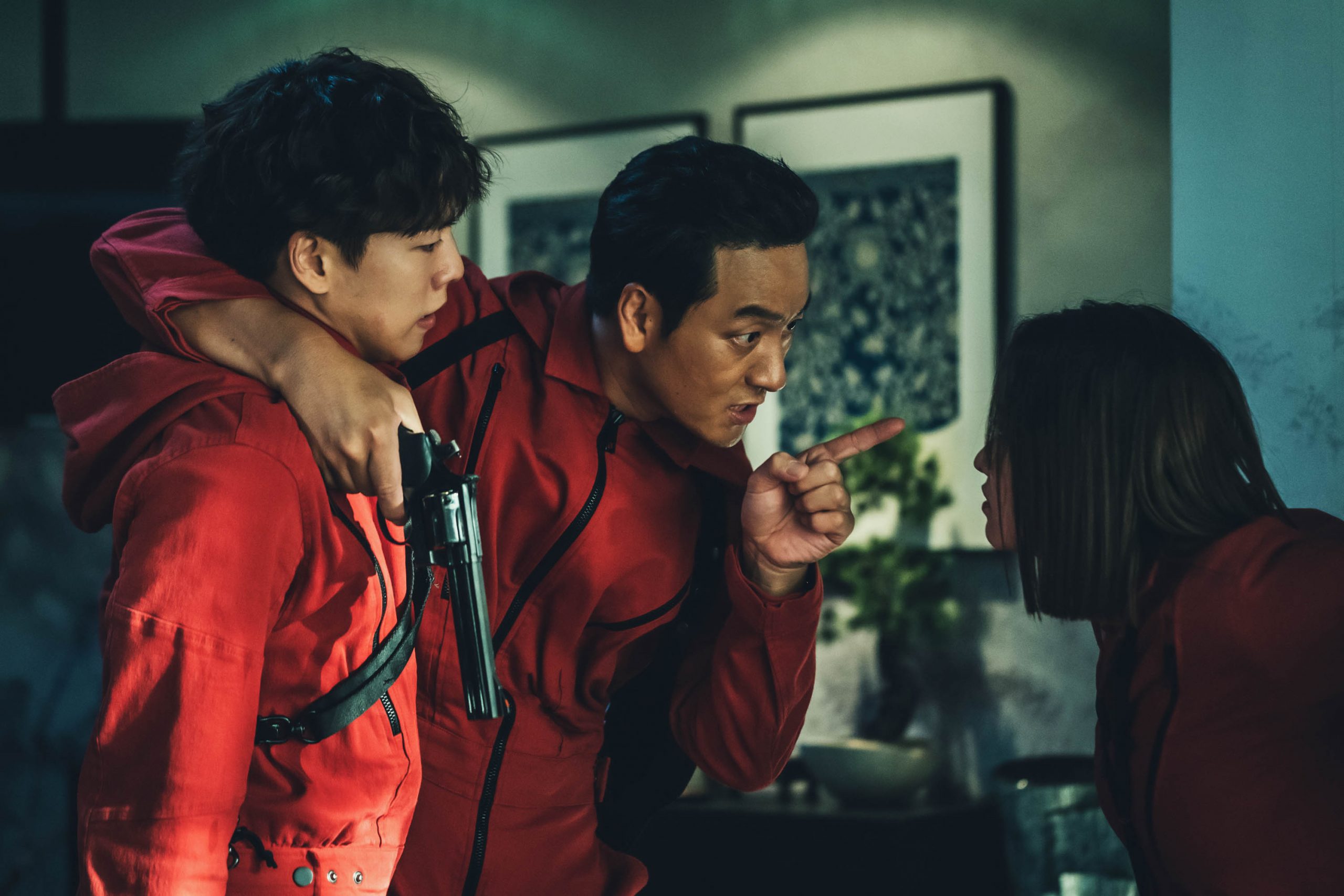 For Kim Ji-hun, it was easy to "enjoy the whole process" of filming for Denver, his favorite character from the original series. While acknowledging his predecessor, Ji-hun says he turned his attention away from the original character, choosing instead to focus on the new script directly in front of him.
"I think the time that I spent analyzing the character in the original version was relatively less," Ji-hun explains. "I think the impression that I had left in my mind after watching the original was enough to serve as a reference for me. I tried to focus more on how to portray the uniquely Korean sentiment and emotions."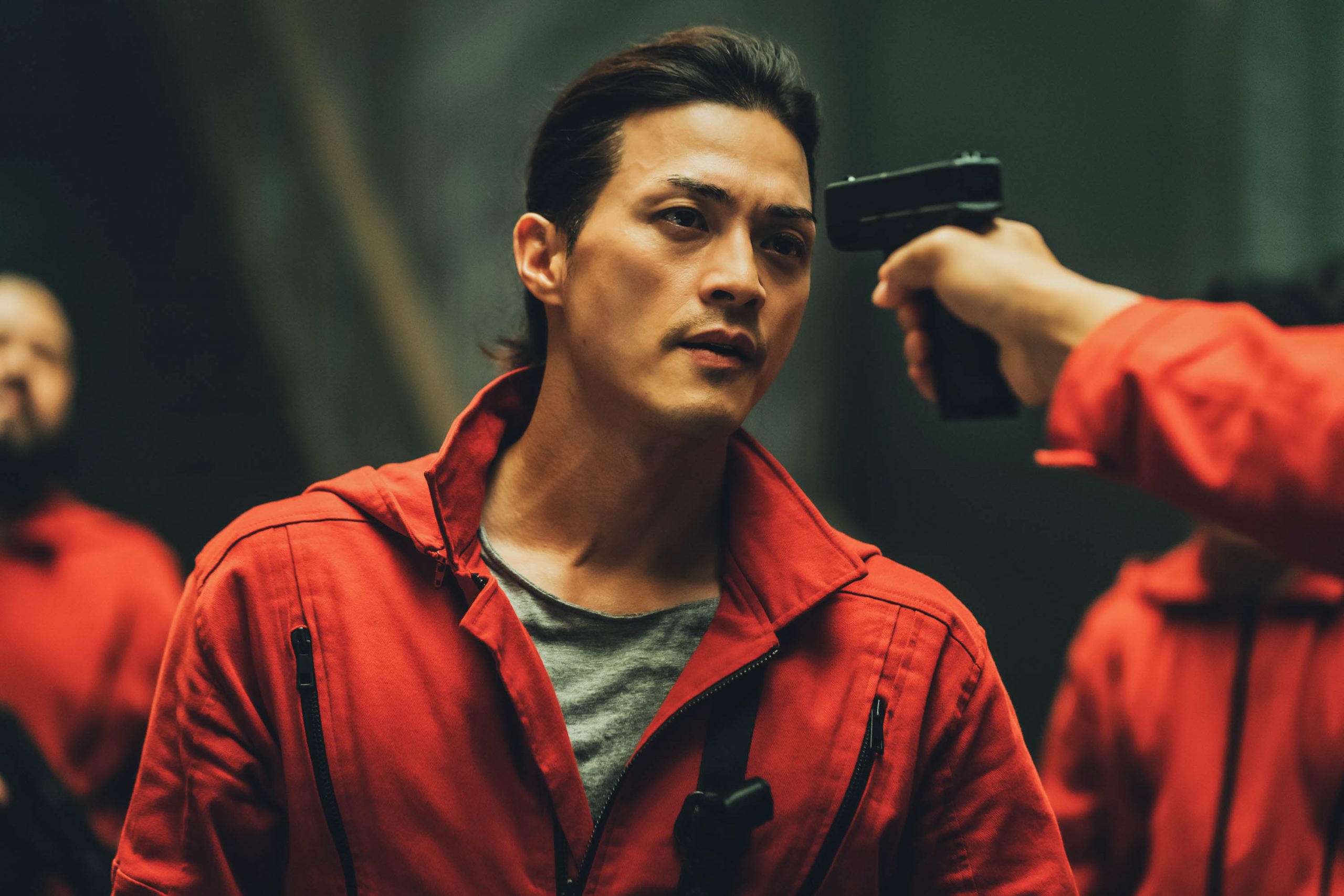 Yoo Ji-tae, who plays the Professor, filmed many of his scenes alone as his character mostly communicates with the others remotely — the experience felt like "shooting a monodrama," he says. Still, like the others, the character posed a challenge for the actor, who had already been familiar with filming adaptations using a different approach.
"When I usually do a remake, I try to erase what is from the original series. This time, it was slightly different because 'Money Heist' is a show with a huge fandom and there are so many people who love the original Professor." 
The actor also delves further into his experience filming the show, revealing that 40 to 60 scenes were shot per day over roughly 50 days. "When you are filming so much in a short period of time, there are some good aspects to it because you can more immensely focus on your emotions in a short period," he says.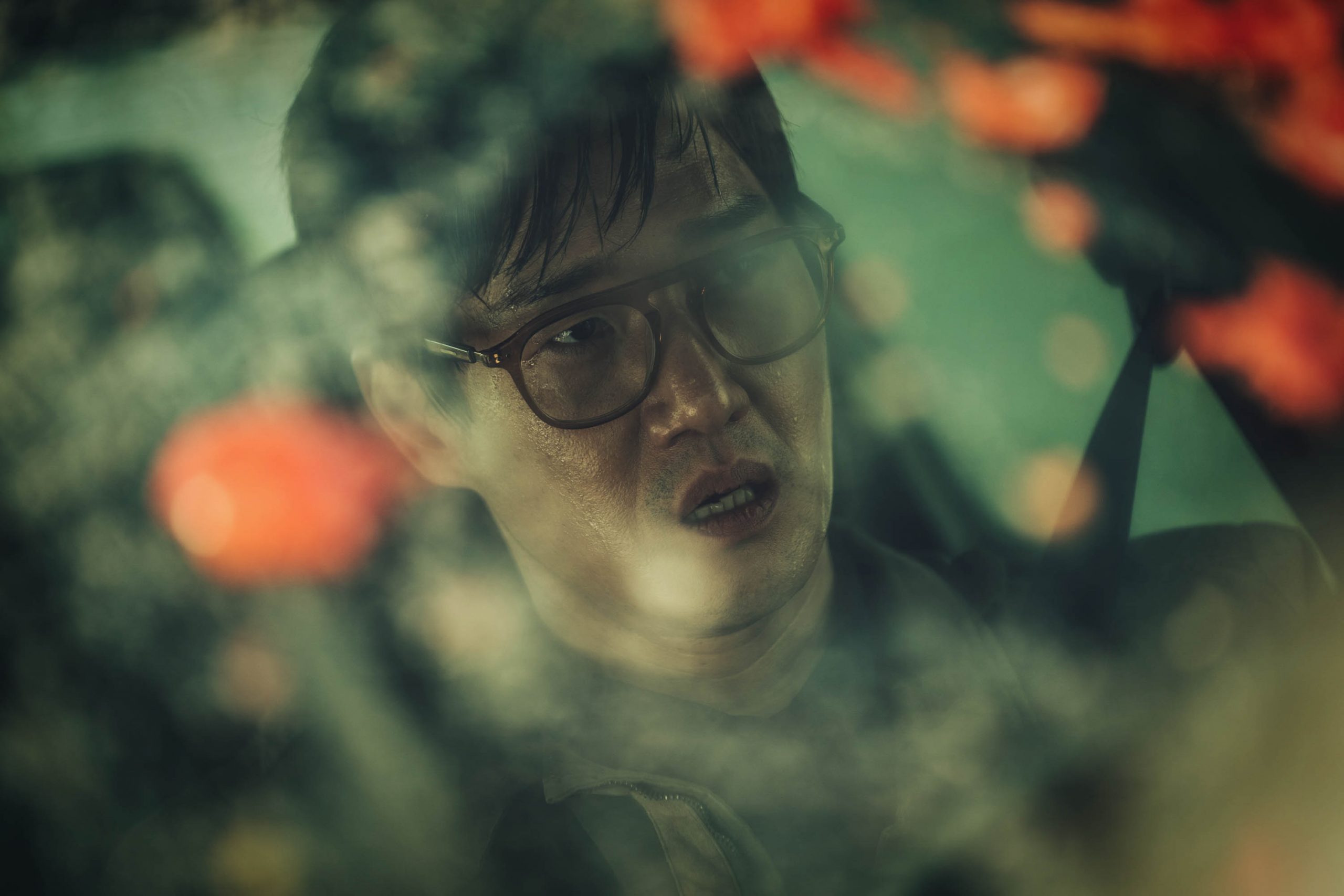 Kim Yun-jin lauded the decision to cast Yoo Ji-tae as the Professor, noting how it appeared "easy" to replace the original actor with him. The two share several scenes together, developing a romance similar to the original while adding their own twist. 
Yun-jin is the show's only star with significant experience in both American and Korean productions —though television looked different when she got her Hollywood break in ABC's hit series "Lost" in 2004.
Asked whether she would have imagined back then that Korean entertainment would be sought out by Western audiences, she points to the drastic change she's seen over the years. 
"When I started on ["Lost"], I don't know for a fact but I was told by the ABC publicist that this was the first American show with two Asian cast members as series regulars. And I was like, 'really?'" she recalls. "Looking back, who would have thought that we would have so many diverse casts in pretty much every new show?"
"Seoul has become this hot place," she adds. "The central focal point of what's hip and what's new and all that. It's just a beautiful thing to watch and to be a part of." 
Kim Ji-hun is also excited to be a part of this change, gaining a sense of responsibility to do his role justice after seeing fans of Korean content pop up from all over the world. Though for those tuning into the new adaptation, Ji-hun chimes in on the online debate over watching the show dubbed or with subtitles, which kicked off as foreign productions gained traction in the States. 
"The Korean version of Denver speaks a very strong regional dialect of the Korean language so that it also portrays the regional cultural aspects of Korea and sets the Korean version of Denver apart from the original," he says. "I think watching the original version with subtitles is the best way to pick up on all the nuances that are conveyed from the original voices of the actors."
Part 1 of "Money Heist: Korea — Joint Economic Area," consisting of six episodes, is now available to stream on Netflix.
Featured Image via Netflix