Pro-democracy activists in parts of Asia have rekindled calls to boycott "Mulan" as it streams on Disney Plus and opens in some theaters.
The fresh wave of protest includes dissenting voices from Hong Kong, Taiwan, and more recently, Thailand, identifying themselves as members of the so-called "Milk Tea Alliance."
This film is released today. But because Disney kowtows to Beijing, and because Liu Yifei openly and proudly endorses police brutality in Hong Kong, I urge everyone who believes in human rights to #BoycottMulan. https://t.co/utmP1tIWNa

— Joshua Wong 黃之鋒 😷 (@joshuawongcf) September 4, 2020
Why people are boycotting: Last year, "Mulan" star Liu Yifei voiced support for Hong Kong police amid protests against the city's controversial extradition bill.
Critics fear that the bill may be exploited as it allows Hong Kong to send criminal suspects to jurisdictions it does not have extradition treaties with — including mainland China.
Local police have been accused of using excessive force during the protests, which kicked off in March 2019 and continued past the bill's formal withdrawal in October of the same year.
Liu, a native of Wuhan, China expressed support for the police and asked anyone who disagrees to leave her platform.
"I support the Hong Kong police. You can all attack me now," said a People's Daily post in Chinese, which Liu then shared on Weibo. The quote added in English, "What a shame for Hong Kong."
Liu's actions immediately drew calls to boycott "Mulan" in Hong Kong. The movement was then joined by pro-democracy supporters in Taiwan.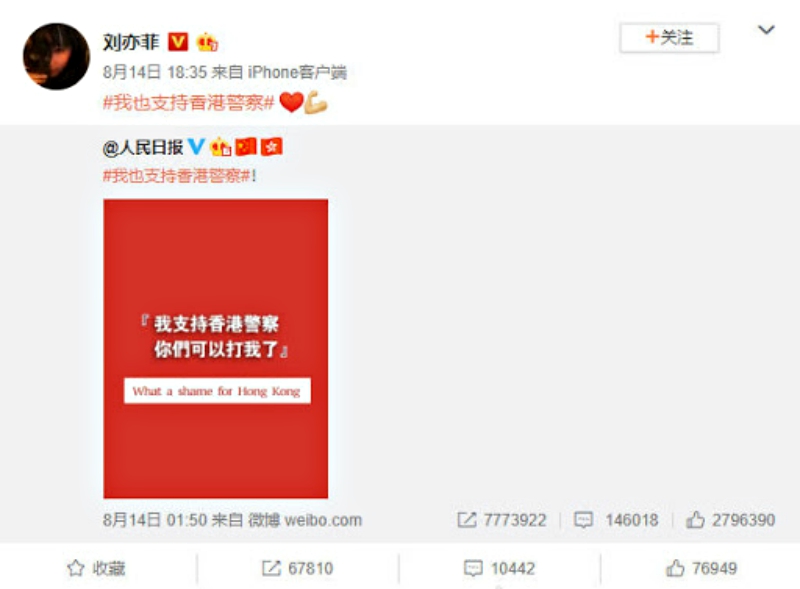 The "Milk Tea Alliance": As "Mulan" launched on Disney Plus last week, pro-democracy activists from Hong Kong, Taiwan and Thailand joined hands in a so-called "Milk Tea Alliance" to boycott the live-action remake.
The alliance, which emerged as a hashtag on Twitter, takes its name from the popular beverage that originated in Taiwan and has been used to voice support for democratic initiatives in the East-Southeast Asian regions.
The hashtag was first used in April as a response to Chinese attacks against a Thai actor and his girlfriend. Both were accused of supporting Hong Kong and Taiwanese independence, according to Reuters.
More recently, Thailand has seen numerous rallies for democratic changes, alterations to the military-like constitution, dissolution of the parliament and even reform of the country's monarchy. These actions apparently won support from like-minded activists in Hong Kong and Taiwan.
In turn, Thai protesters have now joined those activists to cancel "Mulan." The film opened in Thai theaters on Sept. 4 — the same day it launched on Disney Plus.
"I invite everyone to #boycottMulan #banMulan to make Disney and the Chinese government know that state violence against the people is unacceptable," Thai student activist Netiwit Chotiphatphaisal, for one, wrote in a now-viral tweet.
พรุ่งนี้ Mulan เริ่มฉายวันแรก แต่เรายังไม่ลืมที่นักแสดงมู่หลานสนับสนุนการใช้ความรุนแรงของตำรวจต่อผู้ชุมนุมฮ่องกงที่ต่อสู้เพื่อเสรีภาพและประชาธิปไตย
เชิญชวนทุกคน #BoycottMulan #BanMulan เพื่อให้ทางดีสนีย์และรัฐบาลจีนรู้ว่าความรุนแรงของรัฐต่อประชาชนเป็นสิ่งที่ยอมรับไม่ได้ pic.twitter.com/g7bkIoTo9r

— Netiwit Chotiphatphaisal (@NetiwitC) September 3, 2020
Feature Images via Walt Disney Studios (left; screenshot) and @NetiwitC (right)