Fans of the Mexican national football team are celebrating Koreans after the latter sent Germany home in a 2-0 match on Wednesday.
Germany, champions of the previous World Cup, will not advance to the knockout round for the first time ever.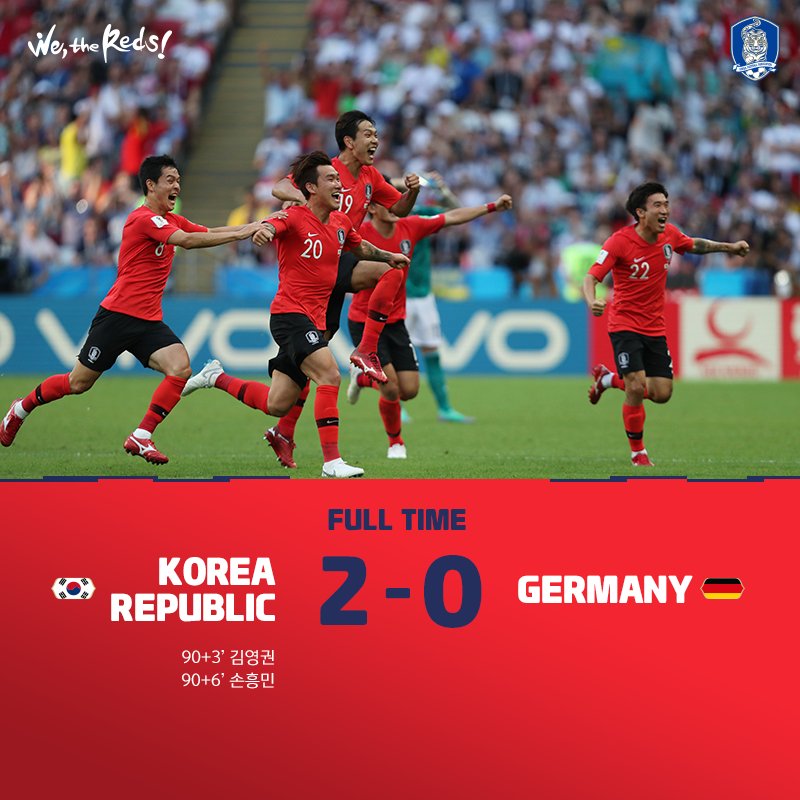 Apparently, South Korea's victory means that Mexico — which lost to Sweden in 3-0 — will advance to the Round of 16.
"I went from crying to laughing," AFP quoted Cecilia Gonzalez, a 22-year-old student, as saying. "Thank you Korea. I don't even know quite where it is, but thank you, thank you."
When Son Heungmin capped off a famous win for Korea Republic against reigning #WorldCup champions Germany!

👀 TV listings 👉 https://t.co/xliHcye6wm
📺 Highlights 👉 https://t.co/LOdKDXkdnV pic.twitter.com/l0jUevqIZx

— FIFA World Cup 🏆 (@FIFAWorldCup) June 27, 2018
Mexico fans took the news with jubilation and celebrated Koreans in crazy yet adorable ways.
For one, they lifted and cheered on individual, random Koreans.
The Mexicans found a South Korean outside the stadium 😂 pic.twitter.com/9gG7V9wtOd

— Siavoush Fallahi (@SiavoushF) June 27, 2018
A group even made a parade for one Korean just after the Germany match.
here's a better clip lmao pic.twitter.com/hT83SrNlaG

— cassy 🇲🇽 (@AHNSYUJlN) June 27, 2018
Many also took their happiness on social media, where they talked about visiting Koreatown and feasting on Korean food.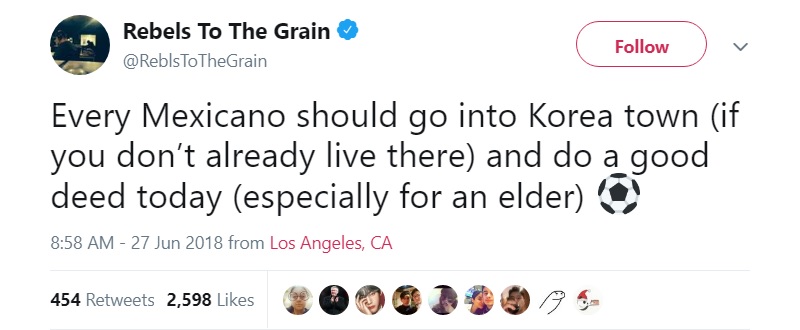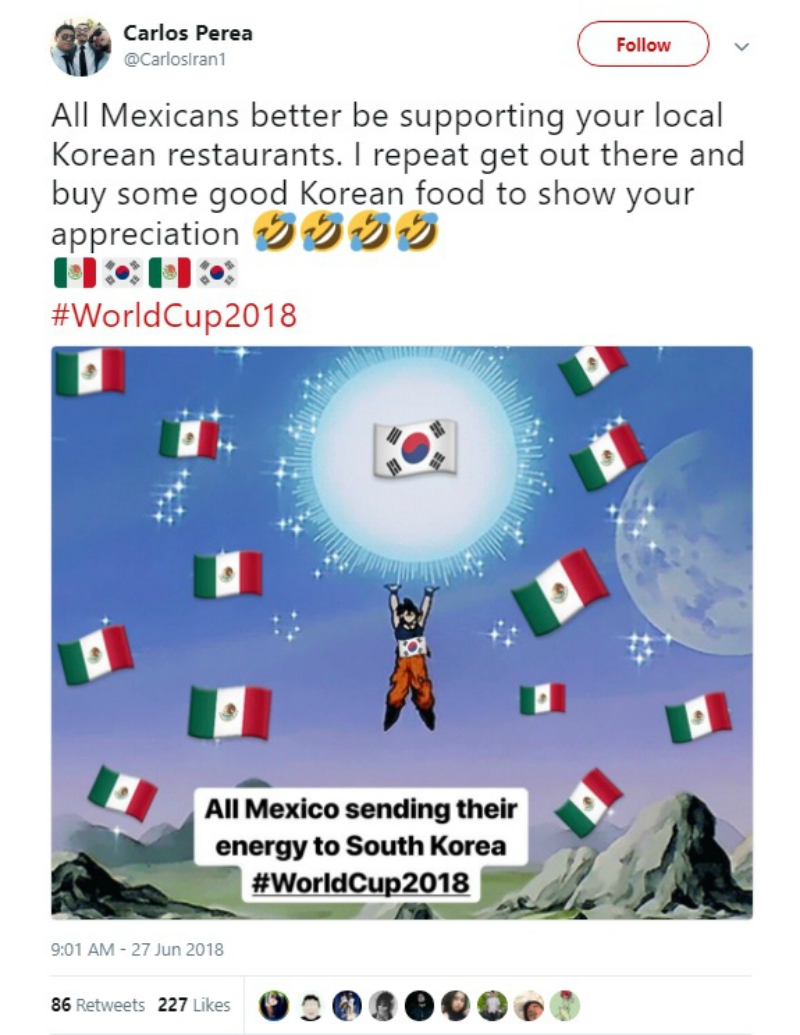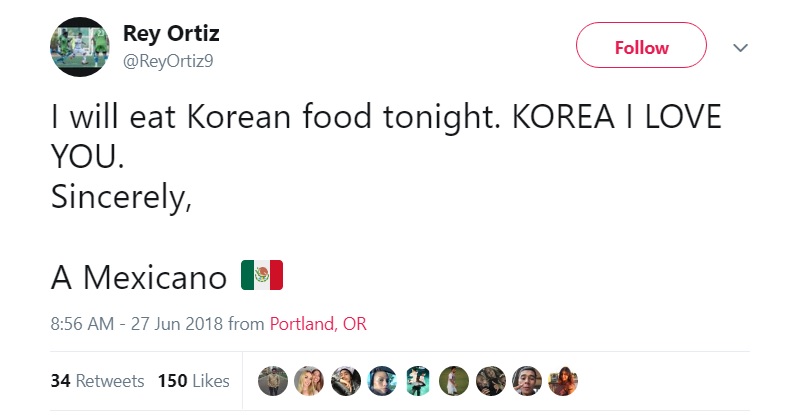 Others invited Koreans to the carne asada, a popular Latin American dish of grilled beef often served in celebrations.
He's invited to the carne asada🇲🇽🇰🇷 pic.twitter.com/RwpeiwVTGb

— Luis🖤 (@Luiscon_14) June 28, 2018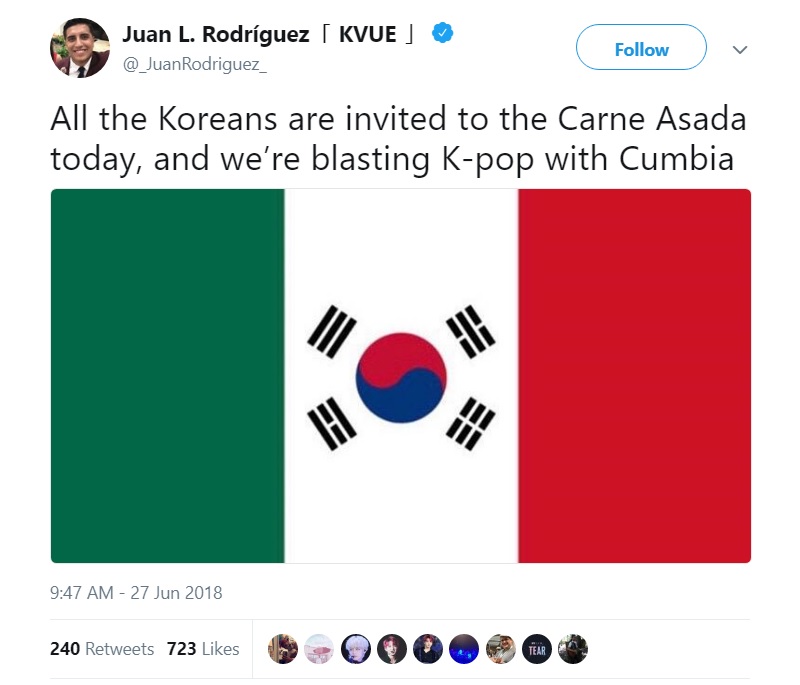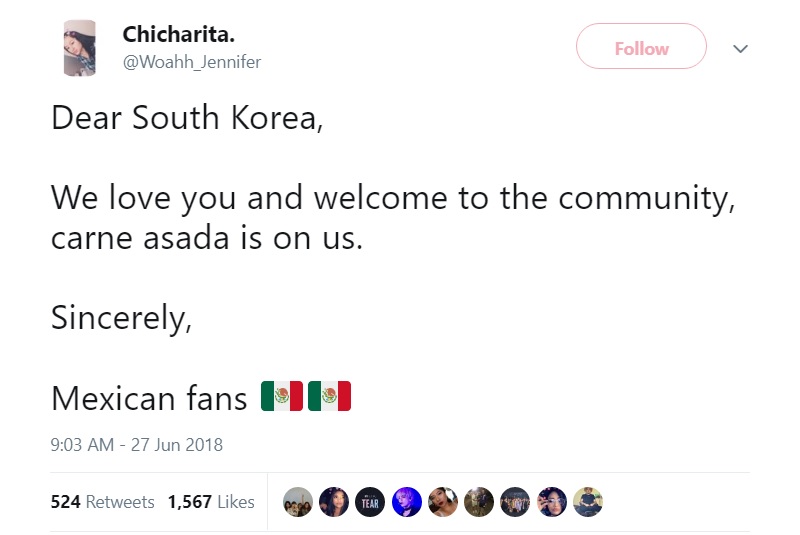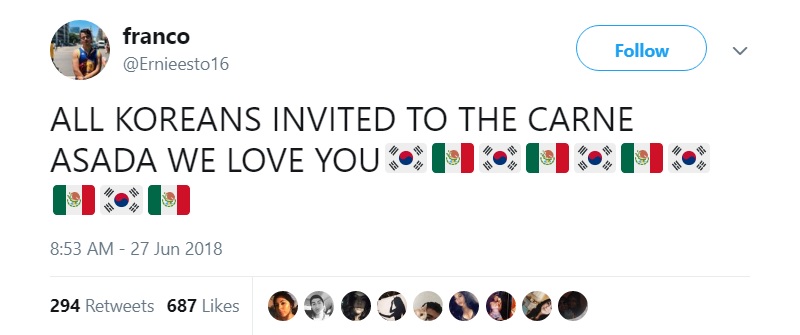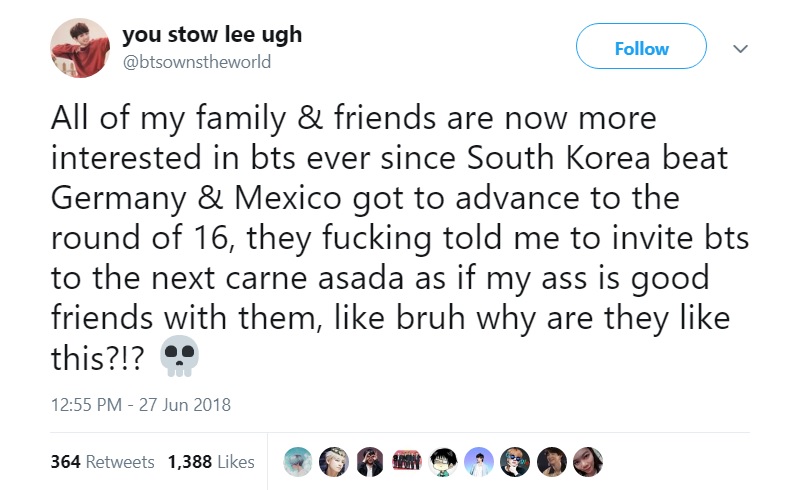 Meanwhile, others celebrated or expressed support for K-pop and K-dramas.
My little cousin blasting K-POP BTS DNA in honor of Korea saving our asses in the World Cup #MexicoLovesKorea #MEX pic.twitter.com/VFqHf5wNh5

— alondra (@londerswonderss) June 27, 2018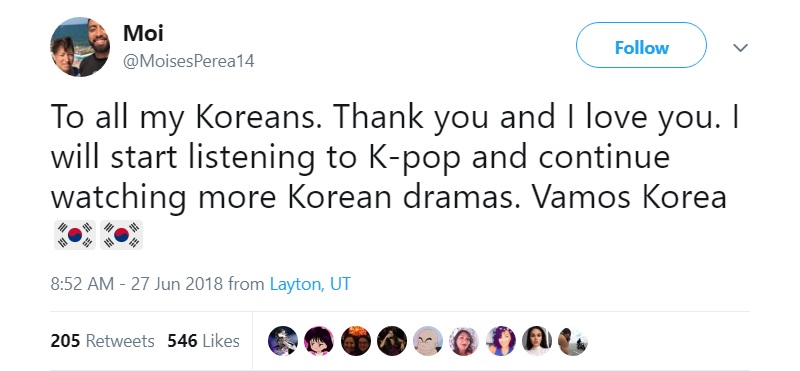 There were also a couple of jokes such as one about changing Mexico's official language to Korean, and another on praying to Korean Jesus.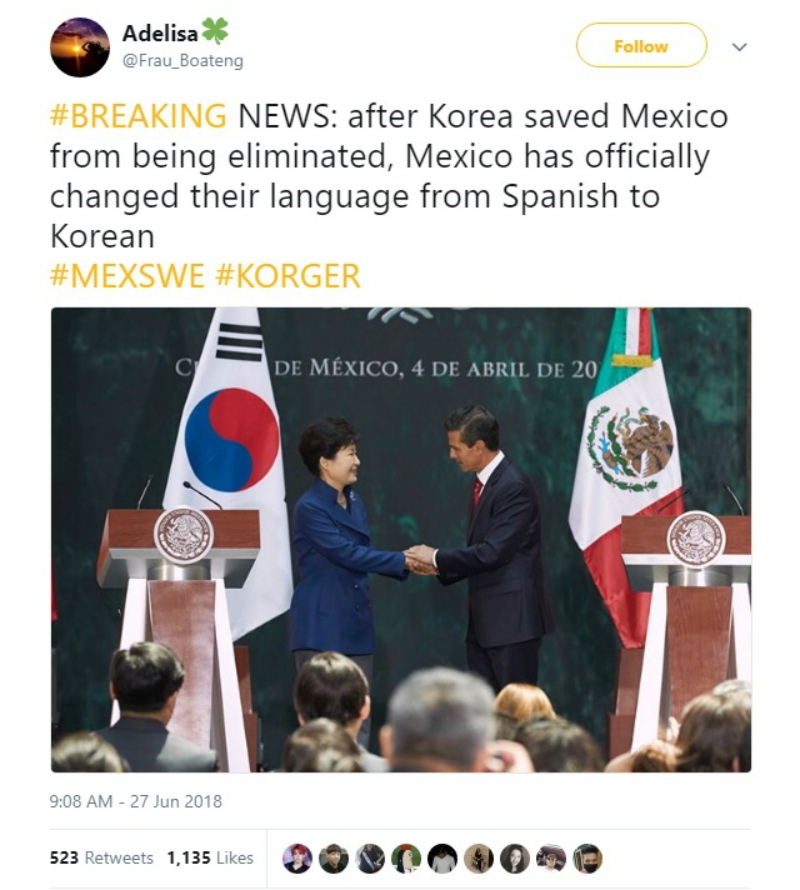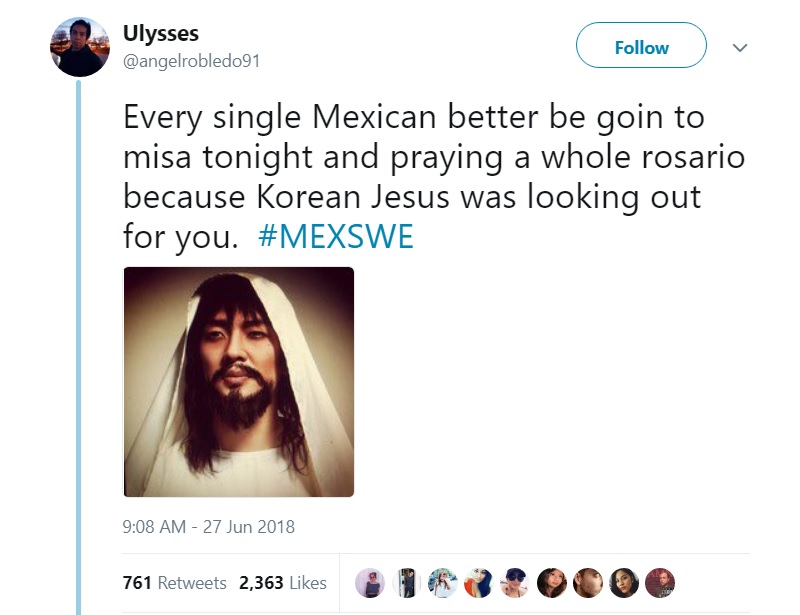 Interestingly, the celebration also reached the South Korean embassy in Mexico, where fans made the Korean ambassador come out for tequila.
Mexican fans went to the Korean embassy and made the ambassador come out and drink tequila from r/soccer
Mexicans acknowledged that their entry to the knockout round is a favorable twist of fate. They are hoping for continued success.
"Mexico played very, very badly. Luckily the Koreans did us a favor," lawyer Alan Gonzalez told AFP.
MY BOY IVAN IS A WHOLE ASS MOOD BRO SHOUT OUT MY KOREANS pic.twitter.com/4v9OFCBVSd

— Luis (@yosoyluisvega) June 27, 2018