A U.S. Marine is under investigation after making racist remarks and threatening to shoot Chinese people in a now-viral video.
Pfc. Jarrett Morford, 20, of Windsor, Colorado graduated boot camp in August and has been training for a communications job in Twentynine Palms, California.
In the video, Morford cited President Donald Trump for a tweet that allegedly blamed China. Which tweet it was, as well as when and where the Marine first posted the video, are unclear.
"As the honorable Trump said on Twitter today, it was China's fault," said Morford. "China is going to pay for what they have done to this country and the world."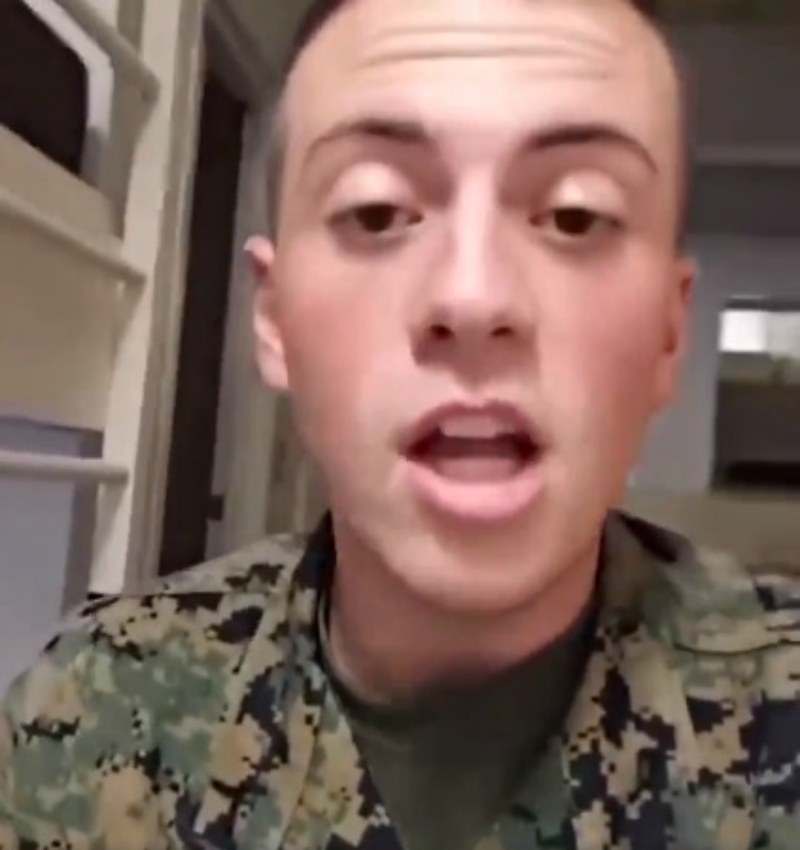 The 20-year-old went on to use a racial slur and threaten Chinese people with a "5-5-6." The term reportedly refers to a caliber of bullet which Marines use for the M4 and the M16.
"I don't give a f*ck! A chink-headed motherf*cker comes up to me when I'm in the fleet, say 5-5-6 b*tch. That's all I gotta say," Morford said. "Say 5-5-f*cking-6!"
Morford's video has gone viral on Twitter and Instagram this week. His command is now taking "appropriate action."
"There is no place for racism in the Marine Corps. Those who can't value the contributions of others, regardless of background, are destructive to our culture and do not represent our core values," said Capt. Joseph Butterfield, a Marine Corps spokesman, according to Stars and Stripes.
Anyone recognize this racist? It's hard to tell where he's at, and sadly no name tapes. pic.twitter.com/jfm23cs8K4

— TheGrizz (@MiCBarin) October 8, 2020
Trump has routinely blamed China for the COVID-19 pandemic, defending his use of the term "Chinese virus" as "accurate." This fuels the surge in hate crimes against Asian Americans, according to critics.
Stop AAPI Hate, which tracks coronavirus-related anti-Asian discrimination, has recorded at least 2,583 incidents nationwide. "After March 10, when the president first used the phrase 'Chinese virus' in a tweet, Stop AAPI Hate saw an exponential increase in reported anti-Asian hate incidents," the national coalition said in a study.
The World Health Organization (WHO) and Centers for Disease Control and Prevention (CDC) have since stated that the use of similar terms is inappropriate. Congress subsequently introduced bills to condemn "all forms of anti-Asian sentiment."
Feature Image Screenshots via Jarrett Morford