Sixty two-year-old Marilou Danley has been located by police due to her connection with the Las Vegas shooter at Mandalay Bay hotel, 64-year-old Stephen Paddock. According to CNN, she is not considered a suspect; officials have cleared her as a "person of interest" and she was out of the country when the October 1 incident that left more than 50 dead and at least 515 injured — the deadliest mass shooting in U.S. history.
We have located the vehicles in question, and we are confident we have located the female person of interest.

— LVMPD (@LVMPD) October 2, 2017
Danley was initially believed to have been on the run following the shooting in one of the two vehicles registered to Paddock.
Marilou Danley is being sought for questioning re the investigation into the active shooter incident. If seen please call 9-1-1! pic.twitter.com/Z83XvcHejH

— LVMPD (@LVMPD) October 2, 2017
Paddock and Danley had been living together at Paddock's place of residence since January 2017, according to public records.
— brenden (@702ant) October 2, 2017
Before Danley's Facebook account was deleted, netizens discovered that she appeared to be married to Geary Danley. Misinformation had initially spread online, accusing him of being the shooter, until Paddock's identity was confirmed.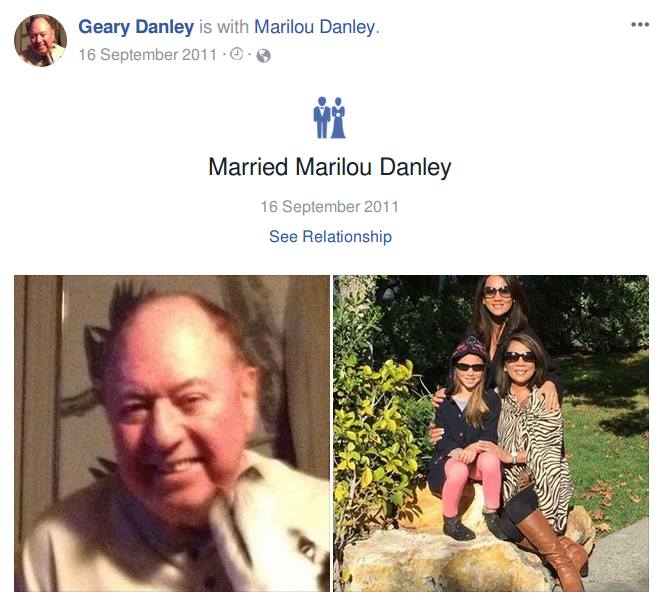 According to a timeline of events provided by ABC, Paddock's killing spree began at around 10 p.m. PST on October 1; he was positioned on the 32nd floor of the Mandalay Bay Hotel and Casino with a clear view of the Route 91 Harvest Festival. By 10:08 p.m. PST, the first calls to dispatch started coming through about a shooting having occurred at the concert.
By 10:40 p.m. PST, news wires received reports that there was an active shooter situation occurring.
At 11:08 p.m. PST, police shut down the Las Vegas Strip; it wasn't until 11:20 p.m. PST that reports of injured persons being taken to hospitals came in. It was reported that, by 11:32 p.m. PST that inbound flights to McCarran International Airport had been diverted.
THAT SOUNDS LIKE A MACHINE GUN ! #route91harvest pic.twitter.com/QsjWkHGiUa

— amanda gomez (@amandavgomezzz) October 2, 2017
By 11:34 p.m. PST, a portion of the I-15, the major freeway passing through Las Vegas, had been shut down. The first reports to come out of the hospitals occurred at 11:56 p.m. PST, stating two had died, 24 were injured, 12 in critical condition.
Dan Bilzerian, running from shooter at concert near Mandalay Bay resort in Las Vegas, says "a girl just got shot in the f*cking head." pic.twitter.com/FaS0VfeF7I

— Josh Caplan (@joshdcaplan) October 2, 2017
Finally, at 12:01 a.m. PST, police confirmed that they had one suspect down — approximately two hours after the shooting had begun. At 1:06 a.m. PST, Southern California police department stated that an off-duty officer was among those shot. More information about the downed suspect came in at 1:32 a.m. PST, where it was confirmed that the gunman had been shot by officers on the 32nd floor of the Mandalay Bay Hotel and Casino.
#LasVegas police:
"in excess of 50 dead" & more than 200 injured after a mass shooting #mandalaybay.#las_vegas
pic.twitter.com/NEMcTjOkUZ

— 🕋Imran Sheikh🕋 (@ImranImvu) October 2, 2017
At 1:34 a.m. PST, Las Vegas police updated the media, stating that at least 20 people were dead and more than 100 were injured. A further update at 1:54 a.m. PST confirmed that two off-duty officers were among the dead. Further updates on officers continued, with news of one off-duty officer reportedly in critical condition and another wounded coming in at 2:05 a.m. PST.
More footage of the situation in Las Vegas…

STAY SAFE AND GET TO COVER!#MandalayBaypic.twitter.com/XpW2WRavZR

— Collin Rugg (@CollinRugg) October 2, 2017
It was at 2:13 a.m. PST that officials announced they were searching for the suspect's roommate, Marilou Danley, and that she was a "person of interest". At 3:30 a.m. PST, Sheriff Joseph Lombardo reported that in excess of 50 people had lost their lives and at least 200 were injured.
So many innocent victims that just wanted to enjoy a Sunday night in Las Vegas. Why are some humans horrible? Stay safe. #mandalaybay pic.twitter.com/T2dWOpkhzc

— Corinne (@belindasfan) October 2, 2017
By 3:37 a.m. PST, police detained Danley and seized the vehicles in question. At 5:33 a.m. PST, LVMPD tweeted an official press release regarding the incident.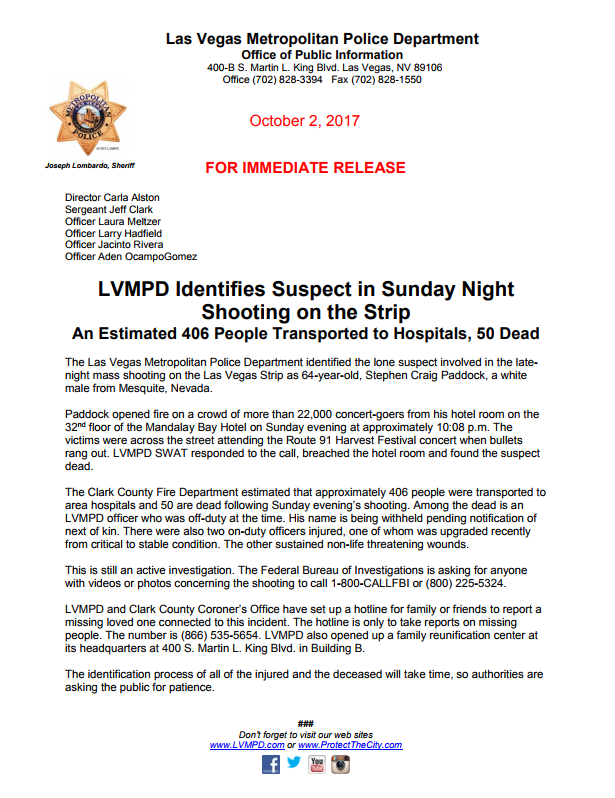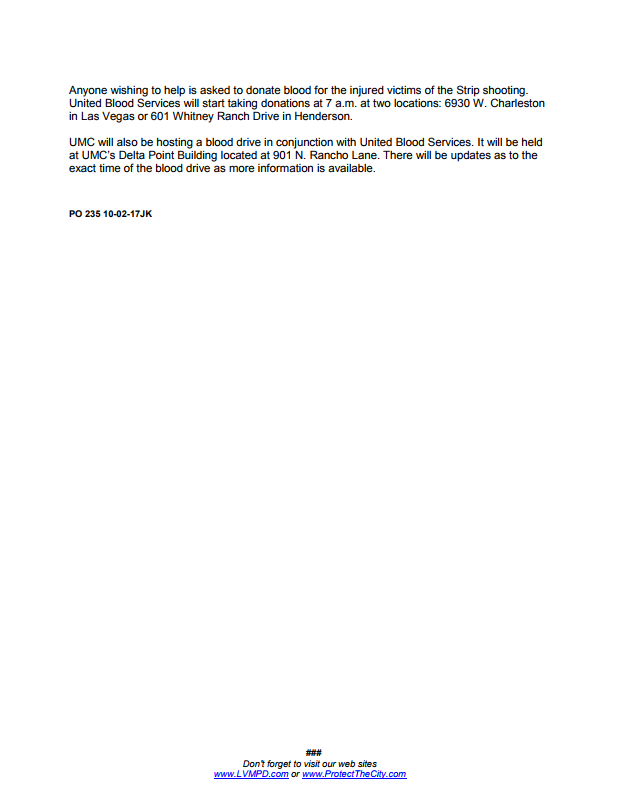 Danley has been located. The investigation is ongoing.
The gunman's brother, Eric Paddock, spoke with the FBI at his home in central Florida, and told CNN that the last time he talked to his brother was in the wake of hurricane Irma.
Paddock was stunned that his brother got hold of such a weapon since he did not have any military background.
"He's not an avid gun guy at all. The fact that he had those kind of weapons is just – where the hell did he get automatic weapons?" Paddock told CBS, adding that he was afraid for Danley's life as well.
"Not an avid gun guy at all…where the hell did he get automatic weapons? He has no military background," gunman's brother says pic.twitter.com/EMSKLQGYFM

— CBS News (@CBSNews) October 2, 2017
President Donald Trump addressed the shooting just a little before 8 a.m. PST, saying, "It was an act of pure evil. The FBI and the Department of Homeland security are working closely with local authorities to assist with the investigation and they will provide updates as to the investigation and how it develops."
The Mandalay Bay Hotel has announced that guests may return may return to their rooms.
Security personnel have lifted all restrictions on access to Mandalay Bay and other MGM Resorts. Guests may return to their rooms.

— Mandalay Bay Resort (@MandalayBay) October 2, 2017
Feature Image via YouTube / The MMA Beatdown