Four hospital workers in British Columbia, Canada became overnight millionaires after winning the lottery jackpot worth 6 million Canadian dollars ($4.5 Million).
Heewon (Theresa) Choi and three of her colleagues from the Royal Columbia Hospital in New Westminster won the 6/49 lottery draw on Oct. 31, according to the official British Columbia Lottery Corporation.
No tricks, all treats for Heewon C. and Melanie N. as they accept an unforgettable $6-million prize on behalf of their group after winning the Halloween night Lotto 6/49 draw. 🎃🍬💰
Check out their amazing win here 👉 https://t.co/hMKZXPN1DG pic.twitter.com/iGmkvkCc70

— BCLC (@BCLC) November 10, 2020
Choi, the "team captain" of the group, discovered they won after scanning the ticket she bought at a Shoppers Drug Mart on East Columbia Street using the BCLC Lotto! App while she was at the office.
Choi thought they won 6,000 Canadian dollars ($4,572), but their winnings were much higher. She immediately notified Melanie Nolan, another member of the group.
"I couldn't believe it. I immediately showed it to Melanie who sits right next to me," she said. "I thought it was $6,000 when she showed it to me. When the other two group members started their shift, Melanie and I told them. They thought it was a joke!"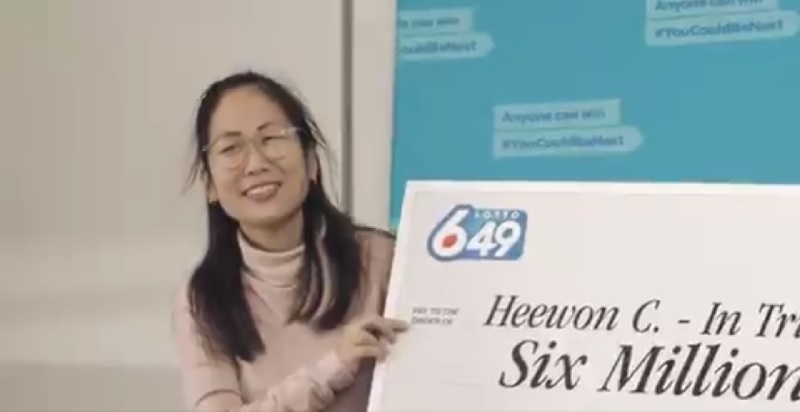 The group, which has been playing the lottery for about a year, often uses number combinations such as birthdays and anniversaries.
The first group plans to get together to celebrate over a good meal, while Nolan wants to donate some of her money to the Royal Columbian Hospital Foundation. She also wants to go back to school.
"I've always dreamed about being a millionaire. I feel like I'm in a dream," Choi said.
Feature Image via British Columbia Lottery Corporation