Lil Tay and her mother Angela Tian recently gave their first interviews to address the controversies that both of them faced in the last few weeks.
Earlier this month, the 9-year-old went viral for her controversial "flexing" videos on social media, while Tian was criticized for condoning her daughter's foul-mouthed online persona.  
Lil Tay, whose real name remains unknown, gained notoriety for her profanity-filled videos where she claims to live in luxury after she started "moving bricks." Her typical schtick includes throwing cash, bragging about branded goods, and posing in luxury homes and expensive cars.
Her videos have proven to be quite a hit, racking up millions of views and generating her a significant following on Instagram. However, her persona's despicable attitude has sparked concerns from netizens that Lil Tay is being exploited by the adults surrounding her, including her own mother.
In her TV interview with ABC, Lil Tay denied she is being forced to do her videos.
"No one's forcing me to do this. It's not true that [her mother] wants to make money off me … This is my decision. I'm happy with what I'm doing," Lil Tay told ABC's Juju Chang.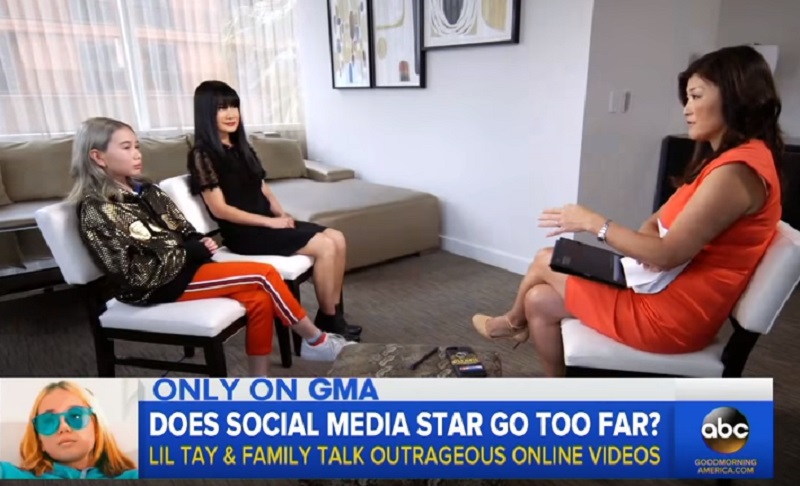 "People think it's funny, I guess, 'cause I'm nine years old and I've accomplished so much. I'm the youngest flexer. I can do anything I like. If they don't believe me, I don't care."
Tian then described Lil Tay as "well mannered and a great kid, well behaved."
Responding to a question about why her daughter's "well mannered" side is nowhere to be found in her videos, Tian explained that Lil Tay is "just entertaining people" online.
In a separate interview with Canadian media platform Maclean's, Lil Tay explained that she was only trying to motivate people to "accomplish their dreams."
"Why I started was 'cause I wanted to start motivating people and I wanted to inspire them to accomplish their dreams," Lil Tay was quoted as saying. "You need money to, like, support your family and you need to be able to afford things. Everyone wants to live a good life."
It was recently revealed that Lil Tay was living with her mom in an apartment in downtown Vancouver. To kick off the youngster's career in show business, the mother and daughter reportedly moved from Vancouver to Los Angeles.
Earlier this month, it was reported that Tian was fired from her property agent job after her alleged role in Lil Tay's videos emerged online.
Tian denied the reports and told Maclean's that she actually resigned so she can focus more on helping her daughter's "career."
"I didn't get fired," Tian was quoted as saying. "I resigned for my daughter's career and her bright future … I don't want to deal with all these questions anymore. Can you please help out my daughter's career more?"
When asked about the potential harm her daughter may be getting into with their chosen career path, Tian said she will be able to take care of her "star" daughter.
"Every parent needs to worry about their own child," she said. "I'll worry about my child. She's a star now, and wherever she is, I will be beside her."
Diomi "I Eat P*ssy" Cordero, who claimed in the same interview with Maclean's that he was managing Lil Tay's career, finds nothing wrong with the child's online persona.
"I believe that if done correctly, this will open many doors in the entertainment industry and allow her to go in many different directions," Cordero was quoted as saying.
"Her appeal is shock value, being a young flexer. And the only way to remain like that is to be able to create content constantly," he says. "If you don't have a six-month plan to see what's next, then you will lose it all."
On the hateful comments that Lil Tay has been consistently getting on her videos, Cordero also thinks there is nothing to be concerned about.
"She does get a lot of hate, but you must understand in social media, the more comments, the more likes, and the more you see an account, the better it is for the account," Cordero says. "What I've learned is if you just post the content, and never look at the comments, then you have nothing to worry about."
Featured Image via Instagram / liltay