After reportedly enduring months of online abuse from some angry Star Wars fans, actress Kelly Marie Tran has allegedly decided to delete all of her Instagram photos.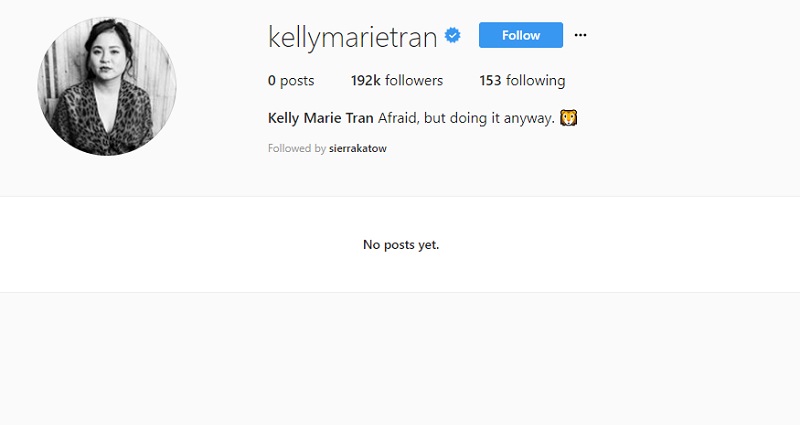 The Vietnamese American star, who played the role of Resistance maintenance worker Rose Tico in "The Last Jedi," was the first woman of color to play a leading role in the billion-dollar Disney franchise.
In the 2017 film, Rose's arc had her team up with Finn (John Boyega) on a secret mission to Canto Bight before being captured by the First Order. She ultimately saves Finn's life in the film's climactic battle.
Soon after the movie hit theaters in December, Tran revealed that she faced sexist and racist comments from abusive fans.
The description of her character Rose Tico on the Star Wars Wookieepedia website was altered by unknown users to feature offensive, racist language.
Alt-right internet troll Paul Ray Ramsey even berated Tran for her appearance.
Tran's Instagram account remains active but all of her posts are gone as of this writing. While she did not explain her reason for doing so, the popular Twitter account Star Wars Facts claimed that it was due to online bullying.
Kelly Marie Tran has deleted all the posts off her Instagram due to months of harassment she has received for her character Rose in #TheLastJedi pic.twitter.com/ipxdbDH30C

— Star Wars Facts (@SWTweets) June 5, 2018
Meanwhile, Tran has since been receiving an outpouring of support from her fans and followers.
kelly marie tran literally posted nothing but cute positive daily posts and y'all dudebro gremlins harassed her so much you drove her off insta. fuck all y'all for thinking you can just comment your uninvited opinion about rose on a post that has nothing to do with it

— luna (@caroldanvrs) June 5, 2018
If you followed Kelly Marie Tran on instagram then you know she has been one of the loveliest and most positive souls on the goddamn internet in the past year and I will FIGHT every last person who hurt her https://t.co/WDP6j2HM5N

— Sarah Dollard (@snazdoll) June 5, 2018
And this happens all the time. We ❤️ you, Kelly Marie Tran, and thanks for a great movie. https://t.co/qIwTbcHvfH

— Celeste Ng (@pronounced_ing) June 5, 2018
kelly marie tran was the kindest and loveliest person in the entire cast and she was so Fucking Excited to be part of such a huge franchise and take a step forward for all (!!southeast!!) asian women in media and yall decide to shit on her and take her for granted and im TIRED!!!

— come back kelly (@prcserpinas) June 5, 2018
I was lucky enough to meet Kelly Marie Tran briefly, and she was incredibly nice to a comics writer who may have been geeking out a bit too much. It's fine to not like fictional characters. It's not fine to harass actual human people. https://t.co/sti2my7zdD

— Jody Houser ✒️🗯️🎲 (@Jody_Houser) June 5, 2018
Kelly Marie Tran's quote on her Instagram page — "Afraid, but doing it anyway. 🦁" is a thing I adore without reserve. She is a force for light and joy and unabashed engagement with the things you love, and to think of the harassment she's received is infuriating.

— Chuck Wendig (@ChuckWendig) June 5, 2018
Campaign to bring Kelly Marie Tran a nice pasta with pesto sauce, sundried tomatoes, maybe a good wine pairing, and also the heads of her enemies.

— Dany Roth (@DanyOrdinary) June 5, 2018
This is the fanbase that:
•Drove Jake Lloyd insane
•Made Hayden Christianson quit acting
•Made George Lucas not want to make any more movies
•Made Daisy Ridley delete her Instagram
•And recently made Kelly Marie Tran leave Instagram

I love Star Wars but fuck the fans https://t.co/yhApP7GVIH

— Nicholas Levi (@NicholasJLevi) June 4, 2018
Tran is expected to return in "Star Wars: Episode 9," which is scheduled to be released in December 2019. The movie, directed by JJ Abrams, will round out the current trilogy, ending the Skywalker Saga.