Nestled quietly between a toy collectible shop and an AT&T retailer, Yellow Fever draws the eye unexpectedly — its subtly cool exterior juxtaposed to its outlandish name.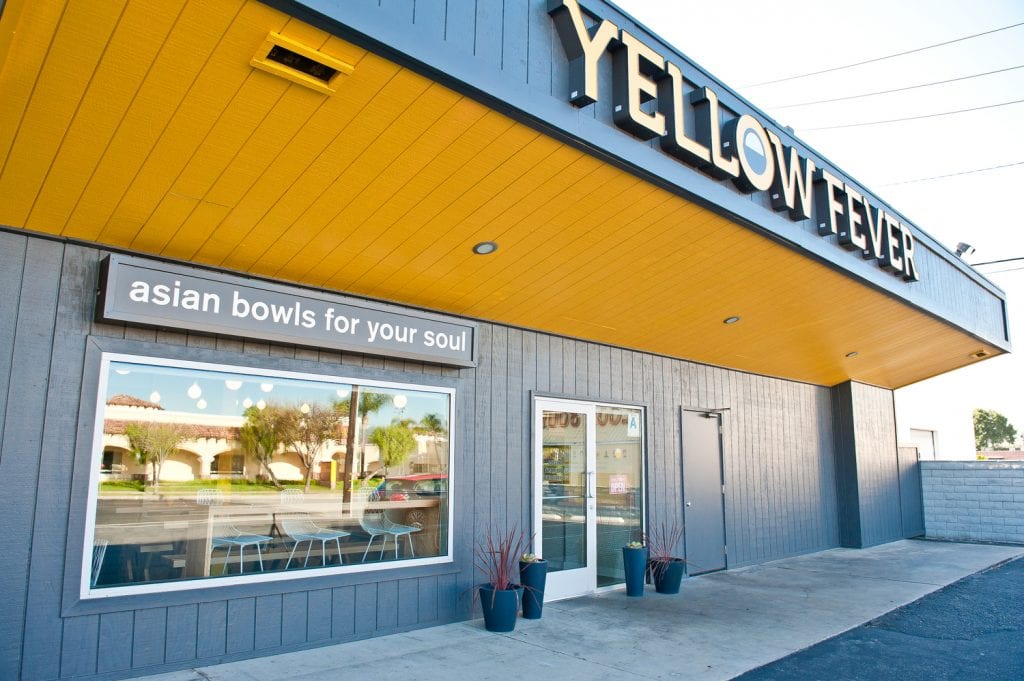 This area of Torrance, California — one block padded with small restaurants just across from Zamperini Field — is far from trendy and hardly a culinary mecca, yet literal droves of customers visit the tiny eatery on a daily basis. Is it the name? Perhaps the culture?
What was behind the unassuming yet thriving restaurant which so boldly called itself an iffy term at best — one you certainly didn't say in formal settings, let alone name a company?
I decided to interview Co-Founder and Executive Chef, Kelly Kim, to find out.
I met Kim just before lunch on a Tuesday morning, the restaurant still wiping sleep from its eyes. Its yellow walls and lunchroom-style tables were cheery and evoked feelings of comfort, the communal vibe making the tight room feel cozy. The space matched Kim, a bright and friendly Korean-American woman, and I immediately felt at ease around her. It was clear to see that she enjoyed interacting with guests, as customers greeted her on a first-name basis while we exchanged pleasantries.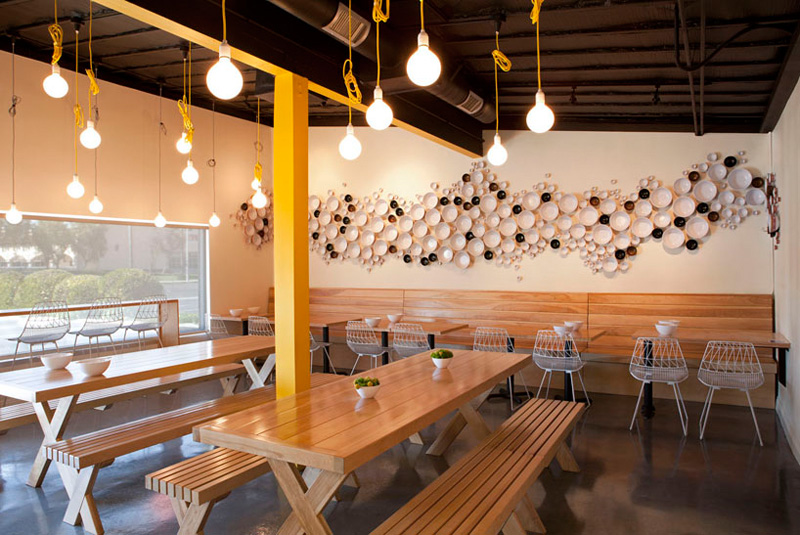 Perhaps her warm disposition made it easy to broach such a sensitive question; I launched right into it, asking for the inspiration behind the name.
Kim's explanation belied a deeper meaning than simple shock value, requiring a trip down memory lane to discuss her unique upbringing. She came to the United States from South Korea when she was 9 years old. Her family set roots in Houston, Texas, where they opened up a BBQ restaurant a la "Fresh Off The Boat". As the oldest daughter and middle child, she was responsible for cooking for her siblings; while she had more traditional guidance from her stepmom, she would improvise with leftover pork from the restaurant. "For Thanksgiving, we would have smoked turkey with the Korean pancakes," she recalled. "Life became a mishmash of both cultures."
It was this cultural crossroads that Kim believes shaped her identity — and her taste buds.
"What you cook or what you like has a lot to do with how you're brought up. At the root of it all, you are what you eat.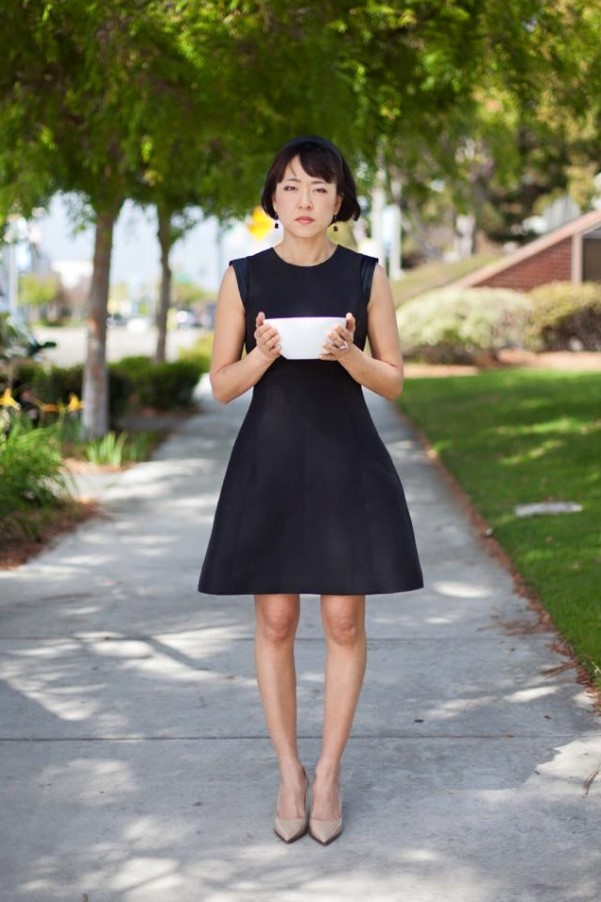 "Growing up in Texas, I didn't have a lot of exposure to Korean food and culture and I realized that my palette evolved into more of an Asian-American palette. As I got older and grew into my career, I packed lunches during the week — mostly mixed rice bowls — when it dawned on me that I hadn't seen the kind of food I was making anywhere before and that I could do this for a living. I wanted to start a restaurant, but I didn't want to be tied down to one kind of food, like Korean or Japanese. I wanted to be the Asian version of Chipotle.
"When we finally came up with the concept, all the names we thought of just plain sucked. Buzzwords like 'traditional', 'bamboo', 'lotus', and 'golden' weren't memorable.
"One night, we just said 'Yellow Fever!' and it worked. It's tongue-in-cheek, kind of shocking, and it's not exclusive — you can fit all Asian cultures under one roof with a name like this. We just decided to go for it."
A quick glance at the menu revealed her plan for pan-Asian unity through food; customers choose from a base of tripych rice, rice noodles, or field greens and then customize their dish to fit their cravings. Bowls with names like "Seoul", "Shanghai", and "Bangkok" indicated the flavor awaiting the hungry patrons.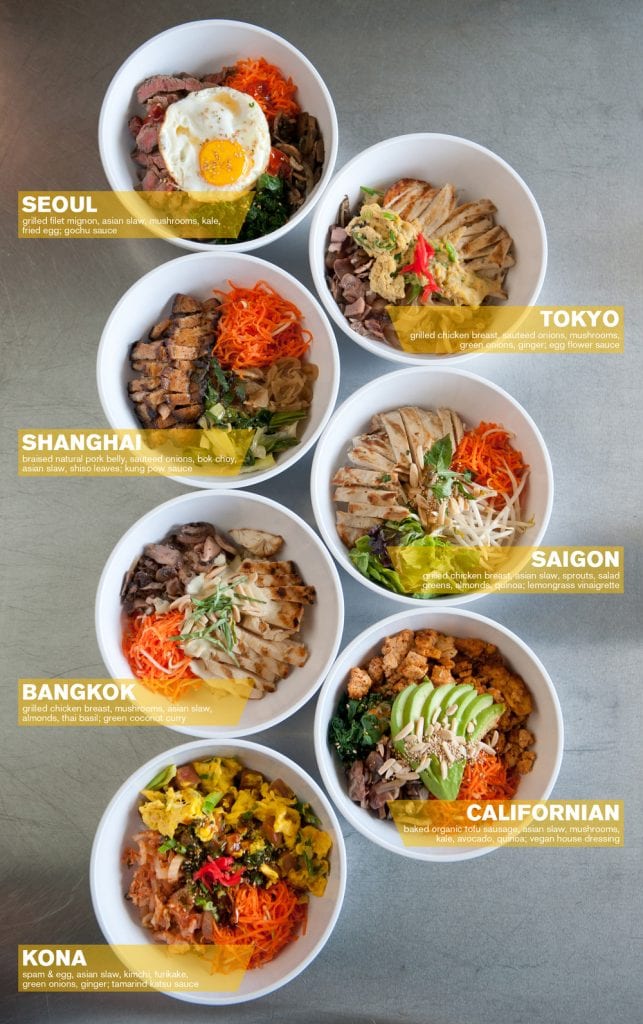 While some chefs might shy away from such a broad menu, Kim enjoys the freedom. "My favorite challenge is how to make food not so scary to people who haven't had it before."
Her strategy of making different cultures' food more accessible to the masses seems to be working — the restaurant was a success, prompting them to open two more locations in Venice Beach and, soon, Long Beach.
Although the menu is completely customizable, it still has its fan-favorites. "Our most popular item is the Seoul Bowl, with grilled flat iron steak and fresh eggs. We go through close to 800 eggs a week, so the Torrance farmer's market just delivers to us now." Kim explained.
Of course, the bowls aren't the only draw. "Ugly egg rolls are a huge hit here. They're ugly because we hand roll each one, but with a twist — we roll them in rice paper. During the deep-frying process, the outside gets crackly and crispy and they look kinda ugly. We also have Parmesan furikake fries, and those fries have a cult following.
"And then there's the Bruce Lee, which is our specialty drink — green tea with lemonade. Some people forget what it's called and ask for the Jackie Chan, so we created another menu item by adding sparkling water to it in response."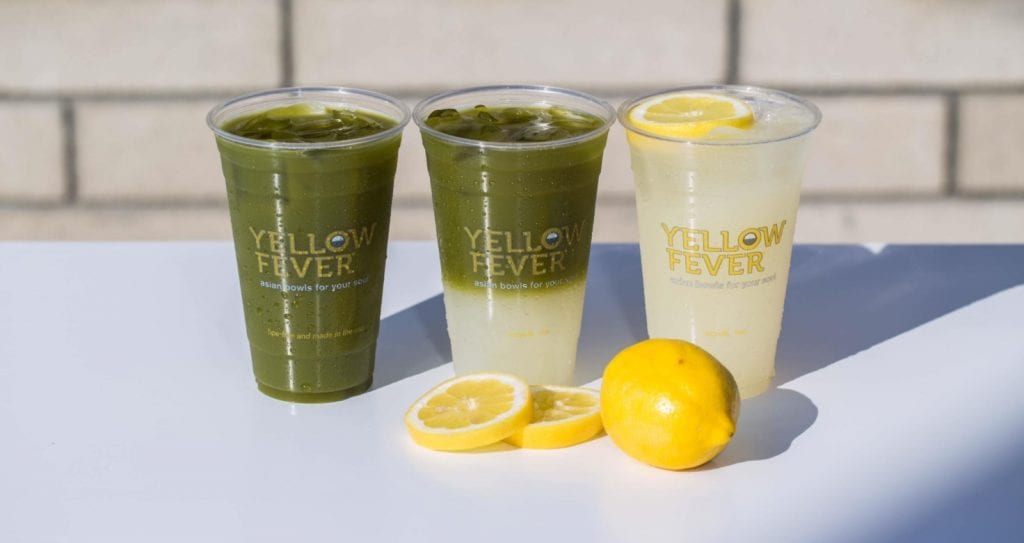 A surprisingly poetic item on Yellow Fever's menu is the culinary embodiment of her two cultures collided into one. "We call them lucky pickles — they're pickled green tomatoes," she said. "We had a surplus of tomatoes from my garden one year and I had no idea what do to with them. So I played with some pickling, seasoning, and came up with a very crunchy, pickled green tomato with lemongrass and other Asian herbs."
If a more romantic Texas-inspired Korean dish exists, I dare it to come forward.
As our conversation continued, I couldn't help but recognize a song playing softly overhead. "Is this…K-pop?" I asked, amused.
Kim laughed. "Oh yeah, we play our own playlist of Asian music here. K-pop, J-pop, Chinese, Thai…everything," she said, showing that her aim for a mix of everything didn't end with food.
It was evident that Yellow Fever was just as much about inclusiveness as it was pushing boundaries; a clear culture was emerging from these four walls, a philosophy tasted in every bite and heard in every note. In Kim's desire to make authentic yet aloof cuisines better represent her unique background, she inadvertently created a space where true appreciation of all Asian cultures could be easily felt.
Despite their success, both in explosive growth and inclusive culture, Kim initially felt some trepidation — especially when naming the company. "We were worried about a strike at first," she recalled, chuckling. "We are still scrappy and not a fully-known entity, so some people pass us thinking we sell bowls or…you know, 'something else'. Once, I had a friend who was grabbing our food for lunch and her White friend wasn't sure if he was allowed to eat here."
"But it's re-appropriating a term — taking ownership of something and defining it in our own way."
Any potential push-back over her usage of the name hasn't deterred Kim from promoting her food, brand, and philosophy. "I want people to go away feeling special — that they ate something different and that we had real, sincere, genuine customer service. Our motto is 'be kind, be happy, be yourself, be yellow.'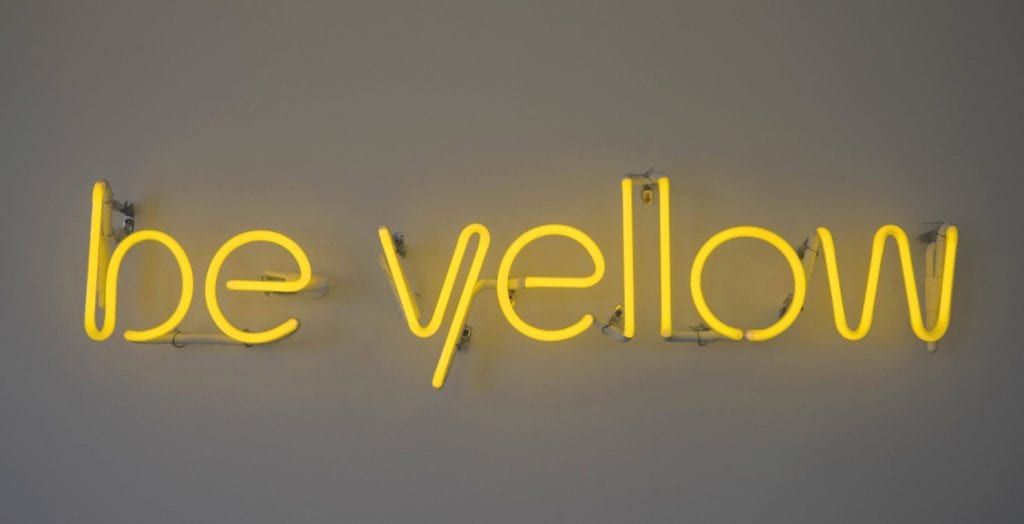 Our interview concluded, Kim graciously sent me back to the Nextshark office with more food than any one human could eat in a sitting. I had ordered the secret menu item, the "Mike Bowl", a Kona Bowl with pork belly instead of spam topped with braised garlic and "pig sauce" (an apricot/ginger hot sauce) named after Kim's husband, upon her suggestion. On the side were Yin Yang Fries (a mix of the beloved Parmesan furikake fries and sweet potato fries blended together), ugly egg rolls, a Bruce Lee, and lucky pickles.
When trying the lucky pickles, the only word that came to mind was "balance". The pop culture reference to green tomatoes obviously being that of the fried variety, I'd never thought of another way to prepare them. But the crunchy, tangy, sweet taste of the fermented tomatoes proved it could be done differently; gradually, a sense of appreciation for Kim's dynamic upbringing and how two strong cultures had blended together to shape her identity washed over me. Pickling, a Korean specialty, paired with the recognizably Southern green tomato, was a poetic tribute to both her Korean heritage and her Texan upbringing — a culinary balance between two cultural identities. Each crunchy bite was a beautiful way to pay homage to the country she left and the land she adopted.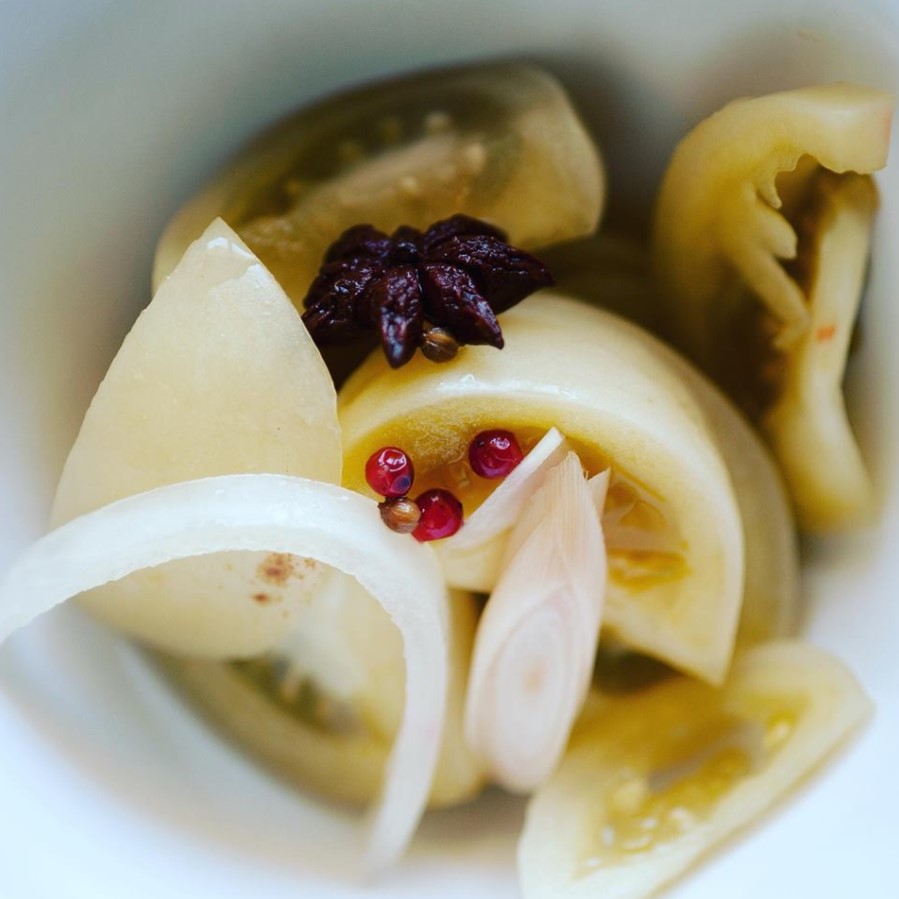 As I savored each new and interesting flavor, I realized that, like the lucky pickles, the name "Yellow Fever" represented yet another way Kim was claiming her identity. She didn't see a need to hide behind the term, typically used to describe White men who exclusively date Asian women; instead, in typical Texan-style, she wrangled it away from its negative connotations and displayed it publicly, confidently, and didn't back down. She made it her own, positive phrase that was inclusive of all Asian cultures. It was strong. It was daring.
And it was strangely revolutionary.
"I don't think we're a safe brand," she had said when asked about her bold decision. "One of our taglines is 'be yellow'. This is because we want people to be comfortable in their own skin."
The meal, long since devoured, left an impact on me that I'm sure has resonated with all of her customers. Through her Texas/Korean dishes, I felt like I really got to know Kim's history; through the name, I felt a connection with her re-appropriation philosophy, and through her culinary prowess over other cuisines, I felt her small, tasty contribution towards pan-Asian unity in every bite.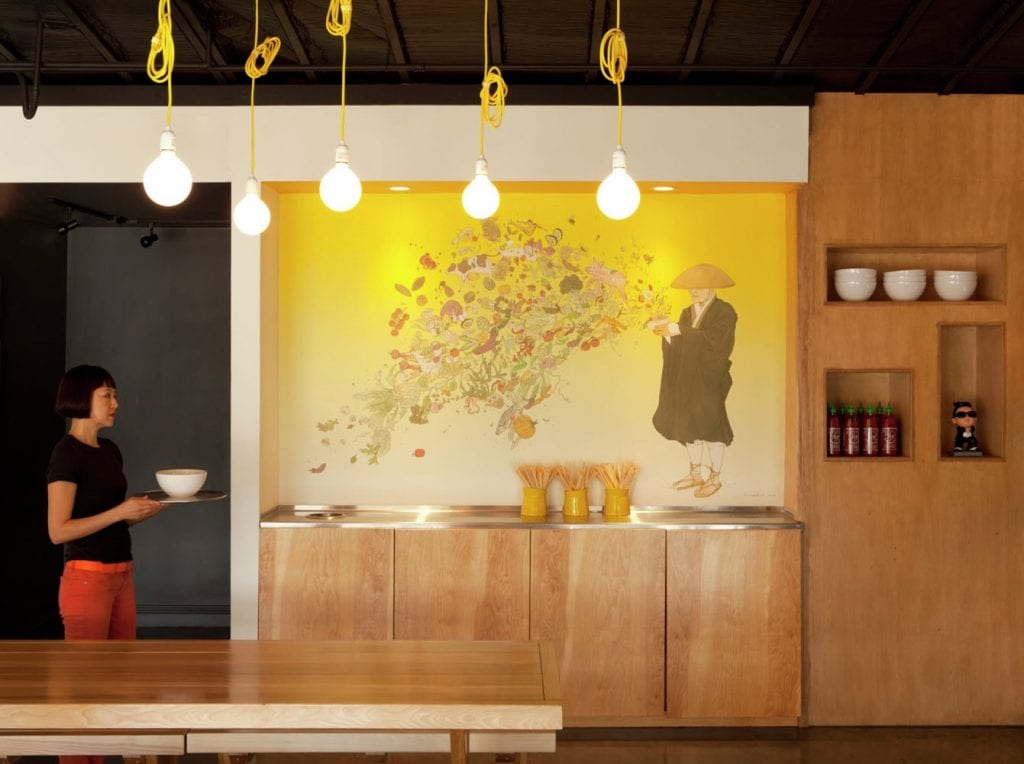 "We're building something really unique here," she said. "We think people can sense that."