Sen. Kamala Harris (D-Calif.) led a group of Democrats in a resolution that denounces the use of "Chinese virus" and similar terms amid the COVID-19 pandemic.
The bill, which was submitted last week, condemns "all forms of anti-Asian sentiment" related to the coronavirus, citing the "dramatic" increase in reports of racist and xenophobic attacks against the group since January.
The racist attacks against Asians, Asian-Americans, and the broader AAPI community during the COVID-19 pandemic are sickening. There is no place for hate and discrimination in America.

Proud to lead a resolution with @SenDuckworth and @maziehirono to condemn these attacks.

— Kamala Harris (@SenKamalaHarris) May 15, 2020
President Donald Trump and his allies sparked outrage in March after calling the coronavirus, the "Chinese virus," when the appropriate term for the pathogen is severe acute respiratory syndrome coronavirus 2 (SARS-CoV-2), or best known as COVID-19.
Other than the term "Chinese virus," the bill argued that other terms such as the "Wuhan virus" and the "Kung-flu" perpetuate an anti-Asian stigma. Such references have since been discouraged by the World Health Organization, the Centers for Disease Control and Prevention, and even Secretary of Health and Human Services Alex Azar, who reports directly to Trump.
As of May 13, there have been 1,710 reports of coronavirus-related discrimination against Asian Americans, according to the Asian Pacific Policy and Planning Council (A3PCON). Specifically, nine out of 10 respondents felt that they were targeted due to their race.
In one incident, an Asian American was walking their dog at night when a car swerved toward them on the sidewalk. Two men inside the car then started shouting "Trump 2020, die chink die!"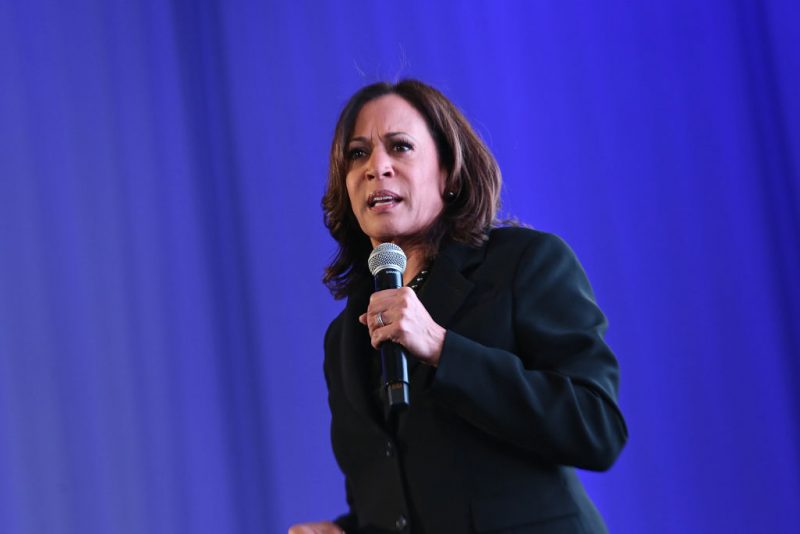 Harris also acknowledged that the use of anti-Asian rhetoric has affected Asian American businesses, which total approximately two million and generates $700 billion in annual revenue.
Meanwhile, more than two million Asian Americans and Pacific Islanders have been working on the front lines against COVID-19 in healthcare, law enforcement, first response, transportation and service industries that involve keeping supermarkets operational.
Aside from condemning all forms of discrimination, the bill calls on federal law enforcement officials to "expeditiously investigate" all credible reports of hate crimes and hold perpetrators accountable through prosecution.
Other Asian American senators supporting the resolution are Sen. Tammy Duckworth (D-Ill.) and Sen. Mazie Hirono (D-Hawaii), who previously urged the Department of Justice to take concrete steps to stop the incidence of hate crimes.
Last night President @realDonaldTrump speech notes looked a little different. Chinese was crossed out by hand and an extra paragraph about protecting Asian Americans was taped in. #trumpnotes #trump #CoronavirusPandemic pic.twitter.com/xw9dqti4tG

— Jabin Botsford (@jabinbotsford) March 24, 2020
Trump told Fox News in late March that he would stop using the term "Chinese virus", but he defended his previous usage of the term as a form of retaliation against claims from Chinese officials that U.S. soldiers brought the coronavirus to China.
Meanwhile, some speculations pointed to the coronavirus as originating from a research facility in Wuhan, where COVID-19 first emerged.
Sen. Tom Cotton (R-Ark.), who wants to ban Chinese students from studying advanced science and technology subjects in the U.S., criticized Harris's bill.
"Wuhan is just a city, it's not even a people," Cotton told "Fox and Friends." "I guess she's going to have to call out Lyme disease for being anti-Connecticut or even maybe Legionnaires' disease for being anti-veteran or Zika since Zika is a forest in Africa."
Feature Image via Andrew Harnik-Pool / Getty Images