EXO member Kai revealed he used to rock long hair when he was younger, leading him to some awkward situations in a startling revelation during the third season of the South Korean talk show "Happy Together".
During the Star Golden Bell segment of the talk show, the 23-year-old performer recalled an awkward incident that occurred on his first day at a new elementary school, according to Allkpop.
Kai remembered going to the bathroom with a new friend, who was puzzled when the EXO member went into the men's bathroom because he was donning long locks.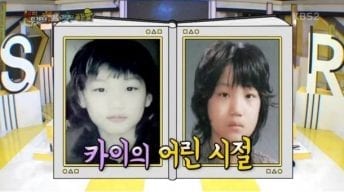 Kai recalled his friend asking him, "Why are you going in there? You have to go there (points at girl's bathroom), this is the men's bathroom."
While his friend might have told him that in jest, the Korean actor explained that his long hair was mostly his mother's preference.
"I used to have long hair when I was younger. My mother liked having me with long hair," Kai added.
The EXO member and the rest of the group will take part in another concert this fall.
According to soompi, EXO will have their fourth solo concert starting on November 24-26. The South Korean-Chinese boy group will be performing their next solo concert at South Korea's largest capacity baseball stadium, the Gocheok Sky Dome, where they became the first group to hold a dome concert back in 2015.