Asian American voters prefer Joe Biden over Donald Trump for November's presidential election, a new survey shows.
Biden, the Democratic presidential nominee, received a 54% favorability, while Trump came behind at 30% (15% responded "don't know," while 1% would vote for "some other candidate").
The survey, which was published on Tuesday, was conducted by Asian American civic groups APIAVote, AAPI Data and Asian Americans Advancing Justice (AAJC).
It interviewed 1,569 registered Chinese, Filipino, Indian, Japanese, Korean and Vietnamese American voters across the country from July 15 to Sept. 10.
Among those ethnic groups, Indian Americans emerged as the most pro-Democratic, with 54% identifying as Democrats and only 16% identifying as Republicans.
On the other hand, Vietnamese Americans were the most pro-GOP group, with 38% identifying as Republicans and 27% identifying as Democrats.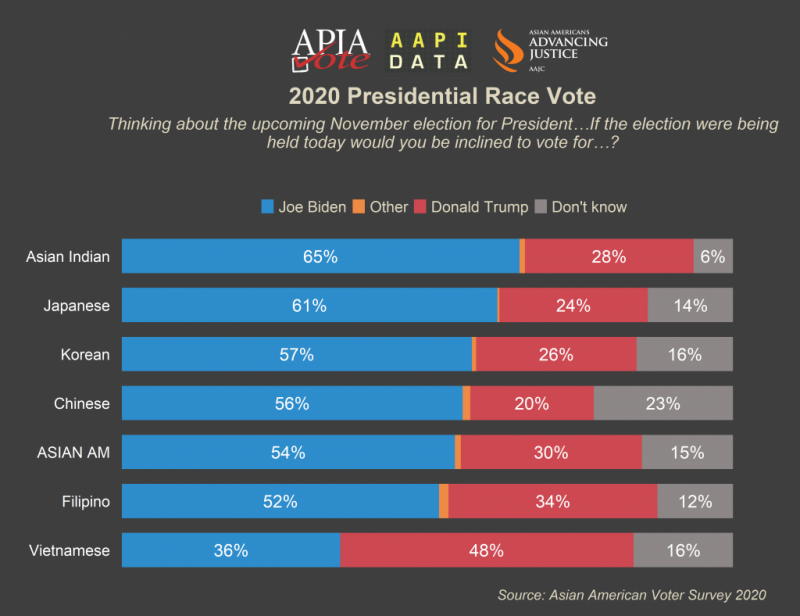 As seen in the survey, all ethnic groups favored Biden except Vietnamese Americans, who preferred Trump (48% vs. 36%).
The majority (46%) of the voters think of themselves as closer to neither Democratic nor Republican parties (33% felt closer to the Democratic party; 21% to the Republican party).
On the subject of issues, the majority (45%) of the voters felt that "racism and racial discrimination" were "extremely important" to keep in mind in the elections (8% answered "not that important").
When asked which of the political parties address racism better, 49% responded Democrats, 18% answered Republicans and 22% said there was no difference.
Trump's gains with Asian-Americans according to APIA and NAAS from 2016:

Vietnamese +15%
Indians +12%
Koreans +8%
Filipino +6%
Japanese +5%
Chinese -15% pic.twitter.com/o4HOM7PzEl

— Ryan James Girdusky (@RyanGirdusky) September 15, 2020
Asian Americans are among the country's fastest-growing voting blocs. Runners of the survey believe that Asian American voters could be critical in battleground states — such as Arizona, North Carolina and Pennsylvania — which are becoming increasingly diverse.
"Our vote is not a lock by any means," said Karthick Ramakrishnan, the head researcher at AAPI Data, according to AsAm News. "I think this just means that the parties and campaigns, including issues campaigns, have to pay attention to our communities."
However, political parties have yet to harness their voting powers. About half of the survey respondents reported that neither Democrats nor Republicans had reached out to them.
Jason Tengco, coalitions chief of staff for the Biden campaign, said they are on it.
"We are not leaving any votes behind, we've put together a strong AAPI outreach program that recognizes the diversity within the AAPI community and we're working every day to earn their vote," he said in a statement, according to the Los Angeles Times.
Feature Images via BBC News