An American journalist was promoted by Chinese state media People's Daily for his "coverage" of the Hong Kong protests, asking protesters about democracy and how Adolf Hitler was put into power by the same form of government.
Jaron Lines, a self-described "documentarian, independent investigative journalist, and diehard researcher" from the U.S., asked a protester in Hong Kong about their demands for democracy, Shanghaiist reported.
"So, you think it would be better because at least if you had democracy, you could vote for whoever you wanted, right?" he said in the video shared by People's Daily on Weibo that has been watched over 10 million times. "Do you know that Adolf Hitler was elected through democracy? Do you know that?"
Confused by the question, the protester failed to answer Lines. The "reporter" then used a Cantonese translation for Hitler and reiterated, "Hitler was actually chosen through democracy."
The only answer the protester could give Lines in the video was, "I don't really know."
He then pressed further and asked, "If Hong Kong had really done 'universal suffrage' how would the democracy guarantee to make Hong Kong any more free? Just because you can vote, it doesn't mean Hong Kong would be more prosperous and civil, does it?"
Although the protester was silenced by Lines' heavy questions, some internet users argue it might be because of the reporter's logic.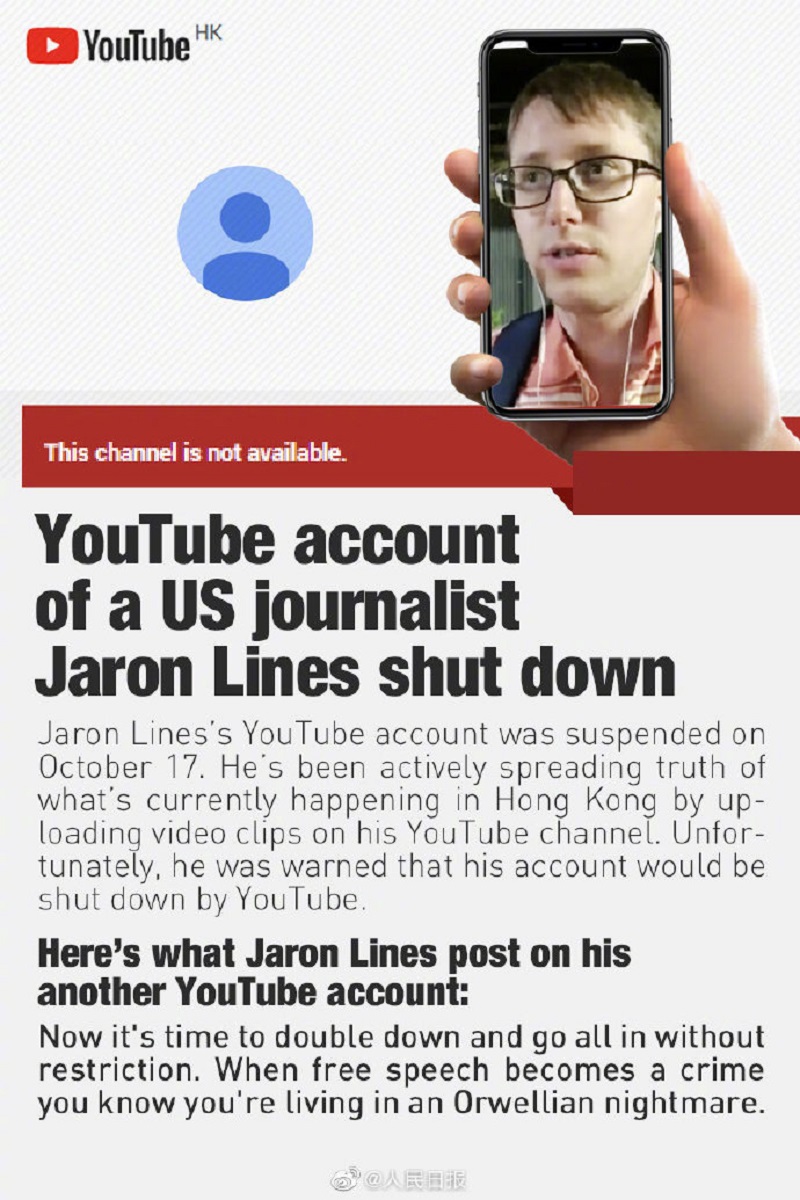 On Friday, People's Daily revealed that Lines' personal YouTube channel has been shut down. The image accompanying the post implies he was suspended for "spreading truth of what's currently happening in Hong Kong."
Even though his first YouTube channel is gone, Lines continues to post his content on BitChute. Upon checking his posts, however, the "reporter's" channel is filled with conspiracy theories about the 9/11 attack, Ben Shapiro, vaccines, Israel, and how Halloween "glorifies demons."
This isn't the first time Lines was featured on Chinese state media. His video was also shared by CGTN last week after he described what's happening in Hong Kong during the months-long protests.
Featured Image Screenshot via YouTube / CGTN (Left), Weibo (Right)