Couples who tie the knot beginning April 2021 will receive up to 600,000 yen (around $5,700) from participating local governments in Japan.
The incentive, which can be used to cover rent and other household costs, is a new support program aimed at improving the country's low birth rate.
Only 865,000 babies were born in Japan last year, a record-low for a nation known in recent years as a "demographic time bomb."
As of July, only 281 municipalities — or 15% of all cities, towns and villages — adopted the program, prompting the central government to step in and shoulder two-thirds of the costs from the next fiscal year in 2021.
To qualify for the program, both spouses must be under 40 on the registered date of their marriage, extending the prior cut-off at 35, according to Kyodo News.
Under the current program, newlyweds under 35 with a combined income of less than 4.8 million yen ($45,700) are eligible for up to 300,000 yen in aid. Next April, couples must be under 40 and have a combined income of less than 5.4 million yen ($51,400) to qualify for a 600,000 yen aid.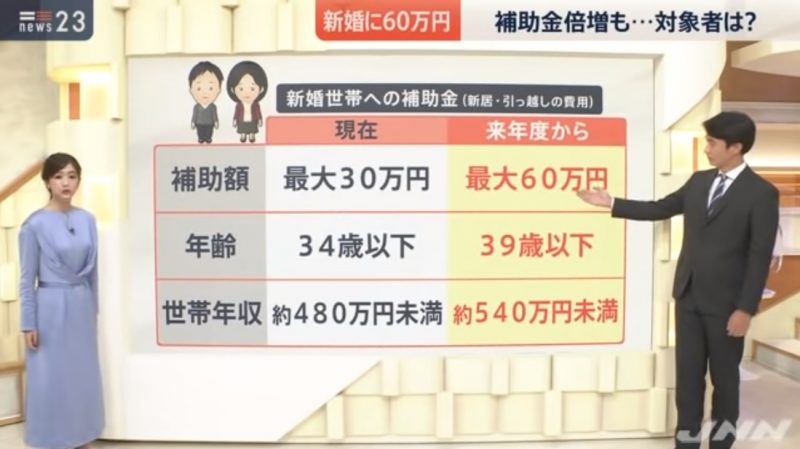 The adjusted policy was reportedly announced on Sunday. Of the 281 municipalities implementing the program, none are from Tokyo.
"This is a mechanism in which the local government and the national government share half of the money to support. There are some local governments that cannot afford it," said Takashi Ryuzaki, a political analyst and professor at Ryutsu Keizai University, according to Livedoor News.
So far, some people have welcomed the changes with excitement.
"I'm very grateful, [that's] 600,000 yen. It will help with living expenses (after marriage)," said one unmarried woman, according to FNN.
Feature Image via Simon Cumming (CC BY-SA 2.0)