Jack Ma, the co-founder of Alibaba, reportedly donated 100 million yuan ($14.4 million) to help scientists develop a cure for the novel coronavirus (2019-nCoV) that has claimed 170 lives in China.
The 55-year-old entrepreneur donated through the Jack Ma Foundation, designating 40 million yuan ($5.8 million) to two government research organizations with the remaining funds to support "prevention and treatment" measures, according to CNN.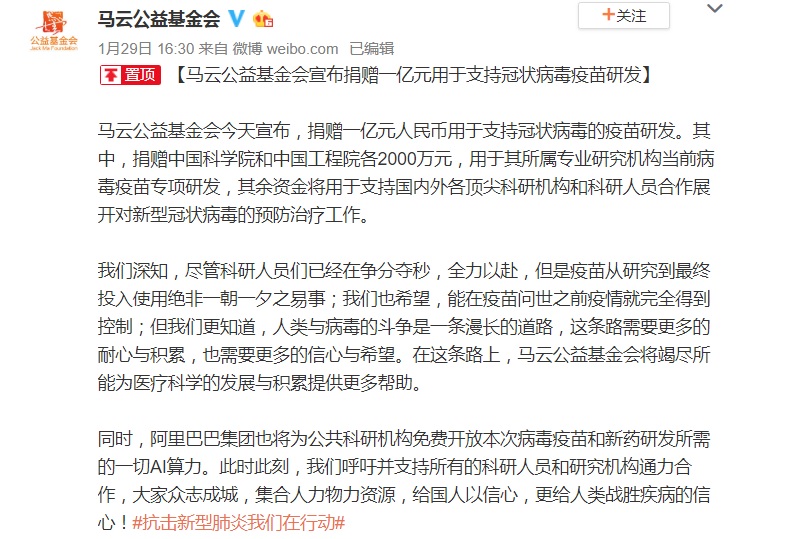 "Jack Ma Foundation will exhaust our abilities to provide more help to the development and growth of medical science," the foundation stated on Weibo, as translated by Daily Mail.
The announcement came just days after Alibaba made a 1 billion yuan ($144 million) donation for medical supplies for hospitals in Wuhan, Hubei province, where the outbreak originated.
Alibaba will also offer free artificial intelligence computing power to scientific research organizations to help them search for a vaccine or treatments.
More than 150 companies have already given a total of 4.5 billion yuan ($649 million) donations to help the national health crisis, Chinese Entrepreneurs Magazine reported.
Some of the companies that made their donations include Tencent, Baidu, Evergrande Group and Huawei.
Feature Image via ITU Pictures (CC BY 2.0)