The Yunnan China Youth Development Foundation successfully launched a public donation campaign for less fortunate children in Yunnan Province after the story of 10-year-old left-behind child Wang Manfu went viral.
After hearing Wang's story, the foundation's office in Zhaotong immediately began soliciting donations for the campaign on Tuesday, promising to give 500 yuan ($77) to each needy child in Yunnan to help them stay warm this winter.
According to statistics from the Yunnan government, eight of the province's 88 towns are living under the poverty line in Zhaotong. In its 2017 data, the city has more than 1.1 million people that are classified as impoverished, including 138,700 students at the primary level, AsiaOne reported.
The organization announced that about 300,000 yuan ($46,350) was collected as of 1 p.m. on Wednesday for the public campaign, and the office raised more than 26,200 yuan ($4,047) by 5:10 p.m., according to their website.
The Zhaotong government also urged the education department of China to ensure that proper heating is provided to all schools in colder, mountainous areas as soon as possible.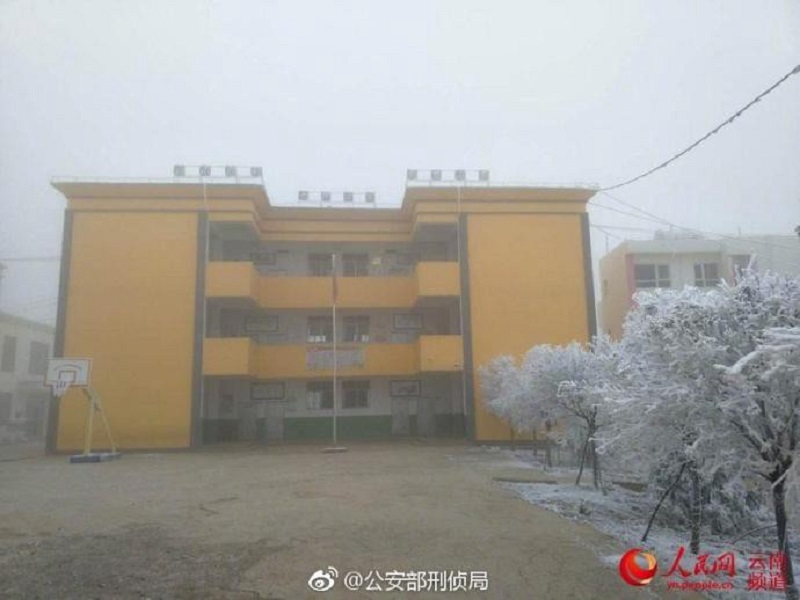 The viral photo of Wang with frozen hair was posted online by Zhuanshanbao Primary School's principal, Fu Heng.
"He arrived with his hair and eyebrows completely frozen, sparking laughter among his 16 classmates," Fu said, earning him the title "Ice Boy" or "Snowflake Boy" given to him by netizens.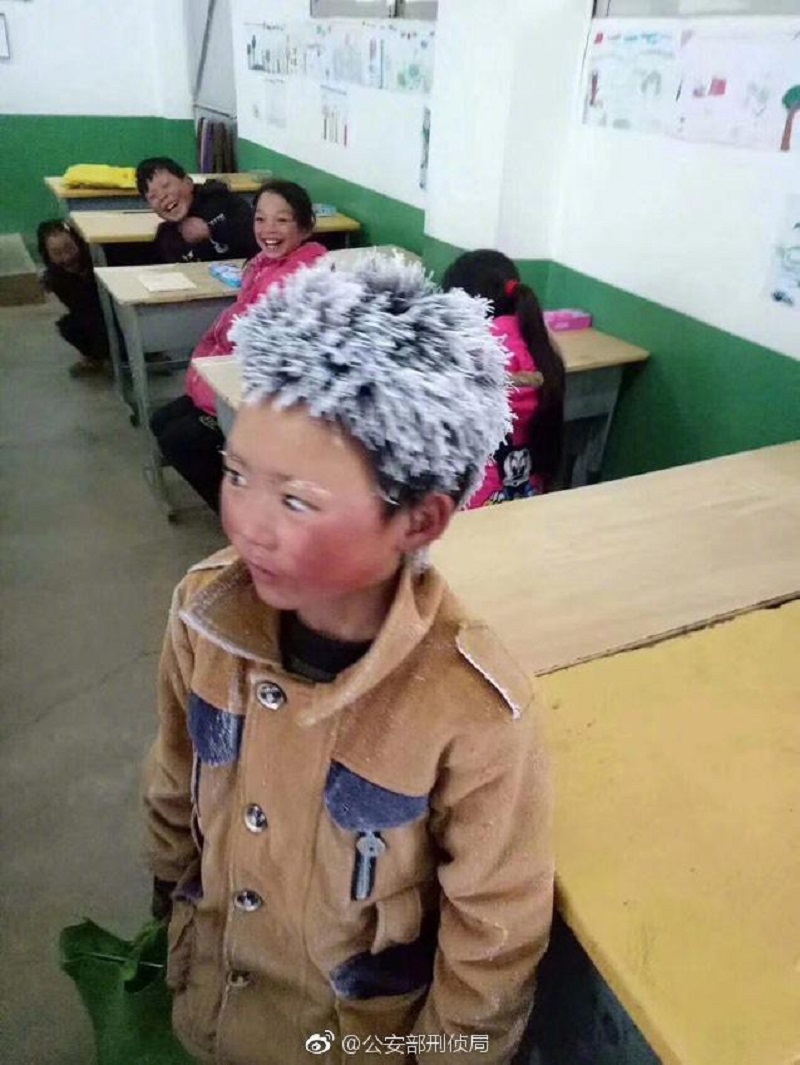 This is the road Wang travels through everyday on his way to school.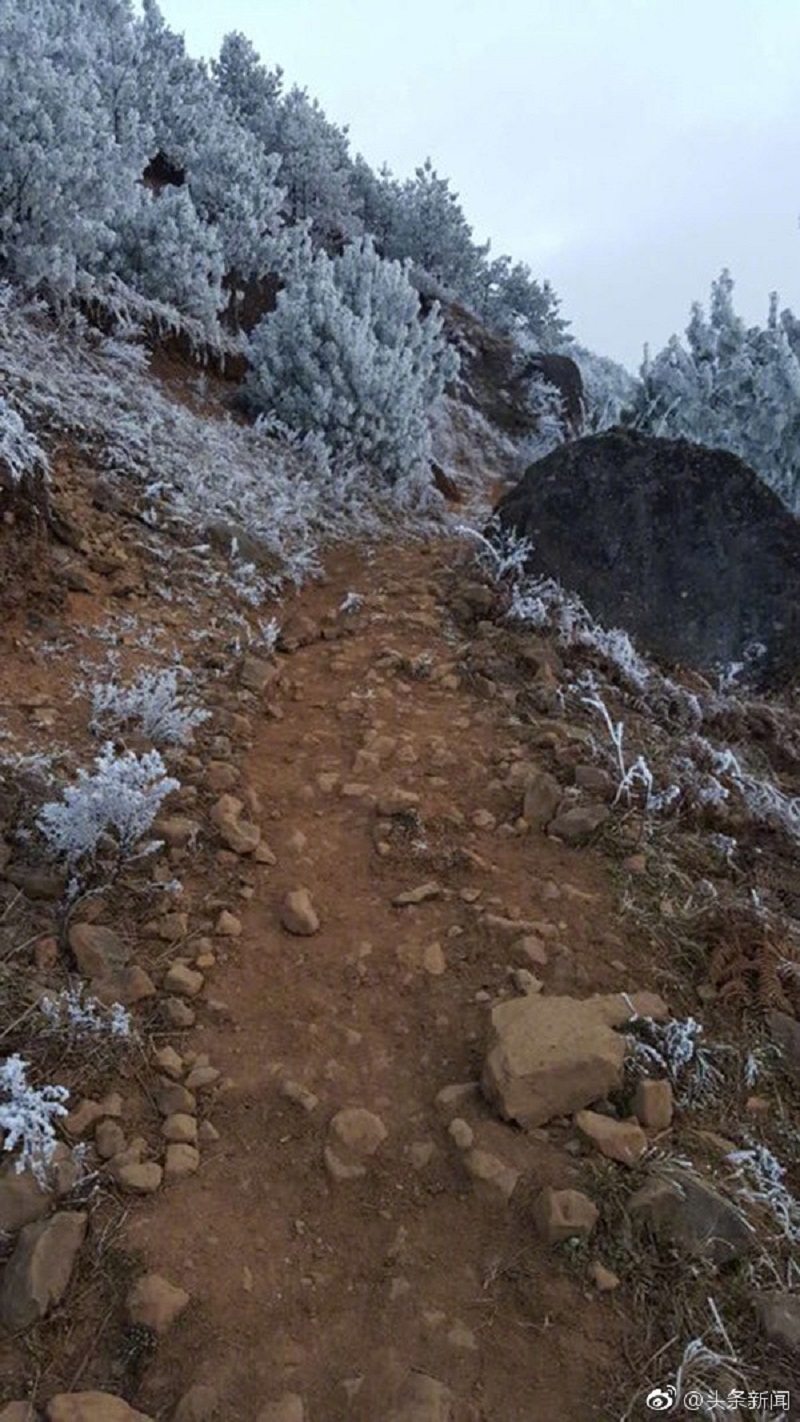 The brave boy walks more than an hour, about 4.5 kilometers (2.8 miles), to school everyday, despite the incredibly cold weather being as low as minus 9 degrees Celsius (16 degrees Fahrenheit).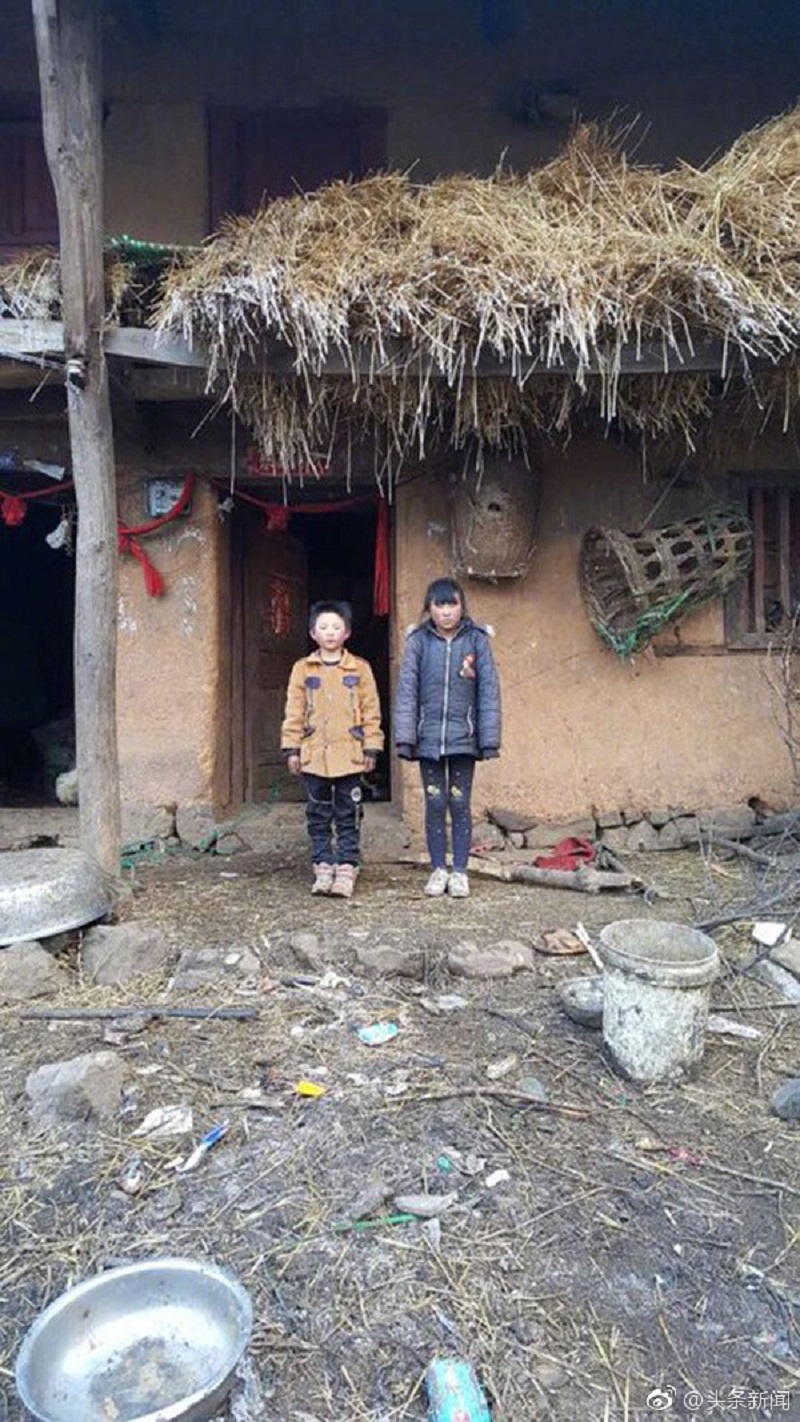 Wang is currently living with his older sister and their sick grandmother, Shanghaiist reported.
His 28-year-old father works as a migrant worker, earning him about 3,000 yuan ($463) per month, in a different province.
While speaking to reporters, the father said that his job allows him to return to his home once every four to five months, and he is able to call home once every week. He returned home to deal with his son's newfound fame. Wang's mother, however, abandoned the family some time ago.
The boy's ambition is to finish school and become a policeman to help catch bad people. His New Year's resolution is to study hard so he can earn money to buy medicine for his grandma.
Wang also said that he wants to visit the country's capital Beijing one day to see what life is like there for students.
"Going to school is cold, but it's not too hard," he said.
Despite all the hardships he has endured, Wang still continues to strive in academics. The picture below shows his frostbitten hands over his test, for which he received a grade of 99/100.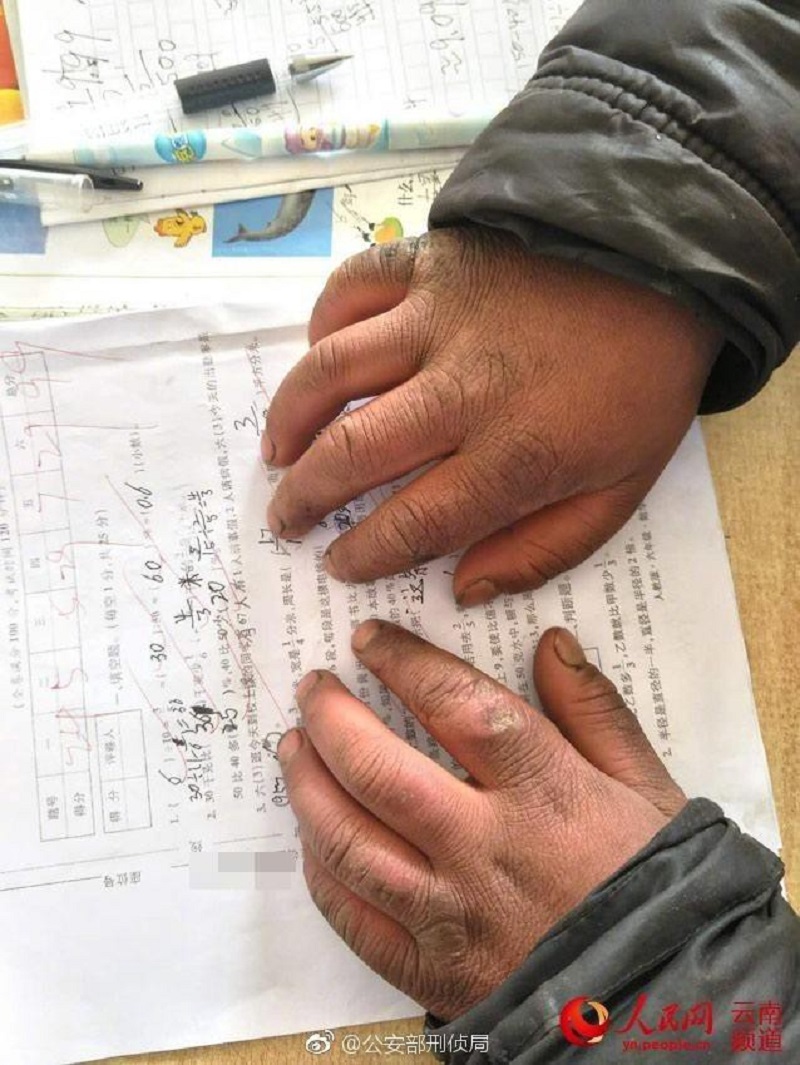 To donate winter clothing to children like Wang in Yunnan Province, you can send items to this address thanks to Weibo users:
"Yunnan Province, Zhaotong City, Ludian County, Xinjie Town, Zhuanshanbao Primary School" (南省昭通市鲁甸县新街镇转山包小学). Postal Code (邮编): 657100.
A bank account for the local youth development foundation has also been set up:
账号 (account number):53001636136051004515,账户 (account name):昭通市青少年发展基金会,开户行 (bank):建行昭通昭阳支行,热线 (hotline):0870–2246511.
Featured Image Shanghaiist via Medium