South Korean police have identified the possible culprit behind a series of gruesome murders that shook the nation in the late 1980s, however, he will not be facing charges. 
Through DNA analysis, authorities identified the "Hwaseong serial killer," a 56-year-old man who allegedly gagged, raped and murdered 10 females aged 13 to 71 in Hwaseong, Gyeonggi province between Sept. 15, 1986 and April 3, 1991.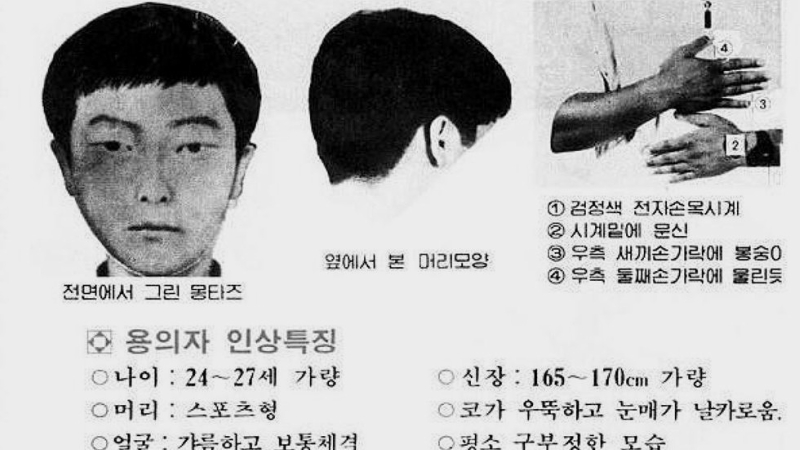 The crimes, which took place in rural villages, are regarded as the most notorious in modern South Korean history, involving more than two million police officers.
The killer, who strangled his victims with their own clothes, also became known as the "Hwaseong Strangler" and inspired many films and TV shows including 2003 film "Memories of Murder," one of the country's most successful movies to date.
The Gyeonggi Nambu Provincial Police Agency confirmed the suspect's identity after the National Forensic Service (NFS) matched DNA from a victim's underwear to his, according to the Korea Times.
So far, he matched three — the fifth, seventh and ninth — out of the 10 unsolved cases, all of which reportedly occurred between 7 p.m. and 11 p.m., except for the first case that took place around 6 a.m.
화성연쇄살인사건 용의자 검거래 pic.twitter.com/yIlVYgQYHK

— 누누 (@kimnunu_) September 18, 2019
Due to the end of the 15-year statute of limitations for his crimes on April 2, 2006, the suspect, however, will no longer be able to face charges.
However, he is not a free man, as he is already serving a life sentence for raping and killing his wife's younger sister, according to KBS.
"I express my deep condolences to the victims and their families, as well as the Korean public, for not having been able to solve this case for a long time," Gyeonggi Nambu Provincial Police Agency officer Ban Gi-soo told AFP, according to the BBC. "We will do our best to discover the truth with a sense of historical responsibility."
'화성연쇄살인사건 30년' 범인은 우리 곁에 있다https://t.co/Nz55DFrlZ6
화성연쇄살인사건이 일어난 지 30년이 됐습니다. 공소시효는 지났지만 우리는 범인추적을 멈출 수가 없습니다. pic.twitter.com/5YUC08xpzP

— 정락인 (@jeongrakin) September 19, 2016
Officials at the jail in Busan holding the suspect described him as a "quiet, model prisoner." He denied involvement in the killings, according to Yonhap News.
One officer said that he seemed just like his usual self. "I heard that even after the police investigation, he was quite calm and didn't show much reaction."
Featured Image via Gyeonggi Nambu Provincial Police Agency