A Hong Kong teenager who was fired upon by police at an anti-ELAB (Extradition Law Amendment Bill) protest earlier this week has been charged with rioting and assaulting an officer.
Tsang Chi-kin, 18, was reportedly shot point-blank in the chest at a demonstration that escalated in Tsuen Wan around 4 p.m. on Tuesday, China's National Day.
#BREAKING: An 18-year-old #antiELAB protester was shot in his left chest in Tsuen Wan at about 5 pm today. Hospital Authority has said that two people are in critical condition, but refuses to confirm if he is one of the patients. This is raw footage filmed by HKU Campus TV. pic.twitter.com/pQ9tnrr2d5

— Ezra Cheung (@ezracheungtoto) October 1, 2019
Footage of the scene shows a group of protesters taking down an officer and beating him with poles.
Seconds later, another officer rushed to assist, pulled out his gun and fired at Tsang, who approached his direction.
same scene from another angle.#China70years #HongKongProtester #HongKongPolice #HongKong pic.twitter.com/KXpvNxojQr

— LO Kin-hei 羅健熙 (@lokinhei) October 1, 2019
By Wednesday, thousands took to the streets to denounce Tsang's shooting, with one declaring "war" at a press conference outside the teenager's school, The Guardian reported.
The 18-year-old, whose heart missed the bullet by 3 centimeters, is now in stable condition following surgery, according to the Hong Kong Free Press.
moment of the firing of the live ammunition close range, slow motion#HongKongProtester #HongKong #China70years pic.twitter.com/BSkbTzbWWD

— LO Kin-hei 羅健熙 (@lokinhei) October 1, 2019
In response, Commissioner of Police Stephen Lo defended the officer's action, calling it "lawful and reasonable" and arguing that the latter had no choice as the lives of his colleagues were under "serious threat," the South China Morning Post reported. 
Additionally, Police Senior Superintendent Yolanda Yu Hoi-Kwan claimed that Tsang was shot in the left shoulder instead, debunking multiple reports claiming that the bullet pierced his left lung.
On Thursday, Tsang, also known by his nickname Tony, was charged with one count of rioting and two counts of assaulting an officer.
According to his lawyer, a judge set his bail at 5,000 Hong Kong dollars ($640) and banned him from leaving the country, Reuters reported.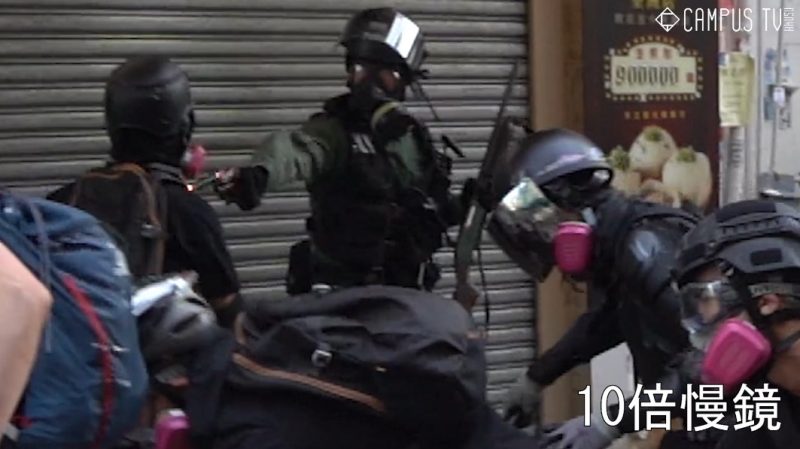 Tsang is the first protester confirmed to have been shot by Hong Kong police since protests against the city's controversial extradition bill erupted in June. Hong Kong Chief Executive Carrie Lam formally withdrew the bill but refused to give in to four other demands of the protesters, which include greater democracy and an independent investigation into police conduct, according to CNN.
If proven guilty, Tsang faces up to 10 years for rioting and two more years for assaulting an officer, NBC News noted. His case was adjourned to Nov. 14, according to The Standard.
Featured Images: Screenshots via Facebook / Campus TV, HKUSU 香港大學學生會校園電視