A photo of an elderly woman in Hong Kong bravely standing between anti-extradition protesters and police has gone viral after a freelance journalist shared the powerful image on Twitter.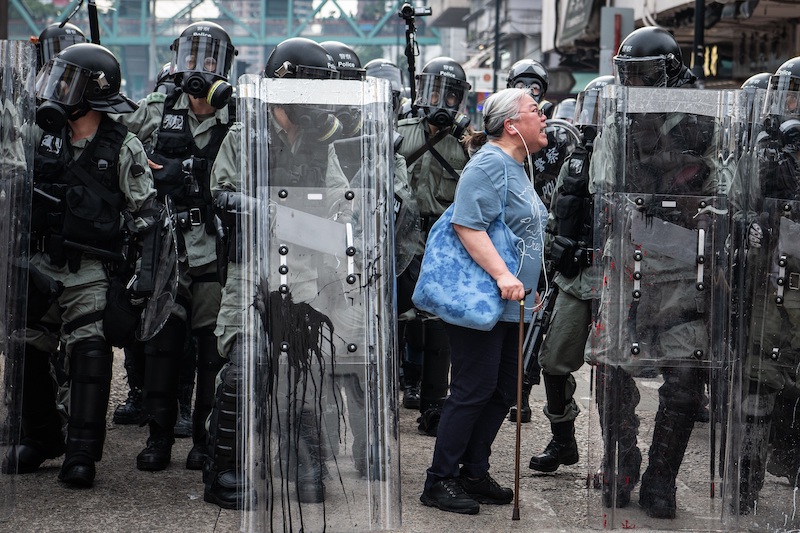 On Sunday, as thousands of young protestors took to the streets in the area of Yuen Long, photographer Laurel Chor captured the woman getting in between the two sides, and demanding riot police not to shoot at the protestors.
Elderly citizen standing in front of the police line to defense #YuenLong demonstrators. She cried and asked riot police not to fire bullet towards youngsters. https://t.co/CoVW5lJUb2 pic.twitter.com/5qtp04dncv

— Joshua Wong 黃之鋒 (@joshuawongcf) July 28, 2019
The photo came in response to Hong Kong activist Joshua Wong's video which was also posted on Sunday.
Chor shared the photo of the elderly woman getting in the police's face, and called her "furious and fearless."
I got this shot of her yesterday. She was furious and fearless. (@GettyImages) https://t.co/FWDTbzYfDg pic.twitter.com/o8y7W6rG8K

— Laurel Chor (@laurelchor) July 28, 2019
According to Shanghaiist, some social media users argued that the video and photo only told one side of the story. One video appears to show the woman shouting at the protestors to leave.
The real video. Complaining about the police? I don't think so. pic.twitter.com/LUJ95s3dUF

— Boi enfurismadíssim (@boi_kstf) July 28, 2019
This video is hurting me
The mama worries young protesters got beaten by police and she wants them to leave.
she is crying "go go" and in the end of the video she said"why our world turn into this?!"
pic.twitter.com/dHzKtn0fVc

— 巴丢草 Badiucao (@badiucao) July 28, 2019
Hong Kong demonstrators compared an old lady to tankman, filming her confronting the police. But here is another segment of the video of her blocking the demonstrators. Obviously she and many Hong Kong people don't want to see escalation of the violence. pic.twitter.com/xlOflDkcwJ

— Hu Xijin 胡锡进 (@HuXijin_GT) July 29, 2019