A 13-year-old girl from Chongqing, China has gone viral after successfully launching her own homework service during the Chinese New Year holiday.
The girl used her mother's e-commerce account without her permission to obtain customers for her homework service, according to SeeHua, as translated by World of Buzz.
The teen was so into her business that she even provided sample work for future clients.
Surprisingly, many people seemed to really like her neat handwriting that orders started flooding in. She has reportedly made more money than a new graduate would earn when starting out.
The girl earned nearly 10,000 yuan ($1,490) during the long break. But her success did not last long.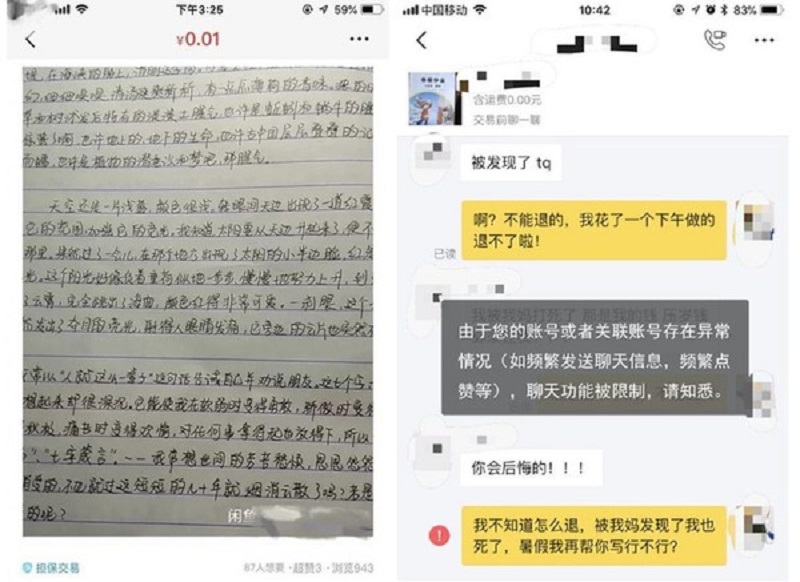 Upon returning to school, a teacher recognized the handwriting on one of her students' assignments. It was later found that other students had their homework done by the girl, prompting the customer to contact her again and demand a refund.
The girl did not oblige to the refund request and explained that she spent a whole afternoon doing the homework. The customer then reported the girl and her account was banned.
Her mother eventually found out what happened and immediately questioned her daughter, who admitted that she had a side business. The furious mother then confiscated her earnings as punishment.
However, the girl did not go down without a fight. She reportedly had zero remorse and argued that she did nothing wrong and that she earned more than what her mother makes.
Featured Image via SeeHua (Left), Flickr / Philip Cohen (CC BY-SA 2.0) (Right)