Celebrity chef Gordon Ramsay has recently taken to Instagram to berate an Asian critic who described his "authentic Asian" restaurant as a "kitchen nightmare."
Food columnist Angela Hui attended the preview night for Ramsay's "Asian Eating House" concept called the Lucky Cat and dished out some unflattering remarks about the event in her article on Eater.
In her post, she noted how she was "the only east Asian person in a room full of 30-40 journalists and chefs."
She also included screenshots of some Instagram posts in which she continued to mock the event.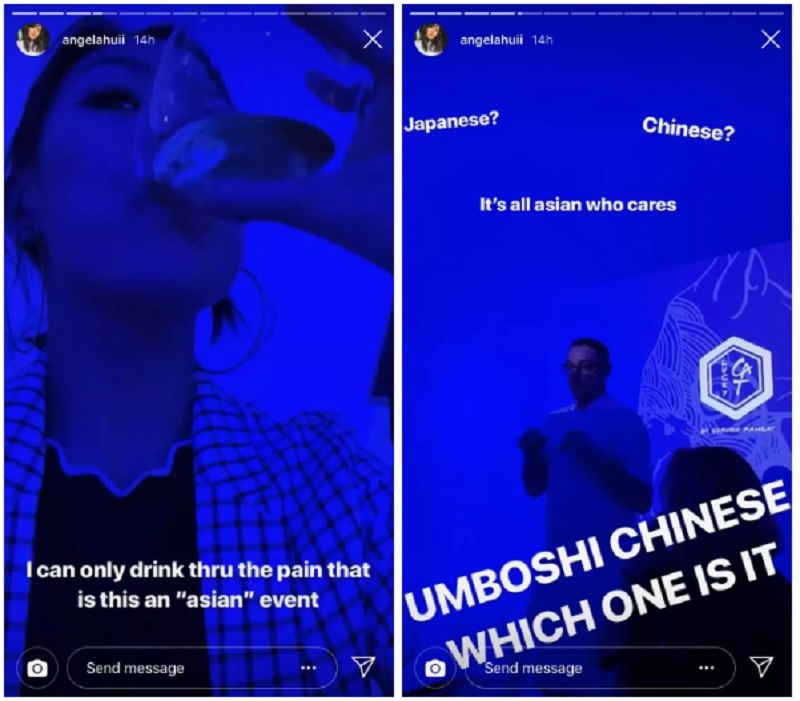 In one image, Hui noted how she could only "drink through the pain that this is an 'Asian' event."
"Japanese? Chinese? It's all Asian, who cares," she observed in another.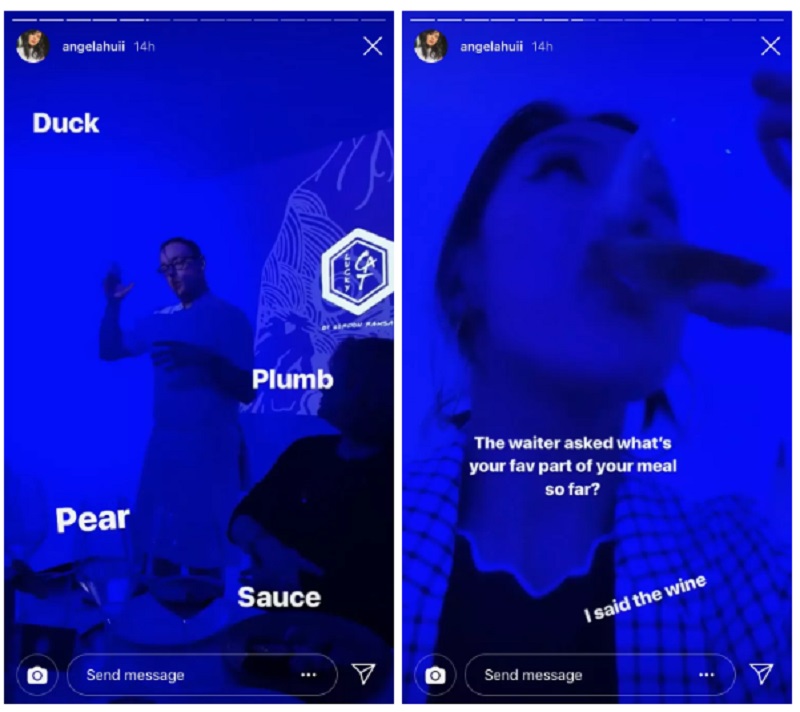 Hui shared how Ramsay touted head chef Ben Orpwood to be "way more qualified and experienced" than him in Asian cuisine as he traveled to South Asia for "many months" for research.
Orpwood is the former head chef of Ramsay's restaurant in Mayfair, west London which Lucky Cat is set to replace this summer.
Ramsay then responded by singling out Hui in a fiery rebuke via a long Instagram post.
"Despite the very positive feedback from guests, there was, regrettably, one offensive response from the night which I have to call out. "
According to the British restaurateur, Hui lacked professionalism and integrity as her criticisms were derogatory and offensive.
Ramsay said Hui was being "personal and hugely disrespectful" when she referred to Orpwood's wife as a "token Asian wife."
View this post on Instagram
Lucky Cat, which has been touted as an "authentic Asian eating house and vibrant late-night lounge, inspired by the drinking dens of 1930s Tokyo and the Far East," has been accused of cultural appropriation by netizens when it was first announced.
In his post, Ramsay described the event as "a warm, buzzing and brilliant night to celebrate what has been a long-time vision for me."
"Gordon Ramsay Restaurants do not discriminate based on gender, race or beliefs and we do not expect anyone else to," he wrote.
"Critics and reviewers have an important job to do, and it's important that they are independent and have freedom of speech. However, the slew of derogatory and offensive social media posts that appeared on Angela Hui's social channels were not professional."
Netizens soon weighed in on the issue with some of Ramsay's followers condemning her for the critique: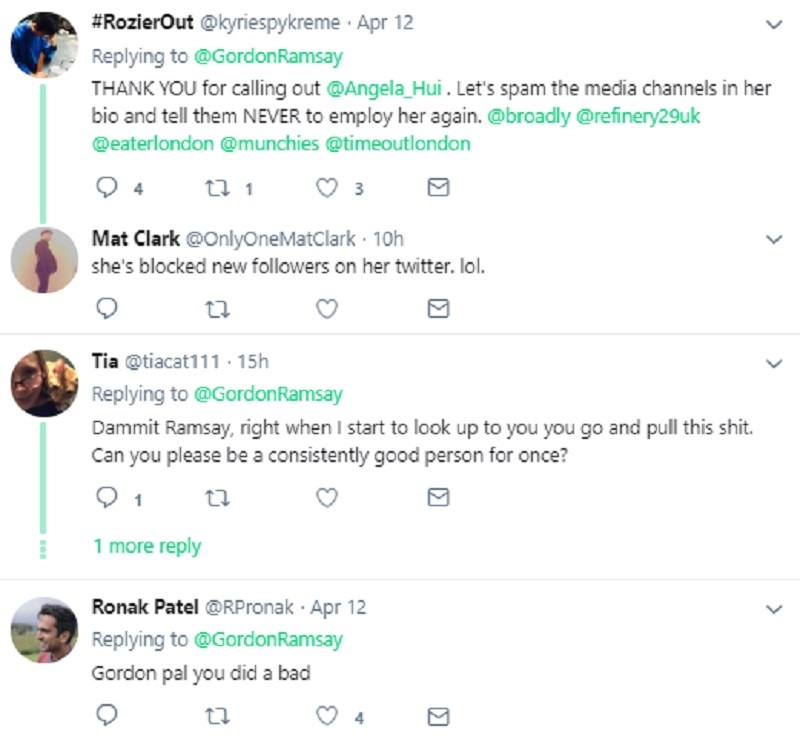 Others, however, pointed out that it was only right for Hui to call his restaurant out for cultural appropriation.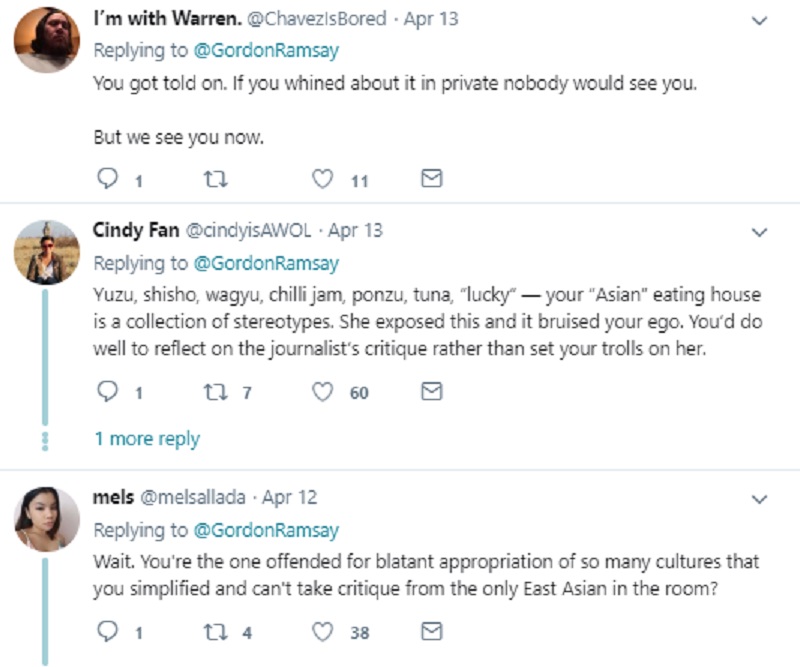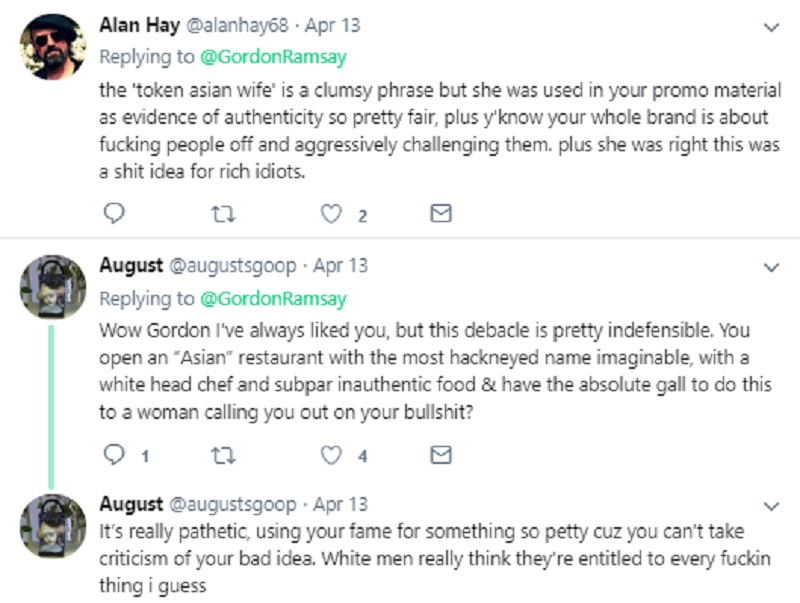 Featured image via Instagram/gordongram