Gold House has announced multiple ventures toward representation, economic investment and individual empowerment in time for the Asian American and Pacific Islander Heritage Month.
The nonprofit, a premier collective of Asian and Pacific Islander (API) cultural leaders, was founded in 2018 to unify the community and enable "more authentic multicultural representation and societal equity."
Representation: Gold House has revealed its 2021 A100 List, which recognizes the 100 most impactful API leaders of the past year.
The list's categories include (1) Activism, Advocacy and Politics, (2) Business and Finance, (3) Entertainment, (4) Lifestyle, (5) Media and Journalism, (6) Sports and Health and (7) Technology and Innovation.

It also highlights A1 Honorees, or the most impactful APIs for each category: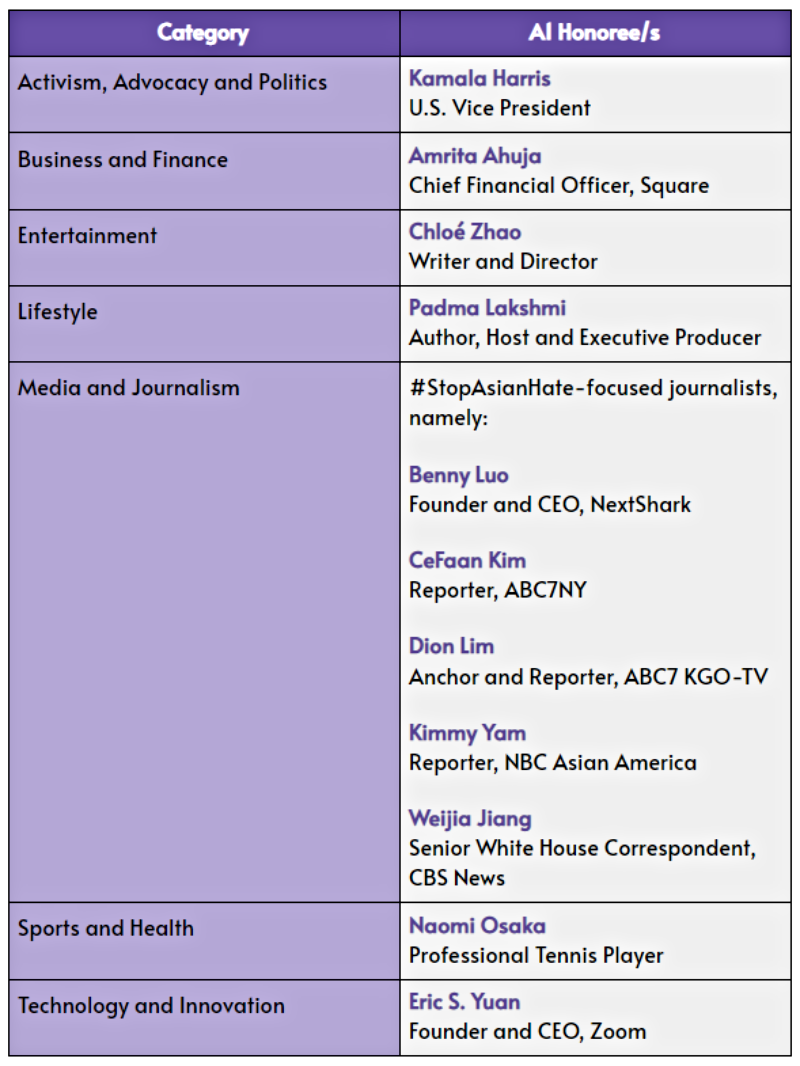 A100 Honorees are voted on through a rigorous process with a panel of multicultural icons — including actress-singer Lea Salonga, Mastercard Executive Chairman Ajay Banga, Panda Express Co-CEOs Andrew and Peggy Cherng, multi-hyphenate Michael B. Jordan, Disney Executive Chairman Bob Iger and GLAAD CEO Sarah Kate Ellistop, among others — top API groups and hundreds of Gold House members.

For the first time, those who have made it to the A100 List more than twice — including Awkwafina, BTS, Dwayne Johnson, Grace Meng, Michelle Lee, Prabal Gurung, Priyanka Chopra and Steven Yeun — will be inducted into the Hall of Fame, a continual tribute to their indelible contributions.

To further fete the honorees, Gold House will host several Future Town Halls with Facebook in mid-May that explores women-led businesses, representation and cross-cultural solidarity.

"Recognizing the achievements of the AAPI community couldn't be more timely than right now. The tragic events of the recent past only serve to underscore the need to celebrate the many ways Asian Americans contribute to our country and the world," says A100 Icon Judge Daniel Dae Kim.

Amazon Music and IMDb are also partnering with Gold House, Pacific Bridge Arts Foundation (PBA) and Transparent Arts to present the 2021 Identity Festival, which will stream live on May 15 at 5 p.m. PST on

Amazon Music's Twitch channel

. Performers include Dumbfoundead, Karen Fukuhara, James Reid, Yuna and Steve Aoki, to name a few.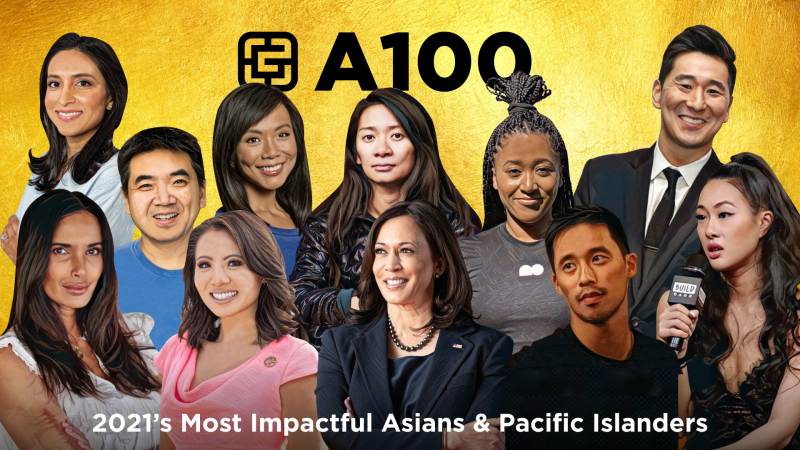 Economic Investments: Asian-owned businesses suffered the most from COVID-19 through the end of 2020, according to a study by Robert W. Fairlie, an economics professor at the University of California, Santa Cruz. Gold House has several initiatives to help API entrepreneurs recover.
Gold House's nation-leading founder accelerator, Gold Rush, will debut its fourth signature sale (called "Asian Prime Day") from May 17-31 at

GoldRush.Market

in partnership with Facebook. Here, consumers can support API-led small businesses.

The newest accelerator class will also engage in a new women's programming track, courtesy of Endowed Chair, Julia Gouw (Chairwoman of Piermont Bank), to address

Asian women being the least likely to be promoted to management

, as well as an intimate founder-investor matchmaking showcase powered by BMW.

The nonprofit also launches its Future Network to create pathways for API filmmakers, actors, musicians, fashion designers and founders. These pathways include career-defining opportunities with major industry partners and world-class mentoring.

"On the shoulders of established leaders and activists who we celebrate today, it's time to send the elevator down to invest in even more socioeconomic opportunities for our communities," Gold House President Bing Chen says. "When things get tough, we get tougher; we're here— and we're here to last."
5K donors 👫🏽👭🏻🧑‍🤝‍🧑
from 40+ different countries 🌏
$700K raised and counting 💸

Help #StopAsianHate by supporting the AAPI Community Relief Fund: https://t.co/MWFLayvaZE pic.twitter.com/rKYLmguPmN

— GoFundMe (@gofundme) March 11, 2021
Individual Empowerment: In partnership with GoFundMe, Gold House has raised nearly $6 million for local grassroots organizations devoted to restorative justice and millions more to victims of anti-Asian attacks. The nonprofit is expanding its empowerment agenda on raising awareness on COVID-19 vaccines.
Gold House will support the U.S. Health and Human Services (HHS) campaign

"We Can Do This,"

which provides accessible knowledge about COVID-19 vaccines as communities reopen. The nonprofit will run educational campaigns with API communities that have been historically omitted due to language barriers or lack of healthcare access.

In collaboration with Asian American Futures, a nonprofit led by philanthropists and community leaders, Gold House will launch a new annual Gold Futures Grants Challenge, which will "increase and democratize philanthropy by engaging the public in funding projects that help AAPIs be Seen, Heard and Empowered."

"Our hope in launching the Gold Futures Grants Challenge is to inspire philanthropic giving, volunteerism, and social innovation among younger generations of AAPI," says AAF Board Co-Chair Joanna Kong. "Through our website, the public will be able to learn about and get involved with local and national projects that will help create a better and brighter future for AAPIs.

Organizations can now apply at

www.goldfutureschallenge.org

.
The full list of the 2021 A100 Honorees and Selection Committee can be found at goldhouse.org/a100.
Founders, leaders and creative voices can apply to become Gold House members at goldhouse.org/members.
Featured Image via Gold House