FuseTV's K-pop podcast, K-Stop, has been cancelled following the controversy surrounding their most recent episode. The news comes in a two-part post to both Instagram and Twitter by one of the former hosts, Jeff Benjamin.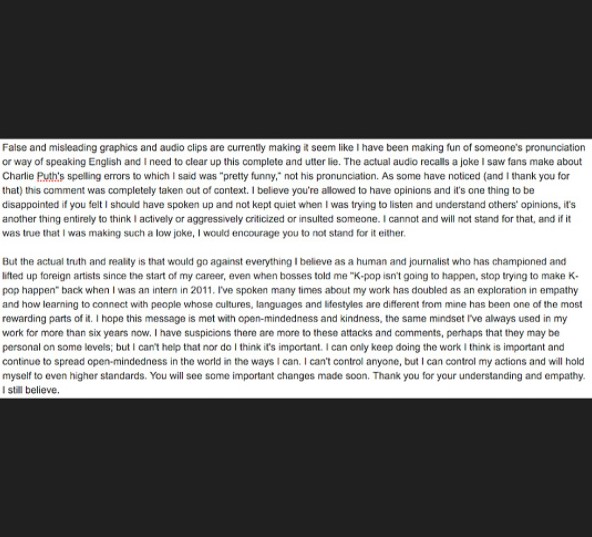 — Jeff Benjamin (@Jeff__Benjamin) September 24, 2017
"False and misleading graphics and audio clips are currently making it seem like I have been making fun of someone's pronunciation or way of speaking English and I need to clear up this complete and utter lie. The actual audio recalls a joke I saw fans make about Charlie Puth's spelling errors to which I said was 'pretty funny,' not his pronunciation. As some have noticed (and I thank you for that), this comment was completely taken out of context.
"I believe you're allowed to have opinions and it's one thing to be disappointed if you felt I should have spoken up and not kept quiet when I was trying to listen and understand others' opinions, it's another thing entirely to think I actively or aggressively criticized or insulted someone. I cannot and will not stand for that, and if it was true that I was making such a low joke, I would encourage you to not stand for it either.
"But the actual truth and reality is that would go against everything I believe as a human and journalist who has championed and lifted up foreign artists since the start of my career, even when bosses told me 'K-pop isn't going to happen, stop trying to make K-pop happen' back when I was an intern in 2011. I've spoken many times about my work has doubled as an exploration in empathy and how learning to connect with people whose cultures, languages and lifestyles are different from mine has been one of the most rewarding parts of it. I hope this message is met with open-mindedness and kindness, the same mindset I've always used in my work for more than six years now.
"I have suspicious there are more to these attacks and comments, perhaps that they may be personal on some levels; but I can't help that nor do I think it's important. I can only keep doing the work I think is important and continue to spread open-mindedness in the world in the ways I can. I can't control anyone, bit I can control my actions and will hold myself to even higher standards. You will see some important changes made soon. Thank you for your understanding and empathy. I still believe.
"Before other news comes, I want to make an important announcement: After hearing from offended fans, I thought and reflected deeply about what had happened and what was the right response. I contacted my higher-ups to suggest the right thing to do would be to cancel the podcast in response. After very serious talks between all involved, we've made the decision to cancel the podcast immediately. I am sorry to anyone who was offended by my colleagues' words as well as my own lack of immediate response.
"I hope it is not mistaken the tremendous amount of respect I have for K-pop artists and their fans. I've always liked to believe that fans trust me because of my long history being passionate and fighting for K-pop's representation in mainstream media, and my work that always strives to give this music scene the serious respect it deserves. I think BTS and GFriend are incredibly, unmistakably talented artists — artists who I've written multiple in-depth pieces about — and I love intereacting with you all to discuss them. I want to take actions to show that I deserve that trust. I'm looking forward to continuing to covering K-pop and hearing from all of you. Passion and love are so important. Thank you for reading."
Netizens reacted to his apology and the show's cancellation:
I've been in similar situations, I know how hard it is, you may have made mistakes but you're owning up to then and that's all I need. 💖💖

— Lilly (@is_bts_trash) September 24, 2017
Thank you Jeff. I accept your apology as an individual. I can't say how others will feel, but know that a lot of us appreciate the articles

— ↼Gᴇɴᴏs⇁STREAM DNA (@osirianrose) September 24, 2017
Let me clarify: I only mean that I don't hold you responsible for those women's behavior.

— Sorry Bae Bae (@Sorry_Bae_Bae) September 24, 2017
this is all that I needed to hear, personally. thankyou Jeff. although cancelling was drastic, you did a good thing. have a good day.

— rennie (@yoblessingz) September 24, 2017
you're okay but what about the girls who legit SAID EVERYTHING. when are they gonna apologize/maybe get fired for not being professional

— stan_royalty👑 (@liesjehvj24) September 24, 2017
They are the ones who made the comments. But one of them apologized then deleted it, and the other girl doesn't even care.

— isa 👀 (@gryffinwhore) September 24, 2017
@hey_tinaaa @brookeebunce we're waiting .. pic.twitter.com/Dx43Qk7bXz

— MinHo's View 😻 (@KissMyBlackJack) September 24, 2017
Tina Xu and Brooke Bunce, the ones who made the inflammatory comments, have yet to respond to the cancellation, although it does appear that Xu has possibly responded to the incident in a vague tweet…
lol y'all funny

— tina 💁🏻 (@hey_tinaaa) September 22, 2017
…as evidenced by the replies she received for it:
— rose| check 📌 (@jinflowerprince) September 22, 2017
You should just own up to what you did and fucking apologize. Or is your pride keeping you from doing that? pic.twitter.com/JfqfGKuN9f

— 래일라[Layla]💜 (@HopeSunshineJ) September 23, 2017
🐍🐍🐍🐍🐍🐍🐍🐍🐍🐍🐍🐍🐍🐍🐍🐍🐍🐍🐍🐍🐍🐍🐍🐍🐍🐍🐍🐍🐍🐍🐍🐍🐍

— Thay loves bts (@baekho_kn) September 22, 2017
— BTS❤~~~ Esha (@jungshook_jin) September 22, 2017
— Joonie's Flower 💐💙 (@joooniebee) September 22, 2017
— Kaiya ☀︎ (@MakaiyaGriffin) September 23, 2017
No word on whether or not the two will comment on the podcast's cancellation.
Feature Image via Instagram / bts.bighitofficial