A woman is now under fire after she was caught on video showering a nail technician in Lutz, Florida with incredibly racist and insensitive comments.
On Saturday, Facebook user Robin L. Roether posted a couple of videos online that are believed to have been taken by her friend at Bali Nail Spa.
In the first video, the unidentified woman can be seen verbally harassing the Vietnamese nail tech after getting some services done and supposedly refusing to pay for them — even going as low as to tell them to go back to their own country.
She can also be heard at a later part of the video boasting on how she is dating a channel 13 news advisor but failed to name the person she's in a relationship with.
The second video, however, is much worse than first. In the beginning of the clip, this woman told the Vietnamese nail tech: "I really suggest that you should learn to English."
She then followed it up with: "don't move to America unless you know English, okay?"
The nail tech, while keeping her calm, couldn't help but call the arrogant woman nasty. However, she replied with even more offensive remarks about her and her language.
"You sound nasty. Your language sounds nasty," she said, adding that, "it actually sounds like you were born out of a f***ing hermit crab."
"It's a gross language."
During this exchange, the woman taking the video asked her nail tech if this arrogant woman is drunk, to which the female spa worker gestured that she is intoxicated.
Eventually, the woman filming the whole thing had had enough. She joined in and defended the Vietnamese spa worker from this horrible person.
"Ma'am, I have to say I think you are being pretty nasty," the woman told the condescending customer. "I don't give a s**t how long you've been here," she replied after being told that the racist woman has been going to that nail spa for a year.
Towards the end of the video, a minute before it abruptly ends, the woman dropped her phone and presumably rushed to the racist customer, as verbal exchange between the two can be heard in the background.
Netizens were shocked by the exchange: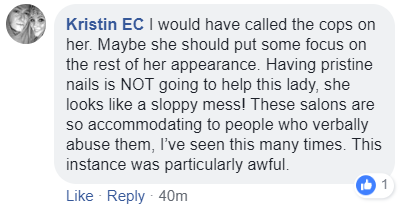 Featured image via Facebook / Robin L. Roether