Fashion house Dolce & Gabbana was reportedly forced to cancel their Shanghai show after releasing ads that featured an Asian model helplessly trying to eat Italian food with chopsticks.
The "instructional" ads, which have now been deleted, targeted the Chinese market for the brand's latest "DG Loves China" campaign; one which has already faced controversy for racism in the past.
In clips posted on D&G's Instagram, a model is seen struggling as she attempts to eat a pizza, cannoli, and spaghetti using a pair of chopsticks.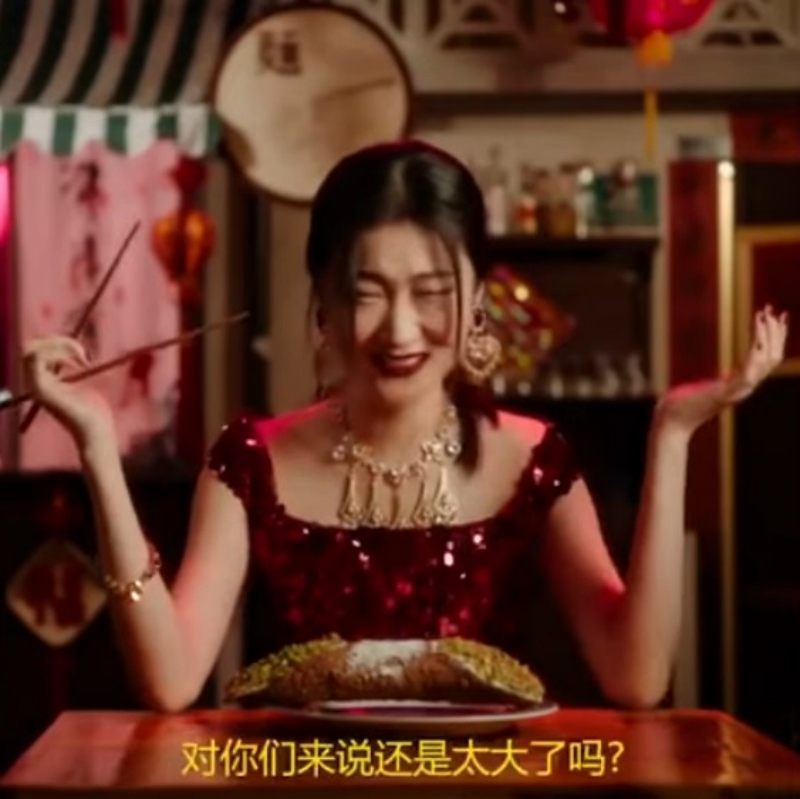 Throughout the clips, a Chinese-speaking narrator is heard teaching the model how to go about eating the meals.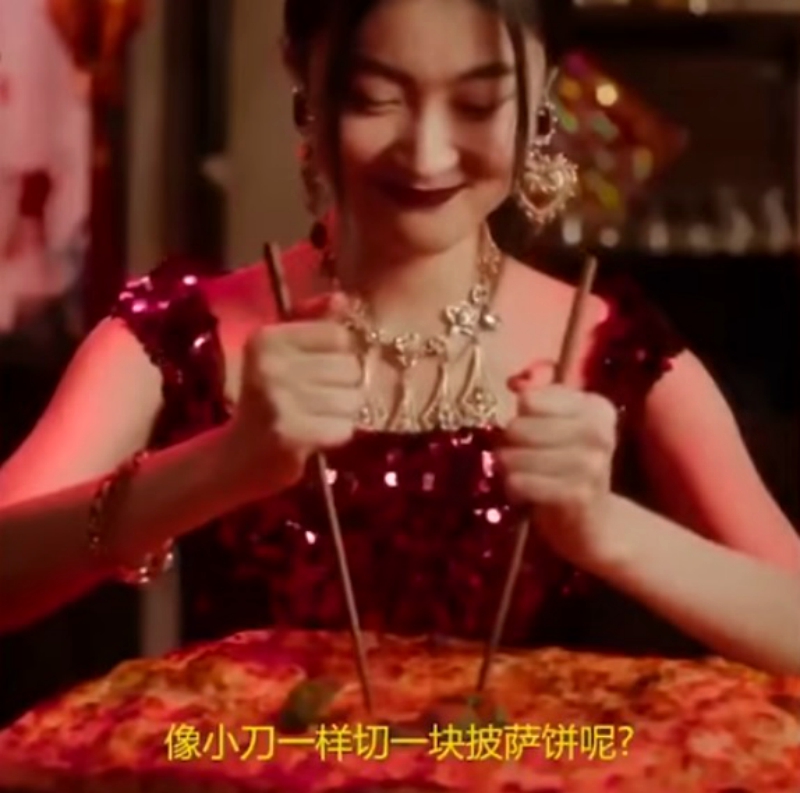 "Finally we have a food with a size that won't make you not know how to handle," the narrator says about the large cannoli. "Or is it still too big for you?"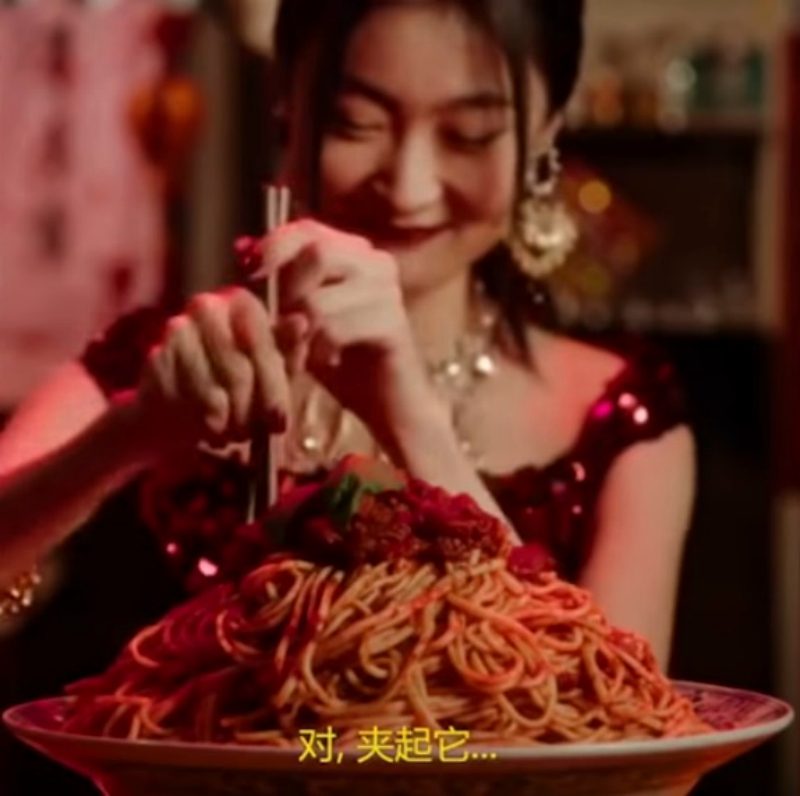 The ads immediately triggered backlash over their outdated stereotyping of Chinese people.
Diet Prada, an Instagram account that covers fashion issues and controversies, criticized D&G's campaign, posting a video of the ad in question to their page.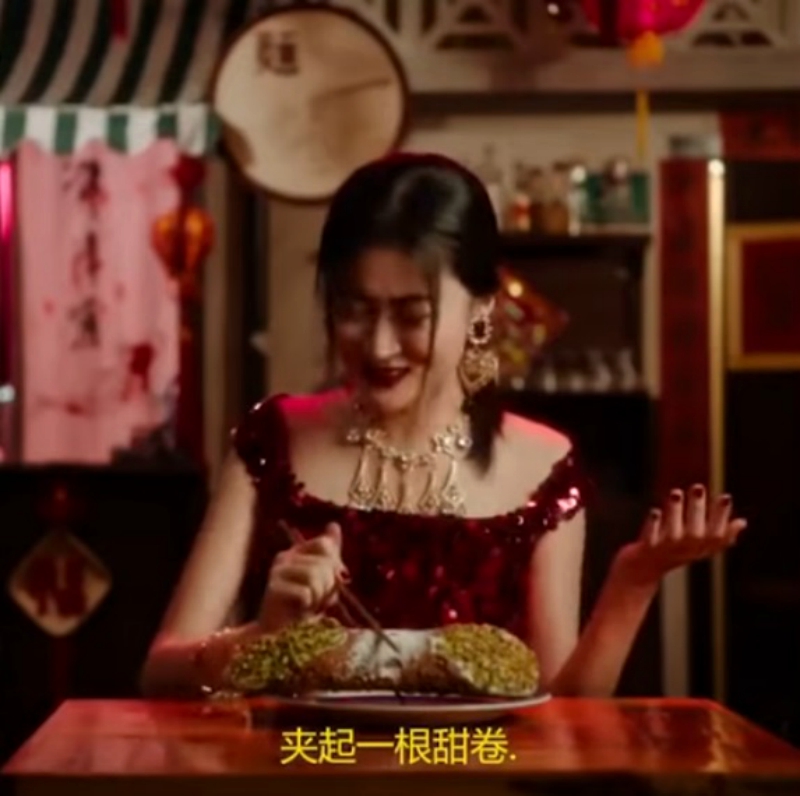 "#DGlovesChina ? More like #DGdesperateforthatChineseRMB lol," begun Diet Prada's post.
"Pandering at it's finest, but taken up a notch by painting their target demographic as a tired and false stereotype of a people lacking refinement/culture to understand how to eat foreign foods and an over-the-top embellishment of cliché ambient music, comical pronunciations of foreign names/words, and Chinese subtitles (English added by us), which begs the question—who is this video actually for?"
The account also exposed a disturbing conversation between Gabbana and Instagram user Michaela Tranova, which shows the Italian designer calling China "the country of sh*t."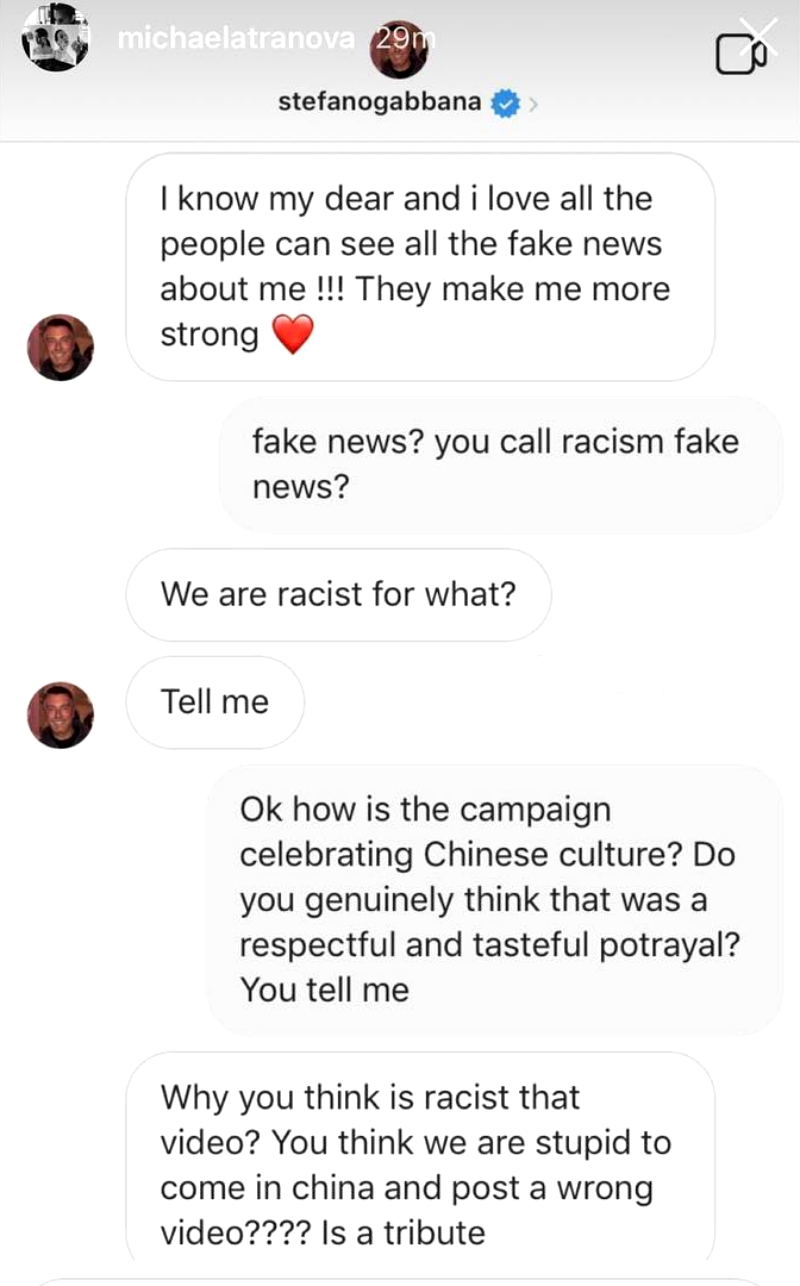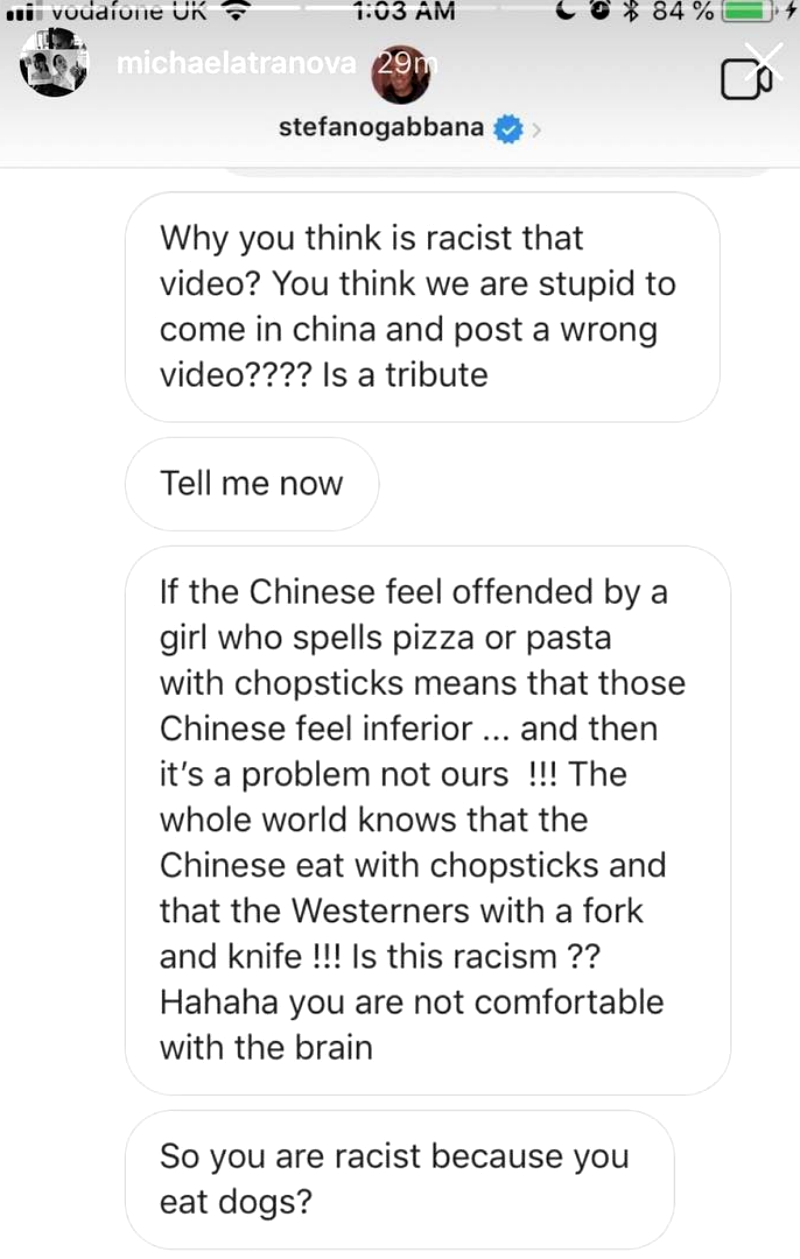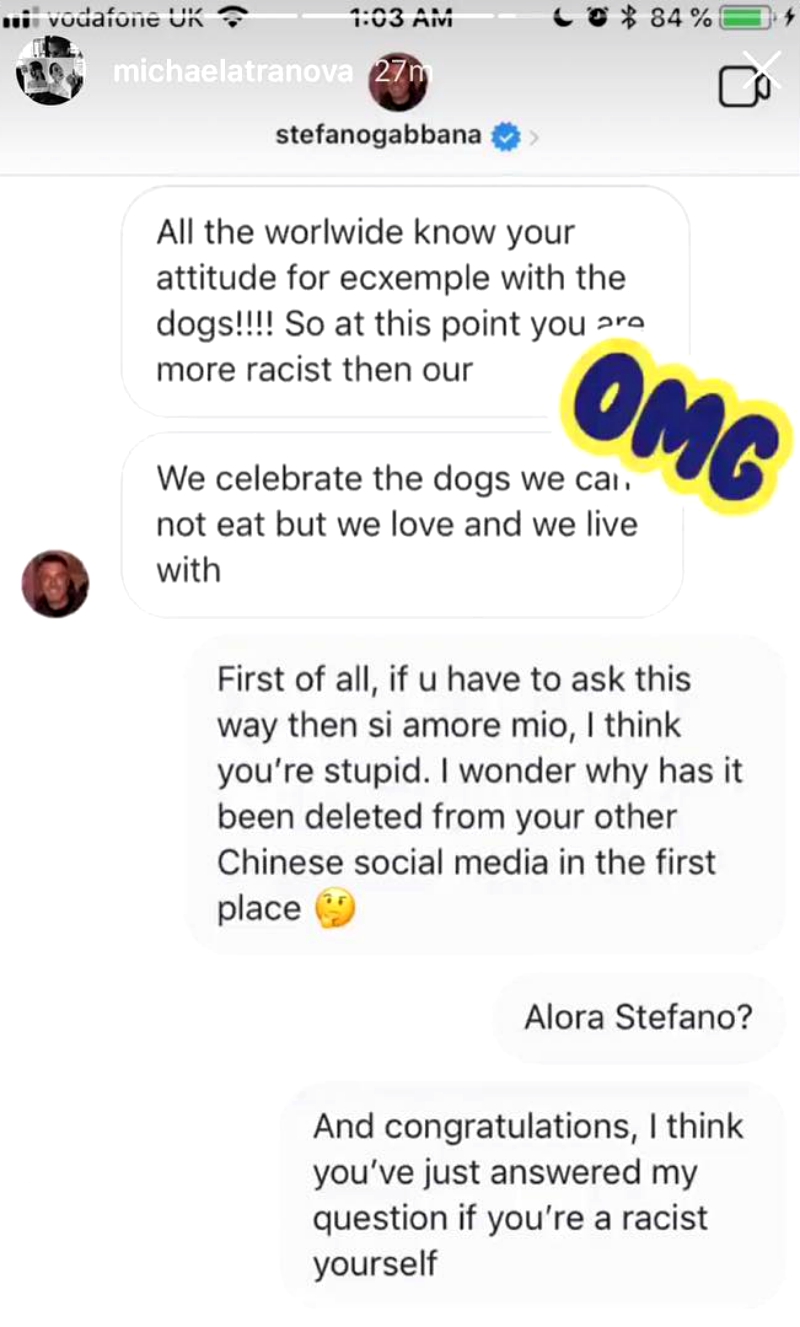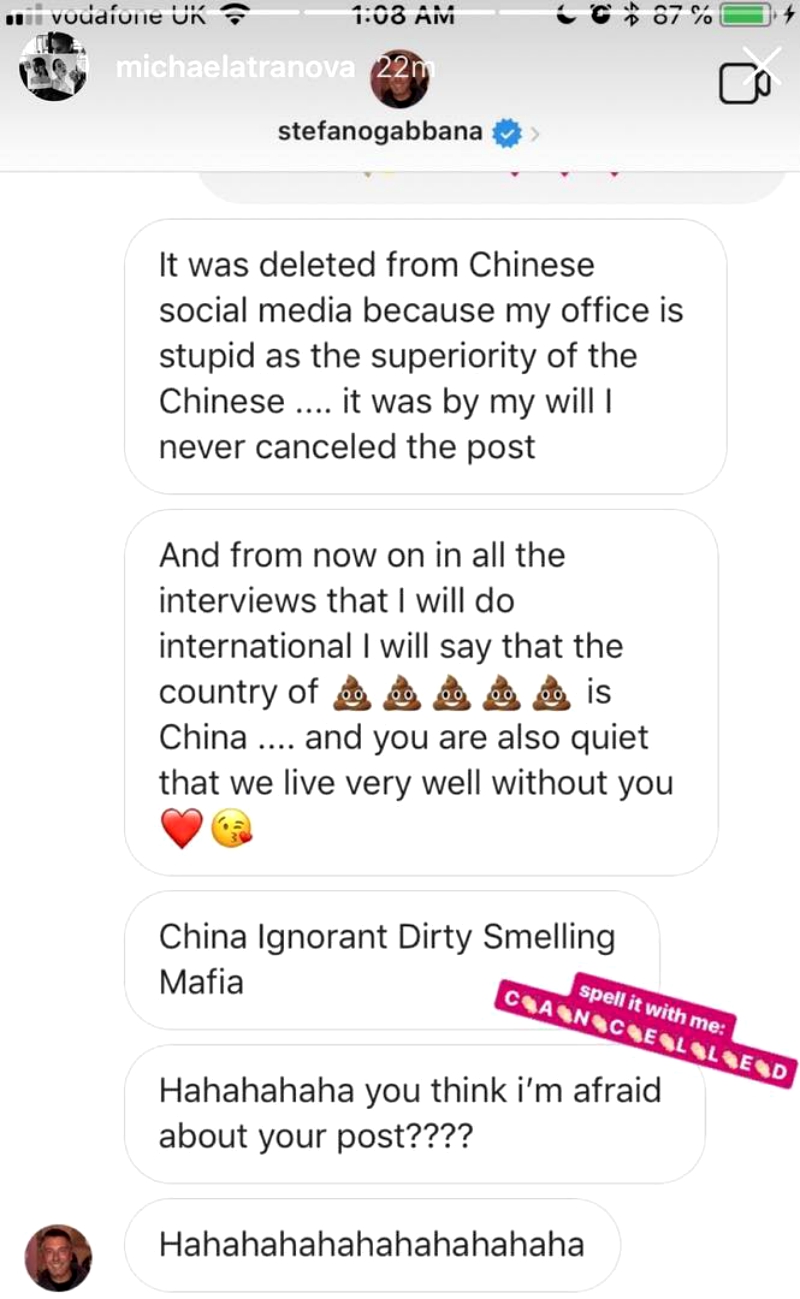 Diet Prada also revealed Chinese celebrities dropping out of D&G's fashion show which was scheduled on Nov. 21 in Shanghai.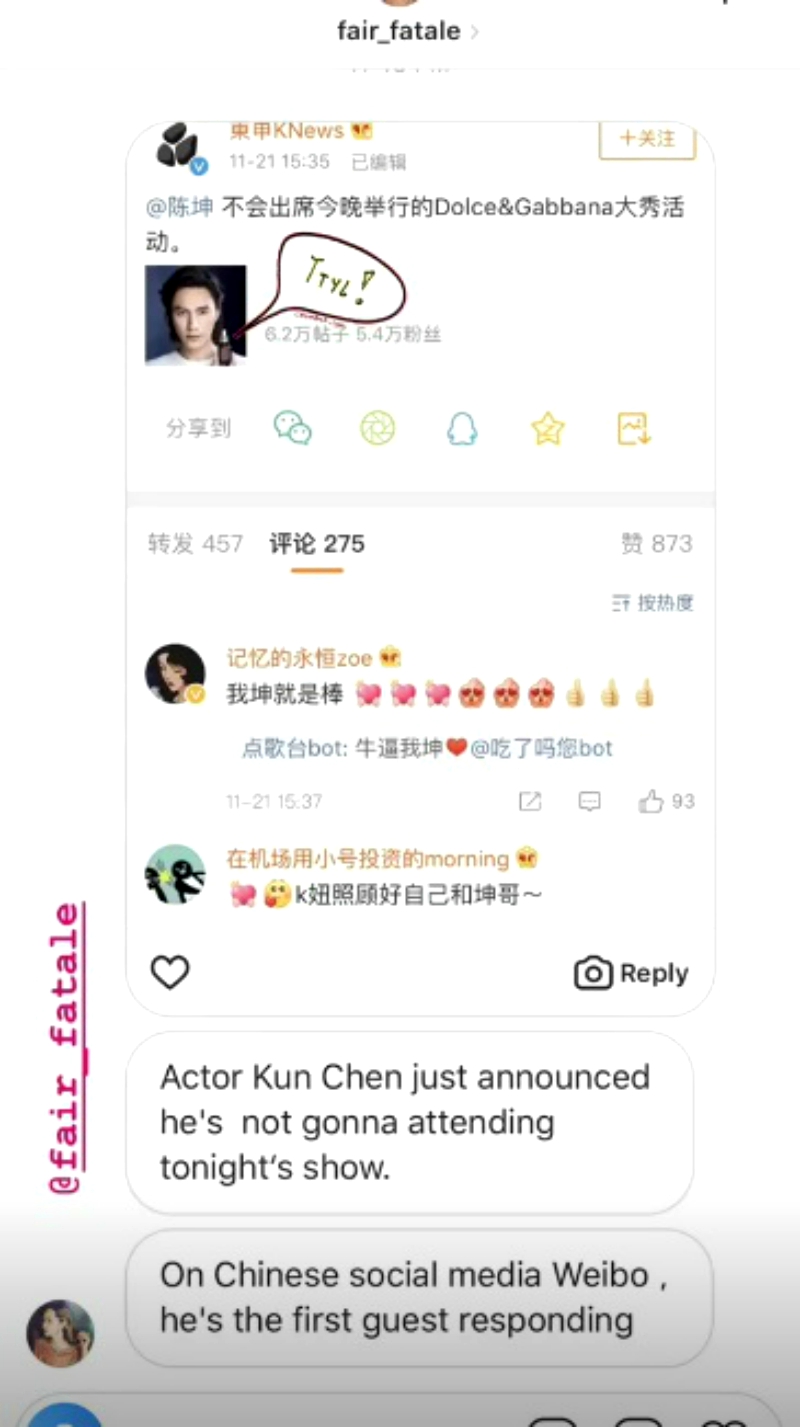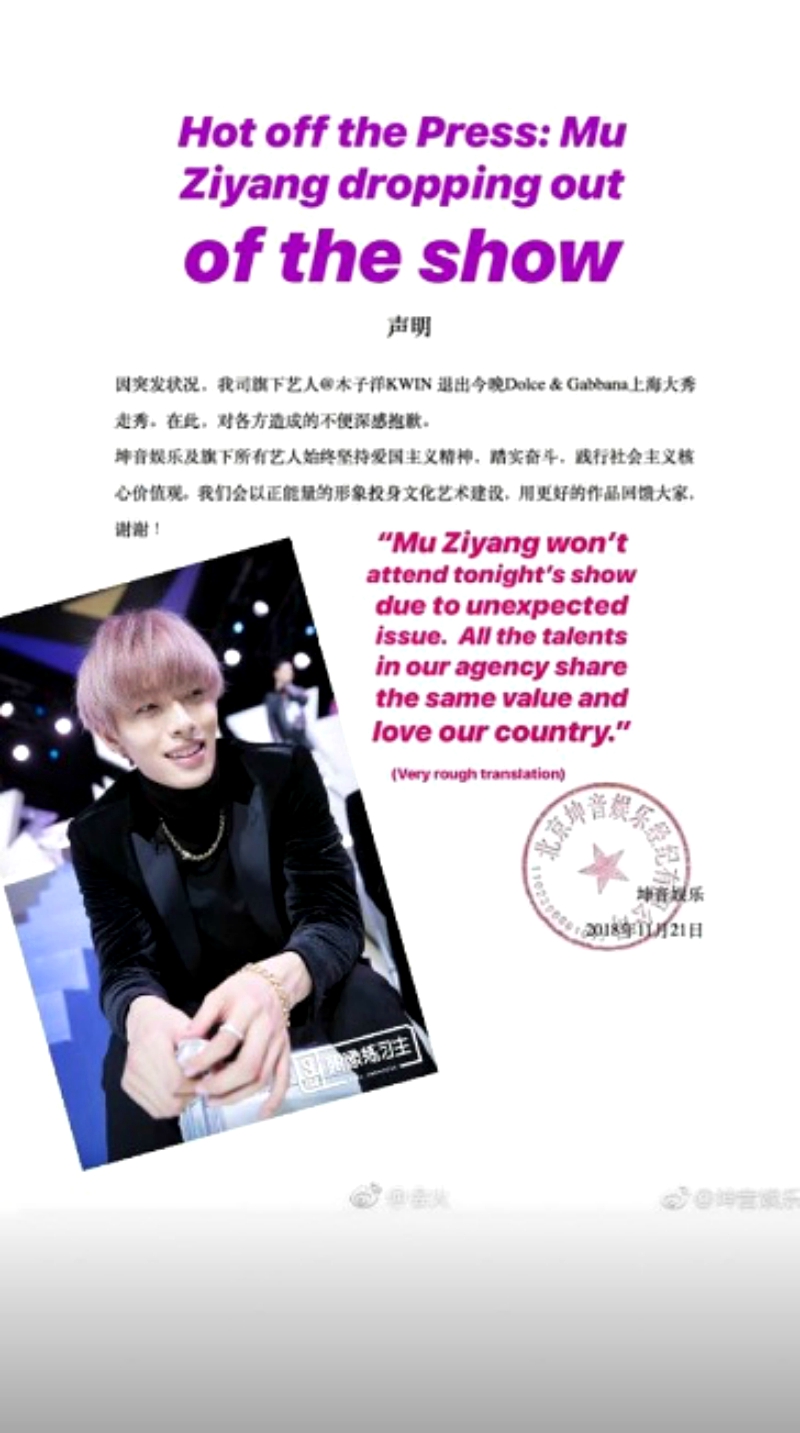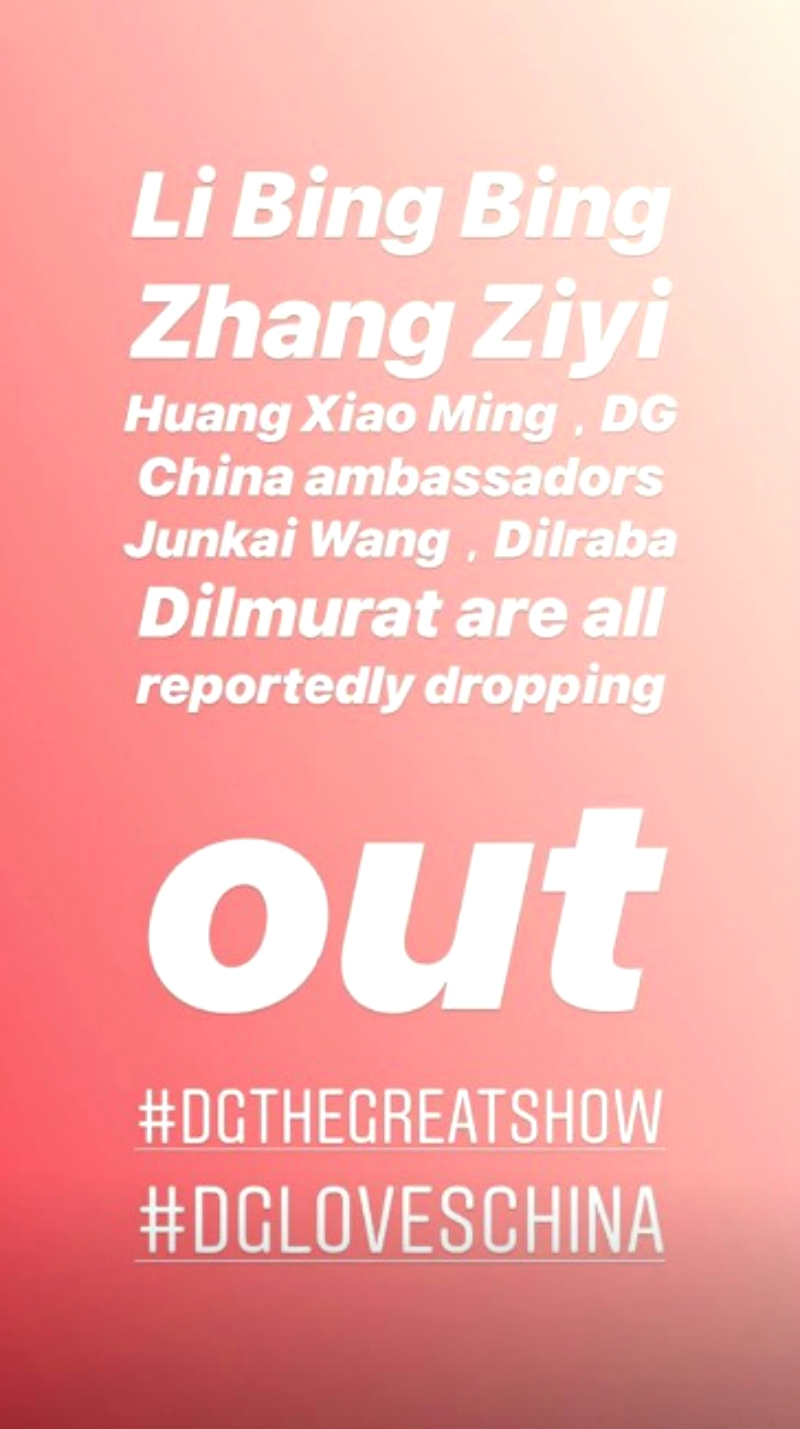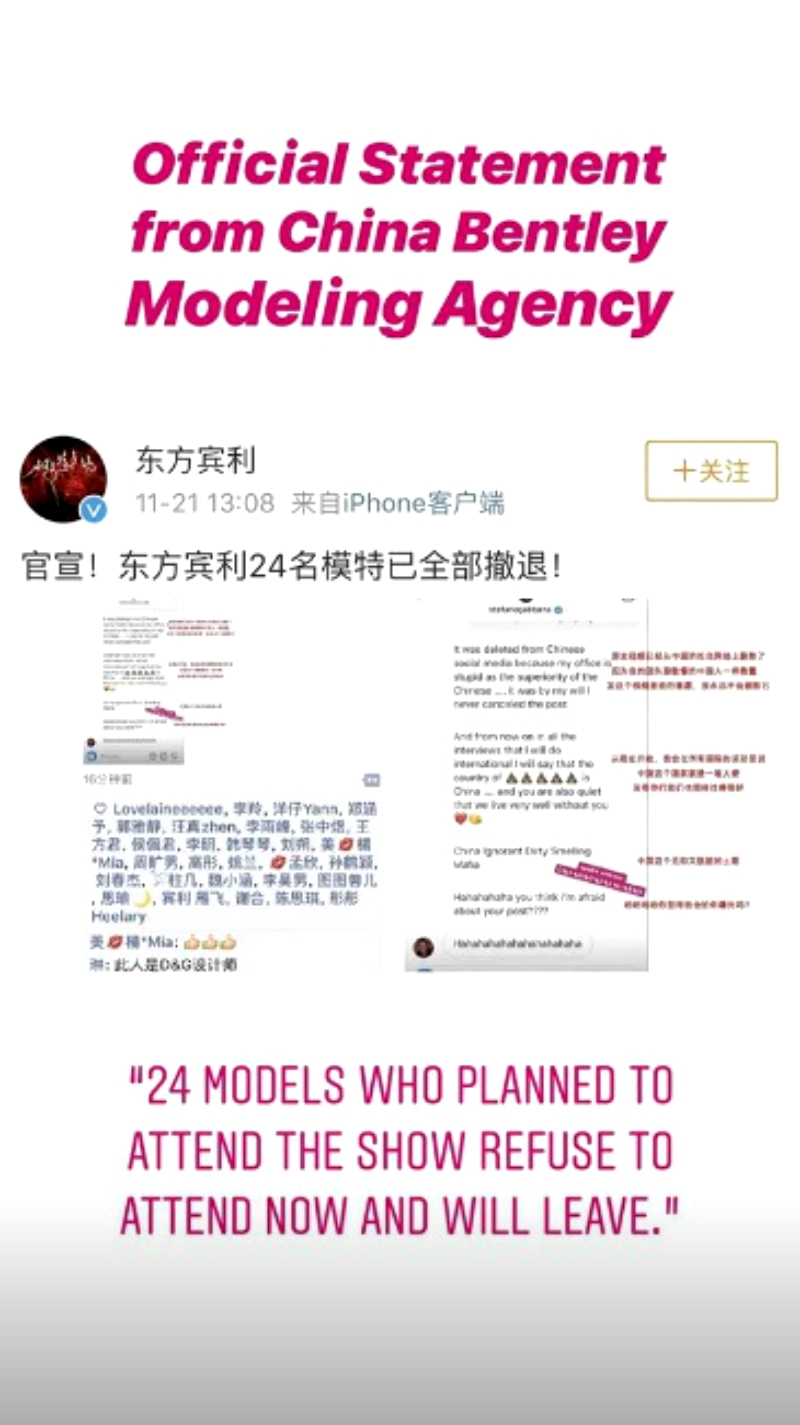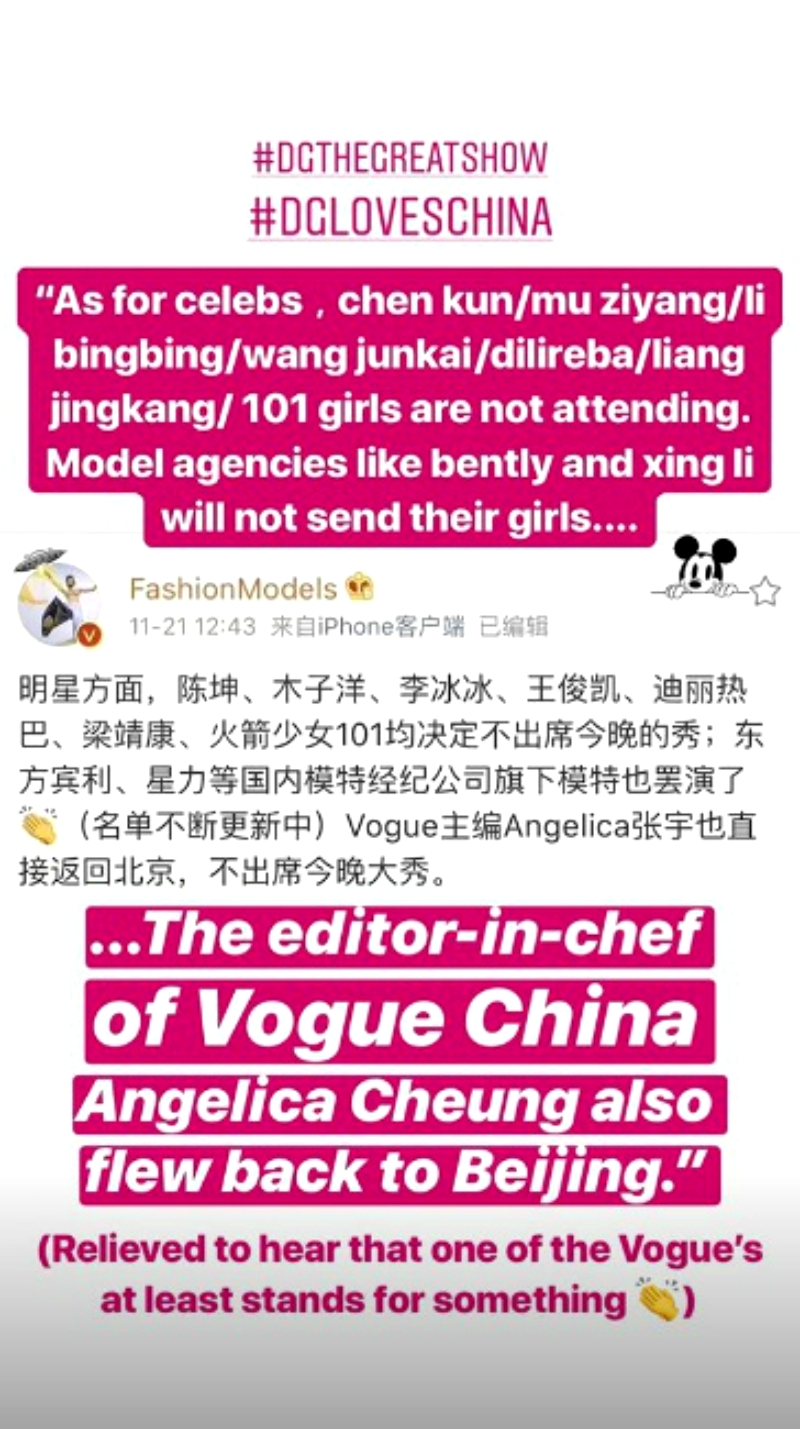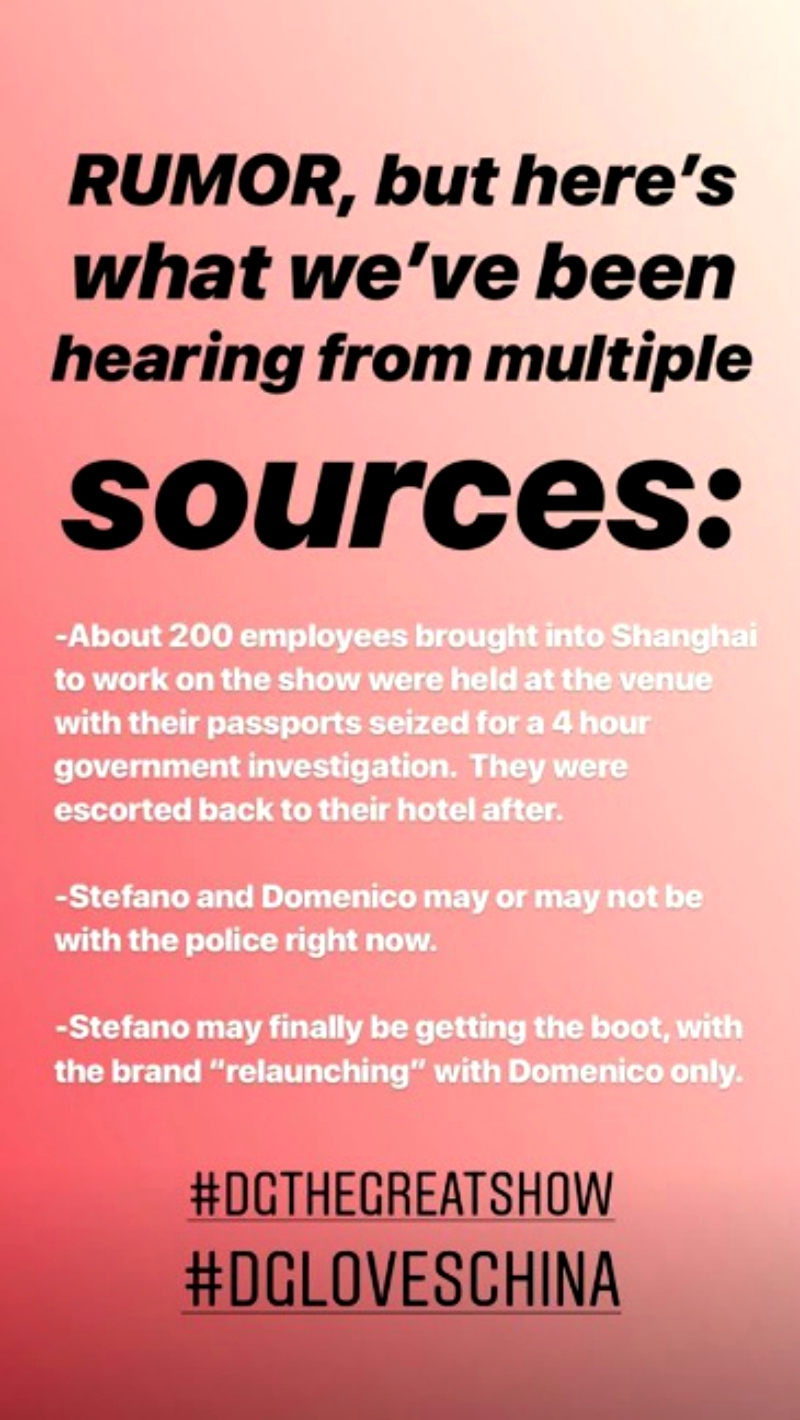 In response to the outcry, D&G claimed that its page had been hacked and announced that its legal team is "urgently investigating."
"Our Instagram account has been hacked. So as the account of Stefano Gabbana. Our legal office is urgently investigating. We are very sorry for any distress caused by these unauthorized posts. We have nothing but respect for China and the people of China."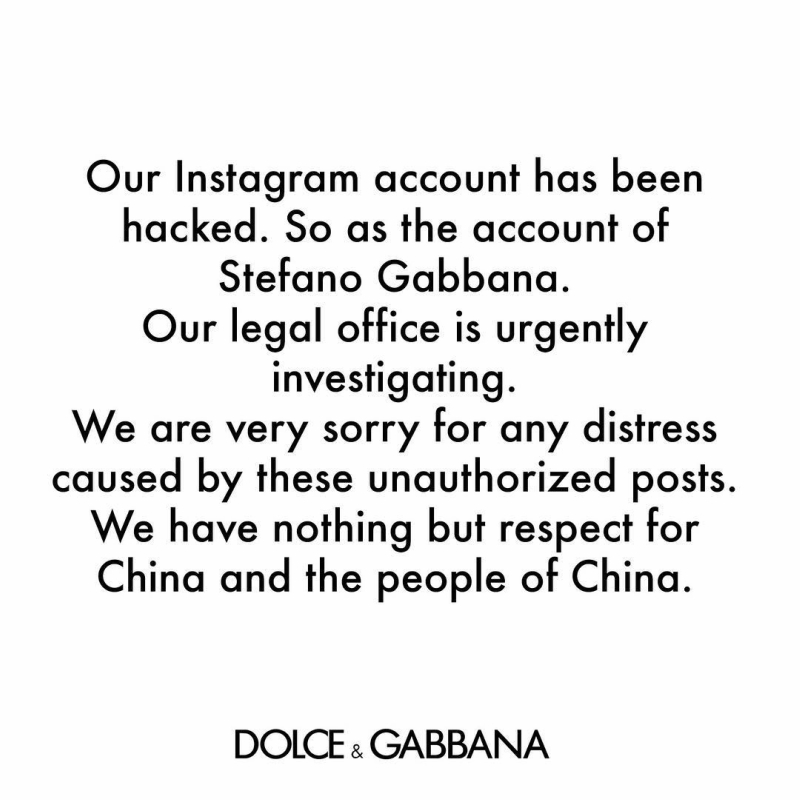 However, people are not buying the brand's "apology."
"RIP."
"Stupid man, foolish."
"Shame on you! Don't make excuses. We Chinese don't accept it. You don't even know what respect is."
"I'm sorry for the people who have to clean up that idiot's mess, just let him rot already!"
"I don't think someone is enough stupid to believe the account had been hacked. I guess it is definitely hard for you to learn how to show respect and say no to discrimination."
https://www.instagram.com/p/BqbgvLinF1w/
In the wake of the controversy, Shanghai authorities reportedly forced Dolce & Gabbana to cancel their Shanghai show, according to Business of Fashion.
Featured Images via YouTube