Doctors reportedly found an "enormous number of parasites" inside the stomach of the North Korean defector who made global headlines for his daring escape to the South via the Demilitarized Zone (DMZ) last week.
While the soldier made it across the border on foot after ditching his vehicle, he was severely wounded by gunfire. He reportedly sustained multiple gunshot wounds in his armpit, back, shoulder, knee, and buttocks after North Korean soldiers fired about 40 rounds at him.
Due to his injuries, the man, believed to be an army staff sergeant, was rushed to a hospital in Suwon, South Korea. Surgeons would later discover parasites inside the patient's stomach, including what seemed to be roundworms as long as 11 inches, Reuters reports.
"In my over 20-year-long career as a surgeon, I have only seen something like this in a textbook," lead surgeon Lee Cook-jong was quoted as saying.
According to Lee, they removed an "enormous number of parasites" from the man's body, stating, "We are paying close attention to prevent possible complications".
"Vital signs including his pulse are returning to stability," Lee told local media.
"The contamination… was very severe, and the future course of his medical condition is likely to be worse than that of general trauma patients as he was in a state of shock for a long while due to massive bleeding."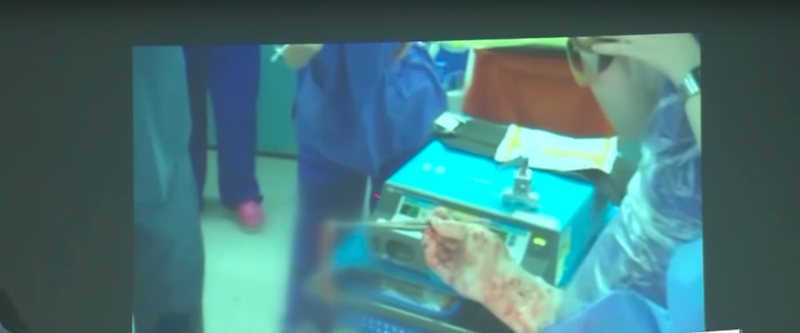 Believed to be around 20 years old, the defector was formerly stationed in the Joint Security Area of the DMZ, dubbed the "Truce Village".
The prevalence of parasitic infections in North Korea is believed to have been caused by local farmers' alleged use of human excrement as fertilizers in farms in place of chemical alternatives.
"Although we do not have solid figures showing health conditions of North Korea, medical experts assume that parasite infection problems and serious health issues have been prevalent in the country," Seoul National University College of Medicine professor Choi Min-Ho said. 
He added that the man's condition was "not surprising at all considering the north's hygiene and parasite problems."
Feature image via  YouTube / ARIRANG NEWS (right) and Wikimedia Commons / Alan R Walker (CC BY-SA 3.0) (left)