A heartbroken woman accused Singapore Airlines of negligence over the untimely death of her dog, Charlie, who died while being transferred to a plane at Changi Airport on September 2.
Before flying to Vietnam with her husband, Shabana Mary Kuruvilla was separated from Charlie in compliance with airport policy.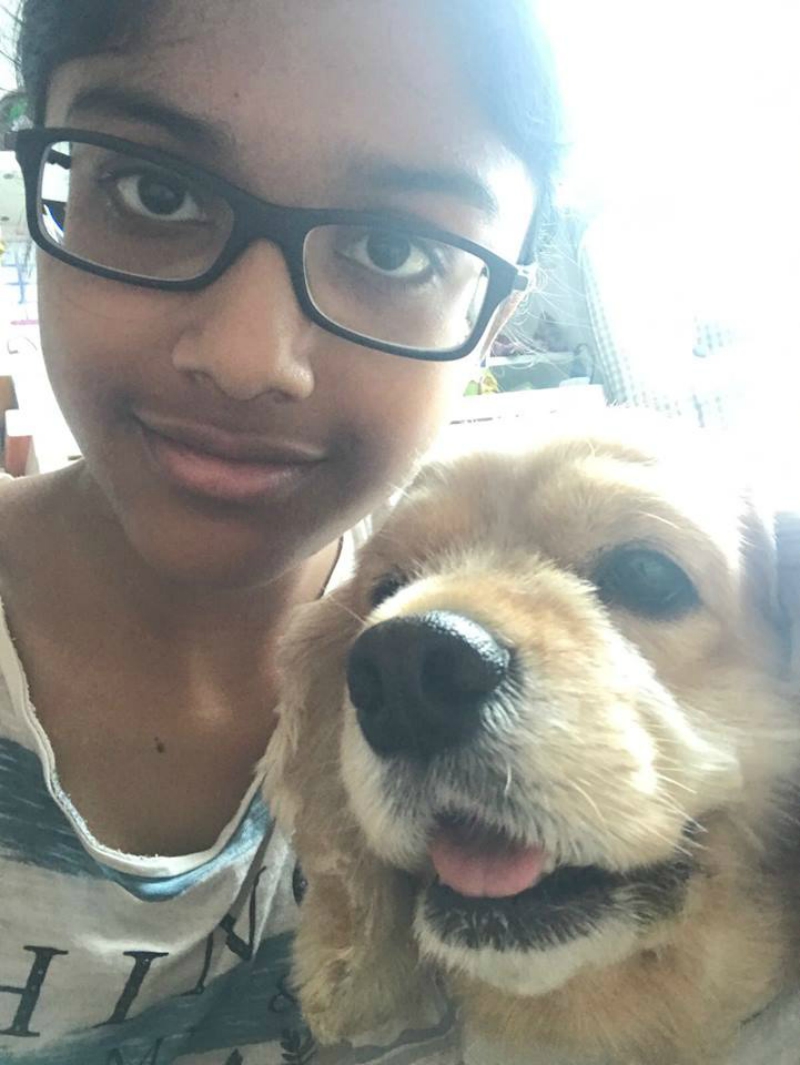 "We were anxious about the move but with respect to Charlie, we were very confident that he was in safe hands with Singapore Airlines," Kuruvilla wrote on Facebook on Sept. 7. "That is where we made a terrible mistake."
According to Kuruvilla, Charlie — who was taken by a "pet handling staff" — was wheeled away in his crate nearly three hours before their scheduled flight at 1:30 p.m.
By 12:30 p.m, they proceeded to the boarding gate and reminded staff that they had a pet. This is when she was told that Charlie "was a bit anxious and had some mucus."
The airline asked if the couple wanted to see Charlie; they declined, believing that a slightly anxious dog with some mucus was fairly normal and didn't want to further agitate him.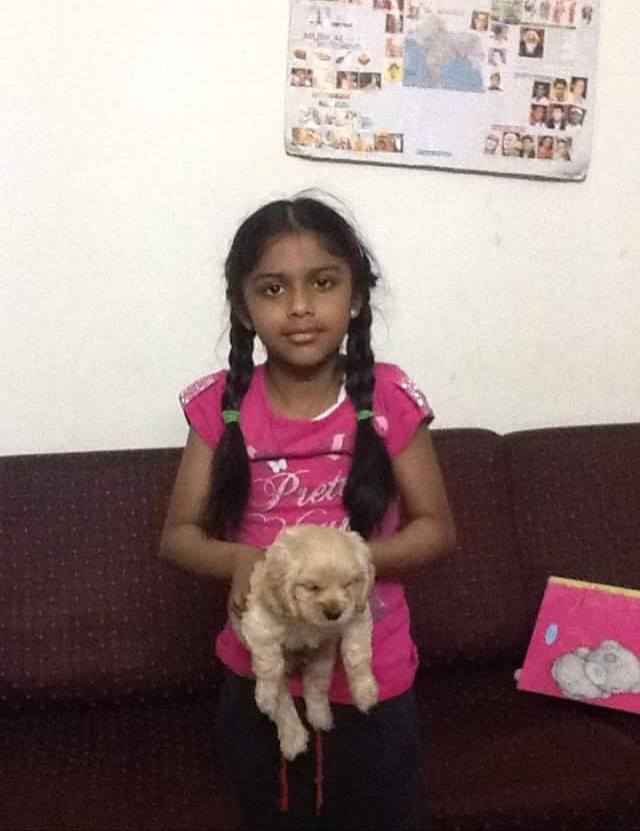 "We boarded the aircraft and while on board the Captain made an announcement that we had a pet onboard the aircraft. We knew Charlie had boarded from the announcement," Kuruvilla said.
It was only after the couple landed in Ho Chi Minh city did the unfortunate news of Charlie's death reach them — as it would turn out, Charlie had died before the couple had even boarded their flight to Vietnam.
"We broke down in complete shock. We wanted to see him. We were in for a bigger shock. Charlie died not on the flight but he was not on the plane as he died in Singapore. We were terribly shocked," Kuruvilla recalled.
"We questioned how the captain made the announcement about the pet on the aircraft when Charlie had not boarded. They said there was no time to inform him. He was dead when they brought him to the plane and since they could put a dead dog on the plane they did not want the flight to be delayed because of this incident. They chose to inform us on arrival."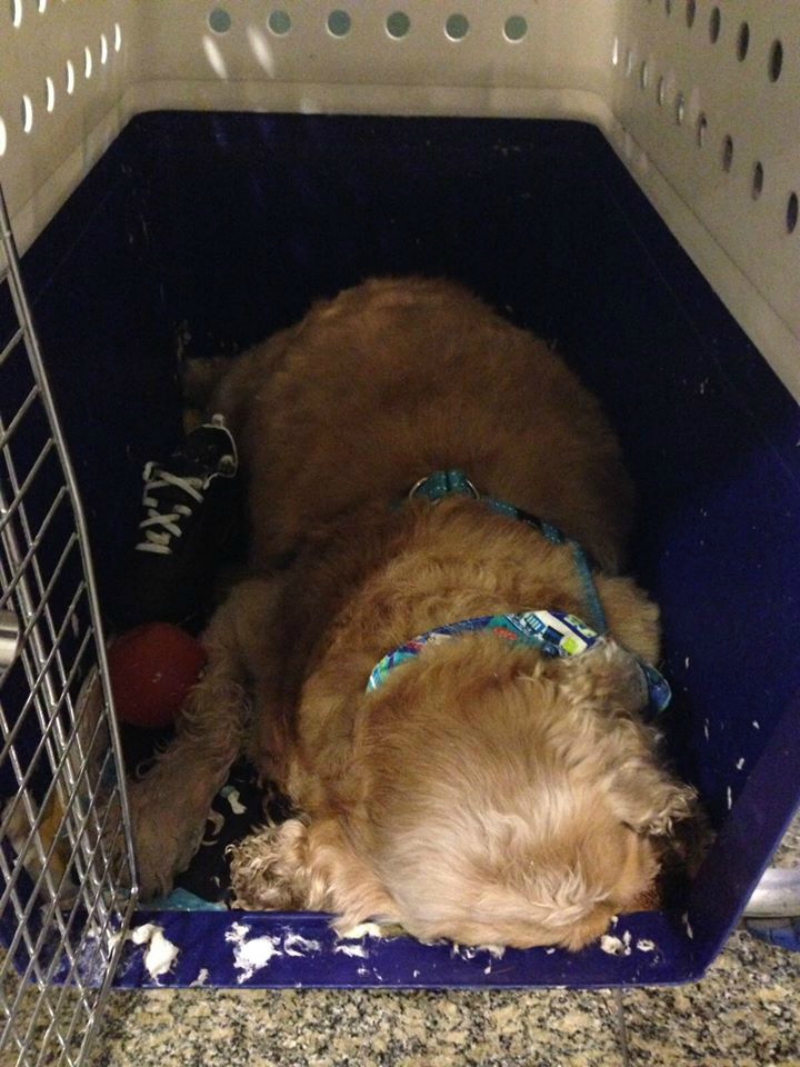 Devastated, she sought for an explanation that, unfortunately, left her completely unsatisfied:
"We were told that the gates had closed and they did not want to delay the flight and that is why they felt they should not inform u. The staff in Vietnam said they had no details except that they received a telex about the death of Charlie and what we wanted to be done with his body.
"They got somebody on the line after I kept saying I need to know. [The staff said,] 'We had informed that you that the dog had mucus and if you wanted to see him.' They never told us that our dog was severely distressed.
"As per airline policies pets who are severely distressed are never allowed to fly and the owners are informed that they are not fit to fly."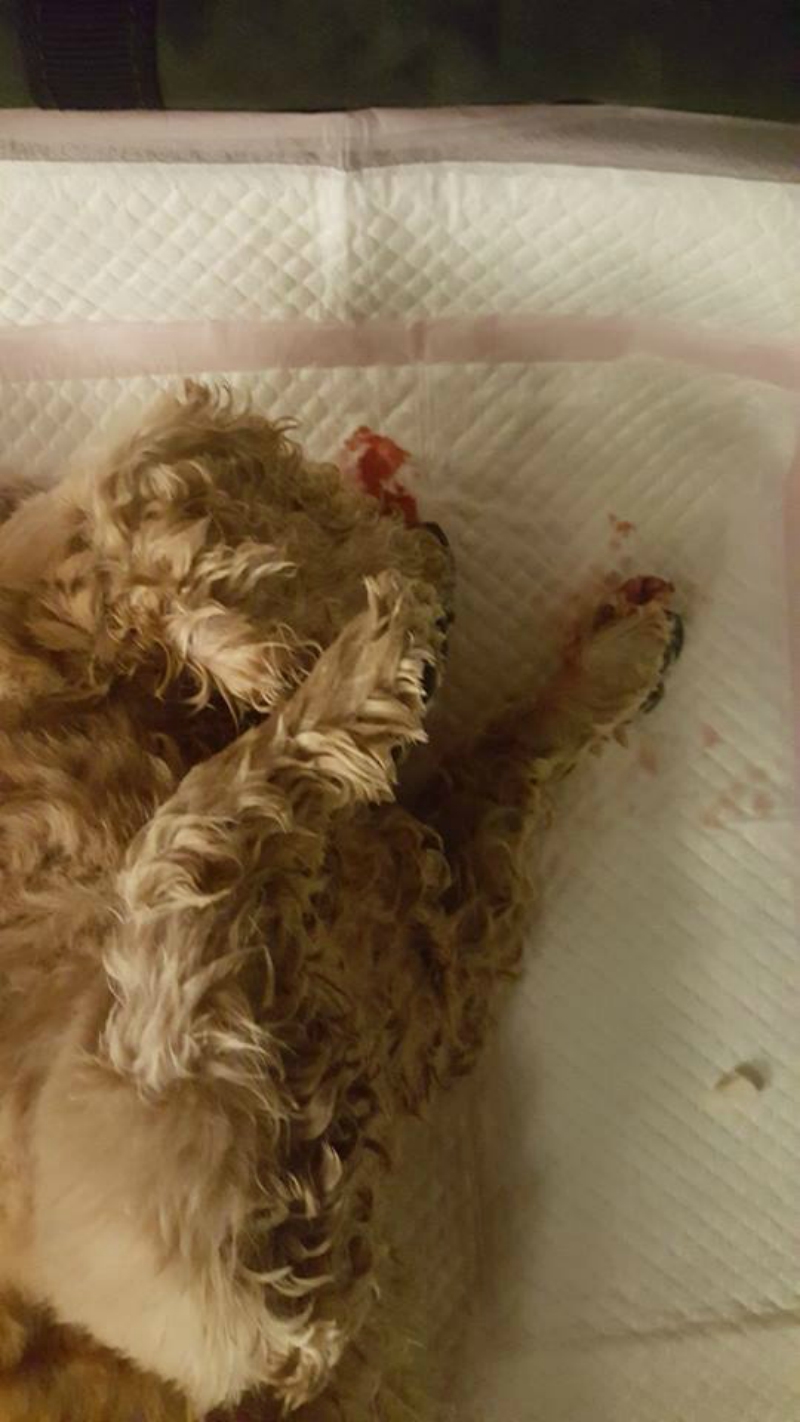 Upon returning to Singapore, Kuruvilla stressed that Charlie struggled in his death, partially chewing off one of his paws before ultimately suffering from cardiac arrest:
"It is only when they removed Charlie from the crate we were horrified to see that he had chewed off his paw partially; there was blood on his paw and on the mouth. He has used his paws to break open the crate and in desperation had chewed up the wee pad. He appears to have suffered a heart attack from the stress."
Kuruvilla's story has been shared more than a thousand times since its posting on September 7. Many offered sympathy and condolences: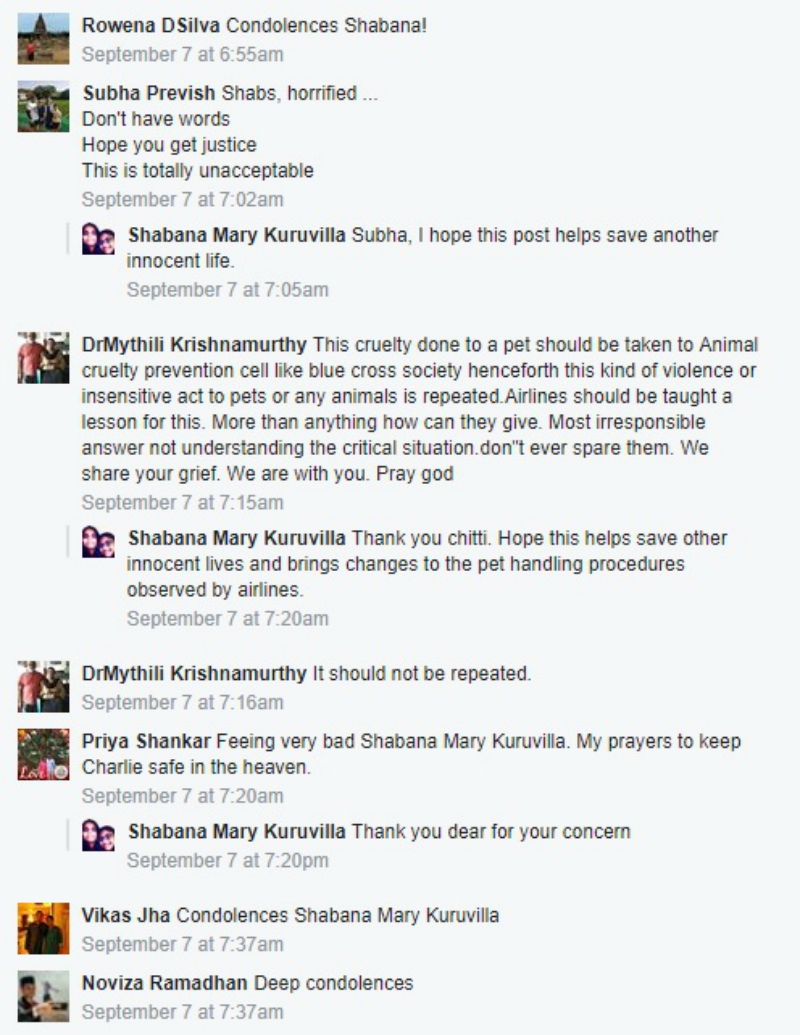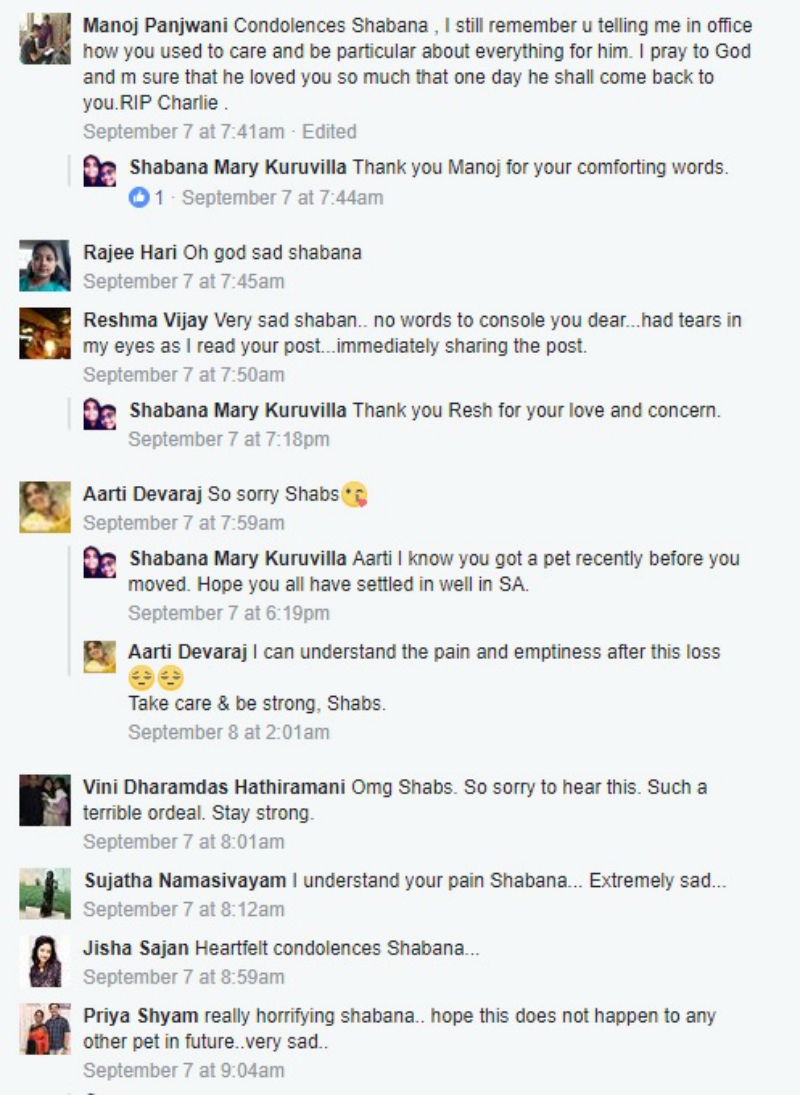 In response to Kuruvilla's allegation, Singapore Airlines launched an investigation but has remained mum on details so far.
"We are conducting an investigation and for privacy purposes, we are unable to share further details. We wish to express our sincere condolences to the owners at this time," The Straits Times quoted the airline as stating.
The airline has informed Kuruvilla of the investigation; for now, the grieving pet owner expects justice.
"I want the airline to take this incident seriously as it clearly handled the matter in an insensitive manner," she said. "I am hoping this incident helps the airline make changes to the way pets are handled to ensure more safety for pets."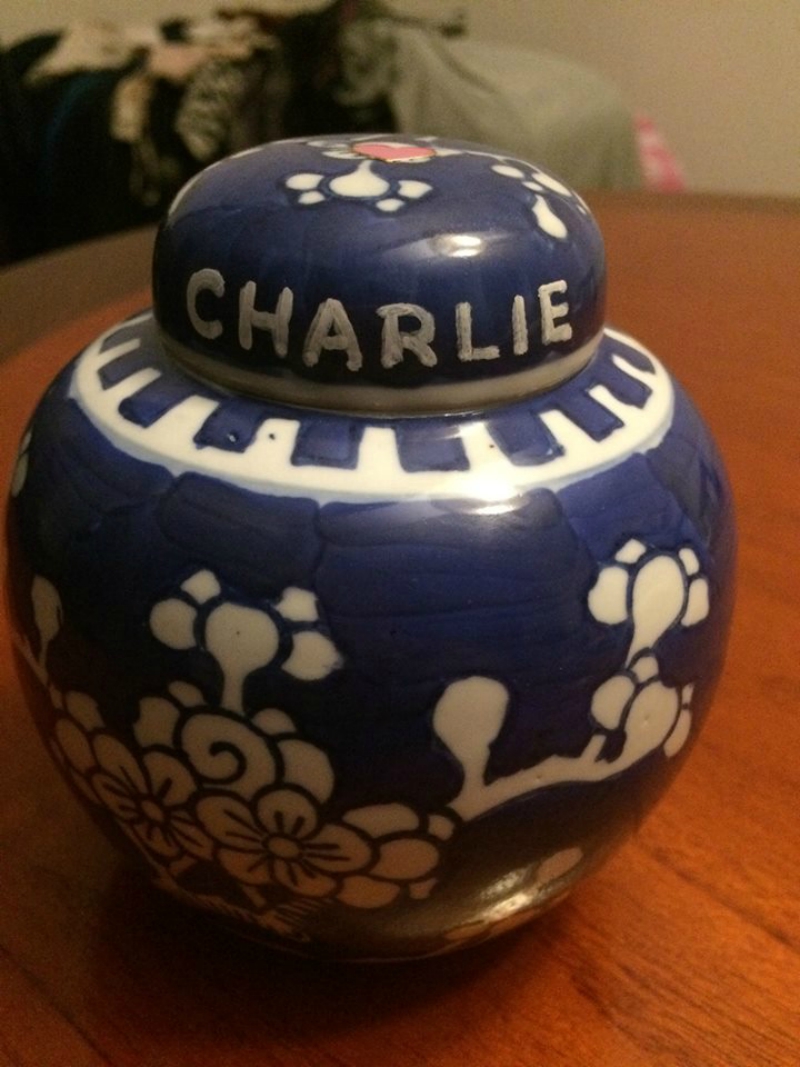 Kuruvilla offers the following advice for pet owners flying with their furry family members:
"Whichever Airline you choose please insist on being there in the pet holding area till the time they are transported to the aircraft or check on who is going to be with them in the pet holding area and how your pets are going to be handed if they become distressed. In the name of protocol they may not permit you to be around.
"Believe us they have no safety protocols that they observe and no one will be around watching with your pet. Please question and understand how your pets are going to be handled before choosing the airline. You must insist that they inform you if you pet is distressed."