The growing number of hate incidents toward Asians around the world in connection with the 2019 novel coronavirus (2019-nCoV) has now spawned a dedicated Wikipedia page.
The article, titled "Xenophobia and racism related to the 2019–20 Wuhan coronavirus outbreak," has so far cited incidents in 14 countries, the majority of which have confirmed cases.
According to the article, incidents of prejudice are primarily directed at people of Chinese descent, but Japanese and Koreans have also been affected.
It cites the blanket ban imposed by the Accademia Nazionale di Santa Cecilia in Italy — one of the world's oldest musical institutions — on Chinese, Japanese and Korean students as one "high-profile incident."
A pretty famous music school in Italy was just straight up like "Fuck it, if you're on the yellow skin spectrum" you can't come to school until further notice… https://t.co/lc1HEQWQfj

— perezidential (@perezidential) January 31, 2020
Aside from Italy, countries with confirmed cases mentioned on the page include Australia, Canada, France, Germany, Japan, Malaysia, the Philippines, Singapore, South Korea, the U.K. and the U.S. It also cites Hong Kong, where one restaurant has refused to serve mainland Chinese customers.
That restaurant, Tenno Ramen, is located in Hung Hom, Kowloon. It reportedly said on Facebook, "We want to live longer. We want to safeguard local customers. Please excuse us."
The page has also tracked incidents in Indonesia and New Zealand. So far, Indonesia only has suspected cases, while New Zealand has none.
Incidents cited in Indonesia include two protests held in Bukittinggi, West Sumatra and Ranai, Ratuna Regency. The protest in Bukittinggi called for the rejection of visitors from southern China, while the one in Ranai opposed the quarantine of returning Indonesians from Wuhan, the epicenter of the outbreak.
Sumatera Barat khususnya Kota Bukittinggi menolak turis virus corona china untuk menginjakan kakinya di ranah Bundo…@zarazettirazr @GuccianoRie @nasrul_abitt @irwanprayitno
@walikotabukittinggi@infoSumbar @D4tuk_T4mburin @TanDjiedin @tan_markonah @Jean_Aprilia97 pic.twitter.com/NalgucoYU7

— SEGEH BADARAY (@leo_agustaf) January 26, 2020
The article also cited two incidents in New Zealand. One is an online petition — signed by 18,000 people — which demanded for a ban on Chinese people in the country.
The other incident, which took place in Canterbury, involves an email sent to a parent of a student of Chinese descent. It reportedly contained the message "our Kiwi kids don't want to be in the same class with your disgusting virus spreaders."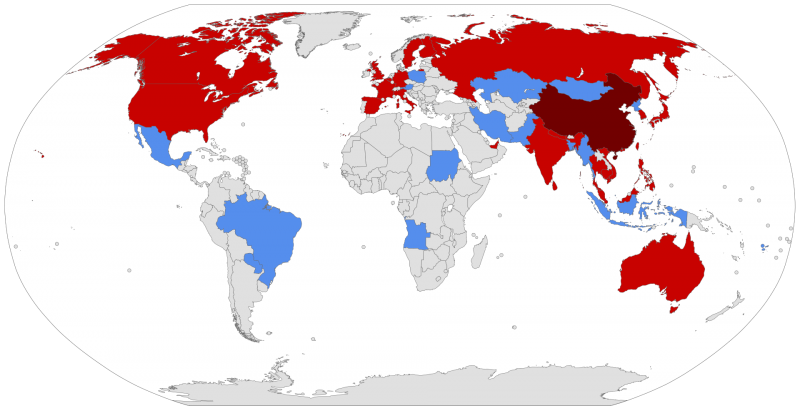 The page also includes a global map of the outbreak, which shows the region origin (mainland China) and countries with confirmed and suspected cases.
Two other Wikipedia pages on the 2019-nCoV are available: the "2019-nCoV acute respiratory disease" and the "2019–20 Wuhan coronavirus outbreak."
Feature Image via Pharexia on Wikimedia Commons (CC BY-SA 4.0)