The United States Congress has officially awarded 50 Chinese American World War II veterans in Philadelphia with the Congressional Gold Medal in a ceremony on Saturday.
"Long overdue": Only a few hundred Chinese American veterans out of the more than 20,000 who enlisted during the war are still alive to this day, according to 6ABC.
The event, which was held at the Crane Arts building, was hosted by Civilian Aide to Secretary of the Army-Pennsylvania East Ken Wong.
The Congressional Gold Medal was given to several living Chinese American WWII veterans in Philadelphia and the surviving family members of the more than 40 veterans who have already passed, DVIDS reported. It is one of the highest civilian awards that can be given in the U.S., alongside the Presidential Medal of Freedom.
"Many of the Chinese Americans who served during WWII have since passed, so this is long overdue," Maj. Gen. Garrett Sung Yee of the U.S. Army said in a statement. "We're happy we're able to honor them and give recognition to their families for their service."
The front of the medal features a nurse and Chinese American servicemen, while the back showcases different vehicles, planes and ships used in the war, including the P-40 Warhawk from the Flying Tigers 14th Air Force.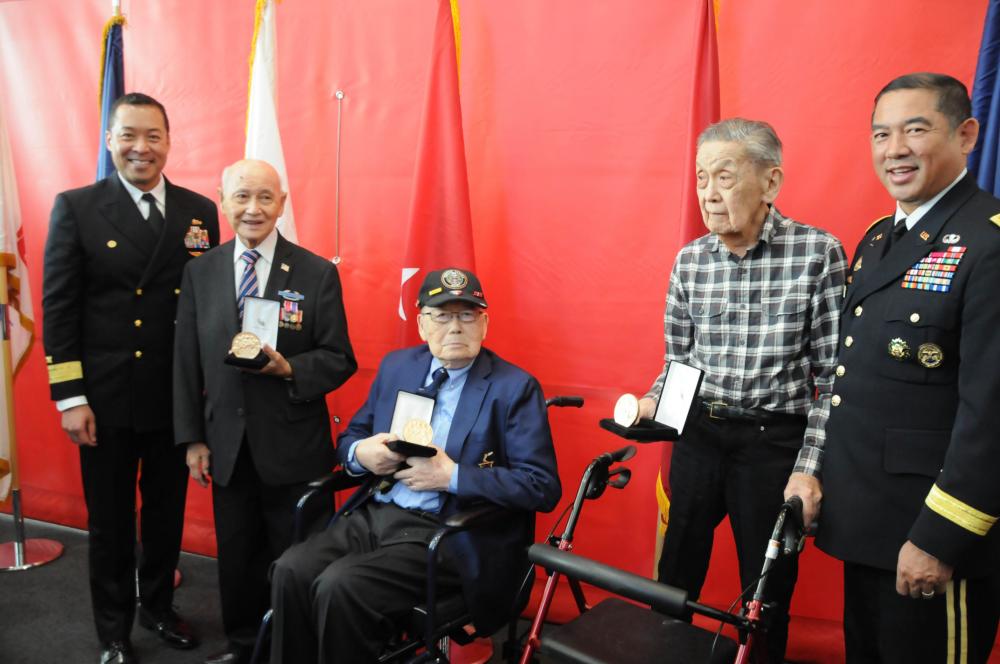 The recipients: Among the living recipients of the medal are retired Pvt. 1st Class Harry G. Jung of the 104th Infantry Division and retired Army veterans Raymond Lee and Paul Toy.
"I enlisted into the service, served in WWII, got injured and retired," Jung, 97, said. "I thank and congratulate all Chinese Americans who served in the armed forces and fought for their country during WWII."
"Receiving the Congressional Gold Medal means a lot to me," Lee said. "I'm extremely grateful that I'm still alive and able to be here."
Featured Image via Sgt. 1st Class Deziree Lau (left), 6ABC (right)