Rappers in China are reposting a meme that has been circulating on Chinese social media to show support for the Hong Kong police as violent protests continue.
The patriotic fury was ignited after a Chinese journalist was tied and assaulted by Hong Kong protesters who thought he was undercover police despite wearing a yellow high-visibility vest typically worn by journalists covering the protest on Tuesday night, according to Inkstone News.
After the attack, two prominent members of China's rap group Higher Brothers, Melo and DZ Know, shared images of the Chinese flag on their Instagram accounts on Wednesday afternoon.
View this post on Instagram
Other Chinese artists also joined in, including "The Rap of China" champion PG One, who re-posted People Daily's post that reads: "I support Hong Kong police, you can hit me" in Chinese characters and "What a shame for Hong Kong" written in English underneath it.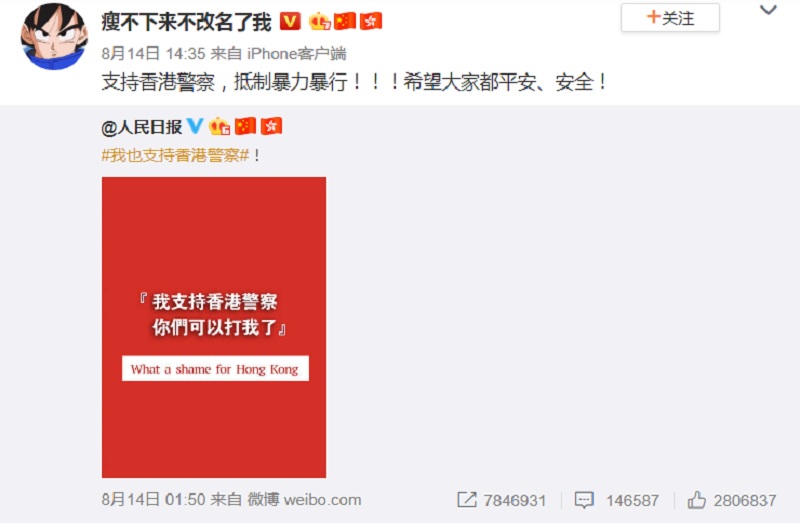 "Support Hong Kong police, resist violent atrocities!!! I hope everyone is safe and secure!" PG One wrote in a Weibo post, Radii China reported.
Miss Vava, another star in "The Rap of China" whose song was featured in the movie "Crazy Rich Asians," shared the same post on her Instagram with a caption that reads, "Hong Kong is part of China forever."
View this post on Instagram
Another Chinese rapper, After Journey, also shared the post on Instagram. "Compatriots, remember this day, remember this moment," the caption reads in Chinese.
View this post on Instagram
Featured Image via Instagram / higherbrothers (Left), Instagram / vava.mis (Right)