China has recently brought rocks collected from the "Mons Rümker" region, a volcanic complex in the moon that has not been previously explored, back to Earth.
The return capsule of China's Chang'e-5 probe touched down on Earth in the early hours of Thursday, bringing back the country's first samples collected from the moon, as well as the world's freshest lunar samples in over 40 years. #ChangE5 #LunarProbe pic.twitter.com/hyLaFBUtdD

— China Xinhua News (@XHNews) December 16, 2020
To the moon and back: The remarkable feat, completed by a capsule from China's Chang'e-5 lunar probe, marks the first time since 1976 that any country has brought rock samples from the moon, Business Insider reports.
The spacecraft, which brought back 4.4 pounds of moon rock samples, reached a China National Space Administration (CNSA) landing site in Mongolia on Wednesday.

Government-run Xinhua News Agency broadcasted a video clip featuring people rushing toward the landed Chang'e-5 capsule.

The retrieved rock samples are expected to reveal important information about the moon's history by looking into volcanic activity in the area which scientists estimate happened as recently as 1.2 billion years ago.

Prior to the mission, China University of Geosciences planetary geologist Xiao Long was quoted by Nature as saying such a discovery can potentially "rewrite the history of the moon."

It would help scientists accurately estimate the age of this lunar area.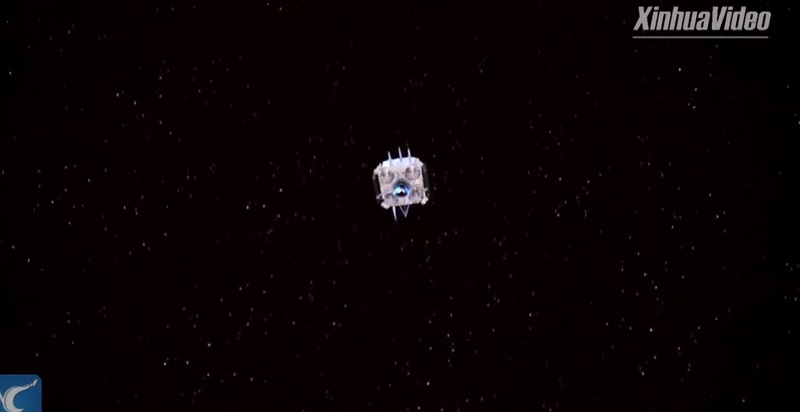 Reach for the moon: Chang'e-5, a sample return mission of CNSA's lunar exploration program, was launched on Nov. 23 and landed on the moon 10 days later.
Upon landing, the moon lander's robotic arm drilled about 6 feet into the surface of

Mons Rümker

to collect rock and dust samples. 

After digging for 19 hours, the arm transferred the sample to a module situated atop the lander. 

The module is lifted off and routed to an orbiter that had been circling the moon, with the sample transferred into the spacecraft's return capsule. 

The entire multi-step process was delicate, keeping the orbiter and capsule in the moon's orbit for nearly a week before the journey back to Earth was initiated.

Since 2003, China has completed five crewed missions, according to Space News.
Feature Image via Xinhua News